Planning a trip to Busan will be an exciting adventure with a mix of relaxing beaches, cultural villages, sites of historical importance and more!
Busan is the second largest city in South Korea and offers a whole lot of activities, nightlife, fine dining, and more! It's famous for its super popular beach, Haeundae Beach, and Shinsegae, one of the largest department stores. Busan is the perfect choice of destination if you are looking for some partying or even a chilled-out experience at the beach with your family.
Busan is the place that offers all the Korean traditional spoils like Korean bathhouses, Buddhist temples, cultural villages, and more. You can also take part in more cosmopolitan offerings like clubbing and fine dining if that more up to your speed.
Planning Your Trip to Busan
Best Time to Visit Busan
The best time to visit Busan is from May through September. The peak months of travel to Busan are generally summer months as the weather is warm and sunny. It is the perfect time to enjoy all the host of outdoor activities Busan offers. The delightful weather also makes up for a fun time in all the festivals organized during the summer period.
Language
Korean is the official language but English is widely prominent in the city. You won't be facing any language barriers for sure as most locals understand English.
Currency
The official currency of the country, South Korean Won, is common.
Getting Around Busan – Transport Options
Just like Seoul, Busan has an extensive public transportation system. There are buses, train network, and a metro network.
The Busan Transportation Corporation or Humetro operates the city rail system.
If you are visiting Busan after Seoul, you must be carrying the T-Money Transport Card. The best part about making this journey after Seoul is that you can use the same card in Busan. If you don't have one, its better to purchase a pre-paid Cashbee card for Busan.
Other than public transport, you can also choose self-drive options so that it is convenient.
Things To Do In Busan
There are a plenty of things to do in Busan, ranging from stunning beaches to historic museums to other sites of historic importance. Here are some of the best things to do in Busan.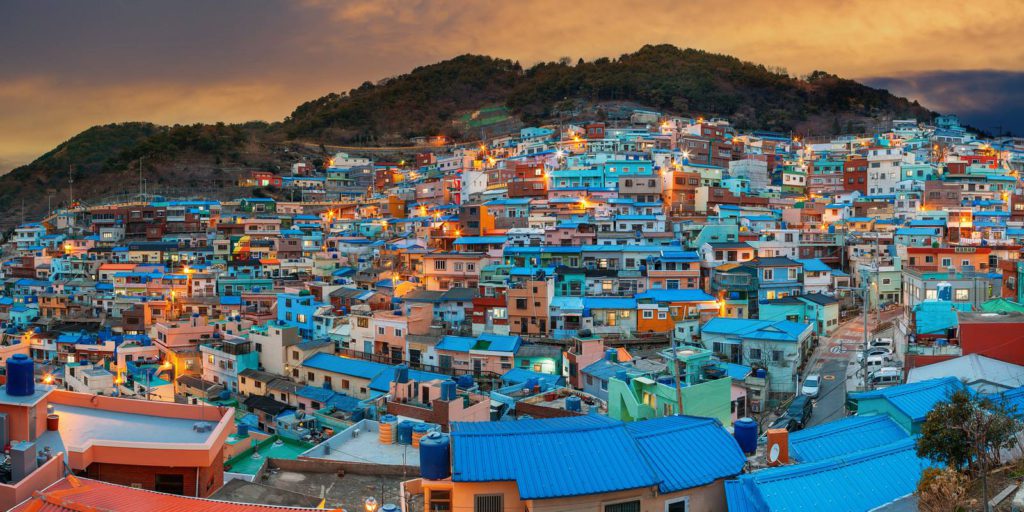 You must check out the world's largest department store, Shinsegae Centum City. It is famous for Spaland, a multiplex, theme park, and ice skating rink. So along with shopping, you can enjoy relaxation and fine dining at its best!
Oryukdo Skywalk is a glass bridge suspended over a cliff in Seungdumal region. Standing on the bridge, you will feel like you are floating in the sky!
Check out the UN Memorial Cemetery that is one of the only United Nations cemeteries in the world. It is home to the Wall of Remembrance and a sculpture park.
What To Eat And Drink
There are an eclectic selection of foods and drinks in Busan from all around the world. The port city is famous for its fresh seafood but that's not the only specialty. No matter if you are looking for a fancy dining joint or traditional Korean dishes, you will find several options in Busan.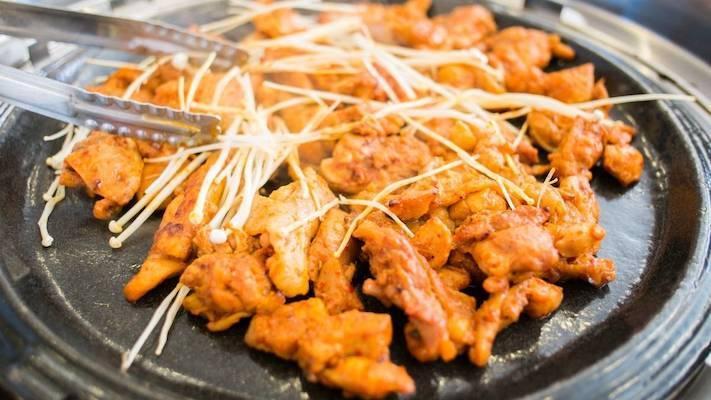 Here are some of the options in Busan that you can check out while planning the trip to Busan.
Dining Room is a fancy steak and seafood restaurant in Park Hyatt Busan. If you are looking to try local seafood, it is your best bet!
Mad for Garlic in Haeundae area is known for its garlicky twists on classic foods such as pizza, pasta, and steak.
Mugunghwa is another upscale restaurant in Lotte Hotel Busan that offers delicious Korean BBQ and the famous samgyetang (ginger chicken soup).
Where To Stay In Busan
There are several bustling and vibrant neighbors in Busan. You can find a place to stay in Busan that can be trendy, or artsy, or it can even be a traditional, historic area. Most tourists prefer the chill beach areas of Haeundae Beach and Gwangalli Beach and centrally located Seomyeon.
The Westin Josun Busan hotel is one of the top luxurious hotels that's located right on the Haeundae Beach. It's a ritzy setup with indoor swimming pool, fitness center, and spa. Lotte Busan Hotel is another popular choice in the center of Seomyeon. There are high-end restaurants, world-class casinos, pools, and more.
Getting to Busan
Gimhae International Airport is the main airport in Busan and the fourth busiest airport in Korea. Annually, it serves more than 16 million passengers! So, if you have other travel options while planning your Busan trip, best that you take those, such as public transport from Seoul to Busan.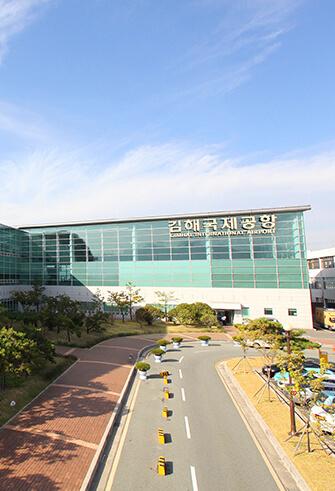 Culture and Customs
South Korea is a country that thrives on culture and customs and Busan is the same. Just like every where else in Korea, family and respect is very important. People are hard working and they value education and success. The younger generation always is respectful of the elders and keeps the head down.
You can read more in detail about the traditions and culture of South Korea.
Money-Saving Tips
Busan as a city is definitely affordable but still there are many more ways that you can save money on your trip to Busan. The energetic city offers several joints with cheap eats and food stalls. There are some cheap pubs that you can enjoy while on your trip to Busan. Here are some tips that you can use to stay on budget while staying in Busan.
Get a public transport pass like Cashbee instead of using daily passes as it is cheaper in the end. You can pre-load the card before roaming around in the city.
You can opt for a dormitory style accommodation or hostels instead of expensive hotels.
Street food options are excellent and offer a great variety. You will get to choose amongst the favorite Korean dishes like kimchi, fish cakes, galbi, and more.
Look forward to more articles that will cover all that goes into planning your trip to Busan!
Read more articles about travel to Korea from KoreaTravelPost:
3,064 total views, 3 views today