Getting around Busan, the second-largest city in South Korea, is simple, cheap, and quite easy with the public transportation system, and this ultimate guide will help you get around the city!
Even if you haven't heard of Busan, visiting the port city of South Korea is something that should be on your bucket list. The city has some scenic beaches, amazing temples, and an enviably efficient public transportation system.
All the road transportation signs are clear and are in Korean and English language. Sometimes you will even find Chinese or Japanese language on the signage. There are tourist information booths near almost all of the city's main attractions.
Whether your preference is using public transport or self-drive vehicles, here's a guide to the public transportation that will help you get around Busan, Korea.
Transportation from Gimhae International Airport to Downtown Busan
Gimhae International Airport is the main international airport of Busan and the fourth busiest airport in the country. It servers over 16 million passengers annually. It is a compact airport with only two terminals, making moving around the airport quite easy.
As soon as you've collected your bags, you will want to move to Downtown Busan or the central Busan. It is about 12 miles from the airport.
You can take taxis with a travel time of around 30 minutes and a cost of approximately 30,000 KRW (~$27). They are certainly convenient and readily available outside the airport. But, if you are traveling on a budget, light rail and city buses are more affordable.

The airport light rail connects with Busan's metro green line (line 2) at the Sasang Station. It only takes 20 minutes and costs about 1,500 KRW ($1.25).
Public buses are also quite regular from the terminal to various locations in the city. The bus journey time from the airport to central Busan takes about 30 to 60 minutes depending on the bus route. The fare for using public buses comes around 1,100 KRW ($1).
Another option is the relatively affordable limousine buses. These buses run regularly from just outside the arrivals hall to various hotels and attractions spread across the city. One-way tickets in these limousine buses ranges from 5,000 to 9,000 KRW ($ – $ ). These buses are operational from 6 am to 10 pm.
Busan Public Transportation Guide – Busan Metro
The Busan metro system is fast, reliable, safe, and economical. Here's all you need to know in our Busan public transportation guide about the Busan Metro.
Unlike the Seoul metro system, Busan Metro only has four lines and super-easy to navigate. You can find the maps on smartphone apps or use the more traditional approach o fpaper maps at the information desks. All the stations in the metro are announced in Korean, English, Japanese, and Chinese language. For stops that transfer points to other lines, a chirping bird's sound announces the same.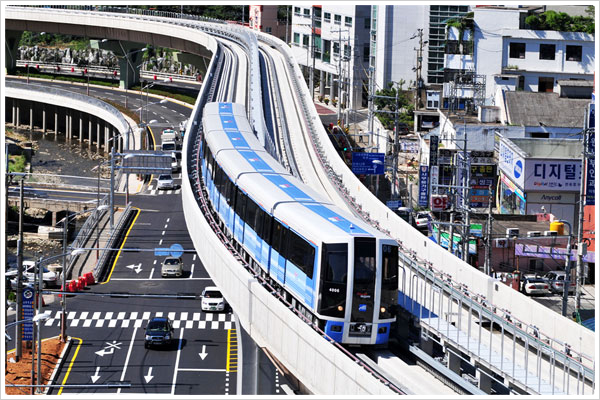 The train cars are air conditioned which is a blessing in hot summer months. Many Busan Metro stations have a stair-access only so you need to check the website for other accessible travel options.
Ticketing
Most of the single journey trips cost between 1,300 to 1,600 KRW depending on the metro line and how far is the destination. Purchasing the ticket is the first step and you can avail a KRW 100 discount of you are using a re-fillable card like T-Money or Cashbee or even Korea Tour Card. You can purchase these cards from convenience stores (starting at KRW 2,500) and easily top up at the subway ticketing machines. These cards are multi-use cards, they work in taxis, buses, and subways.
Time of Operation
The Busan Metro operates from 5:30 am to midnight. It is a safe public transportation option at any given time of the day. During peak times, you will find that the trains are very crowded so you can try planning your trips accordingly.
Metro Etiquette
Following the Korean culture, it is impolite to not give your seat to a person older than you if they are standing. Also, talking loudly is something that locals consider quite rude.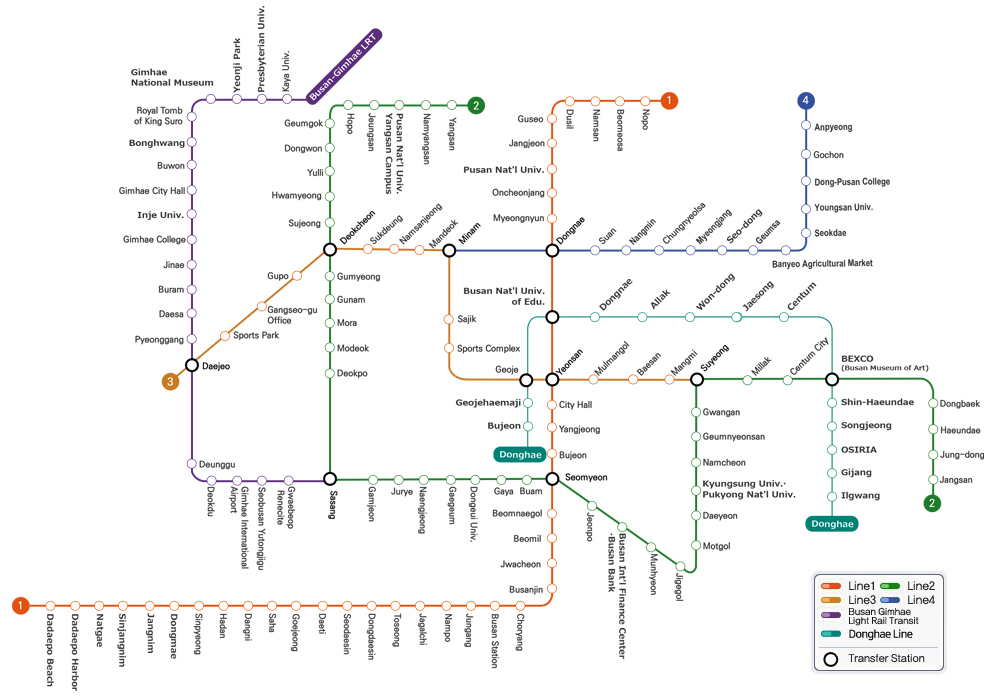 For easy travel, download a map of the Busan Metro before the trip. For more information about the metro lines, accessibility, fares, and such, you can visit the Busan Metro Website.
Busan Public Transportation Guide – Buses
Navigating public transport system in any foreign country can be tricky but Busan city buses make it easy. All the bus stops have a screen that display the bus numbers and minutes until the next bus arrives. The information is in Korean and English so you won't feel stuck.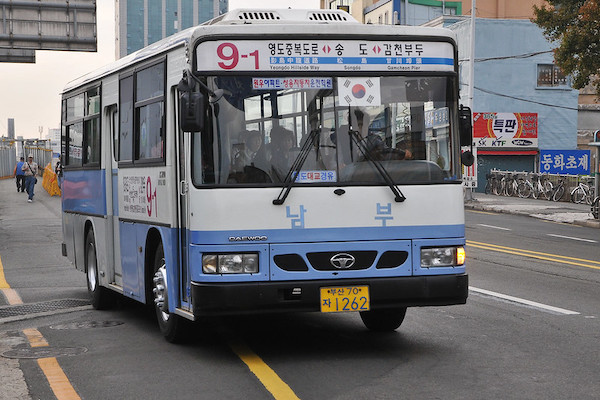 You can pay in cash for the bus fare or with a transportation card. If you are using the transportation card, make sure that you tap out twice, when you board the bus and when you exit the bus. It will track the the trip otherwise you might be charged extra.
The announcements for all the stops are in English and Korean language. When you hear your stop, just push the red button on the wall or the handrail so that the bus stops for you.
Busan Public Transportation Guide – Busan Taxis
Taxis in Busan are widely available and you can find one in almost every street corner. They are really convenient and reasonably priced but navigating the traffic will take a lot of time. Not just the traffic, but also the city is huge and the trips are time-consuming.
Many drivers speak English but not all of them and you might face some language barriers. You can type in the name of your destination in Korean language on your phone so that it is easy to convey the destination to your driver. If your destination is a famous attractions, the driver can take you without the GPS but otherwise, will need the help of navigation system.
You can hail the taxis from any of the taxies stands across the city. A red light on the top of the taxi means that it is available for hire.
Taxi Fares
There are two types of taxis in Busan – regular and deluxe. Both taxis use meter for tracking the fare. The starting fare for regular taxi is KRW 3,300, covers first two kilometers of the trip, and adds KRW 100 for each additional 133 meters. Deluxe taxis fare starts are KRW 5,000 for first three kilometers, and an additional KRW 200 for every 141 meters. The deluxe taxis are black in color and you can most often find them outside hotels and famous tourist attractions. Other than higher fare, the deluxe taxis can accommodate more passengers and baggage.
There is a late-night surcharge of 20% to all rides if you take a cab between midnight and 4am. If your destination is outside Busan city limits, there will be a 30-40% surcharge.
The taxis take cash, most credit cards, Cashbee, and T-Money Card. You will need to confirm with the driver about the cards before taking the taxi.
Taxi Etiquette in Busan
You don't need to tip the drivers in Korea as it is not customary. A driver in Busan taxi can refuse the passengers. They can have several reasons like the destination is in the wrong direction from where the driver wants to go, destination is too close or too far, there is a language barrier and so on. Although it is illegal for the drivers to do so, you can simply wait for more friendly cabbie to come.
Busan Public Transportation Guide – Busan Car Rentals and Bike Rentals
Most tourists prefer to use public transportation in Busan and this guide will definitely help you with that. But, if you want your own set of wheels in Busan while romaing around, you need to carry a valid International Driving Permit in addition to your regular driving license. You can rent a car from Gimhae International Airport.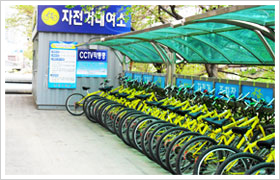 There are several bike rentals all across the city if you are looking for some exercise while having fun. Bikes are also a great way to explore the city without getting too much tired while walking around the streets. You can get the bikes and helmets either free of charge or for a nominal fee.
Tips For Using Public Transportation in Busan For Getting Around
Here are some tips from the public transportation guide in Busan that will help you get around in the city.
If your trip to Busan is more than a few days long and include visiting multiple areas, you will save a lot of dough by purchasing a Cashbee or T-Money Card. You can use these cards in buses, trains, taxis, and subways.
The Busan subway shuts down at midnight and reopens at 5:30 am so taxi is the only option during night time.
Be careful as you walk on the footpaths as sometimes even motorcycles drive there if the roads have too much traffic.
Traveling To Other Cities In Korea From Busan
If your first stop in South Korea is Busan, make sure that you add Seoul to your trip as it is a captivating city. You can take the high-speed KTX train as the journey itself is worth the trip. You will be traveling through forested mountains, green lush farmlands, leading to the futuristic metropolis.
Check out the public transportation from Seoul to Busan for more details.
Read more interesting articles about planning a trip to South Korea from KoreaTravelPost:
8,283 total views, 5 views today