South Korea has many art galleries and art museums that allow free access to visitors. Seoul, the capital, has a large share of these. Many of the best art museums and art galleries in Seoul offer free admission so that tourists can explore the artworks, paintings, exhibitions, sculptures, and other art exhibits.
Here is a glimpse of some of the best art galleries and art museums in Seoul where you can see art for free.
Seoul Museum of Art (SeMA)
Near the famous Deoksugung Palace, another great place to indulge in art is the "Seoul Museum of Art" (SeMA). SeMA hosts a vast collection of emerging and contemporary fine art and it also houses an art reference library. It is one of the few free art museums in Seoul.
Read more: Deoksugung Palace (덕수궁), Seoul
Seoul Museum of Art regularly holds exhibitions of Korean contemporary talent, artwork, and art projects of local as well as foreign artists who are well known. 
The SeMA is accessible to the general public, and its art exhibitions are a must-see when it comes to art scene in Korea! If you do feel like buying something, the museum also houses a souvenir shop and a coffee shop.
Seoul Museum of Art also has three more branches in other parts of the city. This particular branch of SeMa is right next to the Deoksugung Doldam-gil road by the stone wall where you can take a peaceful evening stroll.
National Museum of Modern and Contemporary Art (MMCA)
The National Museum of Modern and Contemporary Art (MMCA) in South Korea has four branches: Deoksugung (Seoul), Seoul, Gwacheon, and Cheongju. 
MMCA specializes in hosting exhibitions and preserving modern art. You can find various artworks such as paintings, oil paintings, and sculptures from different periods on display in exhibitions. Some of the sculpture parks if the museum have free access for general public.
The multiple facilities in the MMCA, some of them includes exhibition areas, art zone, library, reference center, Digital Book Café, food court, education spaces, theater, and many more.
Ihwa Mural Village
Located on the slopes of Naskan Mountain in northern Seoul, near Seoul's independent theatre district, is the Ihwa Mural Village. The village has unusual sculptures and colorful murals on walls along the village's steep stairways and alleys, created by more than 70 local artists.
Read more: A Visit to Artistic Ihwa Mural Village
The famous works include paintings of flowers and fish cascading down steep stairways, and giant portraits splashed across concrete underpasses. It is the place for a perfect selfie and a tourism hot spot. The steep walk also offers lovely views of the city (and epic sunsets) from the row of lookout cafes.
National Museum of Korea (NMK)
The National Museum of Korea (NMK) is located near the Yongsan family park in Seoul. There are multiple points of access to the museum which makes it very convenient for tourists to visit.
NMK is the largest museum of South Korea with special exhibition halls, a children's museum, outdoor exhibit areas, restaurants, cafes, shops, and many other amenities. It has six permanent exhibition galleries, some of which include the Historical Gallery and the Fine Arts Gallery.
In the NMK, you will come across arts and relics from Asian countries, including India, Japan, and Southeast and Central Asia. There is a vast collection of Buddhist paintings, Korean traditional paintings, sculptures, calligraphy, metal arts, and ceramics.
Seoul Arts Center
Seoul Arts Center (SAC) is the most popular cultural destination of Seoul. It is a large complex with several buildings. The world-class art and culture center holds exhibitions, musicals, and other art events. SAC attracts millions of visitors yearly for thousands of quality cultural & art events, performances, shows, and exhibits. It provides artistic inspiration for artists and creates a memorable experience for its audience. 
The Seoul Arts Center has everything: a Hangaram Art Museum, calligraphy art museum, outdoor stage, music, concert and recital halls, theaters, and opera house. And if you want to take a break from the art scene, there are quite a few cafes, wine bar, restaurants, and bookstores within the complex.
Seoul National University Museum of Art
The Seoul National University Museum of Art (SNUMoA) is a museum within the Seoul National University. The SNUMoA hosts regular exhibitions of students' work along with the work from international and local artists.
It is not only popular for its free art scene, but also for the architectural marvel. The Seoul National University Museum of Art offers weekly lectures, cinema, and other art events that are open to all SNU members and the public as well.
Hongdae Art Market Free Market
Hongdae is the center of everything in Seoul, where the street art splashed across the sidewalks and walls adds to the energy of the vibrant ambiance of Hongik University in the neighborhood. It is also known as Hongdae Graffiti Alley. The pictures are mesmerizing as the artists have poured their emotions. Some of the best murals are on the alleyways surrounding University.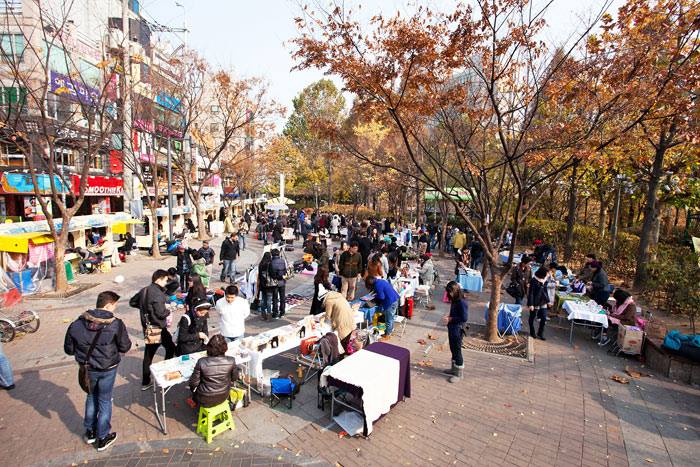 In the Hongdae market, always packed with people, almost everything that you need is available. If you go on a Saturday afternoon, you'll find that this place crowded with lots of people. Hongdae Art Market Free Market has been an art market since 2002.
Mullae Art Village
The iron and steel industrial complex of Mullae-dong, once famous for its steel foundries, has transformed into an artists' village known as "The Mullae Art Village." It is just south of the Han River in Seoul.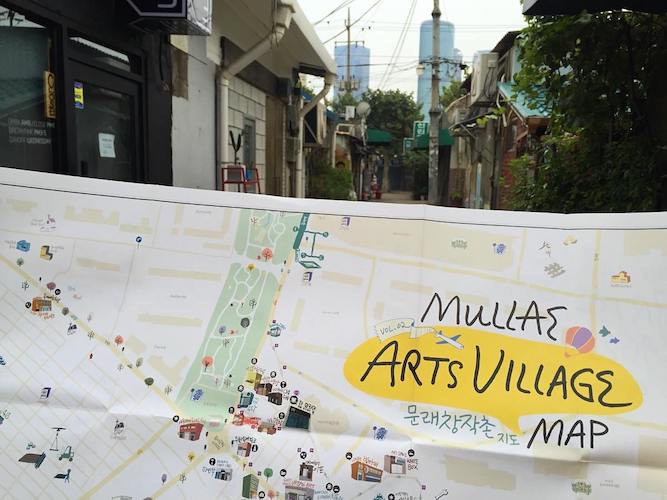 The area is abundant with artists' studios and workshops run by young artists. Each street has colorful murals, and there is much to see and photograph here. There are many trendy cafés and restaurants also.
Gana Art Gallery
One of the first significant art galleries established in northern Seoul, Korea, is "Gana Art Gallery." It is the leading Korean and Asian contemporary art gallery known for its public art projects. This primarily contemporary art gallery remains one of Korea's most prestigious and influential art institutions today.
Gana Art Gallery is one of Seoul's modern architectural gems and is a sophisticated cultural spot. It has three large spaces for exhibiting art pieces such as painting, sculpture, video art, installation, and contemporary photography. It also holds performances and screens experimental movies.
Gallery Hyundai
Gallery Hyundai is one of the few top commercial galleries in Korea which offers free admission. It is one of the first art gallery in Korea to open fifty years ago. Since then, it has become a popular place for short and regular high-quality art exhibitions. You can find contemporary and modern art here. Gallery Hyundai is located next to Gyeongbokgung Palace which makes it easily accessible for anyone on a trip to Seoul.
Gallery Hyundai also provides support to young artists allowing them the opportunity to launch themselves in the commercial world of art and get recognition.
Read more: Gyeongbokgung Palace – Korea's Magnificent Main Palace
Read about other art galleries and art museums in Seoul, some of which offer free access on selected days, dates, or to specific people.