The celebration of Chuseok in 2023, which took place from September 28th to 30th, immersed us in the essence of this Korean tradition, also known as Hangawi. This special time allows us to express gratitude for the abundant fall harvest and come together with our families to count our blessings. Chuseok falls on the 15th day of the eighth lunar month and is often called "Korean Thanksgiving Day" or the "Mid-Autumn Festival." Even though the celebration has concluded, you can continue to embrace the spirit of Chuseok by indulging in these delightful Korean Chuseok delicacies.
Taste of Tradition: Indulge in These 5 Mouthwatering Flavors of Korean Chuseok Delicacies
1. Namul (나물)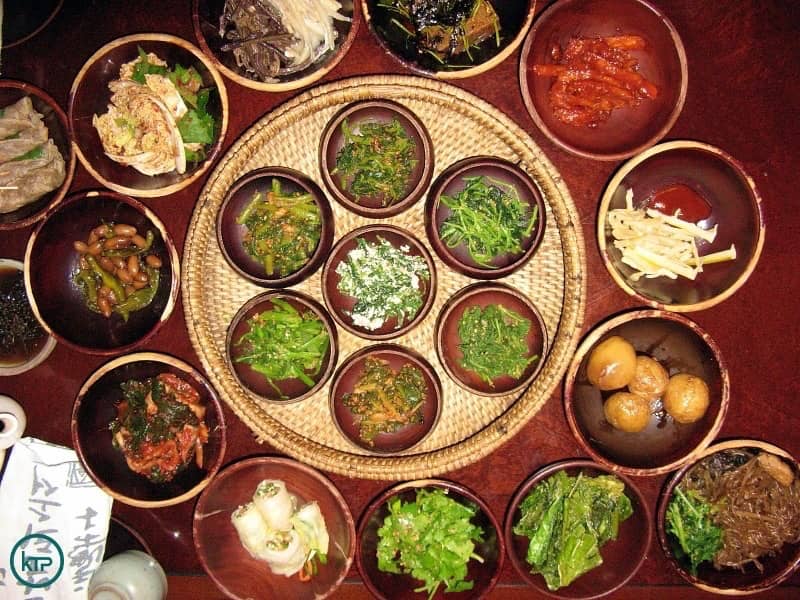 The beloved Korean vegetable side dish set, Namul, offers a delightful array of flavors and textures. They encompass a plethora of vegetables and even fruits. From vibrant green leafy vegetables to starchy root varieties, sprouts, and green beans, these dishes embrace a broad spectrum of ingredients prepared in various ways.
Whether they are enjoyed raw, pickled, fried, sautéed, blanched, or dried, it never fails to deliver a burst of freshness. What sets them apart is their delicate yet flavorful seasoning. It typically includes soy sauce, sesame oil, sesame seeds, vinegar, garlic, and occasionally gochujang, the spicy red chili paste.
These delectable creations are not just standalone dishes – they are part of the rich tapestry of banchan, the traditional Korean side dishes served alongside main courses. Their vibrant flavors and refreshing touch elevate meat-based dishes to new levels. Whether you're enjoying a succulent Korean barbecue or a comforting bowl of bibimbap, namul adds that extra burst of freshness that brings the entire meal to life.
2. Songpyeon (송편)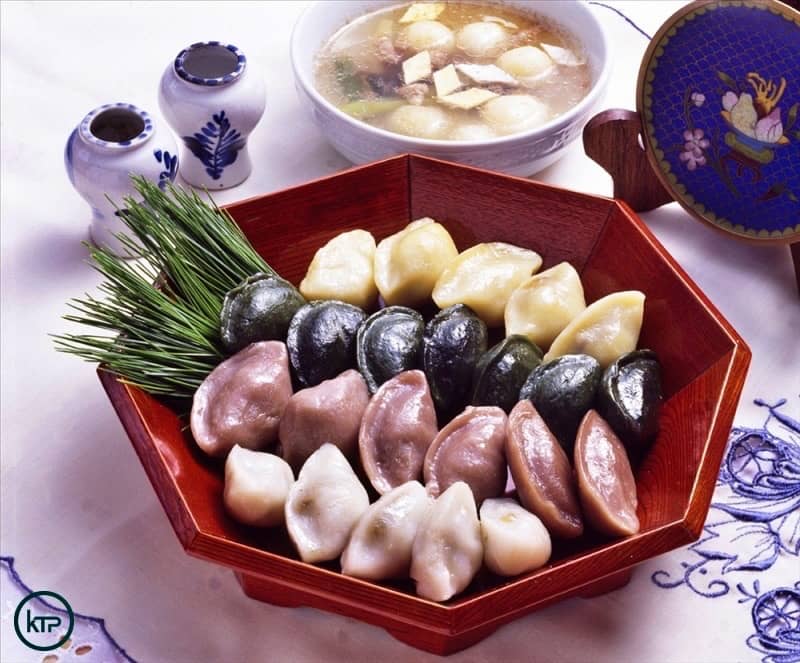 One of the delightful highlights of Chuseok is Songpyeon. This delicacy, shaped like a crescent moon, is an essential part of the festival. It is filled with various sweet fillings and has colorful exteriors, symbolizing broad-mindedness, harmony, and the ideals of an upright scholar.
Traditionally, these delicacies are steamed on pine needles to enhance the flavor and prevent them from sticking together. Popular fillings for Songpyeon include mung bean, sesame seeds, jujubes, honey, red beans, dates, and chestnuts. These fillings give the rice cakes a distinctive taste and a fragrant smell of fresh pine trees.
Although Songpyeon was traditionally handmade by families using freshly harvested rice, they are now readily available in the market.
Read also: Celebrating Chuseok: Best Things to Do in South Korea
3. Hangwa (한과)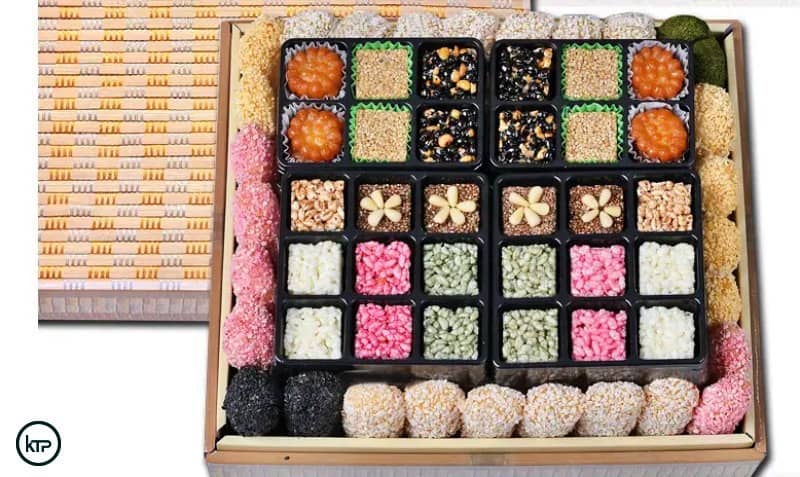 Hangwa, a treasure trove of traditional Korean desserts, offers an extensive array of delicate confections. These delightful Korean treats have a special place in ancestral rites and traditional holidays. You can find them gracing the tables of coffee shops and weddings as well. The term "Hangwa" is a fusion of "Han," representing Korean, and "gwa," signifying confection.
This Korean dessert is a traditional Korean snack made by kneading grains or grain flour with sweeteners and adding enticing ingredients for flavor. There are eight different types of Hangwa, each showcasing its unique characteristics. These variations arise from specific preparation methods or the choice of ingredients used in making these delightful confections.
Although Hangwa is a tempting indulgence, finding these delectable confections can be challenging. Nevertheless, their unique and delightful taste makes the search well worth it.
4. Tteokguk (떡국)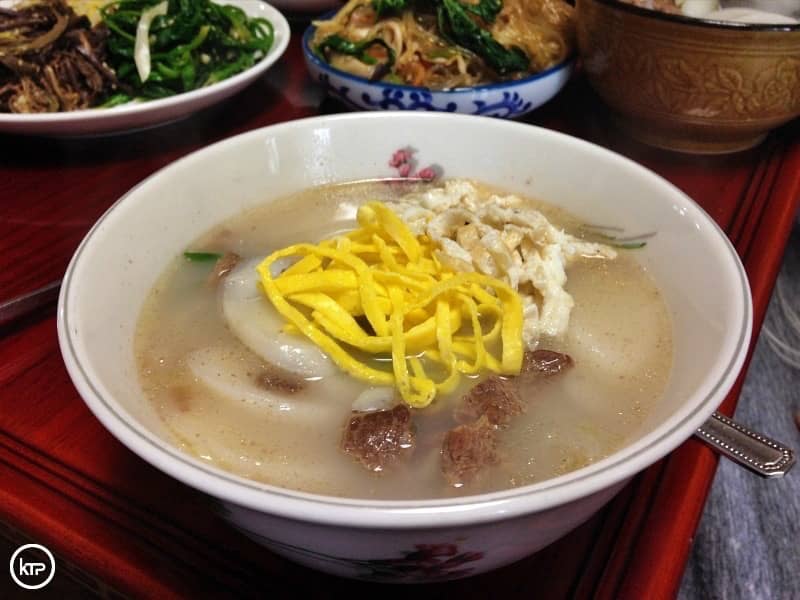 Tteokguk is a traditional Korean soup that holds special significance during birthdays, New Year, and Chuseok celebrations. The name "tteokguk" translates to "rice cake soup" in Korean. This Korean food is a hearty combination of rich beef broth and thin slices of rice cakes, offering a delightful balance of flavors and textures.
Thinly sliced eggs, green onions, Korean seaweed (gim), and a drizzle of toasted sesame oil beautifully garnish the soup, creating a burst of freshness and fragrance. Tteokguk is not only a delicious soup, but also believed to bring wealth, prosperity, and good luck for the year ahead.
Read also: Korean Holidays: A Guide to the Important Dates in Korea's Calendar
5. Galbi-jjim (갈비찜)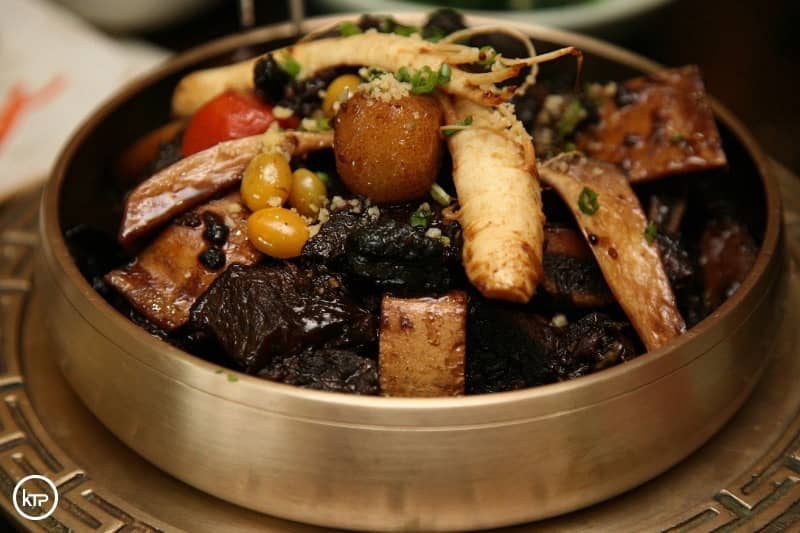 Galbi jjim, a culinary gem from the 1700s, features beef short ribs ("galbi") that are steamed or boiled ("jjim"). Traditionally reserved for Chuseok and Seollal, this Korean food represents the pinnacle of Korean cuisine, offering a harmonious blend of savory and sweet flavors. This delectable dish requires a minimum of a few hours of cooking to ensure the meat becomes tender and succulent.
When prepared correctly, Galbi jjim is a classic Korean barbecue masterpiece. It will melt in your mouth, delivering a delightful combination of sweet and savory tastes. The slight smoky-grilled flavor adds texture and depth to the beef, making it an unforgettable culinary experience.
While this article may conclude, your exploration of Korean cuisine can continue. Whether you're celebrating a special occasion or simply craving the delightful tastes of Chuseok, these dishes offer a timeless connection to tradition.
From picturesque landscapes to hidden gems and cultural adventures, follow KoreaTravelPost's Twitter, Facebook, Instagram, LinkedIn, and Flipboard for a thrilling journey through the heart of Korea.
Related Posts
517 total views, 7 views today