Korean cuisine is renowned for its bold flavors. One captivating element is the addictive nature of Korean spice. Preservation and fermentation techniques play a crucial role in creating the tangy and spicy flavors that keep people hooked. Let's explore best spicy Korean foods, where each bite packs a fiery kick that leaves you craving for more.
Mouthwatering Spicy Korean Foods: Irresistibly Tangy and Spicy Flavors That Capture the Heart
The Charm of Korean Spice: Fermented Delights and Tangy Twists
The name of a chili powder in Korea is Gochugaru. It is a common and essential ingredient in numerous Korean dishes. Made from chili peppers without seeds, it adds a rich flavor to dishes. The Korean chili pepper used for gochugaru is milder than other varieties.
However, Korean cooking techniques, especially fermentation, can enhance the flavors of gochugaru. This process results in a more intense and aromatic spice, adding an extra layer of depth and richness to dishes.
A standout example is kimchi, a spicy cabbage dish covered with gochugaru (chili pepper flakes) and gochujang (chili pepper paste). It provides a mild heat and elevates the taste of any accompanying dish. Other fermented favorites include doenjang (soybean paste), which enhances the savory umami flavors. Additionally, there's the sharpness of garlic and ginger.
Koreans have a deep appreciation for the cathartic feeling that comes from eating spicy food. The heat of Korean spice stimulates the taste buds, releasing endorphins and creating a sense of satisfaction and pleasure. It is a sensory experience that leaves a lasting impression, bringing people back for more fiery delights.
Must-Try Spicy Korean Foods
1. Buldak Bokkeum-myeon (Korean spicy BBQ chicken / "fire" chicken instant noodles)
The most popular spicy Korean food is the "Buldak Bokkeum-myeon" instant noodles. These Korean spicy 'fire noodles' have gained popularity due to viral challenges that test people's tolerance for extreme spiciness. You can find them in convenience stores or online shops. This Korean food combines the heat of fiery chicken flavors with the comfort of instant noodles, creating a flavor explosion in every bite.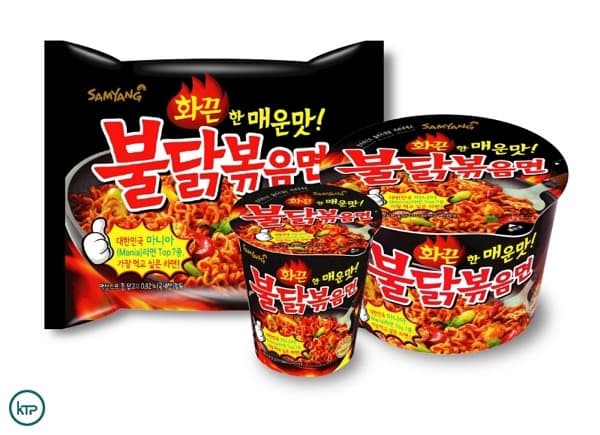 2. Maeundae Galbi jjim (Spicy Braised Ribs)
Galbi jjim is a braised short rib that is slow-cooked to perfection. It offers a tender texture and a harmonious blend of sweet and savory. The dish is typically enjoyed on special occasions like Chuseok. However, 'Maeundae Galbi jjim' has a new level of spiciness. So, get ready for a fiery experience!
3. Tteokbokki (Spicy rice cakes)
Tteokbokki, chewy rice cakes simmered in a spicy and tangy chili sauce, is perfect for those who enjoy a balance of flavors. Its spiciness is from gochujang chili paste, but the heat level can vary among vendors. This delectable treat is also budget-friendly and available to purchase from street vendors in Korea.
4. Bibim Naengmyeon (Spicy cold noodles)
Bibimnengmyong is a refreshing cold buckwheat noodles topped with a spicy chili sauce, cucumber, apple, pear, and gochujang. This dish is perfect for summer cooling, but can be enjoyed all year. It starts with a sweet taste and gradually becomes spicier. However, individuals with a low tolerance for spiciness may find it uncomfortable.
5. Dak Bokkeum Tang (Spicy braised chicken)
Chicken Bokkeumtang is a popular Korean dish with stir-fried chicken, vegetables, and a fiery chili sauce. The flavors of this dish perfectly blend spiciness and savory goodness, resulting in a mouthwatering culinary experience. For those who have a penchant for spicy cuisine in Korea, Chicken Bokkeumtang is a popular choice. Usually, people love enjoying the dish with steamed rice and pickled radishes.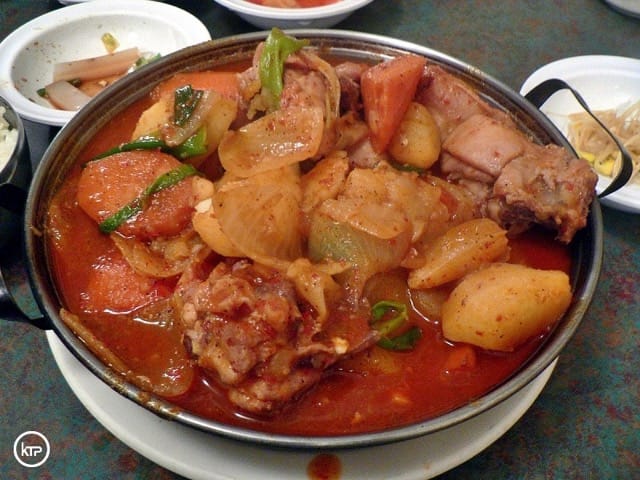 6. Jjampong (Spicy seafood noodle soup)
Experience the tantalizing flavors of Jjampong, a beloved Korean dish composed of noodles, seafood, veggies, and a spicy broth. It's important to note that this dish can pack quite a heat, so enjoy it with care.
7. Nakji-bokkeum (Stir-fried Octopus)
Nakji-bokkeum is one of the must-try spicy Korean dishes. The delectable dish consists of a tender octopus that is stir-fried with spicy chili paste, soy sauce, and garlic. It is noteworthy that in Korea, numerous dining serves the dish with a fiery zest. As such, enjoying it with caution and having water nearby is advisable.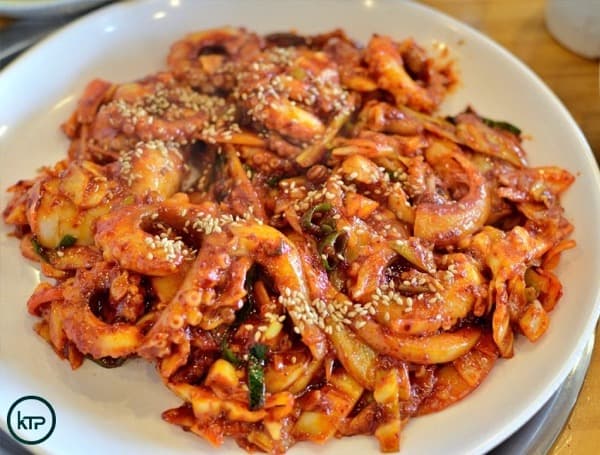 Korean cuisine offers a wide range of spicy and non-spicy options, ensuring there is something for everyone to enjoy. The addictive nature, tangy flavors, and various dishes make Korean cuisine unique. Whether you prefer spicy or milder flavors, exploring Korean cuisine is an adventure you won't miss. Please share with us, which spicy Korean foods do you particularly enjoy?
From picturesque landscapes to hidden gems and cultural adventures, follow KoreaTravelPost's Twitter, Facebook, Instagram, LinkedIn, and Flipboard for a thrilling journey through the heart of Korea
Related Posts
528 total views, 1 views today