Visit Seoul, where you can dive into a world of rich arts and cultural spaces, experience authentic Korean culture, join vibrant festivals, and discover captivating art exhibitions.
Seoul's arts & cultural spaces offer a treasure trove of experiences, from ancient palaces to contemporary art exhibitions, making them a must-visit for anyone exploring the city. With a rich tapestry of history, art, and cultural festivities, these spaces immerse visitors in Korea's vibrant heritage and creative energy.
Whether you're a history enthusiast, an art lover, or simply seeking to immerse yourself in traditional customs and celebrations, Seoul's cultural spaces have something for everyone. Let's continue exploring the captivating experiences these cultural spaces in Seoul offer!
5 Best Arts & Cultural Spaces to Visit in Seoul, South Korea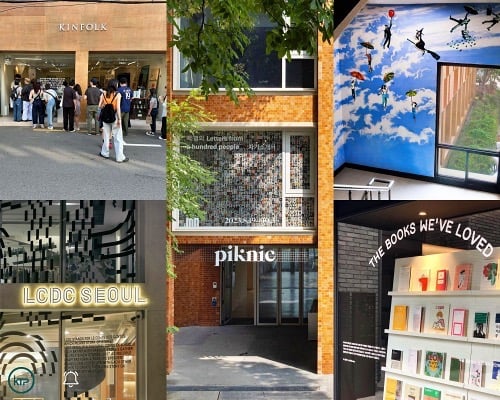 Top Places to Visit for Art and Cultural Activities in Seoul
1. PICNIK (피크닉)
Piknic is a cultural complex space in Hoehyeon-dong, Jung-gu. Once a pharmaceutical company building, it has become a vibrant hub for cultural activities. Near Hyehyeon Station and Namdemun Market, Piknic offers a unique lifestyle concept. It includes Bar Piknic, a coffee shop by day, and a cozy wine bar by night. There's also an exhibition hall, a French Dining restaurant called Zero Complex, an art shop called Kiosk Kiosk, and a stunning rooftop terrace with views of Namsan and Myeongdong.
Address: 30, Toegye-ro 6ga-gil, Jung-gu, Seoul, South Korea.
2. Seoul Innovation Park
Seoul Innovation Park (SIP) is an innovative platform in Seoul uniting individuals and organizations to address social issues. There are 235 groups and 1,200 innovators conducting social experiments in various fields. SIP invites citizens to use its open spaces, fostering community engagement and creativity. The place is committed to a safe and sustainable society and promotes global communication, aiming to make a meaningful impact worldwide.
Address: 2F, Mirae-cheong, 684, Tongil-ro, Eunpyeong-gu, Seoul, South Korea.
Read also: Discovering Korea's Thriving Art Scene: A Guide to Contemporary Art Galleries
3. SOUNDS Hannam (사운즈한남 )
Located in the diverse neighborhood of Hannam-dong, SOUNDS Hannam is a well-known cultural hub and complex. It adopts a unique "urban resort" design that blends residential, office, and retail spaces. Visitors can enjoy a full day at this cultural hub and complex as it has various facilities. Restaurants, boutiques, bookstores, art galleries, and delightful flower shops exist.
Address: 35, Daesagwan-ro, Yongsan-gu, Seoul, South Korea.
4. LCDC SEOUL
LCDC, short for "Le Conte Des Contes," translates to the intriguing concept of a "story of stories." This cultural space in Seoul is one of the most captivating places to explore. Visitors will discover a range of small shops, pop-up stores, and a fashion and lifestyle boutique. Additionally, LCDC offers the opportunity to enjoy a music performance, relax in a cozy cafe, and savor the atmosphere at a charming rooftop bar. LCDC Seoul beckons guests to immerse themselves in joy, self-awareness, and satisfaction, enabling them to craft unforgettable experiences and stories during their visit.
Address: 10 Yeonmujang 17-gil, Seongsu-dong 2(i)-ga, Seongdong-gu, Seoul, South Korea.
Read also: 6 Amazing Arts & Culture Spaces in South Korea
5. Kinfolk Dosan (킨포크 도산)
Kinfolk Dosan is an arts & cultural space in Gangnam Seoul. The place is inspired by Kinfolk Magazine's philosophy of slow living. Moreover, it features a Nordic interior design and a central garden. With its unique concept, it's creating an atmosphere that encapsulates the Kinfolk lifestyle. Visitors can engage in exciting activities such as writing, photography, and experiencing scents alongside like-minded individuals.
Address: 24 Eonju-ro 168-gil, Apgujeong-dong, Gangnam-gu. Seoul, South Korea.
Related Posts
521 total views, 7 views today