Ever heard of Andong? No? Well, let us spill the tea. This under-the-radar spot might not be on everyone's South Korea must-see list, but trust us, it's a detour you won't regret. From a festival that's the epitome of Korean culture to hidden gems around the city, Andong is a treasure trove waiting to be discovered. So buckle up because we're diving deep into all the reasons why Andong should be your next "pin" on that travel map! 
Andong Mask Dance Festival
Ever been curious about the vibrant world of Korean mask dances? Pack your bags and set your GPS for Andong, a charming city just a three-hour drive from Seoul. Why? Because every autumn, when the Korean air is still warm and inviting, Andong becomes the global epicenter of mask dance magic. 
In 2023, the Andong Mask Dance Festival will take place from Monday, October 2 to Monday, October 9.
Official Website: http://www.maskdance.com/eng/main.asp
Talchum, Korean mask dance re-explored at '2022 Andong Mask Dance Festival'#Talchum #Andong_Mask_Dance_Festival #Arirang_News pic.twitter.com/bR8QMrPG1h

— Arirang News (@arirangtvnews) September 30, 2022
Things to Know About Andong Mask Dance Festival
Ever wondered why masks hold such a mystical allure? In Korean culture, masks are more than just decorative pieces; they're steeped in history and tradition. These masks have seen everything from war rituals to theatrical plays and shamanistic ceremonies. And if you're keen to dive into this fascinating world, there's no better place than Andong's Mask Dance Festival. 
Imagine starting as a modest 2-day event back in '97 and now stretching over 10 glorious days! Yep, that's the Andong Mask Dance Festival for you. It's not just one of Korea's most traditional festivals but also one of the coolest. The city comes alive with performances, activities, and shows that are as diverse as they are captivating. What's super interesting is how the festival has evolved over the years. Initially rooted in shamanistic practices, it's now a platform where commoners can poke fun at the high and mighty—think monks, noblemen, and even government officials. The performances are a cheeky blend of reverence and irreverence, making for some truly unforgettable shows.
While the festival's spirit permeates every nook and cranny of Andong, the real action is concentrated in the Mask Dance Park. This is the festival's heart, where you can experience the full spectrum of what this incredible event offers.
Beyond the Dancing
What started as a humble celebration of Korea's mask dance tradition has blossomed into an international fiesta. Yep, you heard that right! This isn't just a showcase of Korea's cultural gems; it's a global stage where various cultures flaunt their traditional mask dances. So, whether you're a die-hard fan of Korean culture or a global citizen with a love for dance, this festival has something for everyone.
But wait, there's more! The festival isn't just about sitting and watching; it's an interactive playground. The schedule is jam-packed with activities that'll keep you on your toes. From mask-making workshops that are a hit with the kiddos, to a mask busking competition, musical performances, magic shows, and even taekwondo displays—there's never a dull moment.
A Culinary Delight
And let's not forget the food, because what's a festival without some mouth-watering grub? Get ready to feast on local delicacies like Andong jjimdak (안동찜닭), a scrumptious steamed chicken dish with marinated veggies, or heotjesatbap (헛제삿밥), a unique twist on the classic bibimbap. And for the noodle lovers, there's a Korean noodle soup (칼국수) that'll make your taste buds dance.
Where is Andong?
Andong is located in the North Gyeongsang Province of South Korea. It's situated in the eastern part of the country, roughly three hours by car from the capital city of Seoul. Known for its rich cultural heritage, Andong is often considered a center of Korean folk and Confucian culture. The city is famous for its traditional Hahoe Folk Village, Andong soju (a type of distilled liquor), and the Andong Mask Dance Festival, among other cultural attractions. It's a popular destination for those interested in experiencing a more traditional side of Korean life.
There's not a lot to do in Andong compared to other cities in South Korea. But you can still enjoy the sights and experiences the city offers while you visit to experience the Andong Mask Dance Festival. Whether you're into history, nature, or just looking to have a good time, Andong has got you covered. 
Step Back in Time at Hahoe Folk Village: This village is like a living museum, guys! Untouched and authentic, it's a 600-year-old time capsule where you can soak up traditional Korean architecture and meet the descendants of the Ryu clan of Pungsan. Talk about a history lesson!
Live Like a Local in a Choga: While you're in Hahoe, why not go all out and stay in a choga? These are traditional homes with straw-thatched roofs, but don't worry, they've been updated with modern amenities like electricity and cable. It's rural Korea with a touch of 21st-century comfort.
Conquer Buyongdae Cliff: For adventurers, a hike up Buyongdae Cliff offers panoramic views of Hahoe Folk Village. Not a hiker? No problem! You can also catch a ferry on the Nakdong River for a more laid-back experience.
Sip the Best Soju at Andong Soju Museum: Soju isn't just a drink; it's a cultural icon. Andong's soju is the crème de la crème, thanks to a unique blend of fermented and distilled rice and grains. Trust me, you'll want to taste this liquid gold.
Cross the Wolyeonggyo Bridge: This isn't just any bridge; it's Korea's longest wooden bridge at a whopping 387 meters. Don't forget to catch the light and fountain shows—they're the cherry on top of this unique experience.
Dive into Confucian Wisdom: The Confucian Culture Museum is the only one of its kind in Korea. With nine exhibition rooms and a special expo room, it's a deep dive into the teachings of Confucius that you won't want to miss.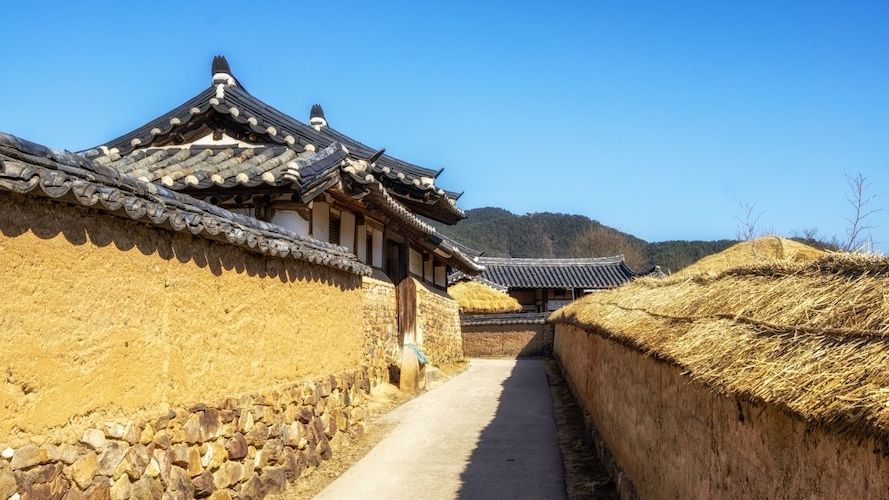 What to Pack for the Andong Mask Dance Festival: Your Ultimate Checklist 
But before you jet off, let's talk packing. A little prep goes a long way, especially when you're going to be dancing your way through Andong.
Weather Watch
First things first, let's talk weather. Late September to early October in South Korea is pretty pleasant. You're looking at daytime temps around 25°C (that's 77°F for my American friends), and it can drop to about 10°C at night. While there might be some rain, it's usually not a downpour.
Your Packing List
Layer Up: Since the weather can be unpredictable, layers are your best friend. Think light t-shirts, long-sleeve tops, and a cozy sweater or hoodie.
Rain Gear: Always, and I mean always, pack a lightweight raincoat or a compact umbrella. You don't want a little rain to dampen your festival spirit.
Comfy Footwear: You'll be exploring, dancing, and probably doing a lot of walking. So, comfy walking shoes are a must. Consider shoes that are also easy to slip on and off, especially if you plan to visit traditional Korean homes.
Accessories: A hat, sunglasses for daytime exploring, and maybe a light scarf for cooler evenings.
Camera Gear: You'll want to capture all the amazing performances and activities, so don't forget your camera or smartphone. Maybe even pack a portable charger to keep you juiced up.
Reusable Water Bottle: Stay hydrated, folks! A reusable water bottle is not just eco-friendly; it's also super convenient.
Snacks: Pack some light snacks like granola bars or fruit to keep your energy up between all the dancing and exploring.
Small Backpack: To carry all your essentials while out and about.
Wrapping up
So, if you're looking to immerse yourself in a cultural experience that's as colorful as the autumn leaves in Korea, the Andong Mask Dance Festival is where you need to be. 🍁🎭
Related Posts
224 total views, 13 views today