Tongyeong is a bustling coastal city surrounded by hills on the southern coast of South Korea. It consists of  Hansan Island, Goseong Peninsula, Mireuk Island, Yokji Island, and other islets. Because of mesmerizing natural beauty, historical places, and traditional Korean culture, this is one of the most popular places among tourists. Tongyeong is famous for its seafood, especially oysters. It is also known as Napoli of Asia. Read this guide to Tongyeong to plan the best possible trip and enjoy to the fullest!
How Can You Reach Tongyeong?
You can reach Tongyeong very easily by express buses. From Busan, it will take only 1 hour by express bus and 4 hours from Seoul.
When Should You Go (Best Time To Visit Tongyeong)?
Tongyeong is a popular destination in summer and late spring. But you should avoid any holiday in summer cause at that time it becomes fully packed. 
The Weather Of Tongyeong
The weather of Tongyeong is similar to any other southern Korean city. It has four seasons where winters are a little bit milder, but summers are much moister.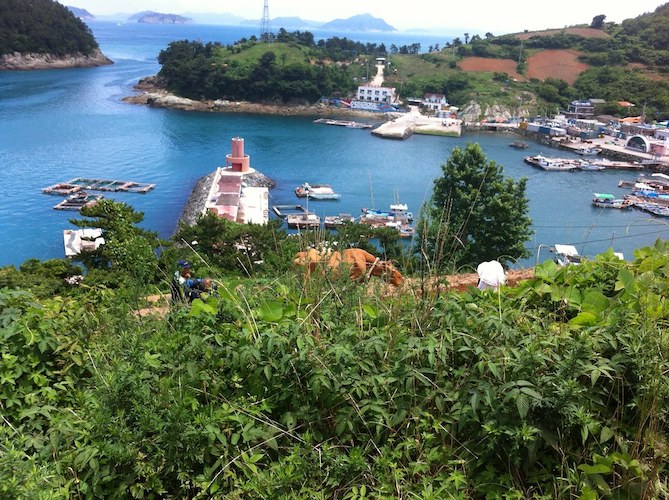 How Can You Move Around In Tongyeong?
Bus
You will find local buses in Tongyeong. But sometimes it becomes very difficult to get a bus. If you are thinking of using buses, then you must download KakaoMaps. It will show you the time of the next bus, and you can plug in the points just from your phone.
Taxi
Despite being a little bit expensive taxi is one of the best transport mediums to travel fast with comfort. You will also get a taxi booth from where you will get several numerous cabs. But sometimes on weekends, lousy traffic can cause trouble.
Car
Without any doubt, if you are planning to visit Tongyeong, you should rent a car. This is the best medium to make your journey smooth. Eventually, 90% of tourists rent cars for traveling.
Best Things To Do In Tongyeong
#1 Visit the Islands
If you are visiting Tongyeong, you must visit the nearby Islands. As Tongyeong is a port city, these islands are easily accessible. Deep blue sky, ocean, and the beauty of untouched nature will blow your mind. Among these islands, Hansando is the closest and easiest for traveling. Other popular islands are Somaemuldo, Saryangdo, Bijindo, and Yeonhwado.
#2 Gangguan Port
In this port city, Gangguan port is one of the busiest ports lined by fishing boats and surrounded by markets, restaurants, and shops. Here you will find famous turtle ships, and even you can board the ship. After sunset, the heart-stopping scenic view of this port will make you spellbound. From the amazing view to fishing at dusk to street foods, you will have an amazing experience. 
#3 Go to Jungang Fish Market
Jungang Fish Market is placed east of Heunginjimun Gate, just to the other side of Gangguan port. There is a lot to see. The aroma of the fresh fishes will make any fish lover hungry. You will get any type of fish you want. This is the biggest market of dry fish in South Korea. Jungang is also popular for dried pollack, filefish, laver, corbina, squid, and many more. You should try some cooked dishes which are easily available to the vendors. Other than fishes, you will also find vegetables, fruits, and other meat products. The market closes in the early afternoon. If you are planning to visit this bustling market, try to come early.
#4 Yi Sun-Sin Park
Yi Sun-sin (1545-1598) is a national hero of South Korea who led the battle against Japan. It is situated at Jeongnyang-dong, Tongyeong-si. A bronze statue of Yi Sun-Sin is also present here. Several amazing sights are ranging from famous turtle ships to beautiful topiaries and many more. From amazing view of the coast to decorated wooden pathway along the coast will make you fall in love with this place. Don't miss the chance of enjoying nature watching the deep blue ocean under the blue sky.
It is a small Buddhist temple located in Gyejok Mt. in Daejeon. The temple was established by a female Buddhist follower Jeong Geumgangsim in 1950. The designs and paintwork of this temple will blow your mind. yonghwa temple is also popular as a meditation temple.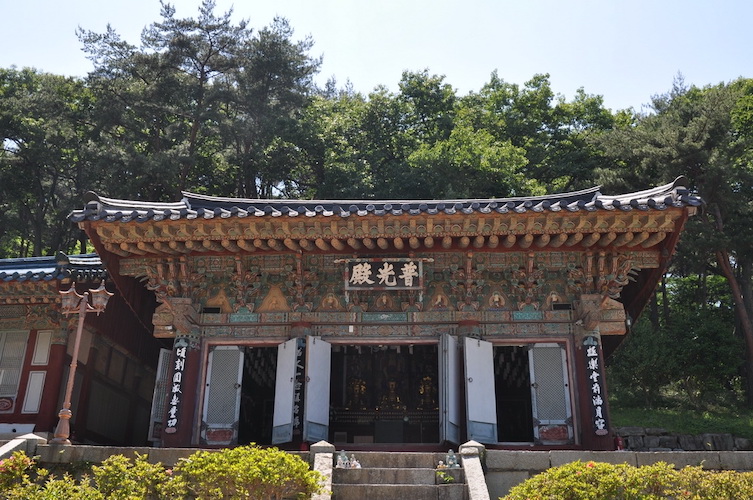 #6 Jeon Hyuck Lim Museum of Art
Tongyeong is popular for creativity.  Tongyeong island of artists as well as a novelist. This is a private museum of master artist Jeon Hyuck Lim. From Mireuksan Mountain, it will take only five minutes on foot. Master artist Jeon Hyuck, also known as a "magician of colors" and "painter of the sea," built this museum where he lived for 30 years. Jeon Hyuck Lim and his son have decorated this museum with their creativity. You will also find some book stores from where you can buy Korean novels.
#7 Go to the top of Mireuksan Mountain
 Mt. Mireuksan ( 461 meters ) is located in the center of the Mireukdo island. If you wanna experience total Tongyeong, you should go to the top of the mountain. You must experience a kickass view during sunset in the evening. There is also a valley which is the source of clean water flows through the forest. At the foot of the mountain, there are several Buddha temples (Gwaneumam, Yonghwasa, Dosoram, Miraesa). When you are going down, you can see Daemado of Japan. 
#8 Go and enjoy Hallyeosudo Cable Car
With a length of 1,975 meters, it is the longest cable car in South Korea. There is a total of 47 cars. It will take only 9 minutes to reach the summit station. After climbing the car, the fascinating view of nature will blow your mind. 15 – 20 minutes later, and you will be on the top of Mireuksan. From the top of the Mireuksan, you will be mesmerized by the spectacular scenic view.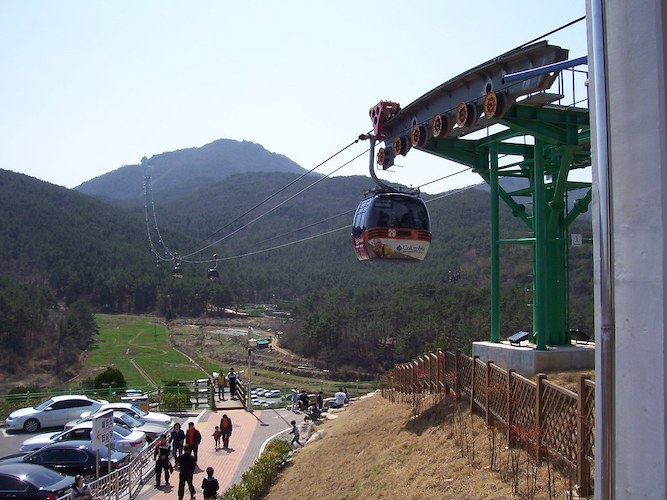 The cable cars are available from 9:30 – 7:00 in Summer, from 9:30 – 5:30 in Winter, and 9:30 – 6:00 in Spring/Autumn. Some cafes are also available in the station. You will also get a toilet here. From here, if you go a little ahead following the wooden staircase, you will find a fascinating place to embrace yourself in mother nature's beauty.
#9 Explore Dongpirang Mural Village
Dongpirang is a village in South Korea that was saved by art. When this poor village behind the Jungang Traditional Market was set apart for destruction back in 2007, the art students filled the village with fantastic wall paints, too beautiful to demolish. Gradually this colorful village becomes popular among tourists for spending holiday.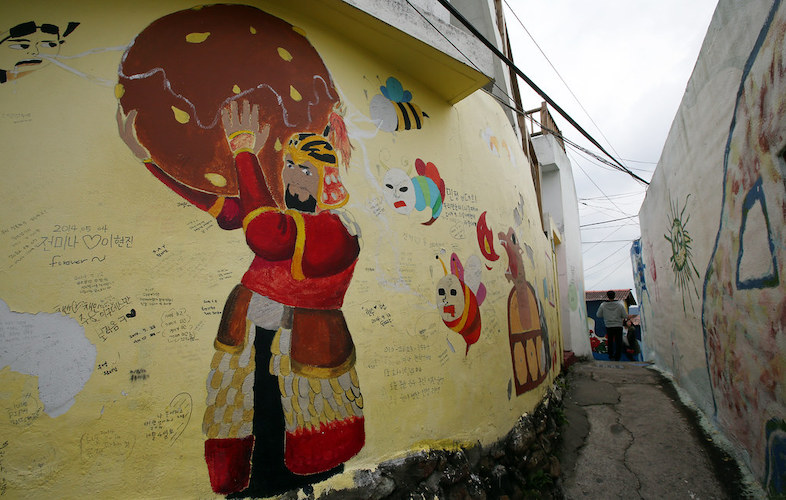 #10 Seoho Traditional Market
This is one of the biggest and oldest markets in South Korea. It is located just opposite Tongyeong Ferry Terminal. From fish to fresh vegetables, meats, snacks, every variety of food is available. If you are planning to come then try to go early in the morning.
#11 Nammangsan Sculpture Park
Nammangsan Sculpture Park is located on the east side of the Gangguan harbor. The park was established to exhibit renowned sculptors from 10 countries (Japan, China, France, Israel, Venezuela, etc.) who took part in the Tongyeong International Sculpture Symposium. On the top of the park, you will also find a pagoda. 
Where Can You Stay?
There are numerous options to stay in Tongyeong. If you are planning to travel a lot, choose any hotel closer to Ganguan Harbor. There are numerous tourist spots which are closer to this port. If you want to spend your holiday in a calm place around beautiful nature, then you can choose any hotels or guest houses near Hallyeosudo.
Where To Eat In Tongyeong?
There are several restaurants around you but choosing the best one may be difficult for you. Here we have shortlisted some best restaurants and cafes where you can go without any worry.
It is one of the best restaurants you should try. You will be astonished knowing that the owner of the restaurant, Chef Jang, had served President Bill Clinton, Queen Elizabeth, Tom Cruise, and even Rodger Federer when he worked in the Grand Hyatt. You will find lots of options on the menu, and the price starts from 20000 won. The restaurant is popular for Japanese Korean fusion food.
Cheontaemansang
If you wanna taste some traditional Korean food, this is the best restaurant for you. Here you should try your all-time favorite Korean drink, Soju and Makgeolli. This restaurant also serves the best-grilled mackerel. You also can have beer here. 
Wellsam Gui Shabu
This is one of the best eating places in the Tongyeong, which is always packed at lunch and dinner time. Here you can eat sitting on the floor, which is Korean tradition. Price starts from 11000 own per person. If you want to have lunch or dinner here, then go before midday or before 6 p.m.
Other than restaurants, you find several coffee shops where you can spend quality time.
Don't forget to check out these other South Korea travel posts:
4,263 total views, 5 views today