The towering buildings of the vast metropolis capital of South Korea, Seoul, have in its nooks and corners the most fulfilling, relaxing, and adorable cat cafes that you should surely visit at least once in your lifetime.
Cat cafes are pretty mainstream in South Korea, especially in Seoul, unlike the traditional western cafes. Though it's very difficult to unleash the minute cat cafes spread across the big bolding city, there are five of them worth having a tour to.
These cat cafes in Seoul will offer you some unforgettable little moments of your life .
It is the most popular cat cafe in Myeongdong out of all cafes, and the reason behind it is the presence of bewitching cats.
This attic is a comfortable, pretty place, with good coffee and a lot of cats. The comforting colorful nooks of the cafe and decent lattes attract coffee lovers, and if you like cats, it's a bonus for you to be able to cuddle with the adorable little creatures.
Even if you walk into the cafe on a busy day, you will not find any issue concerning the service or comfort. The cafe attendants are very competent, hardworking, and approachable. They also demonstrate little tricks to get the cats to interact with you.
Unlike usual attics, this cat cafe is clean and pleasant looking with elegant woods and slate decor and pops of colors here and there.
Table A Cat Cafe
Table A Cat Cafe (near Hongik University metro) has everything you could ask for in a cat cafe. A spacious, sunny, clean environment with great drinks, mischievous cats, and added to all that very unexpectedly but fortunately raccoons. A combination of raccoons and cats makes your trip to the cafe a little excursion and a lot exciting. Seoul has known to have animal cafes with puppies, owls, and sheep, but this one is new and adds to the joy.
It is a two-storeyed cafe, exquisitely decored and ornamented with toys and compartments designed for the animals to play. The raccoons were kept downstairs, a secured area away from the cats. They are super cute and playful. The staff was affable, serving quality food.
The cats are in a variety of Bengals, Scottish Folds, Exotics, Persians, and Maine Coons that, while not excessively affectionate, are reasonably sociable. The location is a great place to spend away a summer afternoon.
Cat Playground
Hold your hearts if you are a cat lover because this is going to be heaven for you. Cat Playground has over 30 cats with whom you can spend your quality time. These cats range from Norwegian Forest to American Shorthair to Persian and a Sphinx. They are very social and playful, and they keep investigating and keep you engaged with their acts. They keep updating their infrastructure to make it fresh, colorful, and quirky, creating a perfect aesthetic for your Instagram feed. The environment and atmosphere are appreciable, and once you get in, it's relaxing and chill. You get the facility to stay as long as you please.
The staff is praised for being very approachable and available.Many visitors prefer Cat Playground overall since it stands out for them, offering a clean, odor-free atmosphere and loads of lovely kitties.
Y Cat Cafe
Y Cat Cafe at Seogyo-dong, is formerly known as Gio, is challenging to find due to the variation of addresses yet worth all your search efforts because of its exquisite interior, unstopped floor, clean and odorless environment, best for tourists and students. This cat cafe in Seoul, South Korea is huge and spacious. Students can spend productive hours there and get their work done. The staff is pleasant and helpful, serving all the time, checking in with the customers.
This cafe is well-appointed both for humans and cats. Inside, you will also find excellent, well thought and designed cat beds and playgrounds that felines undoubtedly. Cats enjoy the giant hamster wheel, and they are incredibly social, playful, and full of life. The cat variety is immense, from Somali to Maine Coon to Russian Blue to Exotic to American Shorthair to Persians, Himalayans and Bombays. You are guaranteed to find a favorite out of the 37 cats in this best cat cafe of Seoul.
The cats in this best cat cafe in Seoul are playful and friendly and the most friendly out of all.
The cafe is sleek and spare, and it is nicely complemented with warm wood and furniture. The interior of the cafe is going to give you a natural and royal sleek look and aesthetic. The quirky collections featured around the room keep it unique and exciting as if you could possibly be bored in this Mount Olympus of feline gods and goddesses. They will entertain you and will keep you engaged and entertained. They serve decent desserts and amazing lattes.
These are some of the best cat cafes in Seoul that you must visit at least once in your trip to South Korea if you are a feline lover!
Love it? Pin it!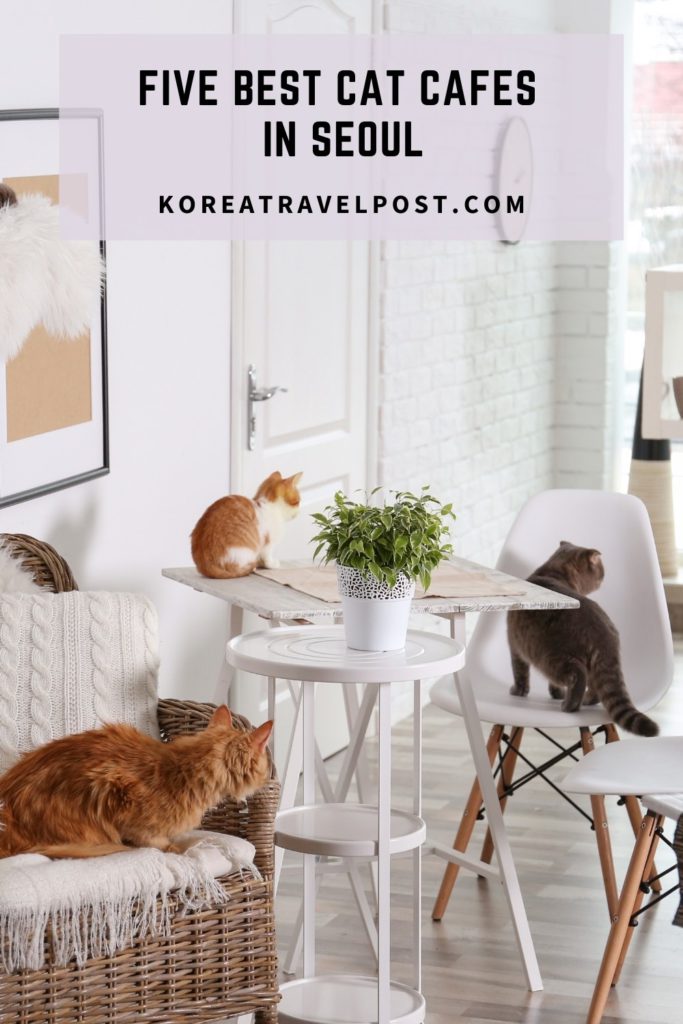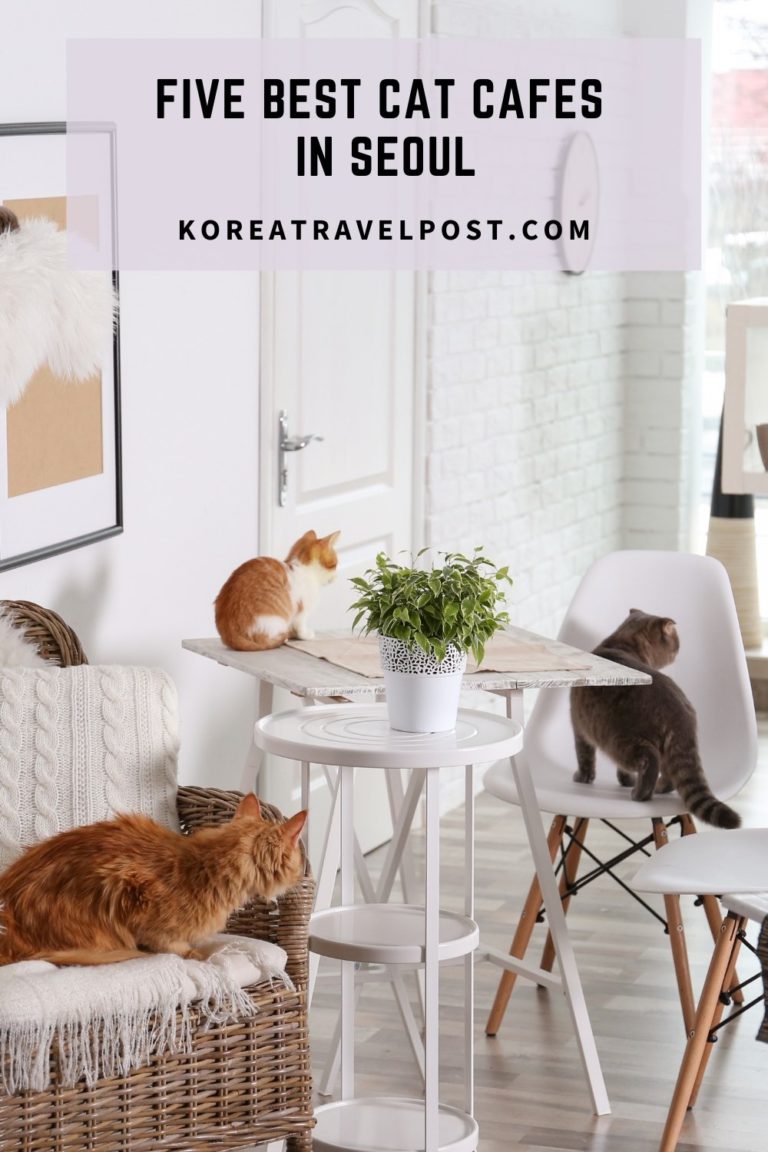 Don't forget to check out these other South Korea travel posts:
12,594 total views, 14 views today