There are many animal cafes in Seoul that are quite popular but there are hidden gems like Raccoon Cafe in Seoul!
Akdong Animal Healing Cafe (악동 애니멀 힐링 카페) is one such overlooked cafe in Seoul that you must visit for a unique experience. It is close to Meerkat Friends cafe that gets most of the attention. Meerkats are cute but raccoons are bad either!
There is another raccoon cafe in Seoul that goes by the name of Blind Alley. It has been popular for all the wrong reasons recently. People feel that the raccoons in the cafe are unhappy in the environment. Unlike this, Akdong Healing Cafe has a better vibe and the animals are much more cared for!
If you have time to visit only one animal cafe in your trip, make sure you visit the best raccoon cafe in Seoul!
Akdong Healing Cafe or the Hongdae Raccoon Cafe
The Hongdae Raccoon Cafe is home to only a few animals, namely the raccoons, few dogs, and some others. However, for many animals, Akdong Healing Cafe is just a temporary home as they only stay in the cafe to be cared for. It's like an animal shelter or an animal hospital for recovery.
Many animals in the raccoon cafe only stay for a few months until they recover. It makes this cafe interesting as you never know which animal you will come across in your visit!
On some visits yo may find monkeys, rabbits, or even lizards in the cafe. However, when you visit next, there might be other critters like hamsters, or almost anything else!
Akdong Healing Cafe is one of the better animal cafes in Seoul. Animals are less overwhelmed as its not a busy cafe. And once the cafe closes for the day, animals are allowed free movement in bigger areas. But, if you don't like the way animals are kept in the cafe, yo should avoid visiting any animal cafe in the city.
How To Reach Akdong Animal Healing Cafe?
As the cafe location is close to Hong Ik University, you can take the Seoul subway to Hongdae Station. Just exit the station from Exit 9 and walk straight ahead. Take the second left and follow the road until another road branches off to the right. Then you walk straight until the intersection and a corner building that's five floors tall. The Hongdae Raccoon Cafe sits on the top floor of the building.
There is almost no English signs indicating the cafe so it might be a little bit difficult to find. It's better to use Naver, the biggest Korean search engine to find the cafe!
Cafe Etiquettes and Some Tips
As soon as you get down from the elevator, you will see an area to remove your shoes and wear the slippers provided by the cafe. You cannot enter the cafe in your own shoes and without these slippers. After putting on the slippers, go upstairs and pay the entrance fee. You can also pay for the drinks also if you are planning to have them.
You a hand sanitizer on the counter to clean your hands while entering and exiting the cafe. There are some storage cupboards where you can store your coats or bags.
Make sure you keep your things behind the counter especially if you want them to stay clean! They can become stinky if the active raccoons in the cafe try to climb on you!
Food and Drinks Menu
As long as you pay the entrance fee, there is no need to purchase anything from the cafe to have access to the whole cafe. And, the entrance fee does not include any drinks.
The menu of Hongdae Raccoon Cafe in Seoul is quite limited with a few options. You will find drinks like black coffee, mocha, black tea, chai, and a few soft drinks on the menu.
Akdong Healing Cafe does not offer any food for the animals. It ensures that the cafe remains clean and teh animals aren't overfed. Many other animal cafes in Seoul do offer this option to the visitors.
So, all you need to pay is an entrance fee as the drinks are optional. But, if you are visiting in the summer, drinks will be an excellent choice if you are looking forward to spending a few hours in the cafe.
Interior of Hongdae Raccoon Cafe
As mentioned above, there are lockers behind the counter for storing your belongings. Raccoons in the cafe are like pickpockets as they are very interested in digging in your pockets. So, if you want your wallet, phone, or keys safe, give them to the staff to store in the lockers.
The cafe interior has a large area that is divided into different rooms. It helps the cafe from devolving into utter mess and chaos. The animals are divided into specific areas so that they don't get territorial or make a mess.
Dogs are free to roam in the main cafe area and you will see a variety of dog breeds in the cafe.
Other than the main room, there's a raccoon room, animal room, and a healing room. The raccoon room houses the most curious and stinky animals as the name suggests. The animal room houses a variety of other animals like kittens, meerkats, and others. They keep changing so you won't find the same animals twice.
Finally, the healing room is the place where animals are being treated. Its usually meant for sick animals or young ones who cannot be with the other larger animals in the cafe. Visitors can enter this room, and with permission, you can also interact with the animals.
Healing Room in the Cafe
As the room is meant for recovering animals, there are several non-furry animals like snakes. If you don't like them, you can simply avoid the rooms.
But, in case you do venture inside, staff will often hand you the healing animals. You can refuse but sometimes, the staff just hands them to you!
Raccoon Cafe Highlights
Raccoons are the main highlights of the cafe but it is also home to many different animals. What makes it unique is that you are free to interact with the animals. There are certain restrictions of course, but you are free to play with the animals.
Basic Info about Akdong Healing Cafe
Cost: KRW 10,000 is an entrance fee and drinks are usually in the range of KRW 2,000-2,500.
Time: 12:00-22:00
Location: Close to Hong Ik University in Hongdae.
Akdong Healing (Raccoon) Cafe FAQ
What kind of animals are in Akdong Healing Cafe?
Other than the obvious racoons, there are other animals in the cafe like dogs, cats, meerkats, and more.
Is the cafe easily accessible?
You can visit the cafe from the Hongdae Station as it is located near to Hong Ik University. It's on the fifth floor of a building and there is elevator access.
How much does it costs?
There is KRW 10,000 entrance fee (about $8). Drinks are optional as the entrace fee gives you access to the whole cafe. Drinks cost anywhere from KRW 2,000 to KRW 5,000.
How much time can I spend in the cafe?
Most visitors tend to stay in the Hongdae Raccoon Cafe for around an hour to two hours. However, you can spend longer if you find the animals friendly and active. There is no time limit restriction.
Akdong Healing Cafe vs Blind Alley?
Blind Alley as a cafe is superior as it offers a wider menu selection and is much cleaner. But, it is smaller, has lesser number of raccons, and doesn't have any other animal.
Love it? Pin it!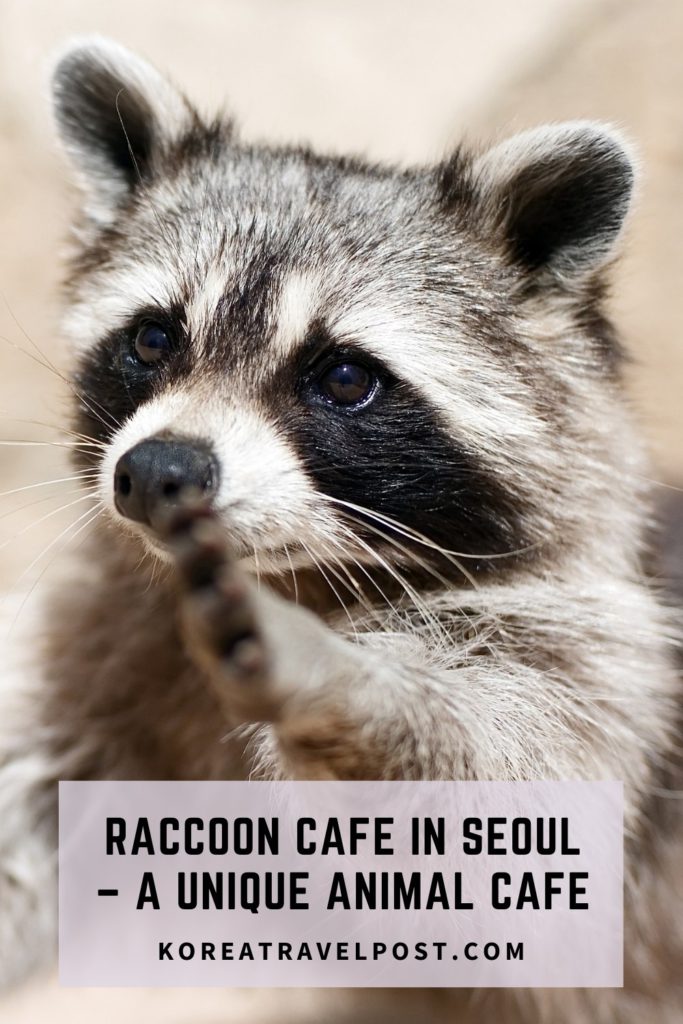 Don't forget to check out these other South Korea travel posts:
4,420 total views, 4 views today
What's your thoughts?
+1
+1
+1
+1
+1
+1
+1