Jeju Island is a land of beautiful sights and scenic natural beauty. There are several things that you can enjoy while traveling to Jeju Island. For those looking for some relaxation, there's beach, or those looking for adventure can hike on Hallasan – there's something for everyone! But, after all the adventures and relaxation, we all need a place to replenish on food and drinks. A great option to check out is Cafe Gongbech!
Cafe Gongbech
ARMY may know already what makes this cafe in Jeju special. Cafe Gongbech was formerly run by BTS Suga's brother, Min Geum Jae. Although it isn't owned by Suga's brother, it still remains a cafe worthy of checking out for several other reasons!
The name of the cafe 'Gongbech' is the romanized version of the Korean word 공백 or Gongbaek. It actually means 'a blank or empty space' and it certainly represents the architecture of the cafe. So, when you visit Cafe Gongbech, you will have a blank slate where you can have space for your own delicacy.
Beauty of Cafe Gongbech
It is one of the many coffee shops that you can find along the coastline of Jeju but quite unique in its own way.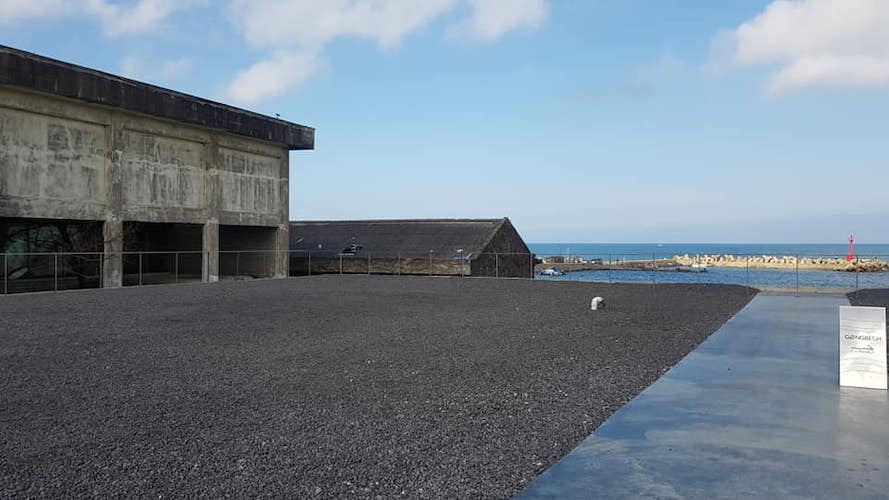 The cafe features minimalistic architecture which makes it stand out amongst several other quirky cafes in the country. From the outside, it looks like a regular 'rectangular' cafe with no space for seating. But, on the inside, its completely different.
Inside the Cafe Gongbech
As you step inside, you will see the stairs that lead to a lower-ground floor and a rocky beach. And once you step out on the beach, you get to see the complete Gongbech. There are two chic buildings with big sea facing windows contrasted by two abandoned stone buildings. The stone buildings are turned into exhibition galleries – one has a theme of nature and the other is a modern installation.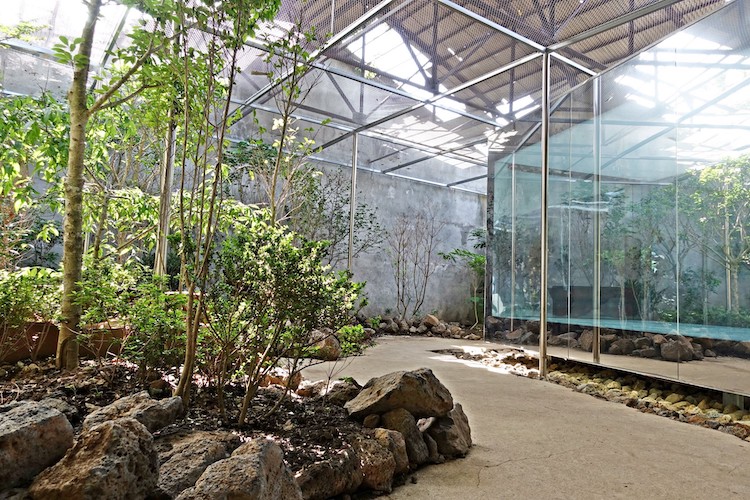 The main cafe also follows a similar artistic theme. The lower ground level has a classy art gallery vibe with ocean-view as its permanent exhibition. This is the space where the customers hang out. There are no separate sitting tables, just a long winding red bench that looks like a minimalist art installation.
The cafe counter id designed to give homage to Jeju's local fishery industry. There are fishing nets intertwined with light fixtures and they look gorgeous especially with the ocean backdrop.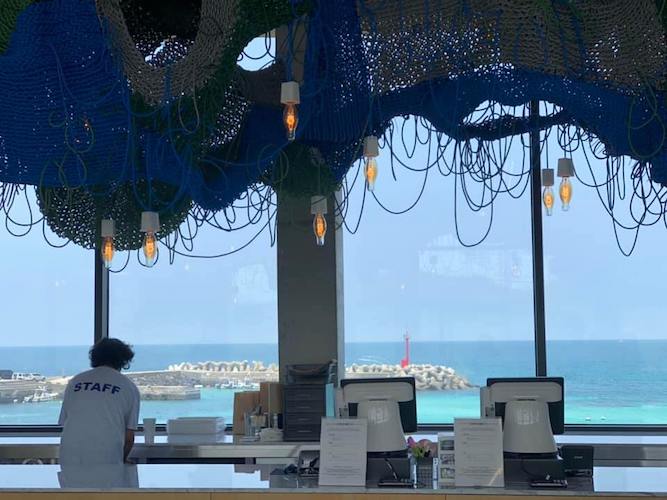 How To Get There?
Cafe Gongbech is located in the northeast part of Jeju Island along the coast. It is sort of in-the-middle-of-nowhere as the location is remote and solitary.
Some Gongbech Trivia
Although the cafe attracts a lot of BTS fans, it doesn't really have anything to do with BTS except that the owner was BTS Suga's older brother.
At its opening in 2019, there were performances by Korean artists like Dynamic Duo, Heize, and more.
You will find the best place to enjoy a cup of coffee in Gongbech is not the lower ground floor space that feels like an art exhibition, but outside on the beach.
Image Credit: Jeju Tourism Organization
Don't forget to check out these other South Korea travel posts:
Love it? Pin it!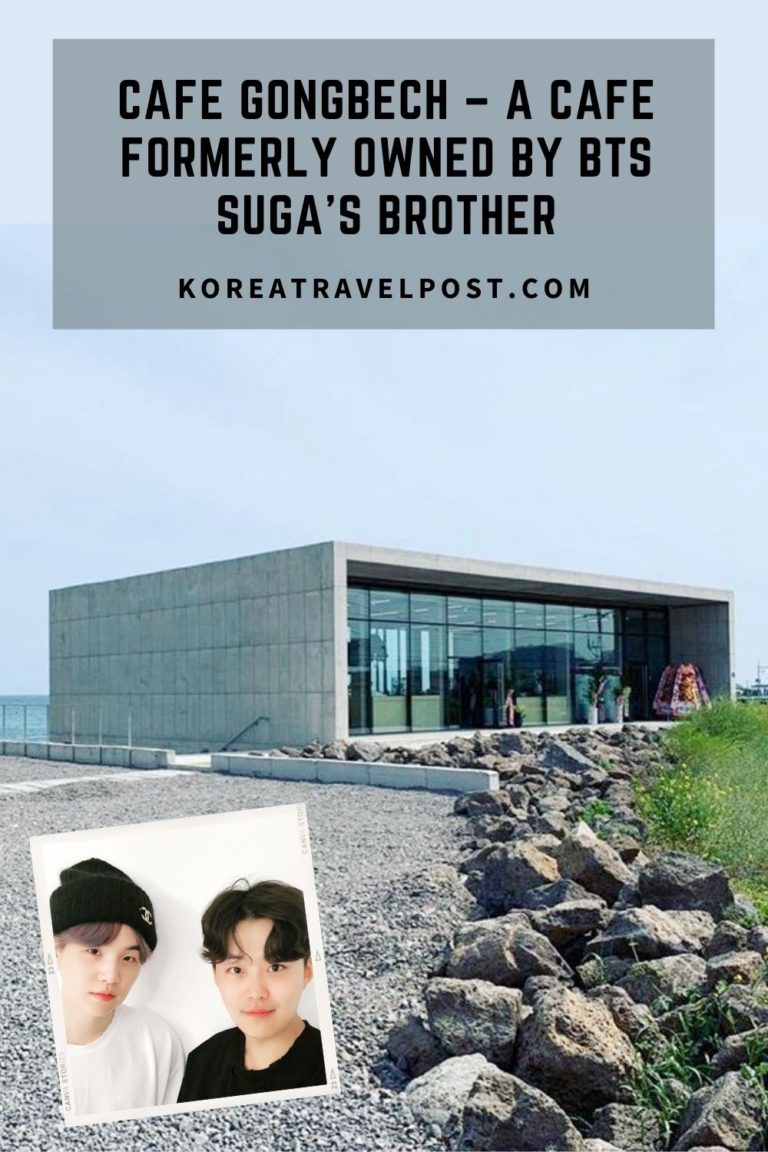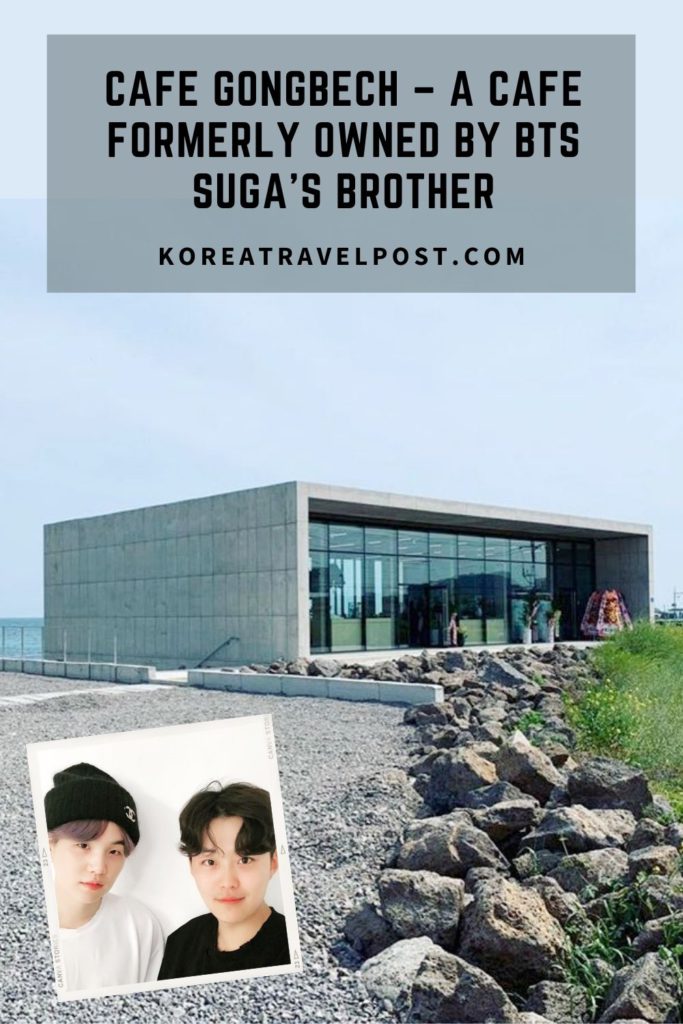 18,692 total views, 3 views today