Busan is the best place to explore traditional Korean markets such as Jagalchi Market, Gukje Market, and others for an authentic Korean experience.
Busan is the second-largest city in the Korean peninsula and has the largest port city. It is much less crowded than Seoul, dense urban areas with an array of natural environments, beaches, and it also attracts a lot of tourists in summer. In a nutshell, it feels like a much smaller city with plenty of amenities than Seoul.
Busan has everything right from scenery, history, culture, friendly people, markets, shopping, and fantastic foods, especially seafood. No matter whichever country you go to, visiting their traditional market is a must-have course. Right? Yes!
The real vibrance of the Busan city lies in its local markets. Moreover, it provides an additional insightful observation to understand the tradition and customs of the people in Busan.
Here are some must-visit markets in Busan whenever your trip to the same is happening.
Jagalchi Market
Jagalchi market is probably the most prominent feature of Busan because it is where one can really get their fresh seafood fix! It is the famous seafood market globally and is largely run by a woman. A hassle-free place as it has easy access via bus or train. It's about 10 mins travel from Songdo beach. The market is huge, and one can spot many types of sea creatures, likely Alaskan king crabs, a huge octopus, different types of fishes, eels, various shell creatures, oysters etc., some of them are very rare. Furthermore, one can have the option to choose the seafood on the spot, and they will prepare you to eat straight away.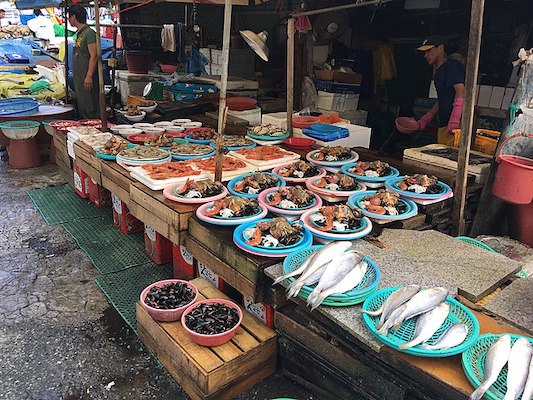 All the vendors are friendly in nature and tied up with some restaurants upstairs that will cook the chosen sea creature for a fee. Only in very few places in the world can you get such a huge array of live seafood at a "reasonable price," and Jagalchi is one of them. 
Gukje Market (A.K.A Busan International Market / Nampodong International Market)
Gukje market is the best and one of the largest markets in South Korea. It was formed after the Korean war and packed with a loud and bustling atmosphere. This market offers to please you with its wide variety of goods from electronic items, home appliances, clothing, toys, princess bags, fish, fruits, veggies, even Korean sculptures at a lower price and in simple it has "everything that a person needs in life." Bargaining is acceptable here.
Having several alleys, the food street alley offers delicious Korean food such as Kimbap, Noodles, Pajeon, Blood sausages, Bbibim dangmyeon, eomuk, fritters, and a wide range variety of drinks in an open-seating street dining. Gukje market forms the "Original Mega Commercial district of Busan" along with Bupyeong Market, Kkangton Market, Jagalchi market, Bosu book street, and other smaller markets of the country. Here, the suspension bridge that connects the market building to others creates the feeling of an indoor amusement park.
Haeundae Market
 Haeundae Market is a sought-after tourist attraction in Busan and is located within a 5 mins walking distance from a Haeundae beach. Most promised land for people who are opted to try out various types of food. There are many things to see and buy and many varieties of food to eat as the market proffer a wide range of products for sale at a low price. The market sells plenty of fresh veggies, meat, seafood, and people are waiting in a queue to eat popular Korean snacks and dishes, including grilled hagfish, sliced raw fish, pork & rice soup, etc.; maybe you can get your hands on free food samples from kind enough vendors if your day is fortunate enough.
Bujeon Market
If you want to go local, give a visit to Bujeon Market. The authentic largest Bujeon Market is conveniently located in the bustling Seomyeon district. It is a fabulous area full of hustle & bustle which is good to enjoy local culture from dawn to dusk. Bujeon Market is a huge wet Market with many sections from vegetables, fresh seafood, namely squids, octopus & fish, arranged in beautiful colorful displays. There are dried food, meat, fruits, roots, seaweed, different spices, and bakeries that provide different flavors like green tea, red bean donuts, stalls with household items, utensils, vintage clothes, etc.
The Bujeon subway station is just outside the market. Somehow it feels not so touristy because of no western tourists, especially on the weekdays that hit the sweetest spot of Bujeon Market. There's nothing extraordinary special which in turn out to make this place a more authentic one. If you want to enjoy fresh local food at an extremely affordable price in a proper local market, you should add this place to your list. 
Gijang Market (A.K.A. Crab Market)
The vibrant Gijang Market is located about 6 to 7 km away from the Busan's most famous "Water Temple." It's another huge outdoor market selling the usual live/dried seafood, vegetables, agricultural products, and so on. However, this market is slightly different in that it seems to be specialized in crabs and lobsters. The crabs here are undeniably fresh and taste good; particularly, snow/king crabs are a must-try one. Also, remember to bargain for a better price.
It includes many shops that only specialize in Anago sashimi. The crabs taste too good when paired up with kimchi. If you seek a neat large house ambiance in a market atmosphere, then this place ticks the box.
Gupo Market
Traditional and cultural tourism of Gupo Market representing Busan is a 400-year-old huge one. The market alley proffers a wide range of signature foods, namely Gupo noodles, hot soup, tofu, fried dishes, chewy fork feet. You can buy herbal products that are safe and trusted here in an herbal alley famous for offering all kinds of medicinal herbs.
The captivating site of Gupo Market is its seafood alley, where you can have clean, fresh seafood to sate your appetite. Basically, you can buy whatever your heart desires, right from food to socks. "Friendly Gupo Market Festival" is held in February of every year is the best time to visit this place as it welcomes domestic and international visitors.
Busanjin Market
Busanjin Market is a place that sells traditional Korean things. With that being said, this is the most popular and busiest market having an indoor shopping mall with hundreds of small shops selling clothes, materials of silk, rayon, cotton, satin, textiles, embroidery items, and souvenirs at a reasonable price. It is the aptest place to shop for readymade hanbok, a traditional Korean costume. The place smells slightly dusty and old. Apart from that, the usual market things like food stalls, shoe shops, utensils and other random things can be found here.
Bupyeong Market (A.K.A. Night Market/ Kkangtong Market/ Tin Can Market)
Bupyeong is a traditional Market that holds both dry and wet sections during the daytime where people make purchases of necessities such as foods, clothes, and the like. As the sun settles down, it's turned out to be the food street with a delicious aroma that emerges throughout the market.
Here you can not only find Korean foods but also you could able to encounter many country foods namely Vietnamese foods, Turkey sandwiches, Chinese foods, Japan foods. It is quite different from Gukje Market, the kind of place that "has it all," while the Bupyeong Market is a night market of street foods. We bet you won't be able to resist getting fish cake of various sizes here, and don't blame anyone for that as it yields you a satisfying walk with a bag of fish cake in your hands. 
It's heaven for people who loves shopping for international brands. Being the best duty-free shop, it offers more than 200 brands such as Chanel, Louis Vuitton, Hermes, and many others. With a pleasant environment with spacious stores, you can even purchase Korean cosmetics and skincare. It has really a pretty good standard but way more expensive.
Despite being the fact that the tourists are intrigued by the fascination of Busan Markets, it comes up with its own cons.
You could get fairly smelly after visiting a wet market which can be a bit of discomfort; so, you need to wear covered shoes mostly.
There are no tax refund facilities, and many restaurants and stores accept only cash mode of payment.
The map is not available everywhere, so you may get lost since there are no English signs.
Some of the vendors are manipulative, and they push you to order items that are not your choice.
Overall, it is best to visit these markets with a local as they know certain things and help you to pay wisely rather naively.
8,005 total views, 3 views today