Seoul is effectively one giant open-air restaurant, with an apparently unlimited number of vendors providing street food delights like hotteok (stuffed pancake), tteokbokki (spicy rice cakes), and odeng (fish cake). Seoul street food is a must-try for any visitor to South Korea's capital, and these are a few of the greatest places to try it if you're looking for variety and accessibility.
#1 Gwangjang Market
If you enjoy Korean cuisine, make a point of visiting Seoul's century-old Gwangjang Market. It's one of South Korea's oldest continuously operating markets, and it's a perfect place to soak up the country's traditional culture while sampling its gastronomic delights all in one place. Mayak kimbap has to be the most famous of all the foods sold at the store. These seaweed-wrapped sushi-like rolls are stuffed with carrot, pickled daikon radish, and sesame-seasoned rice.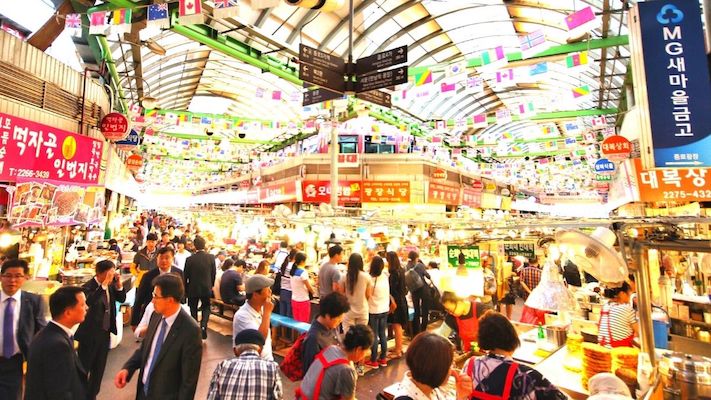 Bindaetteok, a savory pancake made from ground mung beans, is a traditional Korean dish, assorted vegetables, and meat, and makgeolli, an icy spirit made from rice, are two other Gwangjang specialties.
#2 Myeongdong Street Food Alley
Myeongdong is not only one of Seoul's most popular shopping districts, but it's also a must-visit for foodies looking to sample some of the city's most exotic and creative street food. Thousands of visitors swarm around endless carts to gorge themselves on a wide range of candy and treats.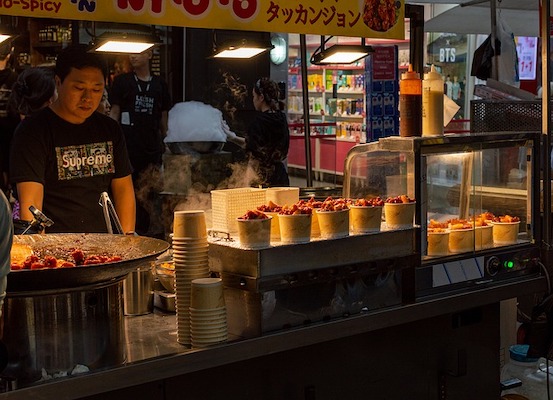 You can order grilled lobster, fried milk, baked cheese skewers, tteok galbi meatballs, strawberry mochi, and fresh pomegranate juice, among other items, in addition to the classics. Remember to carry cash because these stalls do not accept credit cards.
#3 Seoul Bamdokkaebi Night Market
 Seoul Bamdokkaebi Night Market is famous for food, festivities, and a whole lot of outdoor fun. The city-organized market occurs on Friday and Saturday evenings along the Han River from March to October at Yeouido Hangang Park and Banpo Hangang Park.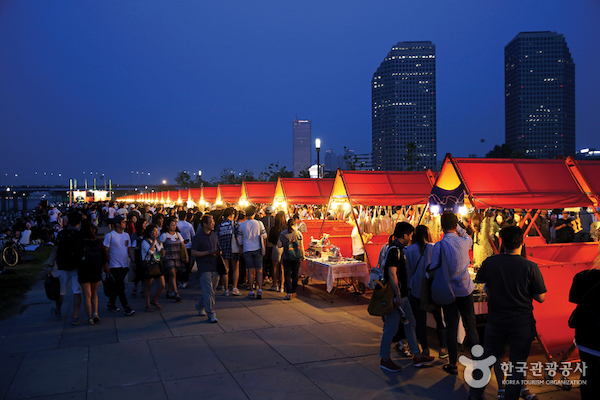 Seoul Bamdokkaebi Night Market is an excellent spot to shop for awesome handmade accessories, watch a concert, and learn about the city's burgeoning food truck culture. You're sure to find something to your liking among the more than 50 trucks serving up everything from Koreanized tacos and steak-in-a-cup to lobster rolls and Cuban sandwiches. Arrive early since queues can be long.
Common Ground, Korea's first pop-up shop made of shipping containers, has become one of Seoul's coolest hangouts. The multipurpose complex, which is made up of more than 200 large containers, has a range of mid-sized shops. These shops sell various wares by up-and-coming designers. Its food products also appeal to gourmands.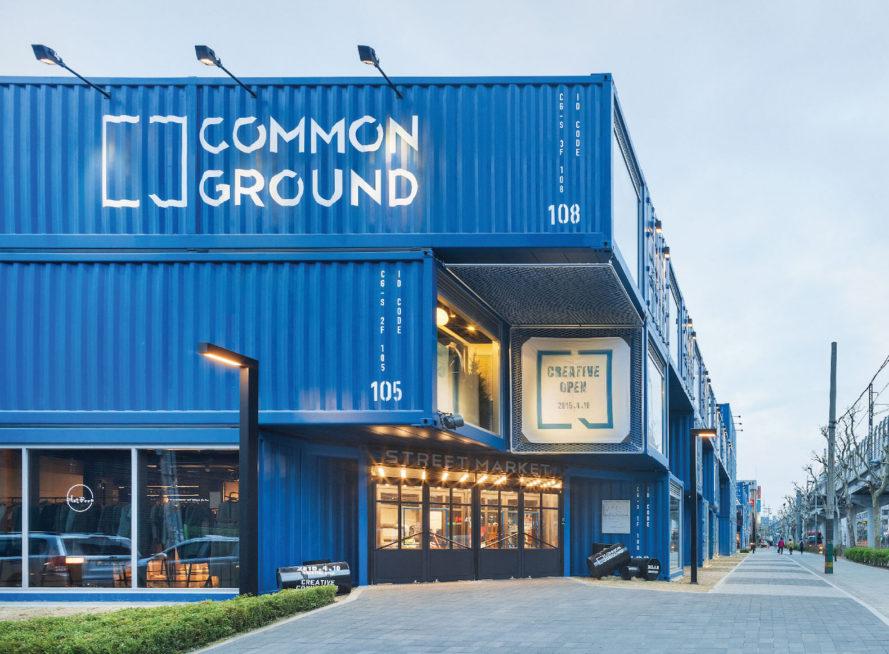 Common Ground has a courtyard with four food trucks: Bold (meat bowls and buns), Space Bar (seasonal desserts and alcoholic beverages), the Coast (casual seafood), and Kimchi Bus (kimchi) (kimchi-based items). On weekends, when small concerts are held to amuse shoppers, the outdoor dining experience is particularly enjoyable.
#5 Tongin Market
Tongin Market is another great of a charming traditional market. It is conveniently located to the west of Gyeongbokgung Palace. Although it may appear to be a typical market at first glance, it is also a significant historical landmark, as it was built for Japanese citizens in 1941, during the Japanese occupation of Korea.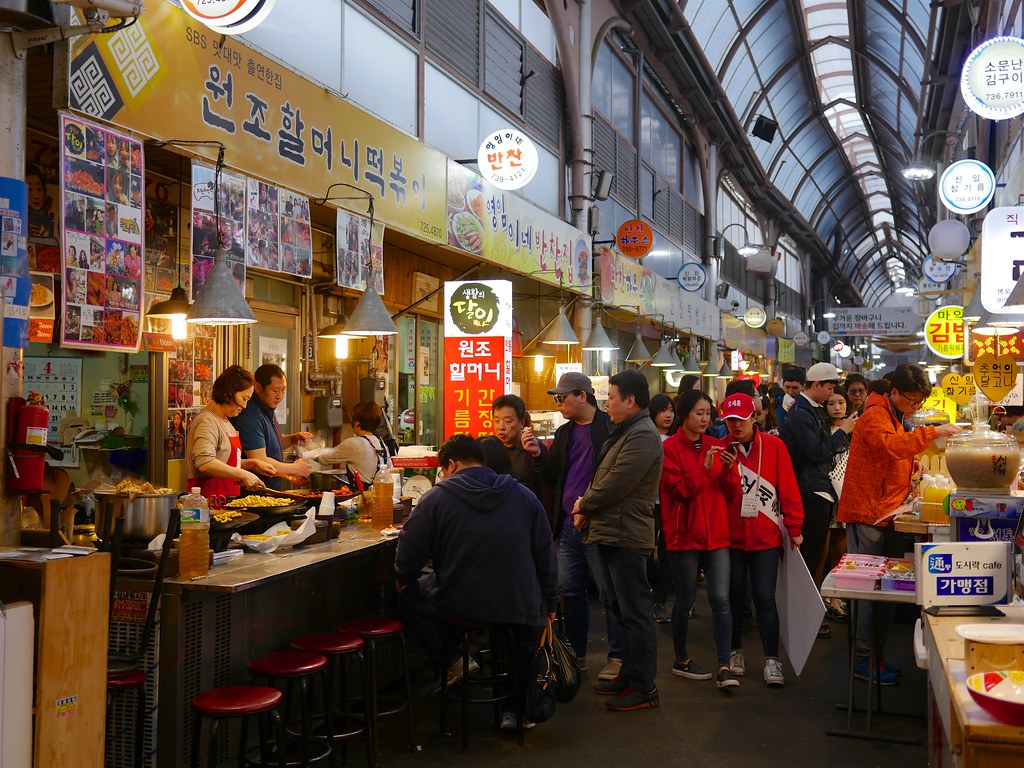 Its popularity has risen in recent years thanks to the Dosirak Cafe, where you can get a lunchbox for 5,000 (£3.25) to fill with whatever market snacks you want. Pajeon, Tteokbokki, dumplings, and a variety of kimchi are among the foods available.
#6 Dongdaemun Night Market
Dongdaemun is the fashion capital of Seoul, with over 26 shopping centers, 30,000 specialty stores, and 50,000 manufacturers. The sprawling market not only sells reasonably priced clothing and accessories, but it also has some of the city's most exclusive products, as it is home to many of the city's budding designers. Dongdaemun is another great place where you can shop until you drop until 3 a.m., and it's open at almost any hour. Naturally, there are a variety of late-night snacks to keep you moving.
Gwanghui Market and Jeil Pyeonghwa Market are the best places to go for the best food. Vendors here fry and grill all night, serving up Korean classics like mandu (dumplings) and sundae (blood sausage), as well as foreign fares like burgers and tater tot-coated corndogs. It's the ideal blend of fashion, fun, and flavor.
#7 Sindang-dong Tteokbokki Town
Tteokbokki is a chewy, cylinder-shaped rice cake immersed in a spicy red pepper sauce that is a must-try on any trip to Korea. Sindang-dong Tteokbokki Town is said to be the birthplace of a very common gochujang version of the dish. This is perhaps the best place to try it.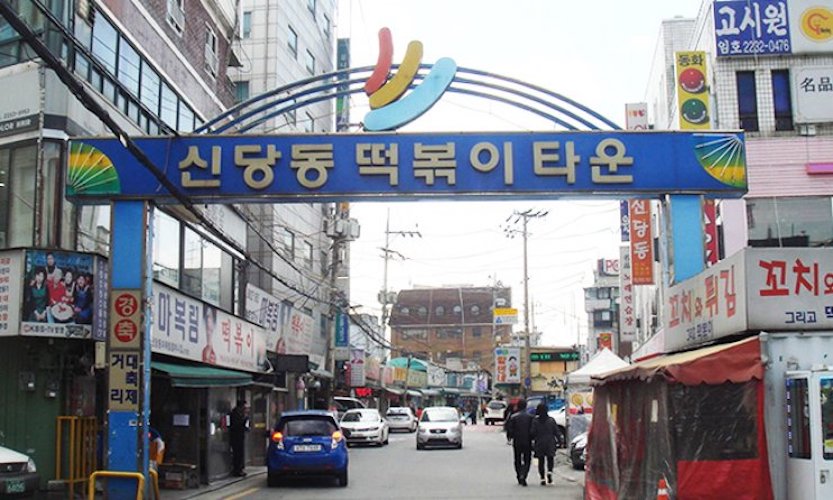 Many restaurants here serve variations on the classic dish, using a range of sauces and ingredients such as cellophane noodles, fish, eggs, and cheese, in addition to serving the classic dish. There are many places to eat here, but Mabongnim Halmeoni Tteokbokki, I Love Sindangdong, and Jongjeom are local favorites.
#9 Namdaemun Market
 Namdemun, which dates back to the 1400s, is not only Seoul's oldest but also its largest market, with over 10,000 stalls, vendors, and restaurants lining countless blocks of car-free streets. You're sure to find what you're searching for, whether it's jewelry, luggage, stationery, hiking gear, camera pieces, or traditional handicrafts, all at a reasonable price. Of course, no trip to Namdaemun Market will be complete without trying the local cuisine.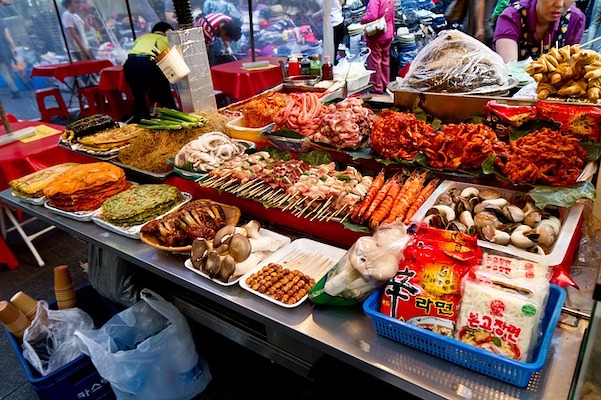 Visit the market's, Food Alley. This is a Korean food street with a range of Korean classics for a one-stop dining experience. There's no shortage of tasty street snacks here, from steamed corn and dakkochi (chicken skewers) to the more daring sundae (blood sausage) and jokbal (pigs' feet).
By now, you have learned the best places to try street food in Seoul. Apart from these places mentioned above, there are also some renowned markets in Seoul, which are best for street food. So, why are you waiting? Just go there and try out your favorite food. You'll be definitely impressed.
Don't forget to check out these other South Korea travel posts:
17,645 total views, 5 views today