7 amazing True Beauty filming locations in South Korea that you must add to your travel itinerary whenever you get to travel again!
Korean drama "True Beauty" is the most applauded and our current favorite webtoon-based drama series. The live-action version of True Beauty has been adapted from a webtoon featuring Moon Ga-young, Cha Eun-woo, and Hwang In-yeop. 
True Beauty is a romance drama about a teenage girl, Lim Ju Kyung (Moon Ga-young), becoming popular after transforming herself into a gorgeous 'goddess' after being discriminated and bullied because of her looks. She falls into a love triangle with two men: Lee Soo-Ho (Cha Eun-woo) and Han Seo-Joon (Hwang In-yeop).
For Your *Future* Trip to South Korea, Here's A List of Must-Visit Filming Locations Featured In The K-Drama True Beauty
The background locations and places of filming True Beauty are simply astonishing and worth visiting on your next trip to South Korea. From serene mountain regions to bewitching streets, all the filming locations ofTrue Beauty add a texture of beautification in the K-drama series.
So, let's get to know about the prominent places and locations where the filming of True Beauty took place.
Yonsei University
As it is a high school drama, Yonsei University is the filming location for several amazing scenes of the K-drama. It is also the alma matter of Parasite director Bong Joon Ho and K-pop star Park Jin Young. It appears as Saebom High School in True Beauty.
Dragon Hill Spa and Resort
Dragon Hill Spa and Resort was featured in one of the episodes of True Beauty. In this episode, the central character of the drama series Lim Joo-Kyung went with her elder sister, who was coping with the after-effects of heavy drinking. It certainly made us laugh when Ju Kyung pretended to sleep inside a jjimjilbang just because Chorong (Lee Woo Je) and Seojun (Hwang In Yeop) walked into the same room! 
Dragon Hill Spa and Resort is an exotic spa and relaxing Korean bathhouse. Located in Yongsan-gu, Seoul, this place is known for its serene beauty and top-class service. So, if you are looking for some peace and want a break from your hectic life, this jjimjilbang in Seoul will be the best place where you can restore your mental and physical health.     
Lim Joo-Kyung accidentally meets Seojun in Myeongdong Shopping Street in the second episode of True Beauty. Lim-Joo-Kyung was simply strolling on the street of Myeongdong to buy some goods when she nearly crashed into Seojun while he was on his motorbike.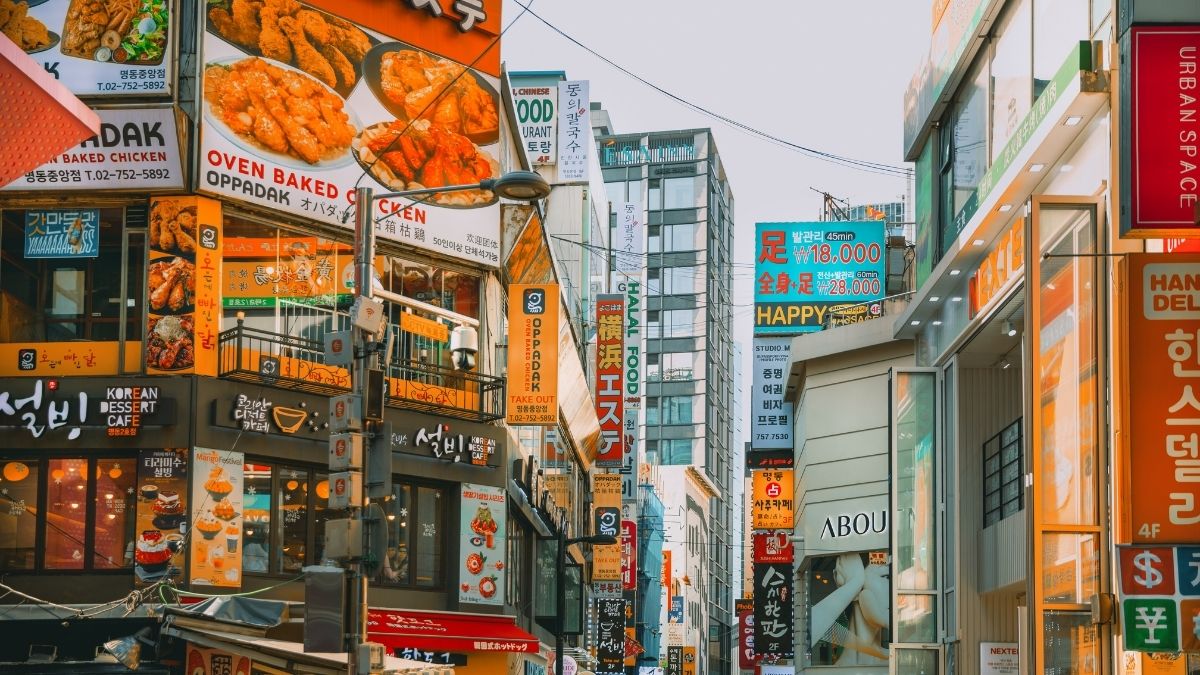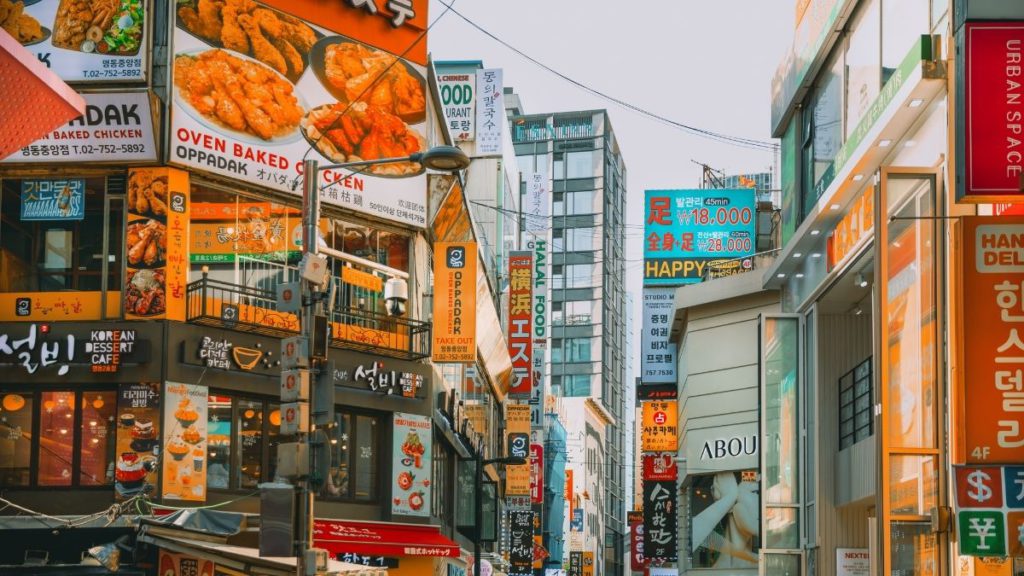 Myeongdong Shopping Street is the most famous destination for shopping in Seoul, and it offers a wide variety of Korean street foods. There are a lot of shops in Myeongdong which offer K-drama merchandise, Korean fashion products, and K-beauty cosmetics.
Su Luxury Noraebang Hongdae Branch
Su Noraebang Hongdae was featured in Episode 6 of True Beauty, where Lim Joo-Kyung goes with her former bullies of high school, and there they end up making fun of her. Later on, Lee Soo-hoo comes to rescue her from those bullies. It is also the filming location of the scene where Ju-Kyong gets a glimpse of the awesome motorcycle. 
Su Noraebang Hongdae is one of the branches of the Su Noraebang Karaoke chain. It is a fun place to hang out with family and friends. Su Noraebang offers clean, decorated rooms with big screen TV and premium quality music system with microphones to enjoy karaoke.   
This place appears as a "Pandora Shop" in True Beauty. Makers of True Beauty didn't compromise with the background view of the shop while shooting the scene where Lim Joo-Kyung was seen coming out of the shop. 
NIN is a small beauty shop located in Bukchon Hanok Village where you can get your hair and nails done. The village is surrounded by Changdeokgung Palace and Jongmyo Shrine. There are more than a hundred traditional Korean houses in this area. 
Hano (Yeonnam-dong)
Hano is a clothing store. This place was seen in episode 11 of True Beauty. It is a flashback scene where Lee Su-ho, Han Seo-jun, and Jeong Se-Yeon are shopping and browsing through different items. Later on, Se-Yeon buys bracelets for all three of them from Hano. 
Hano is a shop which is located at 32 Donggyo-ro 41-gil, Yeonnam-dong, Mapo-gu, Seoul. It is one of the prominent sites where several other Korean dramas have been filmed. It is a small shop which offers ornaments and a wide variety of clothing range.  
Ikseondong is a filming location of True Beauty that you see during the girl's day out scenes. You will see the characters shopping at several popular stores.
It is a unique area of Seoul that's a perfect blend of traditional and modern. There are many popular modern stores along with traditional hanok houses and shops. The winding alleyways of Ikseondong are a must-visit place that you can explore without feeling the rush of time. 
Don't forget to check out these other South Korea travel posts:
6,588 total views, 7 views today