Ikseon-dong is a popular area amongst international tourists as well as local Seoulites. It is one of Seoul's oldest neighborhoods with traditional houses that date back to the 1920s. Ikseon-dong is like a tiny arty portion of the district of Insadong, home to Korean traditional culture.
Although all the modern buildings surround Ikseon-dong, many of the shops in the region have retained their traditional architecture. If you want to have loads of Instagram-worthy pictures, then Ikseon-dong is the right place for you. There are so many cafés, tea houses, and traditional houses that you might be competing with other tourists to get the best shot!
Where is Ikseon-dong (익선동)?
The Hanok Village of Ikseon-dong is right in the center of Seoul, close to Seoul's three main palaces. It is not as well-known as the Bukchon Hanok Village but has started gaining popularity in recent years. After renovations, it has become a bohemian, trendy, and creative space that everyone wants to be in! Young artists and entrepreneurs have opened up shops and cafés in the region, making it popular amongst the younger generation. 
What to do in Ikseon-dong?
A relaxing stroll through the alleys and streets of Ikseon-dong is the perfect way to explore the old traditional Seoul. The winding streets definitely give you a feel of a labyrinth, and you can have some of the best fun while exploring the back alleys.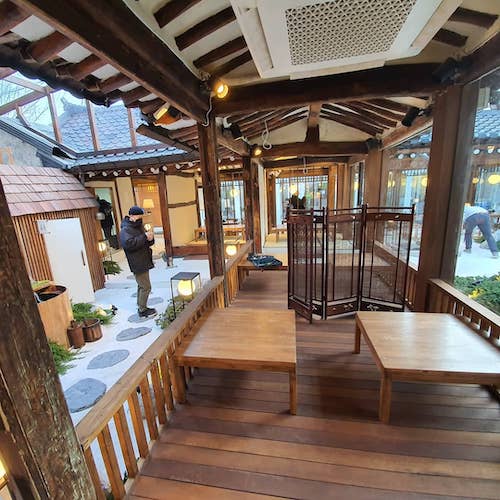 There are no directions or guide maps within the village, so it's a good idea to be aware of the surroundings. You can use shops or murals that stand out as path markers.
Ikseon-dong in Pictures
There are so many beautiful sights in the village that you won't be able to stop taking pictures.
Cafés and Restaurants in Ikseon-dong
All the cafés, tea houses, and restaurants are set up in the hanoks furnished with traditional Korean furniture. Most of them serve traditional Korean or English teas with some tasty French pastries.
You can enjoy the taste of traditional Korean hotteok here. These pancakes are filled with some delicious toppings. The long queues in the front make it easy to reach the shop.
Address: 28, Gwansu-dong 28-gil Jongno-gu, Seoul
It's the famous mandu, Korean dumpling, shop in Ikseon-dong. Here also, the lines are quite long, but you can pass the time by watching the mandus being made through the windows.
Address: 23, 28-gil, Supyo-ro, Jongno-gu, Seoul
Dongbaek Bakery
The bakery in Ikseon-dong is famous for its strawberry souffle pancakes.
Address: 17-24, 28-gil, Supyo-ro, Jongno-gu, Seoul
As the name suggests, it's an excellent French bakery.
Address: 21-3 Supyo-ro 28-gil, Ikseon-dong, Seoul
It is a charming little French bistro set up in a restored and renovated hanok. You can enjoy French cuisine in a traditional Korean house!
Address: 33-4 Supyo-ro 28-gil, Jongno-gu, Seoul
It is definitely one of the most photographed cafés in Ikseon-dong. There are some cute decorations with blooming flowers, hanging colorful umbrellas, and much more, which makes it Instagrammable! There is a charming courtyard also within the space allowing you to enjoy some fresh air with your food.
Address: 33-12, Supyo-ro, 28-gil, Jongno-gu, Seoul
Where to Shop in Ikseon-dong?
No trip to any place in South Korea can be complete without some shopping! You can shop for some cute little souvenirs at these shops in Ikseon-dong.
My Poetry [마이포에트리]
It's a small jewelry shop that specializes in rings and necklaces. They have lots of cute designs for you to choose from!
Address: 23 Supyo-ro 28-gil, Ikseon-dong, Jongno-gu, Seoul
It is a rental shop that specializes in traditional Korean clothing from the 1920s. You can rent a hanbok from the shop and get a photo in front of the traditional hanoks! There are both traditional and modern options to choose from in bright colors and many designs. Try a vibrantly colored hanbok for a gorgeous photo on a bright, sunny day.
Address: 38 Donhwamun-ro 11-gil, Nakwon-dong, Seoul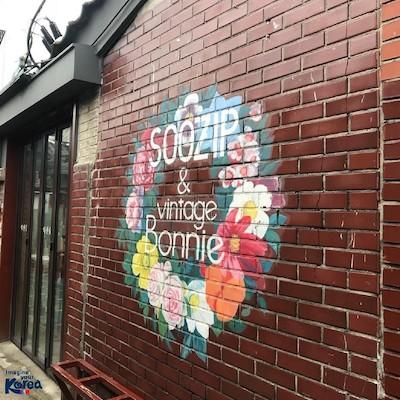 Vintage Bonnie
It specializes in selling handmade products with retro designs. You can find vintage clothing, kitchenware, and other household items. The best part, the items are available at reasonable prices!
Address: 77-1, Gyedong-gil, Jongno-gu Seoul
How to Reach There?
Thanks to South Korea's excellent public transportation, reaching Ikseon-dong is easy. The Ikseon-dong Hanok Village is accessible via Jongno 3-ga Station (line 5). Take Exit 4 or Exit 6.
If you enjoy a bit of history in your travels, Ikseon-dong will be a wonderful addition to your South Korea's trip itinerary!
Love it?
Pin it and save it for later!