Just like many other countries in the world, South Korea is also getting ready to resume tourism with a brand new travel expo, Korea International Travel Expo (KITE 2021). It is a combination of four tourism events in Korea – MICE, Luxury Travel, Korea Travel, and Medical Wellness. 
The travel expo will launch today, June 29, and will continue until July 13, 2021. This hybrid travel expo will kick off with an Opening Ceremony on June 29 at the Paradise City Hotel, Incheon. The aim of the ceremony will be to send a message of hope for resuming international tourism. 
KITE 2021 – Korea International Travel Expo
KITE 2021 presents itself as a new 'One-Stop Travel Expo' that will provide an overview of tourism in Korea as the country prepares itself for the resumption of inbound tourism. Attending delegates will be able to discover more info about Korean tourism in all four sectors. There will be a 1:1 video business consultation with local Korean sellers through a new online platform. They will be able to gain insights through different conference programs into Korea tourism in the light of the COVID-19 pandemic and a post-COVID-19 world. 
The travel expo is hosted by The Ministry of Culture, Sports and Tourism. It is jointly organized by Korea Tourism Organization and Incheon Tourism Organization and sponsored by Incheon Metropolitan City.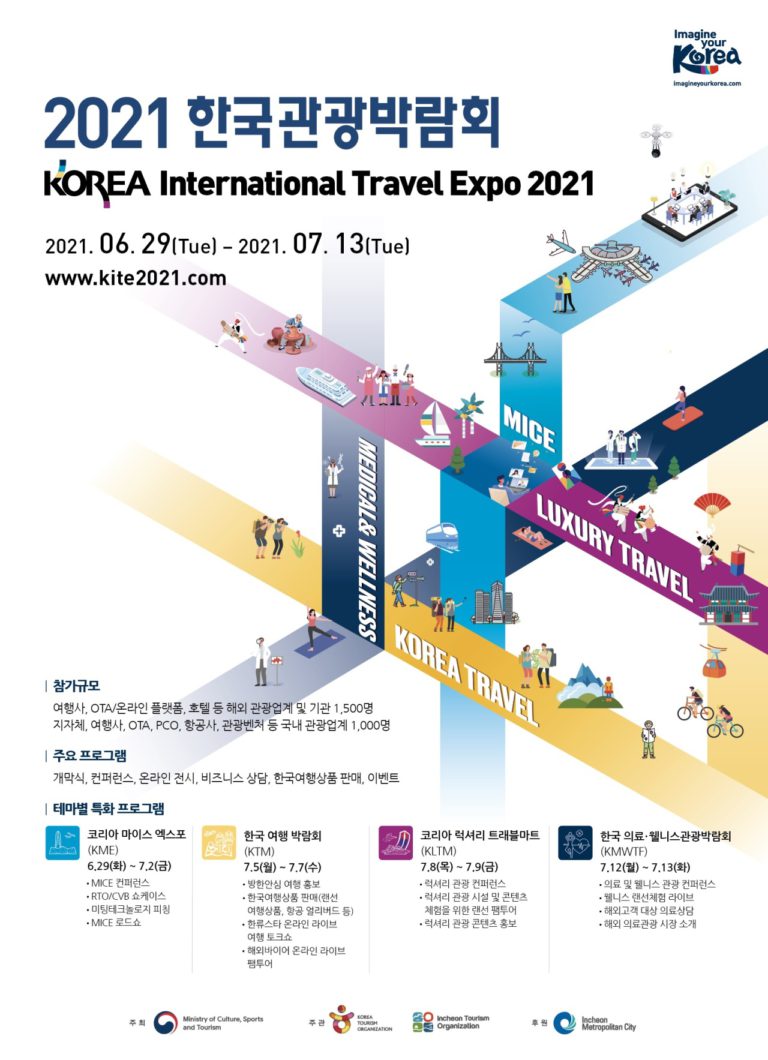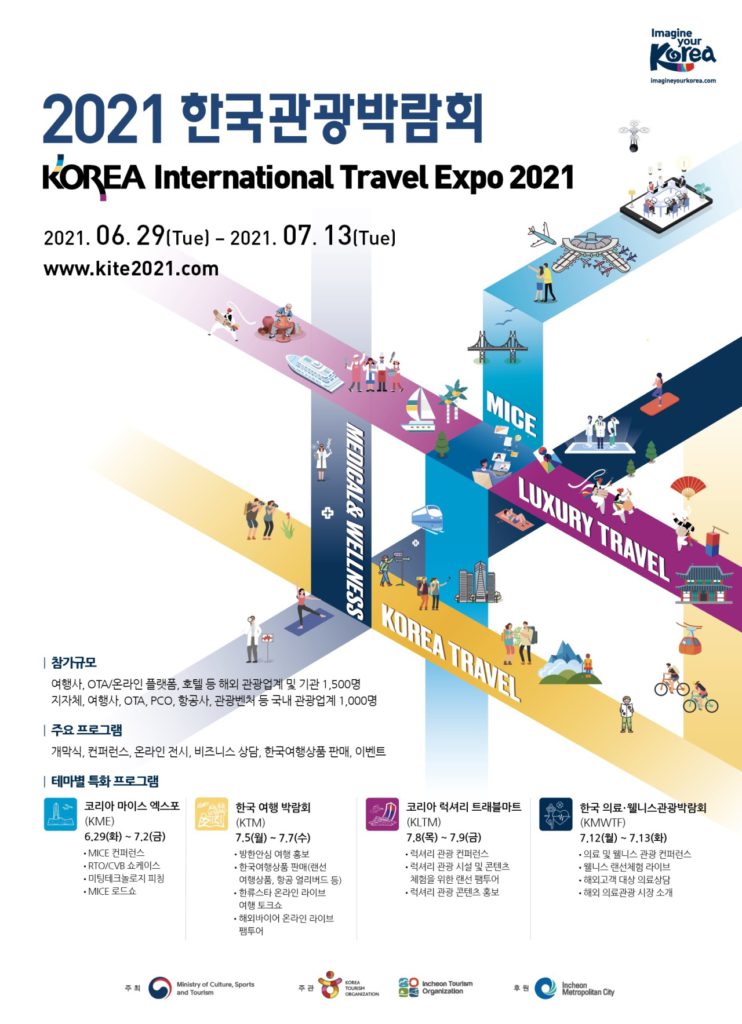 KITE 2021 Opening Ceremony
The offline Opening Ceremony will be held in Incheon at the Gateway to Korea – Paradise City Hotel. There will be an option of attending the sessions online via live streaming for overseas delegates. 
The Opening Ceremony will focus on Korea's Night Tourism and give an insight into the full lineup of programs. You can look forward to keynote sessions by Burkhard Kieker (CEO of Berlin Tourism and Congress), Chang Chee Pey (Assistant Chief Executive of Singapore Tourism Board), and British actress Joanna Lumley. Burkhard Kieker will be physically present at the expo, while Chang Chee Pey and Joanna Lumley will join via hologram from Singapore and London, respectively. These keynote sessions will focus on discussion on strategies to reopen and revitalize international tourism in a world post-COVID-19. 
There will be additional programs like a longboard performance by Ko Hyojoo, a Korean longboarder. A nighttime drone show will conclude the event in the night.
What All Is Included in KITE 2021?
Over the two weeks, KITE 2021 will offer a virtual gathering platform for 1,500 Domestic and Overseas Buyers and thousands of visitors. This platform will give them an opportunity to network and connect with local service providers such as travel agencies, hotels, medical institutions, RTOs, and more. 
There will be over 2,000 buyers from 40 countries participating at the Korea travel expo to consult with South Korea's leading travel agencies, airlines, medical institutions.
Korea MICE Expo 2021 (KME)
The Korea MICE Expo will launch on June 29 until July 2. There will be a MICE Roadshow, Meeting Technology Pitching, and more.
Korea Travel Mart 2021 (KTM)
Korea Travel Mart will begin from July 5 and run till July 7. In this event, delegates can look forward to some special discounts on virtual Korea travel products and early-bird flight tickets. In addition, delegates can also enjoy a travel talk show with a K-pop star and an online Livestream Fam Tour for overseas buyers. 
Korea Luxury Travel Mart 2021 (KLTM)
Korea Luxury Travel Mart will launch on July 8 and will continue the next day on July 9. This part of KITE 2021 will hold a Luxury Tourism Conference and a virtual Fam Tour showcasing luxury tourism facilities and contents like accommodation, gourmet, shopping, etc.
Korea Medical Wellness Tourism Fair 2021 (KMWTF)
The Korea travel grand expo will conclude with Korea Medical Wellness Tourism from July 12 to July 13. There will be a virtual wellness program, Medical Wellness Tourism Conference, and online medical consultations for delegates who are overseas. 
Information About Korea International Travel Expo
Don't forget to check out these other South Korea travel posts:
3,614 total views, 7 views today