Seoul's café culture is one of its kind. We are already aware of their popularity as compared to cafes in the west. The secret behind Seoul cafés' uniqueness and charismatic shine is their themes. Most cafes in Seoul are thematically fabricated and one of such beautifully crafted theme cafes is Oui Cafe in Seoul.
The Cafe Oui Seoul is located in one of the most fashionable and trendsetting areas in Seoul, Garosugil. It is situated just off the main street of tree-lined Garosugil's neighborhood. You can easily reach Cafe Oui in Seoul via Sinsa Station. If you ever visit Seoul or reside nearby, you must take a trip to the Cafe Oui, and you will soon get to know why. 
Garosugil is known for its upscale, modish galleries, trendsetting boutiques, restaurants, and cafes. The Cafe Oui in Seoul keeps up with the pace of its surrounding with its charming decorations. The aesthetic of the café is whitewashed French countryside, with little light color thrown here are there. Especially, green indoor plants make the entire environment very soft. The furniture setting also gives a little glimpse of indie style to the cafe oui Seoul. Overall interior is awe-inspiring, exhibiting warm and cozy vibes. 
Cafe Oui Interiors
As you enter, you will see artificial grass has sprawled in the front area of the café house, and the setup creates a little "garden party" effect.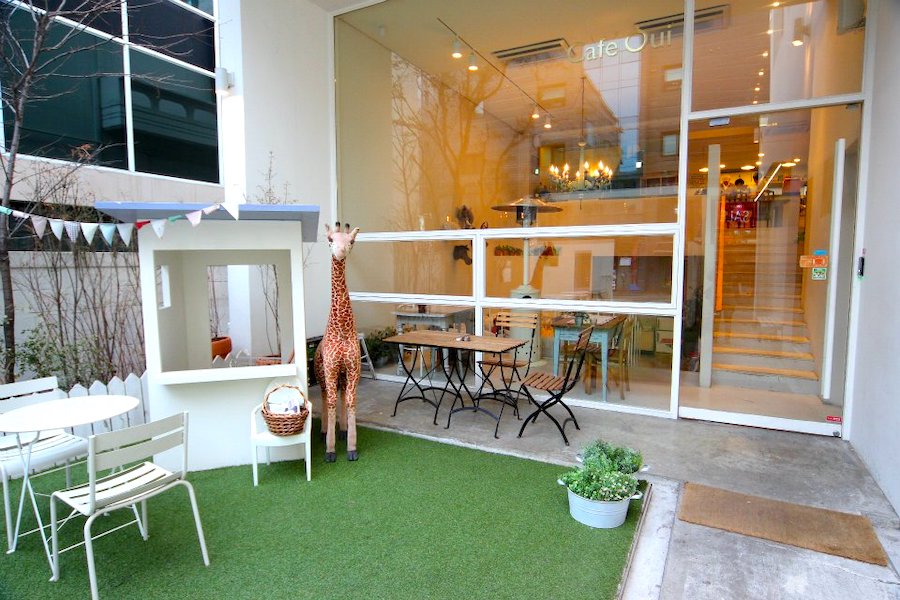 The mezzanine floor of the café oozes out coziness. Unlike usual horrifying real animal heads, this café has cute animal-head stuff toys mounted on the wall and stuff toys and throw pillows. This place is perfect for children as they have soft, comfortable sofas, indoor tools, and a variety of cute stuffed toys. They are also selling clothes, accessories for babies. The interior has wooden chairs and tables, just like how your home will have to give you a little homely vibe. You can enjoy your coffee, tea, talk with your friends or family around the space.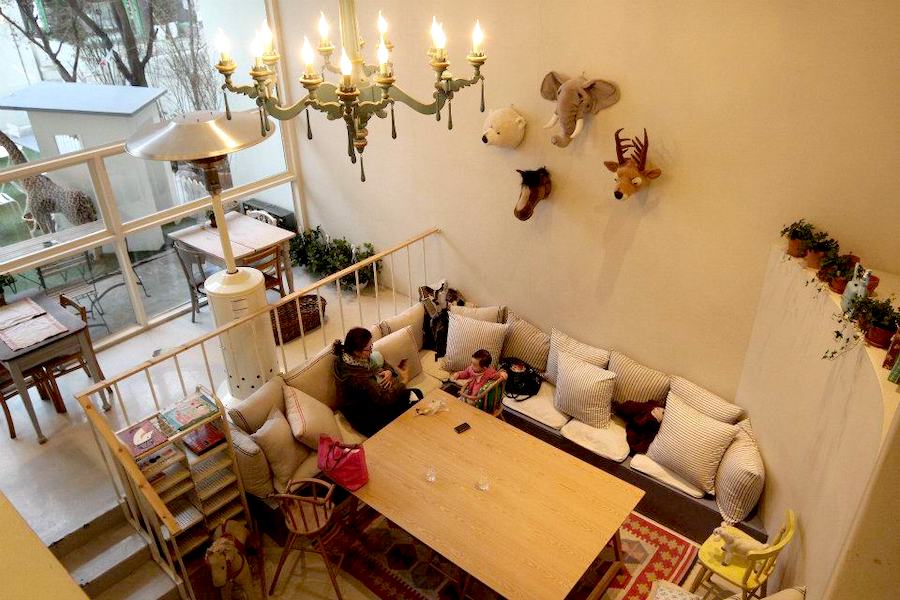 The Cafe Oui Seoul has three floors and a terrace. The first-floor downstairs has a living room alike space, a sofa in the center and coffee tables by the window, with a high ceiling, and a cute chandelier. Beside the couch, you will find magazines, books, and picture books, especially for children. The second floor has a kitchen area that is well decorated and has various counters offering snacks and food. You will find a table full of baked goods like pie, cupcakes, etc. A utensils cabinet and counter for snacks and chocolates. The third floor is huge, comprising of different spaces, including a beautiful balcony.  
Cafe Oui Seoul Food and Beverage Options
In food, they offer you a variety of items. As a café, their main outset of food services is brunch, salad and rice, sandwich, waffle, pancakes, and homemade bakery. They serve you baked cupcakes and pies in a buffet; however, you can also order from the menu.  The Cafe Oui in Seoul has an overwhelming menu consisting of multifarious drinks, coffee, juices, to special brunch ideas. For example, Spanish Omelet Rice is a signature dish at Cafe Oui Seoul; what makes it unique is the blending of omelet and rice, adding to it rich tomato sauce. 
However, Garosugil, as it is a heaven for photographers, style-seekers, and fashionistas, the trend also comes with a price. As you will discover the literal cost of dishes and coffees in the café, you will realize that they are little dear. However, the atmosphere takes the cake; all the extra price you pay is worth visiting such a creative and soothing environment.   
Wrapping Up
If you are searching for a place to have a good time with your friends and family, Cafe Oui Seoul is for you. Delicious and variety of good food just complement everything that the café has. If you have kids, they will love the place. Overall, it's a must-visit café, the small intricate details of the cafe will take you to a state of wonders, but at the same time, it will make you feel like you are at home. 
Don't forget to check out these other South Korea travel posts:
1,716 total views, 1 views today