The coronavirus outbreak is now bringing a global slowdown for businesses, and the mass spread of the virus in Korea is sure to have a considerable impact on the country's economy. As compared to other countries affected by COVID-19, South Korea has managed to control the outbreak with its well-managed disaster response. Still, the economic impact is inevitable as Korea is export-dependent, especially on exports to China. As the number of cases worldwide surpasses the 7 million mark, the damages to people's livelihoods and overall economic decline is becoming more apparent.
Current Status of Coronavirus in South Korea
While Sincheonji was by far the worst cluster found in Korea so far, there have been smaller clusters popping up. But, overall, the number of domestic cases has drastically reduced. The graph has almost flat-lined because of the highly coordinated government response. It emphasized on transparency and reliance on public cooperation. The linchpin of South Korea's response has been a drive-thru testing program that has screened more people per capita for the virus than any other country by far.
Drive-Thru Testing
South Korea came up with an innovative way of testing for the novel coronavirus — and it was inspired by the drive-through counters at McDonalds and Starbucks. (February 26)
'Phone Booth' Testing
A South Korean hospital has introduced phone booth-style coronavirus testing facilities that allow medical staff to examine patients from behind the safety of a plastic panel. (March 17)
As of March 29, 2020, a total of 9,583 cases (including 412 imported cases) have been confirmed, of which 5,033 cases have been discharged from isolation. Newly confirmed cases are 105 in total. Of the new cases, 41 involved entrants from overseas – 23 from Europe, 14 from the Americas, and four from unidentified Asian countries. So far, 412 imported cases have been reported accounting for 4.3% of the total.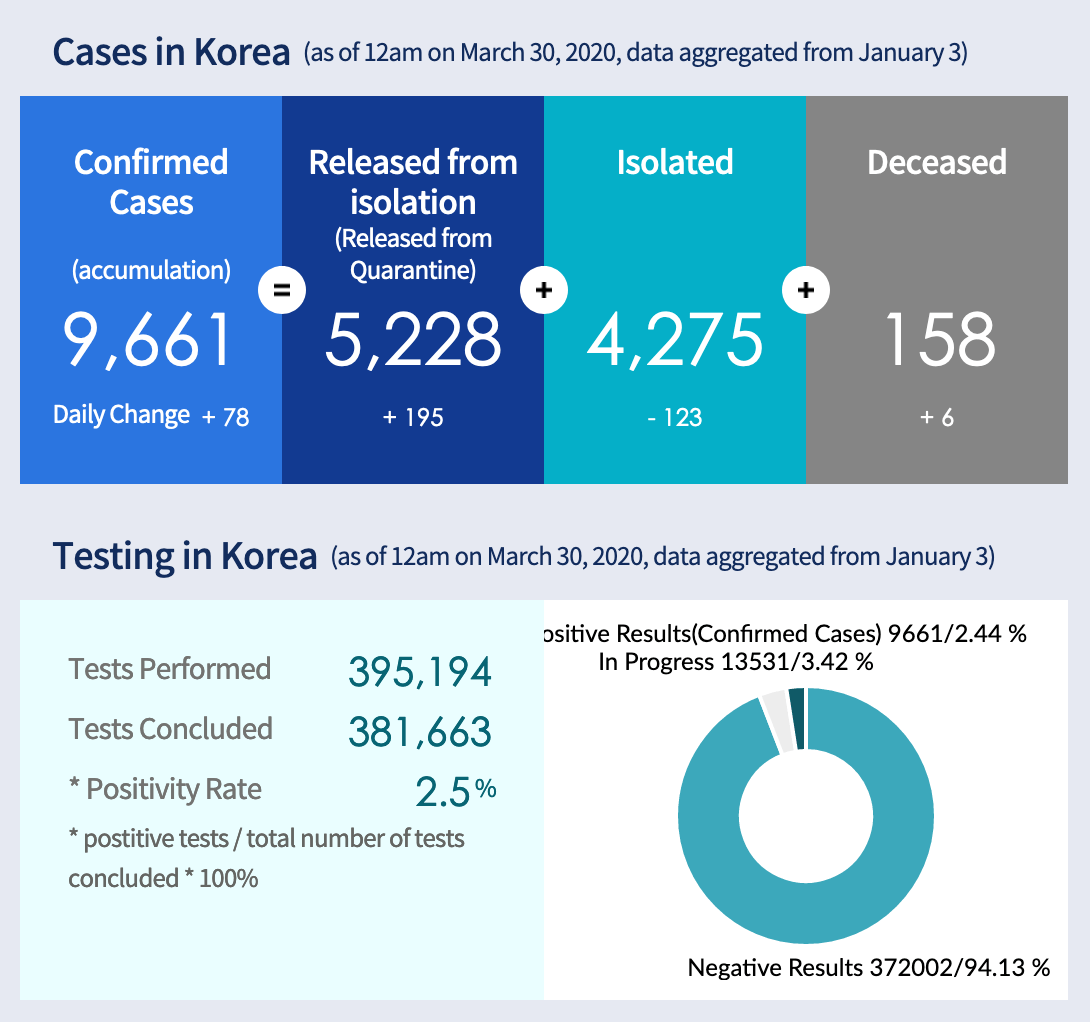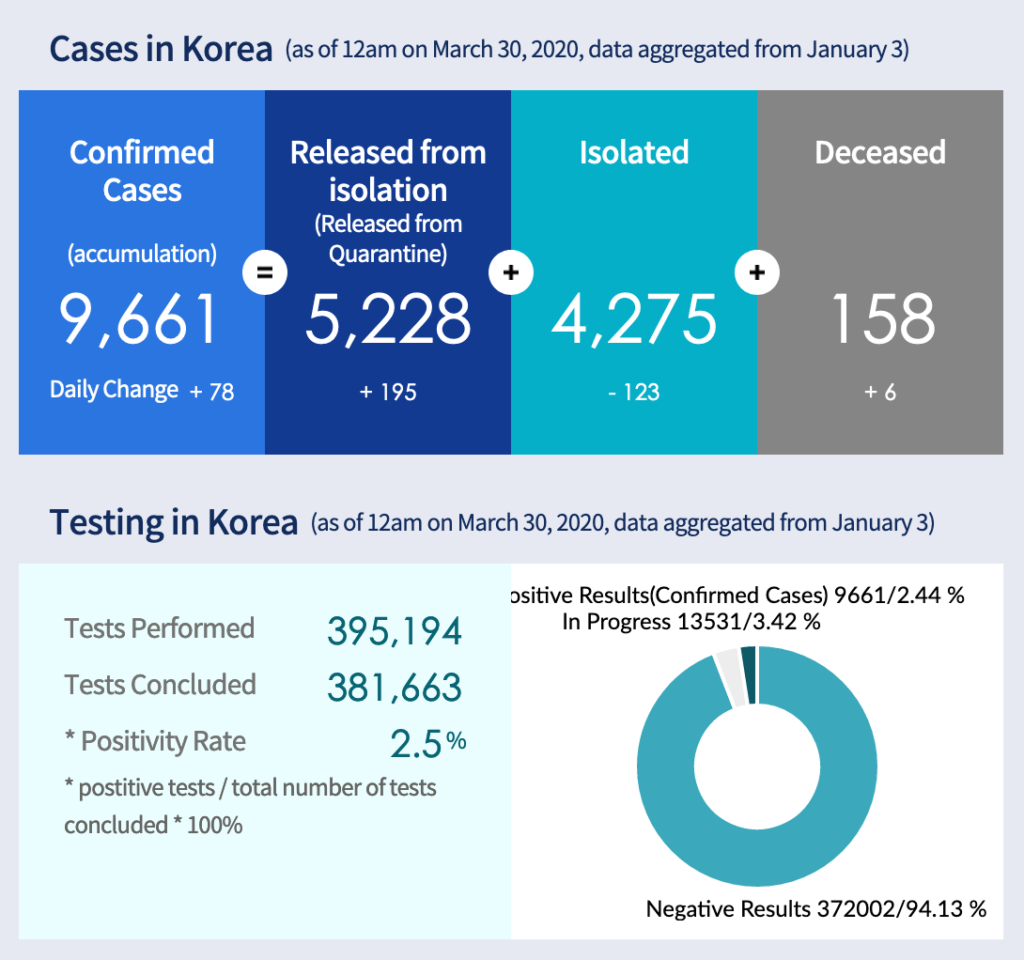 Impact on Korean Tourism Industry
The most impacted industries in South Korea from the COVID-19 outbreak is the Duty-Free, outbound tourism, and domestic cosmetics sectors. The ongoing coronavirus outbreak has been leading to severe declines not only in the country's tourism industry but around the world.
According to the World Tourism Organization, the number of international tourists will fall by 20-30 percent due to the novel coronavirus globally. The drop in travels will result in an estimated loss of $300-$450 billion in international tourism receipts. It is almost one-third of the total $1.5 trillion generated in 2019. More and more nations are imposing travel bans, and more flights have been cut as the governments are scrambling to contain the spread of the disease.
With the COVID-19 outbreak, travel in the region has faced a massive setback as passenger movement has gone down drastically. Many countries imposed a travel ban to and from South Korea, leading to cancellations. South Korea suffered a $928 million tourism deficit in January alone as international news headlines started reporting about the novel coronavirus in Asia. The International Air Transport Association has warned of a drop in earnings of about $29 billion among global carriers, with losses expected to hit airlines in the Asia-Pacific region. There will also be a shortage of workers of Chinese origin. The virus severely cut down on the number of foreign visitors overall, but especially from China.
South Korean government has announced 420 billion won around $356 million as an emergency aid plan for businesses, airlines, shipping firms, retailers, and travel agencies facing struggle due to the virus outbreak. However, this might not be enough to revive the losses suffered during the pandemic.
South Korea's Ministry of Culture, Sports and Tourism announced that it would provide KRW100b (US$79m) in emergency loans from its Tourism Promotion Fund to businesses whose operations had suffered as tourist traffic dried up following the coronavirus outbreak. Businesses such as hotels, recreational resorts, cafes, and restaurants are eligible for help.
Is it Safe to Travel to Korea?
Although the coronavirus is spreading, the country remains at a Warning Level 3 according to the CDC website, which means that avoid any non-essential travel. There is no travel ban, but there are many restrictions that are currently in place. Certain countries are putting bans on travel to and from Korea, so that is something you need to consider.
Government Measures To Make Travel Safe in Korea
Mandatory two weeks Quarantine
The government has toughened the quarantine measures for inbound travelers amid growing concerns about imported coronavirus infections. Prime Minister Chung Sye-kyun announced on Sunday that all overseas arrivals to South Korea — Korean nationals and foreigners alike — would be subject to a mandatory two-week quarantine. The latest measure is implemented as Korea sees a spike in imported cases, amid an overall slowdown in domestic transmission.
Since last week, all arrivals from Europe have been tested for COVID-19 upon arrival at the airport, and they are required to self-quarantine for two weeks, even if they test negative.
US arrivals are required to self-quarantine for two weeks at home, but only those showing symptoms such as fever are being tested. But with the US' dire coronavirus outbreak — the country had reported about 125,000 as of Sunday, overtaking Italy and China as the country with the highest reported number globally – there is a need for stricter quarantine procedures.
Incoming travelers from other countries than Europe and the US should not go to work or have outdoor activities for 14 days. They should stay home, minimize contact with others, and maintain good personal hygiene. KCDC also advised that any employees returning from international business trips should not come to their office for the first two weeks upon their return. In particular, employers should primarily ensure that employees working at publicly used venues who have international travel history are required to work from home or take a short leave.
The government has also reiterated its "zero tolerance" policy for those who violate self-isolation rules. Korean citizens will be fined up to 10 million won and imprisonment for up to one year. Foreigners will be deported if they break the quarantine rules.
Integrating Technology in Managing the Crisis
To enter South Korea, you also need to download a self-quarantine app. No one can enter Korea without downloading the app. And this app tracks and monitors your quarantine adherence.
South Korea began to operate the 'walk-through' testing facilities at the Incheon International Airport to speed up screening amid an alarming increase in the number of cases imported from Europe and the US. Up to 2,000 people can be tested for COVID-19 daily at 16 open-air testing booths installed in five locations at the airport's two terminals. Roughly, that means testing one person every five minutes. As the facilities are set up in open air, testing is quicker as virus-carrying particles such as droplets of saliva are blown away by the wind.
Strengthened Social Distancing
The Korean government is promoting the Enhanced Social Distancing campaign from March 22 to April 5. The campaign urges people to avoid religious gatherings, going to indoor gyms, or any other activities that require close contact with other people in enclosed spaces. Under this campaign, the government also requests citizens to avoid leaving home except to purchase necessities, to get medical care, or to go to work. You should cancel or postpone all non-essential gatherings, dining out, social events, and travel plans.
Focus on Public Awareness
Across the country, you can see the posters for increasing the public awareness about the virus and prevention methods such as wearing a mask, washing hands, and covering face while coughing. These posters are placed in public places like train stations, markets, etc. Hand sanitizers have been placed at public transport spots and building entrances to improve sanitization.
The continued rise in the number of imported cases is placing a strain on Seoul's containment efforts, with calls for more draconian measures like a temporary ban on all foreign visitors like in China. Korea hasn't entirely closed its borders, opting instead for testing and quarantine procedures for passengers arriving from overseas. Entry ban is difficult as most of the imported cases are Korean nationals.
How All This Affects You as a Tourist?
Cancellation of Annual Cherry Blossom Festival – Songpa District Office announced the cancellation of its annual Cherry Blossom Festival last week. The festival was originally scheduled to take place from April 3 to April 12. Amidst COVID-19 outbreak, entrances to Seokchon Lake will be temporarily shut down until mid-April to deter people from visiting during the outbreak. It is a famous sightseeing destination for its cherry blossom trees that bloom in spring in Jamsil, southeastern Seoul. The lake is one of the most popular attractions in Seoul during springtime for its beautiful cherry blossom trees surrounding the lake in spring.
Theatre Shut Down – South Korea's largest multiplex chain, CGV, will shut down about 30% of its theatres starting the weekend. It is in response to the Korean movie industry which has been struck by rapid COVID-19 spread. The government has asked the public to refrain from outdoor activities and public gatherings. It has led to a decline in the number of ticket sales which has reached an all-time low of 25,000 in the country.
Travel Restriciton – From this week, any passenger with a body temperature of higher than 37.5 C will be banned from boarding flights to South Korea. All passengers traveling to South Korea will be required to get fever checks by airlines at airports. For any passengers who are banned from boarding the flight, the airline will return the fare.
Reduced Subway Service – The reduced service is anticipated to encourage the public to return home early and also secure more time (for subway workers) to stably focus on safety and quarantine tasks.
7,485 total views, 8 views today