The Coronavirus is one of the most contagious and deadliest of similar past epidemics. The number of cases and deaths has surpassed those associated with the 2003 SARS outbreak in less than a quarter of the time.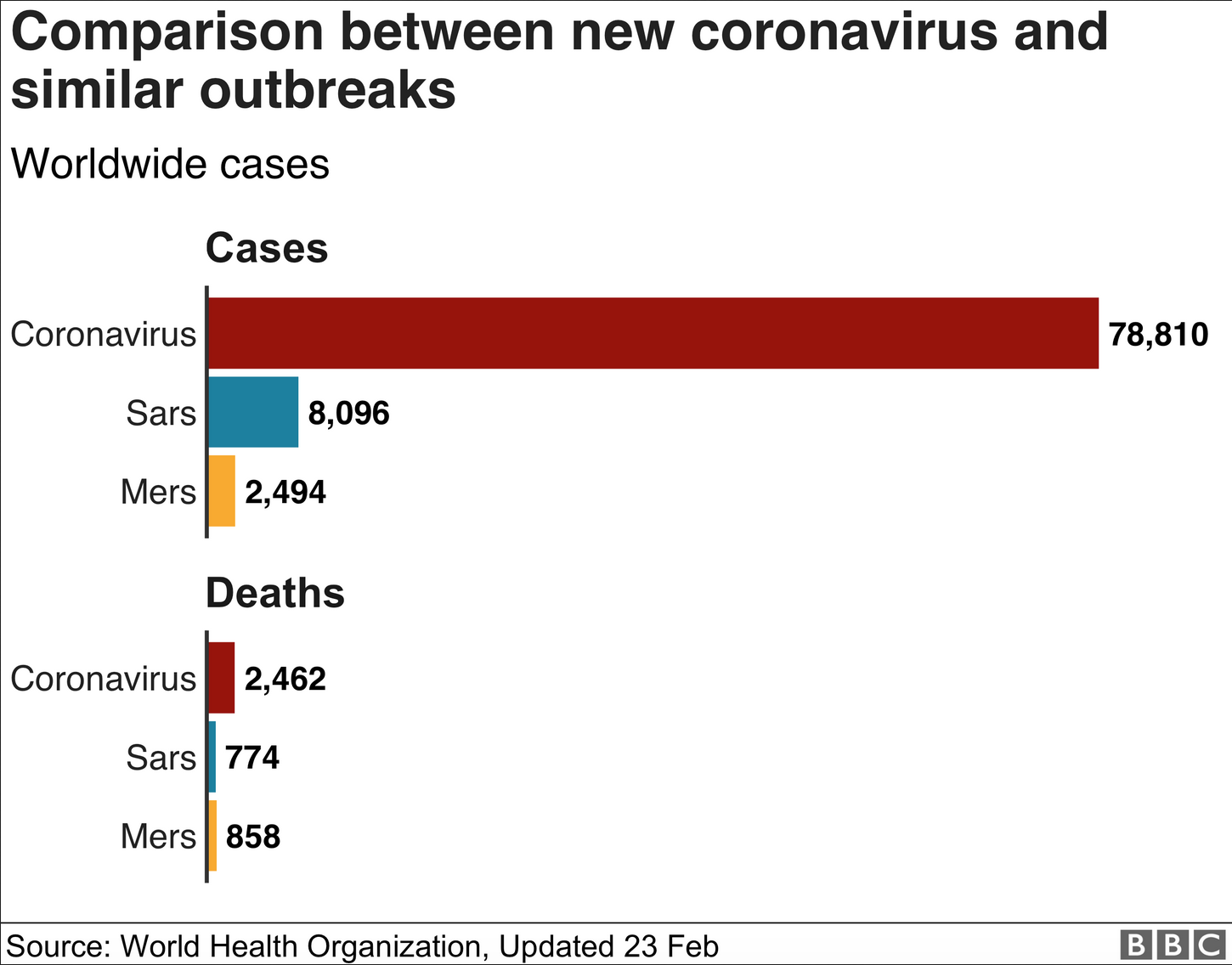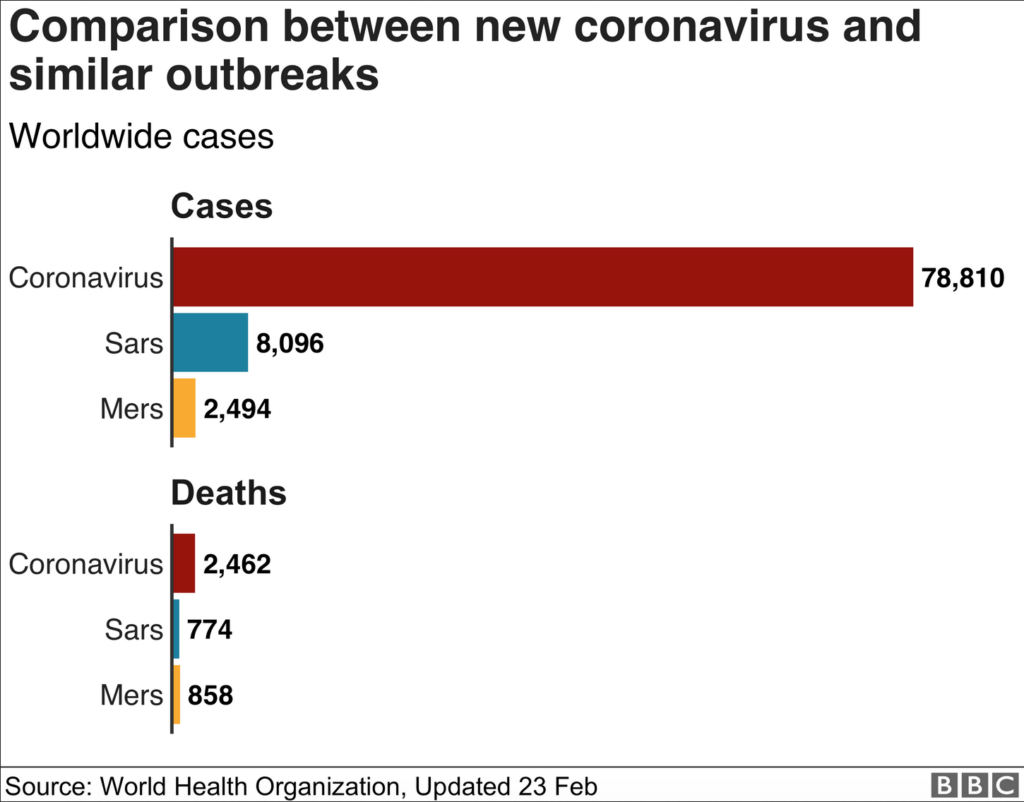 As of February 23, all over the world, there are 78,000 cases of confirmed Coronavirus. The virus has spread to at least 33 other countries. Japan has 838 cases, including 691 from a cruise ship docked in Yokohama, South Korea has 763 cases, including more than 123 cases from the Shincheonji church in the city of Daegu.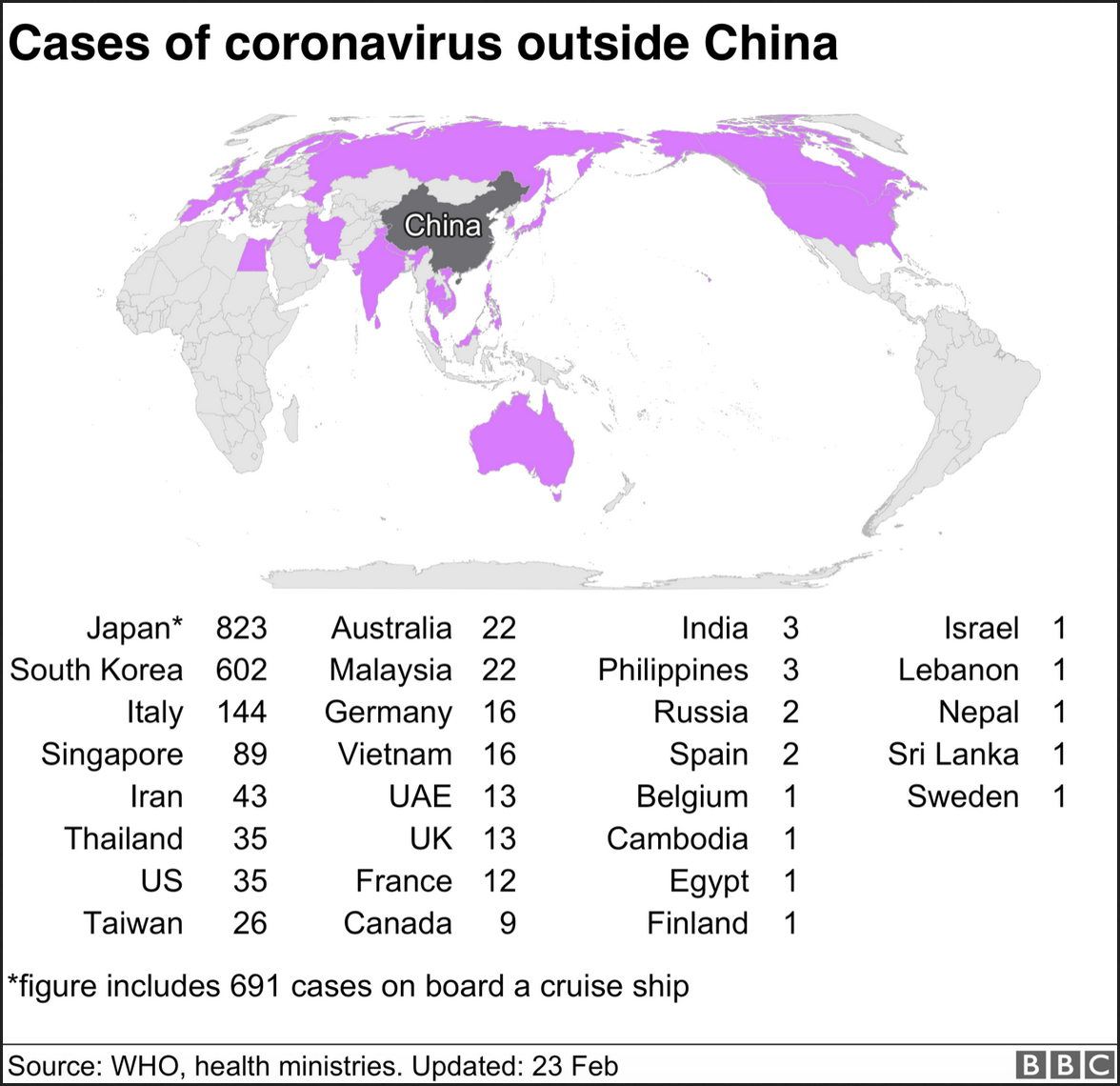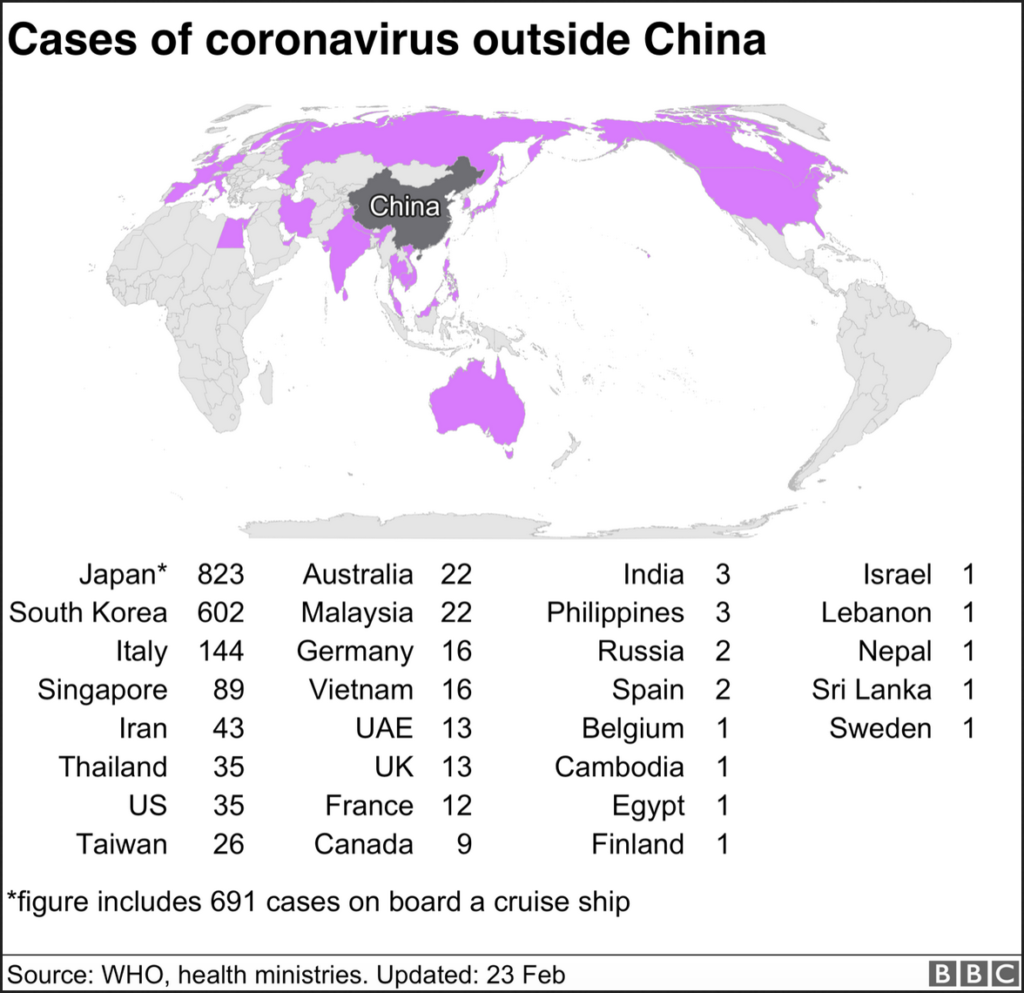 The number of patients worldwide is increasing, and the experts feel that the world is fast approaching a tipping point in the spread of the virus. According to the experts, the disease is outpacing efforts to contain it, and the situation will soon reach a critical threshold.
On Sunday, South Korea's president, Moon Jae-in, has placed the country on "red alert" after it reported its sixth death and more than 123 new coronavirus cases, taking the number of total infected to more than 600. This is the country's highest threat level, level four. With this threat level, the president has given the government the ability to take drastic measures.
A controversial religious organization is at the center of the rapid rise in the number of coronavirus cases
The number of confirmed coronavirus cases in South Korea spiked sharply from 30 on February 17 to 763 cases and seven deaths as of Monday morning, February 24. Of the total, more than 60 percent of the patients were found to be members of the Shincheonji church in the country's south-eastern city of Daegu. Thousands of members of the Shincheonji church have been screened for the virus, and more than 9,000 members are in self-quarantine, according to Korea Centers for Disease Control and Prevention (KCDC). The Shincheonji Church of Jesus is often considered a cult in South Korea by mainstream churches. It was founded in 1984 by Lee Man-hee, who claims he is the second coming of Jesus.
The first case of new Coronavirus in South Korea was identified in a Chinese woman from Wuhan on January 20. As of February 24, authorities have confirmed 763 cases of novel Coronavirus in South Korea, and seven people have died from Covid-19.
The effects on South Korea's travel industry and economy
With the increased number of cases in South Korea, several countries have imposed a travel ban, and some airlines have canceled routes to Seoul. South Korean airlines have suspended flights to south-eastern city of Daegu. This is the city where hundreds of new infections were reported over the weekend. Korean Air Lines Co, the country's biggest airline, has canceled its flights to Daegu from Jeju Island and Incheon. 
Other countries have also halted all flights from South Korea, such as Mongolia. Bamboo Airline, a Vietnamese airline, is suspending flights to South Korea from February 26. Fourteen countries and a U.S. territory have placed tighter entry restrictions on people traveling from South Korea after a sharp jump in coronavirus cases. Measures include banning entry for people who have been in South Korea in the past 14 days and mandatory health checks, according to the Ministry of Foreign Affairs.
With all these travel restrictions, there is a significant drop in South Korea's travel industry.
Because of the widespread new coronavirus cases and the continuous addition of new cases, the Korean economy is facing some significant losses. With the threat level increased to the highest level following a rapid increase in cases over the weekend, stocks in South Korea were amongst the top losses in Asian markets. Korean Won weakened to 1,219.22 per dollar. The travel restrictions and fear of rapidly spreading infection also led to a drop in airline stocks.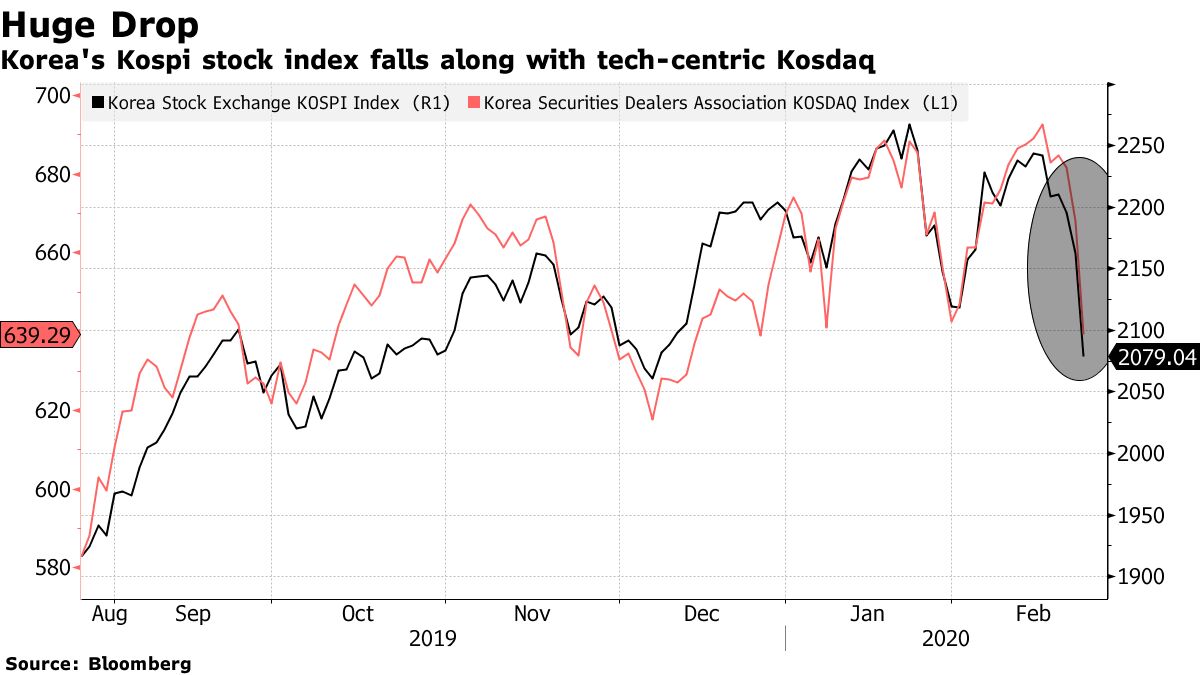 K-League postponed
It has even affected South Korea's K-league. The start of the new football season has been postponed, which had been due to kick off this weekend. This is to protect the health and safety of the citizens and players against the outbreak of the Covid-19. Matches featuring Daegu FC, based in the city that is the epicenter of the South Korean outbreak, and nearby Pohang Steelers, had already been delayed even before the decision to postpone the league was made.
Social life disrupted
The increase has also led to deep concern amongst citizens of Daegu. Residents are avoiding public places such as parks, stores, and movie theatres in fear of getting ill. In response to this dramatic increase in coronavirus cases, the government is taking some drastic measures. The government has decided to close community centers and daycare facilities across the country. Another extreme step is the ban on political rallies outdoors, which are a common part of daily life in Seoul. This ban aims to limit the spread of Covid-19 amongst the population.
An initiative by KCDC
An interactive map shows the patients' information, including their residence, nationality and gender. It also shows where they are hospitalized and how many people they have contacted.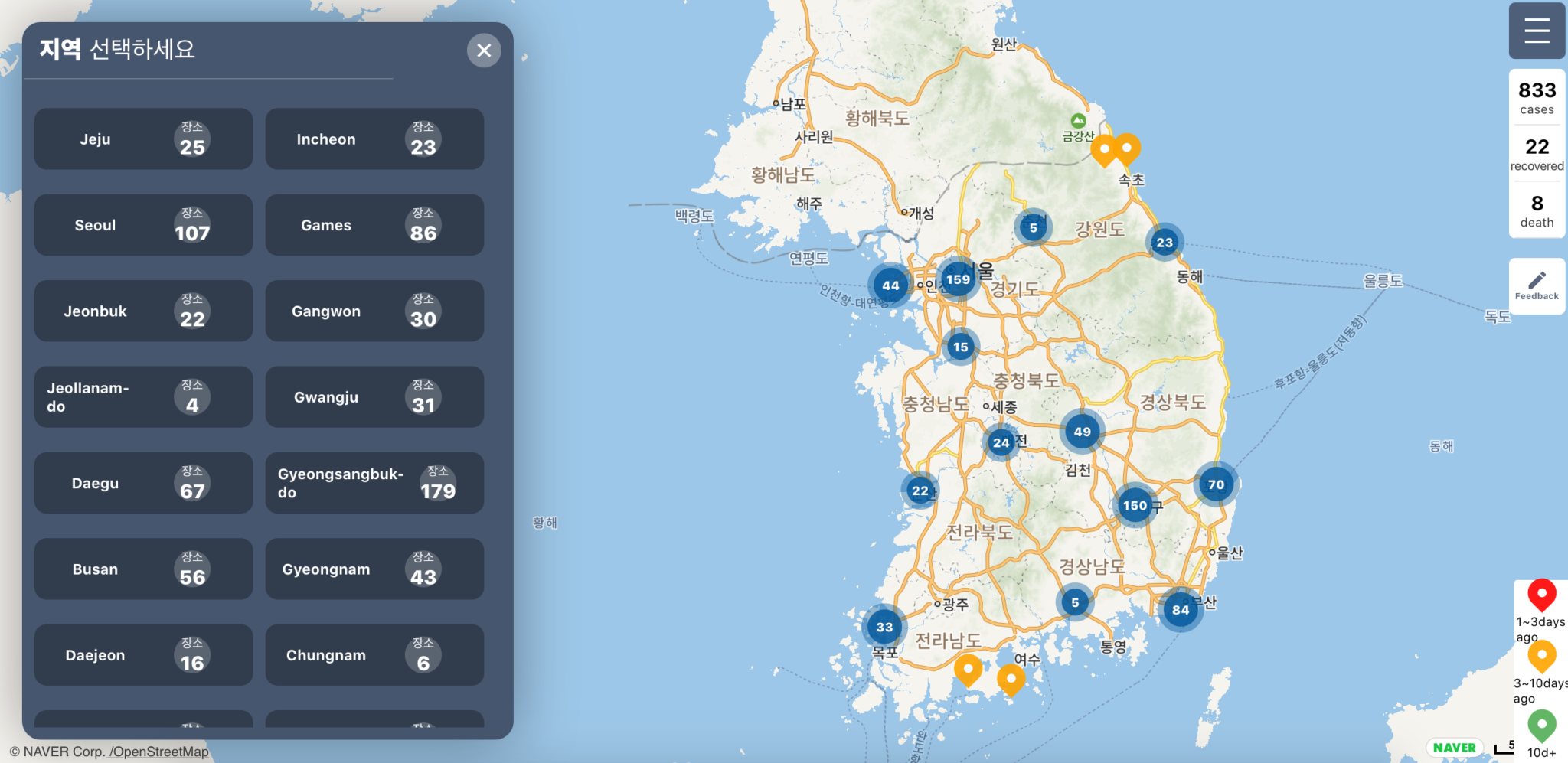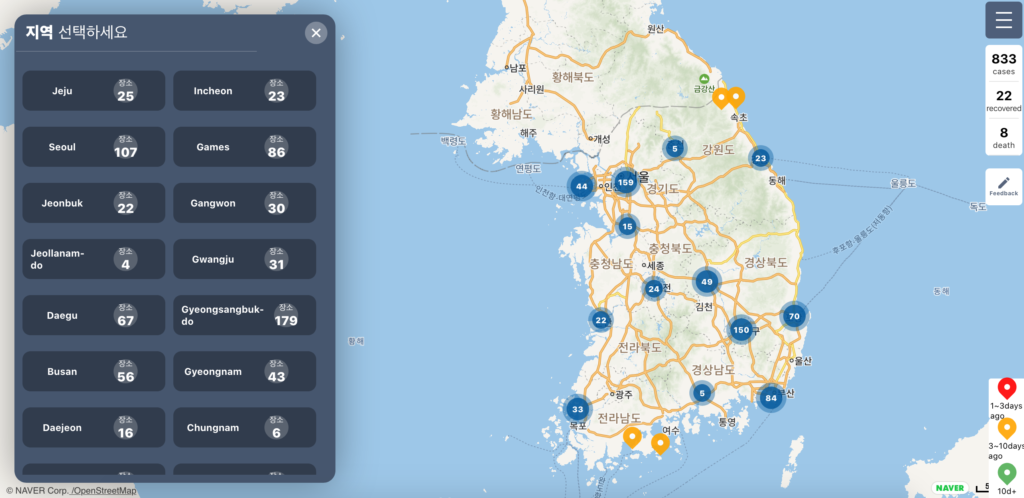 Some essential information about Covid-19
What is Covid-19?
It is the illness that started in Wuhan caused by a member of the coronavirus family.
Why is it called Coronavirus?
The virus gets its name from how they look under a microscope. They appear spherical and are covered with crown-like spikes. The strain found in China has been referred to novel coronavirus as it has not been previously identified.
What are the symptoms?
Patients infected with Coronavirus show a wide variety of symptoms. These include fever, cough, shortness of breath, and breathing difficulties. In severe infection cases, patients also experience pneumonia, severe acute respiratory syndrome, kidney failure, and death in some cases.
Is it contagious?
Like other coronaviruses, it transmits amongst humans via air droplets when an infected person sneezes or coughs. It can also transfer via contaminated surfaces like door handles or railings. According to research, it is moderately infectious like SARS.
From where did it come from?
This epidemic began in Wuhan, capital of Hubei province in China and a city of more than 11 million people. According to primary research, the Wuhan coronavirus may have made the jump to humans from snakes, but Chinese government medical experts have also suggested badgers and rats as possible sources.
How can it be identified?
The testing of the virus uses a genetic test, RT-PCR (real-time polymerase chain reaction). It identifies the presence of viral RNA in a sample.
Is there a vaccine?
At present, there is no vaccine for the Coronavirus.
How do I keep myself and others safe?
Washing your hands frequently is the essential thing that you can do. It is also crucial that you stay at home when you are sick. It would be best if you also avoided unprotected contact with farm or wild animals.
2,090 total views, 5 views today