Korea Grand Sale is the ultimate representation of South Korea's culture and tourism for foreign visitors. The festival is bundled up with exciting offers in various areas like flight, accommodation, transportation, shopping, food, and other activities.
Korea Grand Sale 2021
The 2021 edition of the Korea Grand Sale brings forth the popular K-contents around the world through series of different themed programs, including, Korean Tourism Product Purchase Promotion, Korea Online Video Program, and Online Shopping Promotion.
You can enjoy South Korea online via events and exhibitions for 46 days starting from January 14, 2021 and ending on February 28, 2021.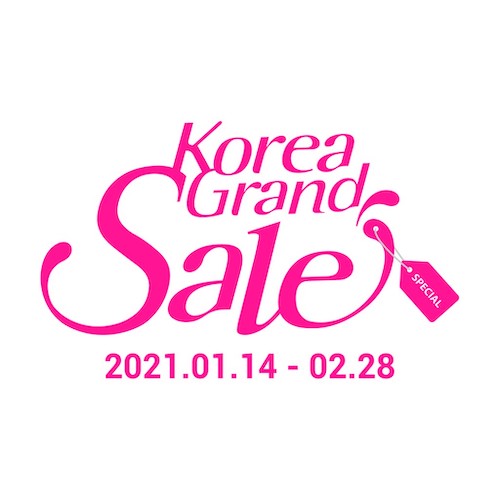 The best part about this year's program is that you can enjoy the Korean culture, shopping, and tourism via the Korea Grand Sale on its website and social media!
Did you know you will get to see your favorite K-pop idols during the Korea Grand Sale?
Eric Nam will be introducing Korean cultures, including food, music, fashion, and of course beauty. His first video will release on January 14th so you can look forward to that!
And you can enjoy the opening ceremony of the Korea Grand Sale with OH MY GIRL! and their special online K-pop concert!
Korean Tourism Product Purchase Promotion
This promotion caters to all the people who are waiting for travel to South Korea! You can find discounts on Korea tourism products that you can enjoy after the COVID-19 situation comes to an end.
The event also promotes pre-purchase of Korean tourism products that people can use when they visit South Korea after the travel is more open. These tourism products are available at a discount so that people get more excited about traveling to South Korea.
You can even buy tickets in advance to South Korea for extra benefits during the sale period!!
Korea Grand Sale offers promotions on the best accommodations you can find in Korea. It includes options ranging from premium hotels with ocean views to hotels where you can experience the traditional Korean culture.
There are fun activities and 'Local Experiences' that you can book online for when you travel to South Korea! You can avail travel activity benefits through the partner sites like Korea Travel Easy and Trazy.
You can also experience and enjoy the exhibitions and performance in South Korea at discounted prices! There's everything ranging from traditional to modern art – something for everyone's taste.
How will a trip to South Korea be like without shopping? One answer – Dull!
Well, the Korea Grand Sale festival also promotes shopping in your favorite places by offering some exclusive benefits and rewards!
When it comes to traveling to any place, taking photos is the best way to capture the moment and record your precious memories. So, if you are planning a trip to South Korea, why not visit the Instagrammable Photo Spots at some exciting discounted prices!
Along with these, there are some excellent places where you can explore and enjoy the Korean traditions. These exotic places will give you a real sense and feel of the Korean culture and you can even enjoy the beauty of Korea.
Korea Grand Sale also gives you opportunity to enjoy K-beauty at discounted prices so that you can find the special way to build your confidence! These Korean brands range from medical beauty brands to colorful cosmetics brands.
Korea Online Video Program
They are also holding a #ShareYourKorea social media campaign event for tourists. It is designed to promote travel to South Korea amongst foreigners and increase their participation in the Grand Korea Sale online.
You can also enjoy a local experience of Korea via online videos and exhibitions.
Online Shopping Promotion
The special online shopping promotion provides discount benefits on Korean products, including, K-beauty, K-fashion, K-pop merchandise, and much more! There are three online shopping sites that you can explore if you are not in Korea right now to avail the exclusive offers and deals. These sites include G-Market, 11 Street, and Okvit.
Important Info about Korea Grand Sale 2021
Website: https://en.koreagrandsale.co.kr/
Event Duration: January 14, 2021 to February 28, 2021
Hosts: Visit Korea Committee and Ministry of Culture, Sports and Tourism
All pictures from Visit Korea Committee official Facebook Page.