Gwangjang Market, previously known as Dongdaemun Market, is one of the oldest and largest traditional markets in Seoul, South Korea.
Gwangjang Market (광장시장) is one of Seoul's busiest traditional marketplaces. It is centrally placed, making it simple for even first-time tourists to find. The founding of this legendary market took place in the early 20th century, specifically in 1905. It now houses a wide range of food and clothing shops and draws both locals and foreigners alike.
Here's our guide to maximizing your time at Gwangjang Market.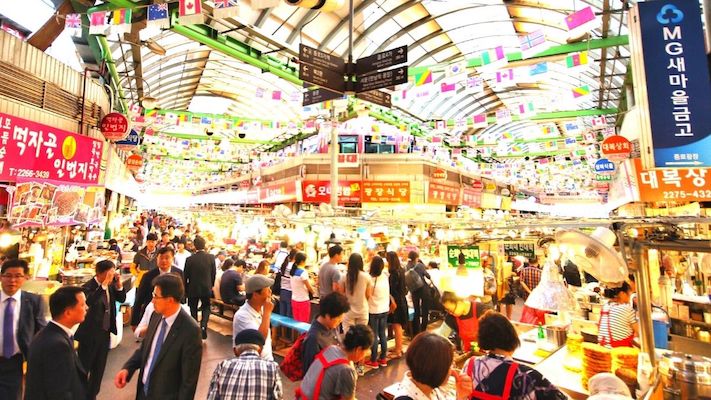 Things To Do at Gwangjang Market?
Gwangjang is a must-visit destination for fans of traditional Korean cuisine as well as for fashion lovers looking for custom-made outfits. In other words, food and shopping are the main attractions of this vintage market.
Dishes to Try
The wide selection of culinary alternatives offered at this market would make food enthusiasts go mad. However, we suggest trying out Korean flavors especially Korean street food here. Having a bite of the all-time favorite rice roll of the Korean people, "Mayak gimbap," is absolutely recommended. Mung Bean pancake, known as Bindaetteok, is another delectable treat. The other traditional Korean delicacies to sample while at this market include stir-fried rice cake called "Tteok-bokki," blood sausages named "Soondae," and fish cakes known as "eomuk."
For seafood aficionados, there is a lane specifically dedicated to different kinds of fresh seafood. You will get everything there, starting from the renowned live octopus, raw fish (akin to salami), and hwareo-hoe to fresh and raw seafood on an assorted plate.
If you enjoy desserts, we recommend tasting "Hotteok," a sweetened variant of rice flour pancakes, Twisted Korean doughnut offered hot and fresh and "Bungeo-ppang," a pastry in the shape of fish containing sweet and rich red bean filling.
There are both big restaurants and food stalls in Gwangjang Market, but to get the actual feel of the street food, it is best to visit the food stalls. Most of the food vendors are situated on the first floor.
Shop for Clothes
Gwangjang Market has a vast selection of fabrics and garments in general. The designs are eye-catching, and the materials are of the finest quality. Most of the sellers are positioned on the second level, while some are found on the first floor and in alleys. But head right upstairs if you prefer high quality.
How pricey is Gwangjang Market?
Seoul, in general, is not a cheap city to live in. The minimum budget for street food is 2,606 KRW to 6,515 KRW per plate. Therefore, do not be surprised if you end up spending 13,030 KRW to 26,061 KRW per individual eating at Gwangjang Market. However, given the quality of food the vendors serve, most of you won't mind spending that.
Regarding the clothing, the rates will depend on the reputation of the sellers and the quality of the clothing you're purchasing.
How to visit Gwangjang Market?
You can easily reach the market by taking the subway to the Jongno-5 station. After that, take Exit 7 or Exit 8. This will lead you directly to Gwangjang Market's entrance. You can also go to Euljiro 4-ga Station (Lines 2 and 5).
Bus routes to the market are also available. Simply exit the bus at the Jongno 5-ga Station stoppage.
When to visit the market?
Normally, the market is open from 8:30 am to 6 pm; however, some of the food vendors and restaurants stay open till 11 pm. The optimum time to go is, however, in the late afternoon or evening. This is because even though the stalls open in the morning, most of them are busy preparing the food for the day, so you may have to wait to get your favorite foods.
Most of the stores are closed on Sundays except for some food and clothing outlets. So, if you want to experience the complete marketplace, try to avoid Sundays.
Some things to know before visiting
Wear comfortable shoes because you will have to walk over several rough and uneven surfaces.
Carry cash because some vendors offer discounts when paid in cash rather than credit cards.
Although most part of the market is wheelchair-accessible, seating arrangements are not there in all shops.
Nearby Attractions to Check Out
You may visit the following nearby attractions when visiting Gwangjang Market:
Dongdaemun Market
Heunginjimun
Tapgol Park
Jongmyo Shrine
Related Posts
18,881 total views, 7 views today