If you are traveling to Korea and looking for the best Korean street food in Seoul, look no further than Gwangjang Market. This vibrant market offers an unparalleled Korean street food experience with various delectable local delicacies. So, what are the absolute must-try dishes at Gwangjang Market? Let's explore the tantalizing flavors at Gwangjang Market and add them to your must-try Korean street foods list for your next trip to Seoul!
Discover 10 Mouthwatering Korean Street Foods at Gwangjang Market
Established in 1905, Gwangjang Market is the oldest and largest food market in Seoul, immersing its visitors in an unparalleled experience. Step into its vibrant atmosphere and indulge in a diverse selection of culinary delights, catering to every palate. Get ready to embark on a culinary adventure that will tantalize your senses and leave you craving more.
Savoring Iconic Korean Street Foods at Gwangjang Market
1. Bindaetteok (Mung bean pancakes)
At Gwangjang Market in Seoul, visitors can enjoy Bindaetteok (빈대떡), a delicious and iconic Korean street food you should not miss. Moreover, Bindaetteok is a savory pancake made from mung beans and vegetables. It is typically served with a flavorful dipping sauce made from a combination of soy sauce, rice vinegar, and pickled onions, which adds tanginess and complements the flavors of the pancake.
Additionally, bindaetteok is known for its crispy exterior and soft interior. To complete the culinary experience, many people pair Bindaetteok with a refreshing rice wine called makgeolli.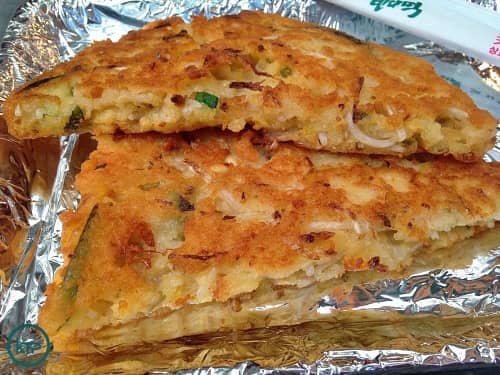 2. Nude Gimbap
In addition to Mayak Gimbap, another unique and flavorful dish you can find at Gwangjang market is nude gimbap (누드김밥). Unlike traditional gimbap, nude gimbap rolls seaweed and various ingredients into rice, creating a different texture and taste.
One popular version is topped with tasty tuna, offering a bold and lingering flavor. The vendor may also provide other appetizing options alongside nude gimbap, such as japchae (stir-fried glass noodles) and fish cake, providing a satisfying and flavorful meal experience. Don't miss the opportunity to try these unique twists on classic Korean dishes while exploring the market.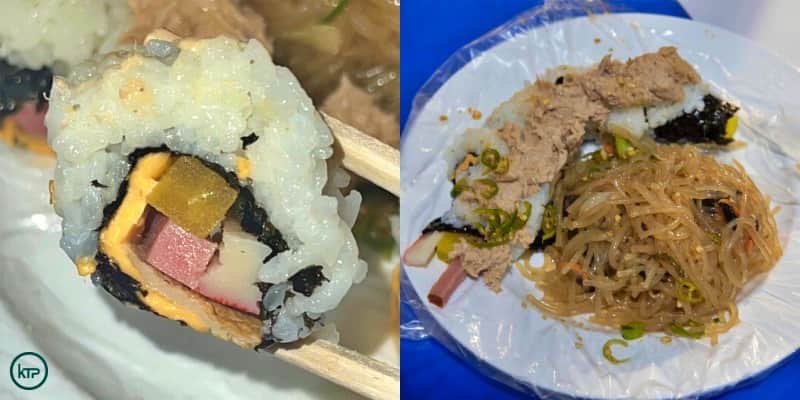 3. Dakbal (Chicken feet)
For adventurous eaters, Gwangjang market offers Dakbal (닭발), or chicken feet, which can be quite a challenging dish to try. The vendors skillfully remove the bones from the feet, season them with a spicy sauce, and garnish them with green onions and sesame seeds. Koreans enjoy dakbal as a side dish, often pairing it with soju or beer. Many visitors seek out dakbal at Gwangjang market for a unique culinary experience.
4. Yukhoe (Korean seasoned raw beef)
Another challenging Korean street food to try at Gwangjang market is Yukhoe (육회), a traditional Korean seasoned raw beef dish. Yukhoe consists of thinly sliced raw beef mixed with soy sauce, salt, egg yolk, black pepper, and sesame seeds.
You can find a lively yukhoe alley at the market where you can try this unique dish. Koreans often enjoy yukhoe with soju. So, if you're feeling adventurous, yukhoe is definitely worth trying for its rich flavors and unique eating experience.
5. Kalguksu (Korean knife-cut noodle soup)
For noodles lovers, a must-try dish at Gwangjang Market is Kalguksu (칼국수). These knife-cut buckwheat noodles served in a refreshing hot or cold broth. The noodles have a unique rough texture that adds to the overall experience. Commonly, the vendor serves kalguksu with scallions, kimchi, and vegetables. In certain variations, kalguksu may even include dumplings as an additional topping. These toppings add an extra flavor and texture to the dish, enhancing the overall kalguksu experience. In addition, for those who enjoy spiciness, you can add spicy sauces to enhance the flavor.
6. Tteokbokki (Spicy Rice Cakes)
Tteokbokki (떡볶이), a beloved staple food in Korea known for its chewy texture and fiery flavor, is abundantly available at Gwangjang Market. With a rich history, this popular Korean dish features rice flour tubes cooked in a spicy gochujang sauce. In addition to tteokbokki, the vendors also offer fish cakes. The combination of rice flour tubes, fish cakes, scallions, and sesame seeds creates a delicious and satisfying dish.
7. Mandu (Dumplings)
As you explore the Gwangjang market, you can also find Mandu (만두), one of the must-try Korean street foods to tantalize your taste buds. The vendors expertly fill these dumplings with a variety of delicious ingredients like kimchi, seafood, meat, or vegetables. They skillfully season the fillings with sesame oil, garlic, ginger, and soy sauce to create incredible flavors.
Moreover, they prepare this delightful dish in various ways, whether it's steaming, boiling, or stir-frying. To enhance the flavor, you can enjoy Mandu with a flavorful soy sauce for dipping and pair it with noodles and soup for a satisfying and hearty meal.
8. Boribap (Rice and barley with vegetables)
At the market, you'll also discover a tasty dish called Boribap. This beloved South Korean dish features a delightful combination of steamed rice and barley and is typically served with a delicious doenjang stew made from fermented soybeans. Alongside, you'll find an array of delectable vegetarian side dishes known as banchan. These mouthwatering side dishes include greens, vegetables, and flavorful condiments like gochujang chili paste or doenjang.
9. Imokase (Assorted sashimi)
At the market, you can also experience a unique seafood delight. Some vendors have a mini display filled with a variety of fresh seafood and the 'imokase' concept. In this context, 'imokase' is a concept in Korean establishments where you don't order off the menu; instead, you let the aunt choose the food for you. Much like the concept of 'omakase' in Japanese cuisine, 'imokase' often features seasonal seafood dishes. The vibrant plate, full of fresh assorted sashimi, comes with soy sauce, chojang sauce for dipping, slices of garlic, and perilla leaves to wrap the seafood."
10. Sannakji (Live octopus)
Lastly, don't miss out on the most thrilling food experience at the market: Sannakji or live octopus. Considered one of the market's most popular delicacies, this dish is a must-try when you visit the place.
You can watch as the skilled vendor quickly chops the octopus into bite-sized pieces and garnishes it with sesame seeds, dry seaweed, and gochujang sauce for dipping. People who enjoy this dish often pair it with a cold beer, as the combination of flavors enhances the overall experience. Do you dare to have an unforgettable dining experience with Sannakji?
Gwangjang Market Location: 88 Changgyeonggung-ro, Jongno-gu, Seoul, South Korea.
From picturesque landscapes to hidden gems and cultural adventures, follow KoreaTravelPost's Twitter, Facebook, Instagram, LinkedIn, and Flipboard for a thrilling journey through the heart of Korea
Related Posts
462 total views, 7 views today