No trip to Busan – an eclectic mix of culture and life in South Korea – would be complete without a visit to the lively Haeundae Traditional Market! Stepping into this bustling marketplace, with its abundance of mouth-watering cuisine and varied flavors and tempting aromas, guarantees an authentic and unforgettable experience. Furthermore, its location near Seacloud Hotel in Busan and the renowned Hauendae Beach makes it easily accessible.
Come with us and explore Busan's culinary scene at the Haeundae Traditional Market. Join us in discovering its hidden gems.
A Gateway to Busan's Culinary Delights
Venturing into Haeundae Traditional Market guarantees a unique epicurean adventure like no other. A bustling maze of stalls and shops awaits within its streets, making it an unbeatable hot spot on any food lover's itinerary. A wide array of exceptional cuisine options await discovery: tantalizing snacks off the pavement or savory seafood right off the boat! You might find your taste buds begging for more after each delectable bite!
The Freshness of the Sea
As you stroll around the market in stunning Busan city, marvel at its incredible variety of succulent seafood offerings. As a coastal region, it's unsurprising that it boasts unparalleled fresh catches compared to other parts of South Korea. The Haeundae Traditional Market sparks excitement with every step down its alleyways, where one will find an impressive array of glistening fish heaped high along with clams, crabs, and ocean treasures easy on the eye but hard to resist! The charming market offers a chance to try not-to-be-missed grilled eel or iconic "eomuk," a traditional fishcake that represents the heart of Busan's seafood culture.
Discovering Hidden Gems Among the Stalls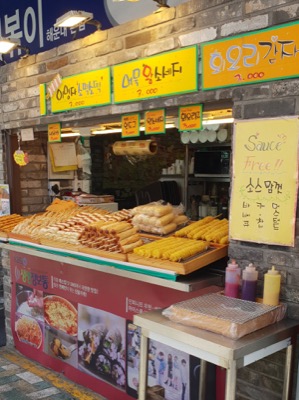 While the Haeundae Traditional Market is primarily known for its culinary offerings, it also holds a treasure trove of unique and traditional items. Stroll through the market's winding alleys, and you'll discover an assortment of clothing, accessories, and household goods. Whether you're on the hunt for a traditional hanbok or seeking a unique souvenir, the market's diverse shops cater to everyone's tastes.
A Cultural Melting Pot
The Haeundae Traditional Market showcases the local Busan culture and provides a glimpse into the vibrant melting pot of cultures that call the city home. As you navigate the bustling crowds, you'll encounter vendors from various backgrounds, each offering their unique specialties. Immerse yourself in the lively atmosphere, start conversations with friendly locals, and embrace the multicultural essence of this vibrant marketplace.
Hidden Delights for Foodies
If you're a food enthusiast, the Haeundae Traditional Market will be your paradise. Sample the beloved Korean street food staples such as tteokbokki (spicy rice cakes), hotteok (sweet pancakes), and sundae (blood sausage). Be sure to try the famous hweori gamja (twisted potatoes on a stick) or the irresistible hotteok filled with gooey melted cheese. Each bite unveils new flavors and textures, leaving you craving more.
A Feast for the Senses
The Haeundae Traditional Market is known for its lively blend of visual, auditory, and olfactory experiences that you can immerse yourself in while you explore. From the sizzle of frying pans to the vendors' melodious calls, the market is abuzz with contagious energy. Let the tantalizing scents of sizzling seafood and freshly baked goods guide you from stall to stall as you immerse yourself in the sensory feast that defines this vibrant marketplace.
Getting there
The market is open from 9 AM to 10 PM. If you're not nearby, you can use public transportation like the subway, bus, or taxi to get there.
By Busan Subway System (Metro)
To get to Haeundae Beach, take Subway Line 2 and exit Haeundae Station. Walk towards the beach area from Exit 3, less than a five-minute walk away. If you're coming from Busan Station, expect a 50-minute subway ride to Haeundae Station.
By Bus
To get to the market from Busan Station, take bus 1003 at the nearby bus stop. The ride to Haeundae Beach Bus Stop takes about 45 minutes. Once you arrive, it's just a 5-minute walk to the market. Other buses that pass by the market are numbers 39, 139, and 1001, as well as some mini-buses called Maeul Bus.
Ending Note
To experience Busan's distinctive culture and cuisine, visit the Haeundae Traditional Market. This bustling marketplace offers a wide selection of seafood, traditional goods, and unique finds. You'll have an unforgettable time exploring the market and indulging your senses. Plus, after a long day of exciting shopping, you can unwind and breathe in the refreshing sea breeze at Haeundae Beach. So, what are you waiting for? Visit the Haeundae Traditional Market and experience Busan's charm first-hand.
Official Website: https://market-4109.business.site/
Related Posts
984 total views, 7 views today