Bupyeong (Kkangtong) Market in Busan is just the right place to satisfy your food cravings if you are a fan of trying different local dishes.
Visiting a traditional market in Korea is a remarkable experience. You get to see first-hand what Koreans purchase for their daily lives and how this provides sustenance for many people employed there. However, as department stores and supermarkets become increasingly popular, some people would rather go there instead. However, even though traditional markets are less popular than they were, the people of Korea still visit them occasionally because it is part of their rich history. One of the oldest traditional markets in Korea was opened to the public during the Joseon Dynasty. It is called Bupyeong (Kkangtong) Market, and it is located in Busan.
Discover Bupyeong (Kkangtong) Market
Bupyeong (Kkangtong) Market originated from a group of Merchants in the 1910s who wanted to create their own market. The name "Kkangtong" actually means "tin can," but this market has served the people of Busan for over one hundred years and is still strong today. The market sells a range of canned goods imported from the United States–these were originally meant for US troops stationed in Korea during the war. It used to be one of the only sources for foreign products such as liquor, clothes, ornaments, accessories, fashion items, and electronics.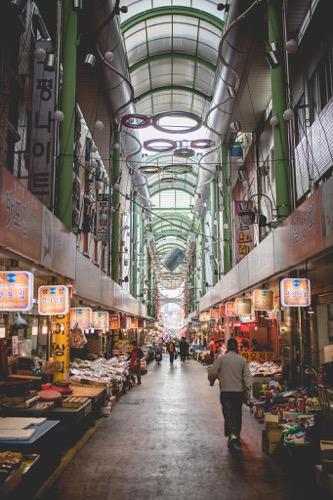 How to get there?
To get to Jagalchi Market from the subway, take Line 1 and exit at Jagalchi Station. Once you're outside, look for Exit 7.
From Form Exit 7, continue walking straight until you reach the 340-meter mark. Then, take a left turn.
If you walk 115 meters straight and turn left, it'll be on your right.
What are the highlights of the Bupyeong (Kkangtong) Market?
Currently, approximately 1,600 merchants in the market are selling a wide variety of merchandise, such as food, clothes, and even medicines. It is next to Gukje Market, which also sells many products. However, their notable difference is that Bupyeong (Kkangtong) Market specializes in selling seafood, fruits and vegetables, grains, and side dishes.
From the outside, you can tell that Bupyeong (Kkangtong) Market is special because of the enticing smells coming from inside. Most vendors offer free samples of their wares, such as Tteokbokki (Korean rice cake) and Eomuk (Korean fish cake). The eomuk comes in different shapes and sizes, all while being delicious.
Busan's natural location near water provides a perfect environment for seafood. You'll find an expansive variety of fish, shellfish, and other seafood-based dishes in the market. Vendors also sell traditional Korean food items that make great gifts.
Learn to cook authentic dishes from the renowned Busan Cooking Class, just a short walk from Bupyeong (Kkangtong) Market, where you can buy fresh ingredients.
Bupyeong (Kkangtong) Night Market
Bupyeong (Kkangtong) also has a Night Market wherein vendors display their food items, interesting trinkets, and drawings. The Night Market is open from 7:00 PM to 11:30 PM. With food ranging from Japan, China, Thailand, and Indonesia at reasonable prices under 4,000 Korean won, the International Food Festival is a great place for tourists to try traditional dishes from all over the world. In addition to that, there are also folk play and performance programs available for everyone's entertainment.
Ending Note
Bupyeong (Kkangtong) Market is a must-visit spot for every tourist visiting Busan. Here, you can buy fresh and international food items and experience the city's vibrant nightlife. If you're looking for an authentic Korean experience, then Bupyeong (Kkangtong) Market is worth a visit. So, remember to check it out when you're in Busan! Enjoy your time wandering through the market and take in all the sights and sounds of this unique and historical place.
Related Posts
6,614 total views, 1 views today