Hangang Moonlight Market is a night market in Seoul full of entertainment, food, and fun activities where you can chill with your friends and family!
After a long absence of three years due to the coronavirus pandemic, the popular Hangang Moonlight Market made an epic return on August 26 this year. It drew throngs of people who flocked together at Moonlight Square. For those unaware, the idea behind this event is to unwind in a serene atmosphere that blends with the stunning nighttime scenery of Seoul.
Here's what you can expect to experience.
The energetic vibe
Hangang Moonlight Market exudes an enthusiastic charm. You can see people mingling freely with one another without any worry. They are eating, dancing, singing, and merrymaking to their heart's content.
The lively atmosphere never fails to impress anyone, whether couples, families, or friends. If you are an international traveler, you should be part of this grand occasion to get that happy-go-lucky Seoul vibe.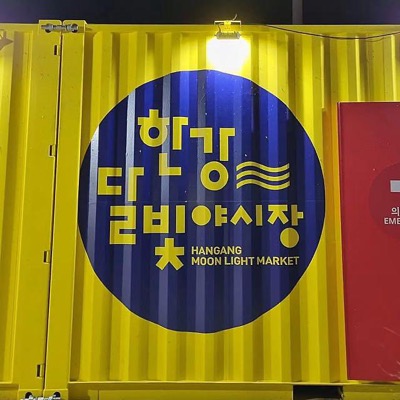 Delectable delicacies
Hangang Moonlight Market is incomplete without the dazzling display of food trucks. Some of them are aesthetically decorated, while others showcase the youthful ambiance. But whatever it is, the foods they serve are all mouthwatering.
While chicken with beer is a popular choice of many, you can also go for the local flavors, which we are sure you will find in abundance.
Night beauty of Hangang River
Hangang River always looks majestic, but its charm exceeds all imagination during the Hangang Moonlight Market festivities. This is because the event is a very colorful one, and with so many bright lights all around, it creates a beautiful contrast to the serene dark water of the river. When the lights get reflected, the whole river seems as if it has decked up for the event.
Fountain shows
Fountain shows are an integral part of the occasion and are widely awaited. Although the music may not always be up-to-date, the rhythmic dance of water combined with the multicolored light shows makes for a lovely outdoor amusement as you enjoy the cuisine and the cool evening wind.
Shopping
If you love to shop, you will get enough options here. But we would like you to draw your attention to the handmade goods because they are a specialty of this event. The design intricacies are so good that most of them make the perfect memento for the market. The prices are also kept really affordable.
Live performances
Hangang Moonlight Market always hosts a lot of cultural functions, but the live performances of the music bands will definitely groove you. They actually add to the already vibrant mood. You are never going to feel bored in such an atmosphere.
Schedule for 2022
The festivities have already started on August 26 and will continue till October 30.
The location on September 10, 11, 17, 18, 24, and 25 is Banpo Hangang Park Moonlight Square, while on October 22, 23, 29, and 30, the venue will be Yeouido Hangang Park.
Timing- 5-10 in the evening.
Plan your trip accordingly if you do not want to miss the fun and frolic. However, keep an eye on the official announcements for any schedule changes.
Related Posts
8,075 total views, 6 views today