Immerse in the vibrant markets of Seoul for an authentic Korean experience. Discover tradition and modernity in bustling traditional Korean markets.
Searching for an authentic South Korean experience? Dive deep into the vibrant Seoul markets, where tradition meets modernity. From the city's sprawling seafood stalls to its pulsating fashion districts, discover the essence of Seoul in its bustling bazaars.
Traditional Korean markets in Seoul
Namdaemun Market 남대문시장: An Unrivaled Retail Haven
Journey to the Namdaemun Market, the largest traditional Korean markets in Seoul, brimming with an array of goods like clothing, footwear, accessories, food, electronics, furniture, and more. Spanning over 10 acres with more than 10,000 stores, it's a shopping extravaganza that can't be missed.
This market is also renowned as the epicenter of the Korean ginseng supply, a root known for its energizing properties. Here, you can also experience a range of local culinary delights, further adding to the attraction of the market.


Market opening hours vary depending on the specific sections of the market. Wholesale shops usually are open from 11 pm to 3 am, and many retail stores operate from 7 am to 5 pm. On Saturday, the stores will close at 2 pm.
Address: 16-1 Namdaemunno 4(sa)-ga, Jung-gu, Seoul, South Korea
Website: http://tour.junggu.seoul.kr/tour
Dongdaemun Market 동대문 시장: A Fashionista's Dream
Next, weave through the Dongdaemun Market, a treasure trove for affordable, high-quality clothes by local designers. This market is a must-visit for fashion lovers seeking the perfect blend of style and savings.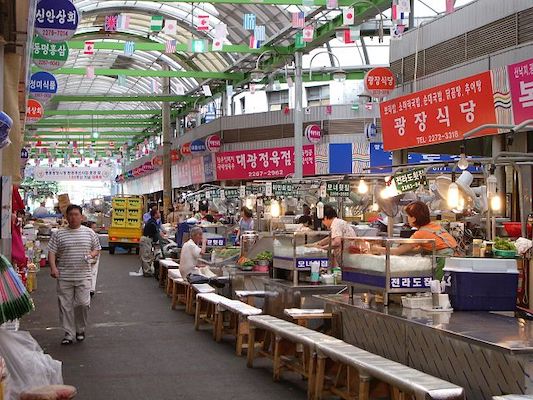 With over ten shopping malls and a range of local designer boutiques, it's a fashionable voyage waiting to happen. Fabrics, leather goods, women's and children's apparel are among the must-buys here, and all come at an exceptional quality with a budget-friendly price tag.
Opening hours are not the same for all the malls. For example, wholesale malls open at 9 pm and close in the morning. On the other hand, retail malls open around 10.30 am and close at 5 am. 
Address: 18-194 Euljiro 6(yuk)-ga, Jung-gu, Seoul, South Korea
Noryangjin Fish Market 노량진 수산시장: A Seafood Sensation
Experience the buzzing energy at the Noryangjin Fish Market, the city's premier spot for fresh seafood and one of the best traditional Korean markets. Immerse yourself in the excitement of the live auctions, haggle for the freshest catches, and savor a uniquely Korean seafood dining experience.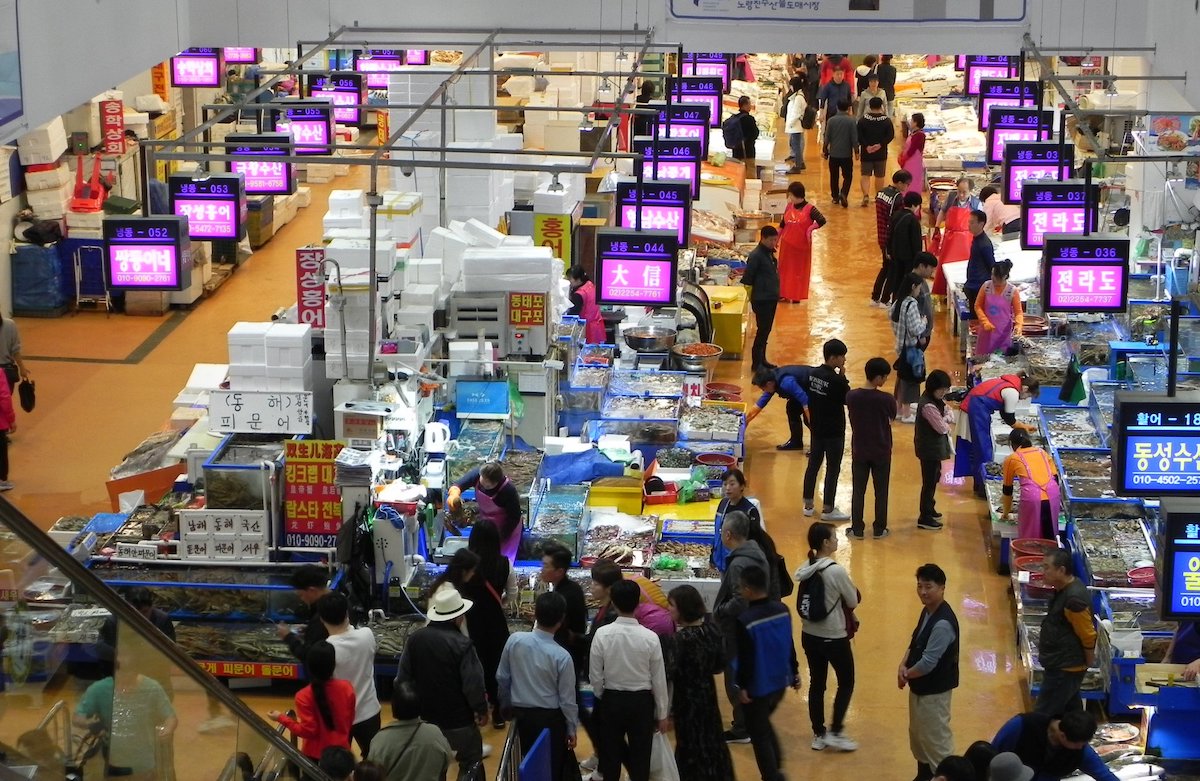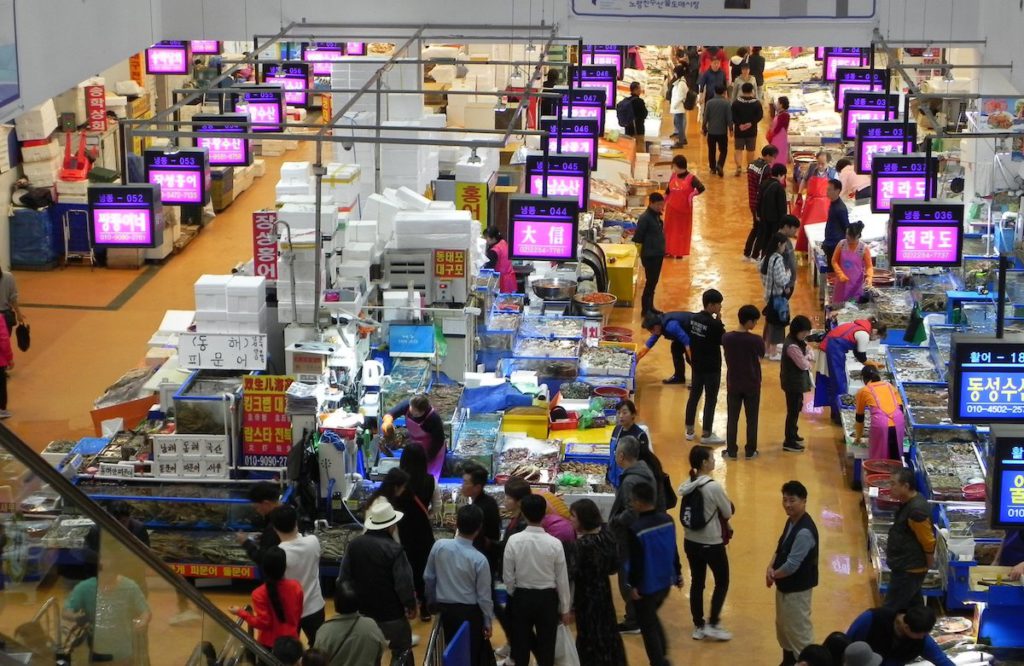 As Seoul's largest and liveliest seafood market, it boasts a variety of fresh catches. There are many kinds of fresh and raw seafood available like clams, shrimps, octopuses, fish and many more. An additional perk is the chance to have your fresh seafood cooked at onsite restaurants. And if you're a fan of K-dramas, you'll be thrilled to know that this was the scene of the popular drama "My Love from the Stars." Do Min Joon visited this seafood and fish market to buy seafood (Urechis unicinctus) for Cheon Song Yi in the 2014 hit K-drama. 
Another traditional market experience you can enjoy here is haggling. You can buy seafood at low prices, locals will slice the meat for you, and you can take it to any local restaurant within the market hall and enjoy a meal out of it with assorted food from the restaurant.
Address: 40-95 Noryangjin 2(i)-dong, Dongjak-gu, Seoul, South Korea
Website: http://www.susansijang.co.kr
Gwangjang Market 광장시장: Silk, Snacks, and Secondhand Steals
At the historic Gwangjang Market, shop for fine fabrics, savor street food staples like Bindaetteok and Mayak Kimbap, and browse the selection of unique secondhand items. Don't forget to use your bargaining skills for unbeatable deals.
Most of the regional stores also supply fabrics to the Namdaemun Market, Pyoung Hwa Market, and some department stores. These unbranded goods are available in a wide selection. These high-quality goods can be purchased at inexpensive prices, making it an enjoyable shopping experience.
This market is also a maze of food stalls. Some amazing food stalls in the middle of the marketplace sell the most popular Korean street food snacks, Bindaetteok(fried Korean pancakes) and Mayak Kimbab. 
The food stalls open at 8:30 am and close at 11 pm, while the fashion apparel floor operates from 10 am to 7 pm.
Address: 2-1 Yeji-dong, Jongno-gu, Seoul, South Korea
Website: www.kwangjangmarket.co.kr
Garak Market 가락시장: A Feast for Foodies
Step into the Garak Market, Korea's first public wholesale market opened in 1985. Get your hands on a vast selection of fruits, vegetables, seafood, dried foods, and meat at surprisingly low prices.
It's also known for its thrilling vegetable and seafood auctions that take place during the evenings and early mornings, respectively.
Address: 932 Yangjae-daero, Songpa-gu, Seoul, South Korea
Website: www.garak.co.kr (Korean only)
Hwanghak-dong Flea Market 황학동 벼룩시장: Treasure Trove of Vintage Finds
Time travel at the Hwanghak-dong Flea Market and score on a wide range of vintage goods and second-hand items. It's an absolute haven for those who love unique finds, with over 500 vintage and second-hand stores that sell everything from antiques to books.
Address: 513-2 Hwanghak-dong, Jung-gu, Seoul, South Korea
Gyeongdong Market 경동시장: A Herbal Heaven
Visit the Gyeongdong Market, home to the largest herbal medicine traditional Korean markets in South Korea, with over 1,000 shops and clinics. Explore the myriad of stores offering traditional herbal remedies, fruits, and vegetables.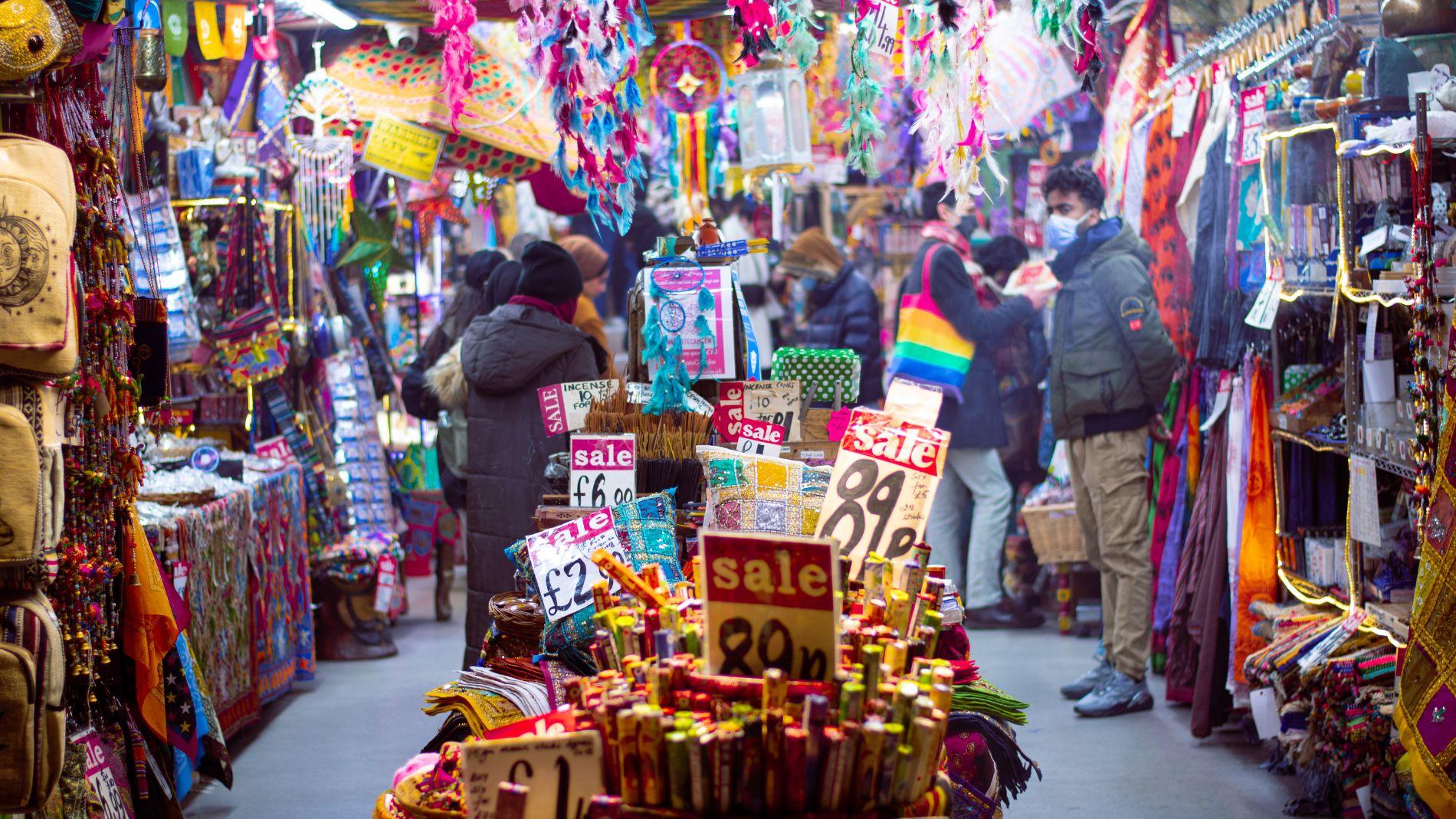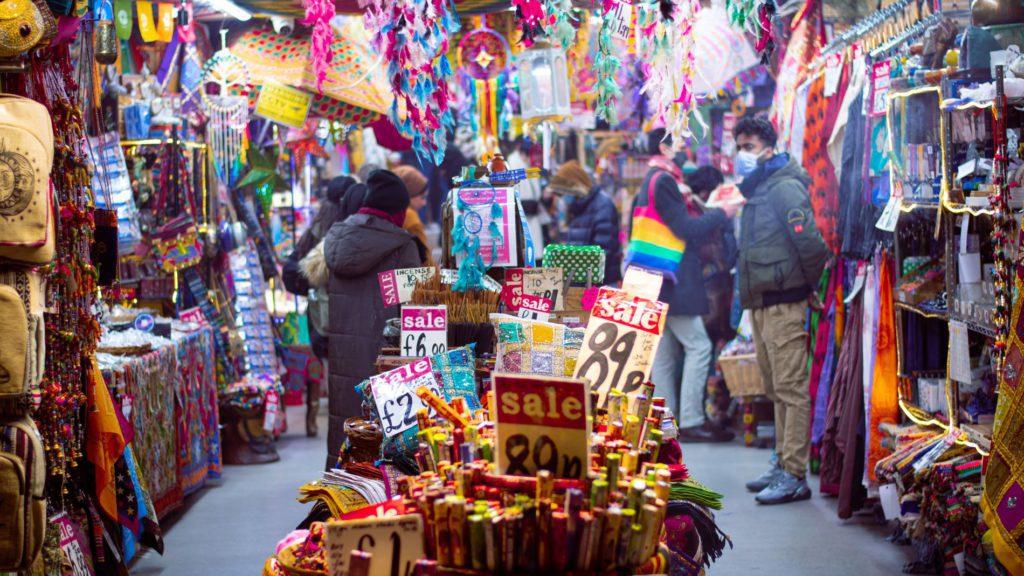 It includes Gyeongdong Herbal Medicine Market, Gyeongdong New Market, Gyeongdong Old Market and more. It is also a hub for wholesale and retail markets selling agricultural products and fish.
Address: 1035 Jegi-dong, Dongdaemun-gu, Seoul, South Korea
Website: http://www.kyungdongmart.com/
Tongin Market 통인시장: A Taste of Traditional Korea
The Tongin Market is a gourmet delight, offering a tantalizing taste of traditional Korean cuisine. Participate in the unique "Dosirak Cafe" experience for an affordable, diverse, and delicious Korean feast at one of the most interesting markets in Seoul.
Originally, this market was set up for Japanese residents during the Japanese colonial period in June 1941. After the Korean War, several shops and food stores opened in this area, making it what it is today, the Tongin Market.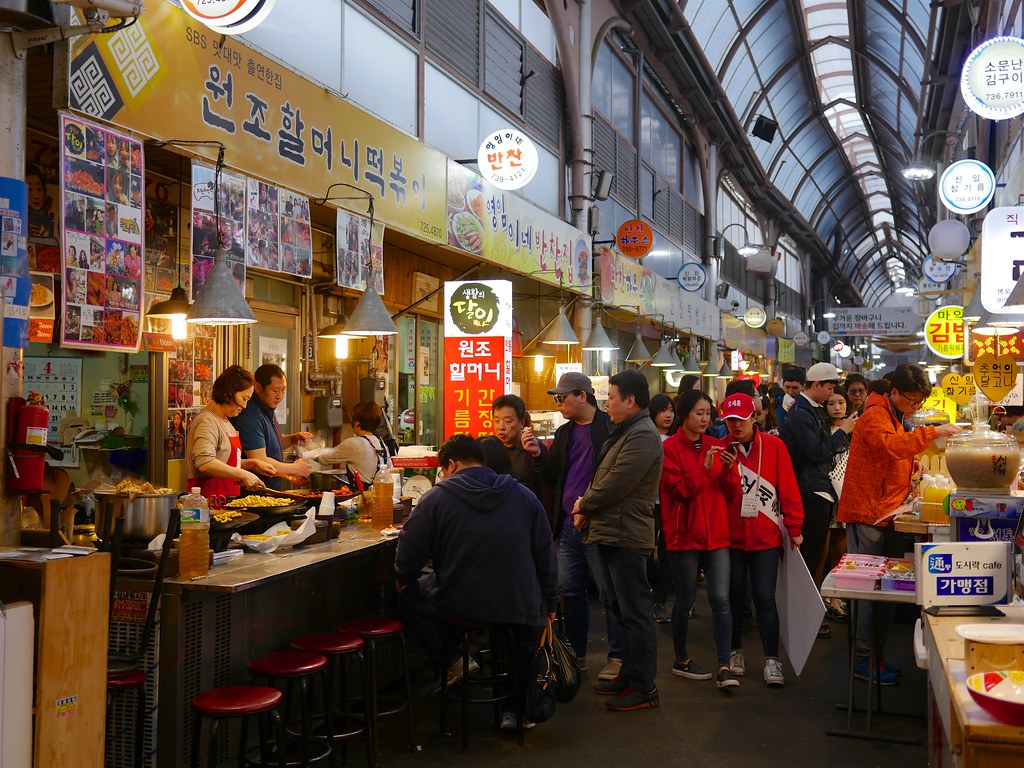 The market has 75 banchan (Korean side dish) stores and little restaurants. Gireum Tteokbokki (Fried rice cake) is the most popular store that has been selling white and spicy rice cakes for more than 60 years. These rice cakes are exclusive to Tongin Market. 
Dosirak Cafe is another exclusive place in the market where you buy Traditional Korean coins to purchase portions of banchan (Korean side dish) and street food. It's a good way to try various Korean foods at a great price.
Address: 44 Tongin-dong, Jongno-gu, Seoul, South Korea
Website: http://tonginmarket.co.kr/
Seoul Folk Flea Market 서울풍물시장: A Cultural Cornucopia
Experience the rich Korean culture at the Seoul Folk Flea Market, where traditional crafts, local specialties, and folk items abound. This is one of the unique markets in Seoul which offers a harmonious blend of tradition and modernity. You can find rare goods and authentic traditional items you cannot find elsewhere.
It was even featured in the popular Korean TV show "Running Man in 2011."
Address: 109-5 Sinseol-dong, Dongdaemun-gu, Seoul, South Korea
Website: http://english.seoul.go.kr/gtk/news/news_view.php?idx=2716
Chung Pyung Hwa Market (청평화시장): The Fashion Forward Destination
The Chung Pyung Hwa Market is a hub of traditional Korean fashion, completed in 1968. Visit this market to score top-quality clothing and accessories at moderate prices. It is a prime source of a wholesale fashion market for many of Korea's famous online shopping malls. 
It basically caters primarily to women. You will find a variety of items, including clothes, belts, hats, and shoes, spread over five floors of the market.
It's best to avoid the busiest hours are 12~2am, if you are planning a visit to this market. The market is located near Dongdaemun station and Dongmyo station. There are other 'Pyunghwa Markets' close by if you are interested in looking around many fashion markets.
Address: 217-91 Sindang 1(il)-dong, Jung-gu, Seoul, South Korea
Website: http://www.cph.co.kr/
Dongmyo Flea Market 동묘벼룩시장: A Vintage Voyage
The Dongmyo Flea Market is a paradise for treasure hunters and lovers of vintage items. It's a marketplace where every visit is an exciting exploration.
If you're a budget-friendly shopper who enjoys hunting for rare and vintage finds, the Dongmyo Flea Market is the perfect destination. Most items are just worth between 2000 and 5000 won. You might be able to find some exceptional items if you enjoy treasure hunting and vintage appliances.
Even if you're not planning to buy anything, it's worth just checking it out.
Address: Dongmyo, Sungin-dong, Jongno-gu, Seoul, South Korea
Majang Meat Market 마장동 축산시장: The Carnivore's Kingdom
The Majang Meat Market, the largest meat market in Korea, is a carnivore's dream. Fresh, high-quality meat, offered at discounted prices, will leave you asking for more.
Address: 466-47 Majang-dong, Seongdong-gu, Seoul, South Korea
Exploring these markets in Seoul is not just about shopping but also an opportunity to immerse yourself in authentic Korean culture and have a truly unique experience. Join us on this mesmerizing journey through vibrant and traditional Korean markets. Experience the spirit of Seoul like never before!
Related Posts
432 total views, 7 views today