Flea markets, also known as second-hand markets, are gaining popularity worldwide with the motto, "It's old for them but new for me." These markets offer a place to purchase gently used items at reasonable prices. Another type of market is a free market with several art and decor sellers and artists that showcase their talent. Seoul is home to many such markets offering vintage fashion and unique finds. Despite the misconception that second-hand items are unappealing, a little exploration can lead to discovering fashionable vintage and trendy pieces. This article lists the best flea and free markets in Seoul, including vintage and folk markets, to help visitors have a memorable shopping experience and acquire charming vintage items.
Hwanghak-dong Flea Market
Living Nomads has recently introduced another second-hand flea market called Hwanghak-dong Market, which is located near Dongmyo Market. The market has been around for many years and has gained popularity since the 1950s. Currently, more than 1000 different shops and stalls are in the market.
If you are looking for vintage clothes that are cheaper than buying new ones, this is the perfect place for you. Hwanghak-dong Market is generally 20-30% cheaper than other second-hand markets in Seoul. The shopkeepers only sell second-hand clothes that are still usable and have value, so you don't have to worry about buying bad or outdated items. While bargaining is allowed, it's important not to overdo it.
To get to Hwanghak-dong Market, take the brown or green subway line to Sindang Station and take Exit 2. It's just a 3-minute walk from there. The market is open on weekdays from 8 am to 6:30 pm, but it may close earlier during rainy or snowy winter days due to its flea market nature.
Seoul Folk Flea Market
The birth of the Seoul Folk Flea Market came about as a result of the merchants from the Hwanghak-dong flea market who decided to split and establish a new trading place during the renovation of Cheonggyecheon. Currently, the market boasts nearly 900 stalls occupying an area of approximately 8,000 square meters, where a variety of items such as clothes, accessories, souvenirs, traditional Korean goods, antiques, and more are sold at very affordable prices. You can easily purchase thick and sizeable cotton shirts that appear brand new without spending a lot of money here!
The market opens from 10 am to 5 pm daily, except for periodic closures on Tuesdays during the 2nd and 4th week of each month. The nearest subway station to Seoul Folk Flea Market is Sinseol-dong Station, accessible via the Blue and Green Lines. Exit 9 is the closest to the market, and it takes approximately 100 meters of walking to reach it. Alternatively, you can take Exit 6, which is about 250 meters away.
Hongdae Free Market
The Hongdae Free Market is a one-of-a-kind arts and crafts market that offers a fun and interactive experience for artists, performers, musicians, and visitors. Held every Saturday from March to November, this is one of the best flea markets in Seoul, with an event that brings together artists from all over Korea and beyond who showcase their unique and often handmade works of art.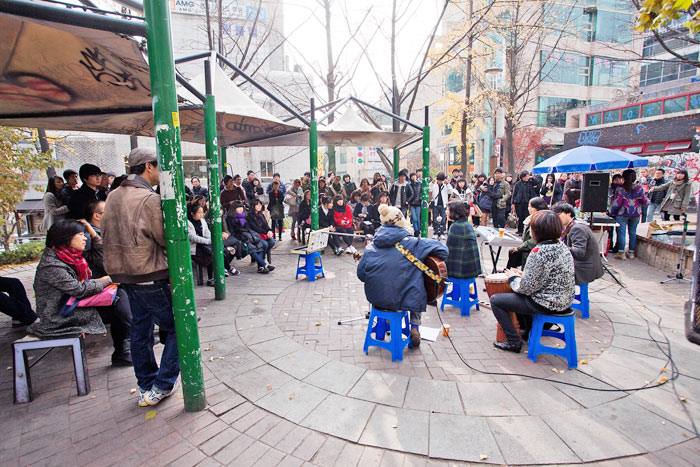 At the market, visitors have the opportunity to talk face-to-face with the artists, learn about the inspiration and creative process behind their works, and ask questions. This personal interaction adds to the charm and authenticity of the market, which is a refreshing change from the mass-produced goods found in many other shopping destinations.
The timings of the market are: Saturday: March to November(13:00-18:00)
The market is not functional from December to February.
Kondae Free Market
The Kondae Free Market is held at the entrance of Konkuk Univ. The station features a variety of locally made handicrafts sold by proud local artists. The main objective of the market organizers is to offer a venue where vendors can engage in meaningful conversations with potential buyers instead of merely emphasizing generating large sales. Shoppers can browse through various handmade items such as dolls, bags, pouches, leather goods, artisanal soaps, and other small merchandise. The market is functional on Saturdays (13:00-18:00) from March to November, and the market is not functional from December-February.
Conclusion
In conclusion, Seoul is a great place to explore the best free and flea markets, providing a unique shopping experience for visitors and locals alike. The four markets discussed in this topic are the Gwangjang Market, Dongmyo Flea Market, Hongdae Free Market, and Seocho Saturday Flea Market. Each of these markets has its own unique character and offers a wide range of products, from traditional Korean foods and fabrics to vintage clothing and handmade crafts. Whether you're a tourist looking for souvenirs or a local searching for a bargain, these markets are worth visiting. So, if you happen to be in Seoul, don't miss out on the chance to explore these exciting and vibrant markets.
Related Posts
3,298 total views, 6 views today