Cheongju City is a gem in Chungcheongbukdo (province), South Korea. Cheongju City is the perfect spot for weekend trips, vacations, and many exciting things to do that can be as energetic or laid-back as you'd like. It has many attractions that satisfy any traveler looking for fun.
Although Cheongju is often overlooked, this stunning up-and-coming tourist area should not be underestimated. It's smaller than other cities in South Korea, yet it offers plenty of unique activities and places to explore that will leave you pleasantly surprised. Make sure to add Cheongju to your travel itinerary if you want a truly unforgettable experience.
Here are some exciting things to do in Cheongju City.
Uamsan Mountain
Nestled close to downtown Cheongju, this picturesque mountain is ideal for avid hikers and people seeking a stroll. If you want to experience breathtaking views of Cheongju from above, head to the Uamsan hiking course and explore its numerous trails! During the springtime, when the cherry blossoms are full, Dullegil provides a stunning circular route for walking or driving. It is home to some of the highest cherry blossom trees throughout Cheongju- an unforgettable sight that will stay with you forever.
Suamgol Mural Village
Perched at the base of Uamsan Mountain (353m tall) in Cheongju, this mural village is a hotspot for those who love to café hop or relax under the sunset on rooftops during summer nights. Suamgol was established after the Korean War as a makeshift abode for war refugees, akin to Gamcheon Village in Busan. In 2007, the local authorities initiated an art initiative to spruce up this town segment. To bring life and cheerfulness into Suamgol, local artists painted blooming flowers and other heartening scenes onto the house walls.
Moreover, one can find some of the finest cafes in Cheongju vying for the best view over the city. Full Moon Cafe is the most renowned and oldest cafe – known for its scrumptious cheesecake bingsu.
Jogye Order of Korean Buddhism Monastery
As you wander around Uamsan, pay a visit to this gorgeous temple! Although constructed relatively recently, in 1954, it is still infused with beauty and history. An exquisite white Buddha statue in its courtyard will take your breath away. Additionally, if you drop by during the spring season, you'll be able to spot rare cherry blossom varieties that are rarely seen elsewhere.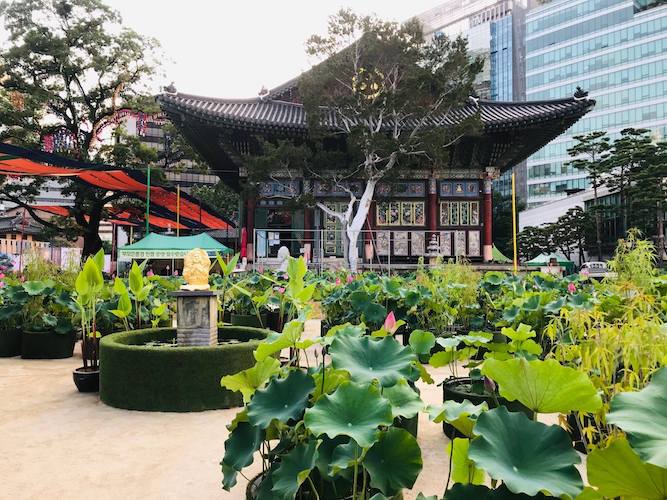 Constructed in 1939, the historical building was initially used as the governor's office of Chungbuk Province. Decades later, however, it has been reimagined and transformed into a vibrant cultural hub that encourages creativity and innovation for all Cheongju citizens.
A spectacular exhibition centered on twelve of the most prominent authors in Korean history is permanently housed at this museum. It's undoubtedly an experience you won't want to miss! After exploring, make a stop by their book café and indulge in some tea or coffee while taking in the serene atmosphere.
Not to mention intriguing events like flea markets and open-air concerts held here regularly. So be sure to follow their official Instagram account at the link below for all the latest updates.
Cheongju Hyanggyo
The Hyanggyo, a provincial school established by the Goryeo and Joseon Dynasties in 918-1392 and 1392-1910, is an incredible site for cultural events. It is a popular location for traditional Korean weddings today and offers seasonal gatherings, tea ceremonies, and Chinese character lessons. The Cheongju establishment's lively atmosphere provides a perfect setting to create precious memories with your loved ones.
Yukgeori Traditional Market
Yukgeori Traditional Market, situated in the hub of Cheongju, is a bustling and vibrant traditional market. The word Yukgeori originated from yuk (meaning six) plus geori (which stands for street), alluding to the fact that six streets intersect at this place. If you want to savor some authentic Korean snacks and experience a glimpse into real life in Korea, then visiting this unique marketplace should be at the top of your list.
Shinhang Seowon
Unlike Hyanggyo, Seowon was the predominant educational institution in Korea during the mid-to-late Joseon Dynasty. Not only functioning as Confucian shrines but also as preparatory schools, they served a dual purpose while privately owned and managed.
Constructed in 1570, this Seowon operated for an impressive 300 years until 1871, when the elimination of Seowon education led to its closure.
In 1957, the historical Cheongju building was refurbished and later modernized in 1987. Not only does it provide a tranquil setting for visitors to admire its beauty, but it also serves as an ideal spot for public events.
Bosalsa Temple
Bosalsa Temple, located in the Yongam-dong area, is a must-see for those seeking to explore Korea's history and cultural relics. Built during the Shilla Dynasty in 567, it is Cheongju's oldest temple. Its five-story pagoda stands proudly out front and dates centuries to the Unified Silla or Goryeo periods. From its unique architecture to its rich heritage, this historical site surely won't disappoint! At Bosalsa's temple, a national treasure awaits – an exquisite painting from the Joseon Dynasty of 1650. The piece is large and grand; it sits on hemp cloth measuring 6.13 m by 4.26 m in size!
Chungbuk Future Women's Plaza
Dedicated to female activists of the independence movement from Chungbuk province, this exhibition hall in Building A celebrates those who committed to liberating Korea during the Japanese occupation. The March 1st Movement saw many brave women's dedication to achieving freedom for their nation, which is now honored through a comprehensive exhibition.
This edifice is a tribute to the brave female freedom fighters who participated in the liberation army and provisional government movements.
Ending Note
Cheongju is a vibrant city filled with amazing historical sites and cultural attractions. From the ancient Hyanggyo to the Seowon, traditional marketplaces, and Bosalsa Temple, there's something here for everyone! So come on down and explore this exciting destination for yourself! You won't regret it. With its rich history and culture, Cheongju is sure to be an unforgettable experience.
Related Posts
1,387 total views, 7 views today