One of the best times to visit South Korea is during winters! The whole country becomes a winter wonderland, and if you are a fan of snow, then South Korea is the perfect destination. Snow blankets the cities, towns get transformed into white magical places. There are so many things to do during winters in South Korea, of which some of them include sledding down the slopes, ice fishing, or even enjoying some fresh seasonal trout as a Korean delicacy.
Here are some of the things that you can do in South Korea during the winter season!
Skiing in Jisan Ski Resort
If you are looking to get your adrenaline pumping, then Jisan Ski Resort is the ideal place! You can check off the first item from your bucket list of things to do during winter in Korea. The resort is located about 40 minutes from Seoul so it becomes an easy getaway from the city. It offers everything, from beginner ski lessons to ski gear if you simply wanna shred down the slopes! They also have options for snowboarding and sledding.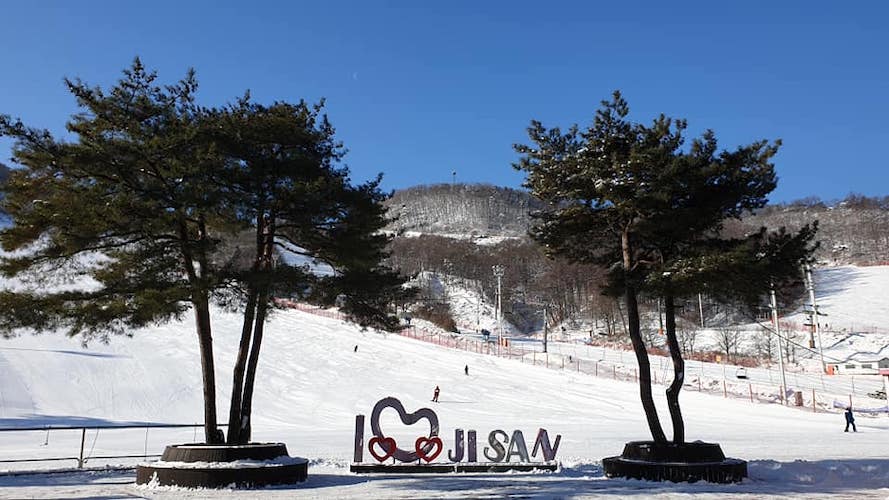 And if you are here for a more sedate place, you can explore the area and sightsee the picturesque beauty around the resort.
There are tour packages that offer ski learning lessons, hassle-free transfer to and from Seoul, ski lift pass, and much more!
If you are planning to explore the Everland Theme Park in Gyeonggi-do, then you can start the day in Everland and enjoy the slopes of the Jisan Resort at night. Check out our Everland Theme Park guide to know more about Seoul's largest theme park.
And, if you haven't tried night skiing ever before, then you must at least give it a shot as it is one experience that you wouldn't wanna miss! Even if you are a newbie, there are lessons so you don't have to worry about anything.
If you want to enjoy the cold winter but don't really wanna be dashing through it at lightning speeds, explore the Onemount Snow Park. It is one of the things you can do during winters in Korea at a sedate pace! Onemount Snow Park is the largest and first indoor winter theme park in South Korea.
You can enjoy bowling on ice, ice shows, ride husky-led sleds, and you might even be able to get a glimpse at the aurora! These are some of the things that you can enjoy and experience at Onemount, Korea during winter. The park is located in Gyeonggi-do region so you can plan to visit the Onemount Snow Park along with the Jisan Ski Resort.
Ice Fishing Festival
If you are planning a trip to South Korea during winter, participate in an ice festival as it is something that you won't find in most tourist places. Korea hosts a variety of ice festivals, including, Cheongpyeong Snow Trout Ice Festival, Pyeongchang Ice Festival, Hwacheon Sancheoneo Ice Festival, and the Gapyeong Ice Festival.
You can try your hand at ice fishing and then enjoy the freshly grilled trout from your fishing loot! And you know what they say about eating something that you catch with your own hands is especially satisfying and tasty!
One such festival is Hwacheon Sanchoneo festival which celebrates the Mountain Trout and the locals enjoy their annual pilgrimage for some ice fishing. You can dig your own holes into hard ice and fish for fresh trout! The festival is not just about ice fishing, you can also try your hand at other winter activities like ice soccer, make ice sculptures, or even sledding.
Winter Sonata at Nami Island
For a K-drama fan, visiting Nami Island during winters is always on the top of the bucket list of things to do during winter in Korea. The trees are all white in the avenues and there's a whole blanket of snow all around.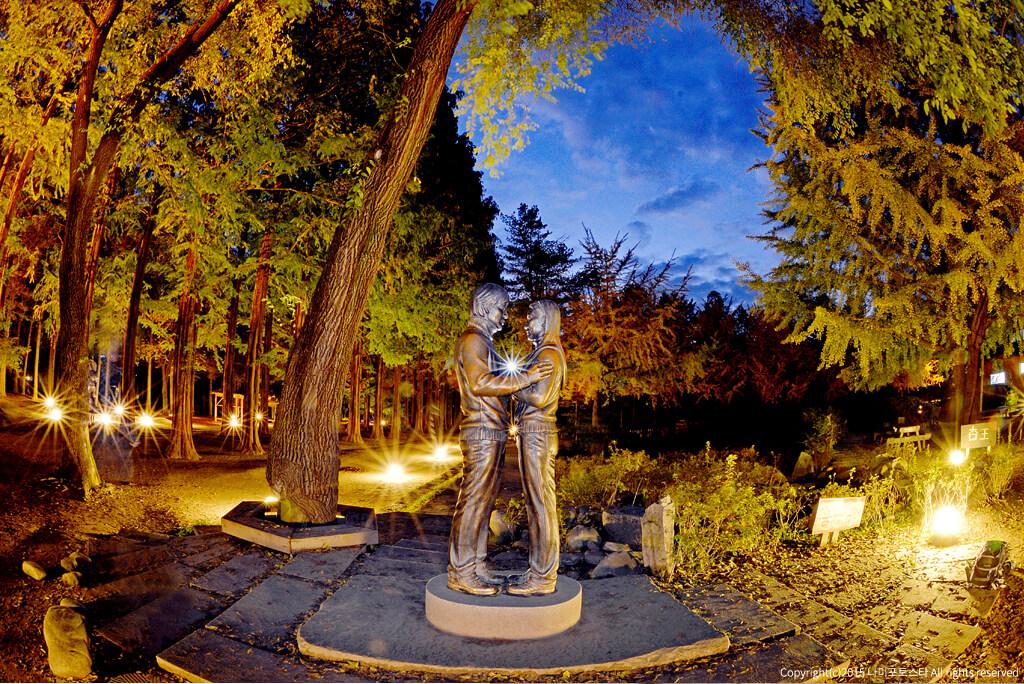 Looking at the scene, you are sure gonna want to recreate the famous "Winter Sonata" scene with your bae!
You can also enjoy hot steamed red bean buns, sausages, and pancakes while you stroll along the streets of the island.
Yongpyong Resort
The bucket list of things to do during winter in South Korea cannot be complete without visiting the site of 2018 Winter Olympics!

It is one of the most popular ski resort in South Korea and a must-visit for anyone looking to enjoy winter activities. You can simply hit the slopes without worrying about carrying all the gear with you as the resort provides all of it. There are some tourist packages also that offer the facility of transfer from Seoul to the resort for your convenience.
The ski complex is also famous as a shooting location of some of the romantic scenes from "Guardian: The Lonely and Greater God". You can recreate your favorite winter drama scene with your bae. So, even if you are not an avid skier, you can enjoy things to do during winter in Younpyong Resort in Korea!
Winter in Korea is also the perfect time to don a hanbok without feeling hot and heavy with sweat. You can stroll the streets of Seoul while wearing a hanbok to get free access to the main palaces of Seoul. After enjoying the royal experience at the Seoul palaces, you can head over to restaurants to enjoy some piping hot bulgogi! You can even cook your own Korean BBQ at your table in some restaurants.
Don your bulky winter coat and get ready to explore the white snow covered city around you by engaging in some of these things to do during winter in Korea! So, what are you waiting for? Plan your trip and pack your bags!
Read about out other interesting winter activities in Korea from KoreaTravelPost:
Love it? Pin it!