South Korea turns into a ski resort heaven in the winter, and if you are an avid ski lover, then Korea is just the place for you. An ample number of resorts are available to choose from based on your liking and experience, especially if you are a solo women traveler looking for adventure. We will guide you about the few famous South Korea ski resorts which are not to be missed when visiting Korea. Snowboarding also takes place in ski resorts, so almost all the resorts we will mention will probably have a snowboarding facility as well.
Skiing and snowboarding go hand in hand in all the ski resorts in Korea! So, start planning your holiday trip and figure out which slopes you want to capture next!
Elysian Ski Resorts
For those new to skiing, the Elysian Ski Resort is the ideal resort for you. In addition to having easy slopes that are suitable for beginners, the teaching lessons offered here are quite beneficial. The resort is close to Seoul in the Gangwon province and makes it a tourist attraction as well for people looking for day-trip options. 
During weekdays, you can enjoy the slopes without experiencing any long waiting times at the ski lifts! So, what are you waiting for!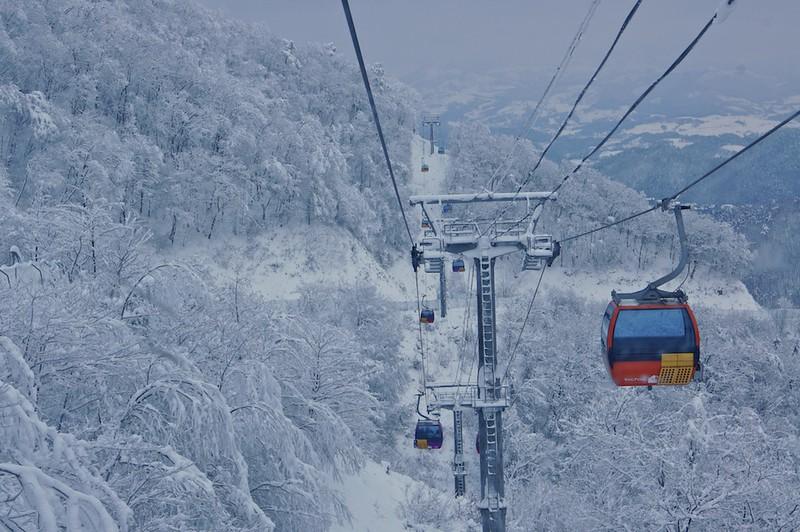 Yongpyong Ski Resort
It's the biggest and the best ski resort in the country and is located in Pyeongchang. Being the biggest, it has got something for every family member.
The resort hosts more than 25 ski slopes with varying difficulty levels, so if you are a beginner or an expert, there is a slope tailor-made for you. The Mega Green, Rainbow, and Gold slopes are the most famous slopes in the resort
A water park in the vicinity makes for some quality you can spend with your family. The resort also has a sauna, bowling alley, fitness center, and various other facilities in the resort as well.
And if you are a K-drama fan, then you might recognize the slopes from your favorite Korean dramas, "Winter Sonata (2002)" and "Guardian: The Lonely and Great God (2016)".
Phoenix Park or Phoenix Ski Resort
Whether you are yearning for a day on the slopes or want to have an exciting time with your friends, Phoenix Park is the place for you. It is another famous ski and snowboarding resort in Korea, which is just a couple of hour's drive from Seoul. The main attractions in the park are the gondola course to Mont Blanc, a Mediterranean-themed water park, and a snow village.
The snowboarding facility is one of the best in South Korea as it has a park called "Extreme Park," which is specially designed for snowboarders and includes a tabletop, halfpipe, and round quarter.
These awesome slopes were even featured in the popular Korean drama, "Autumn in My Heart (2000)."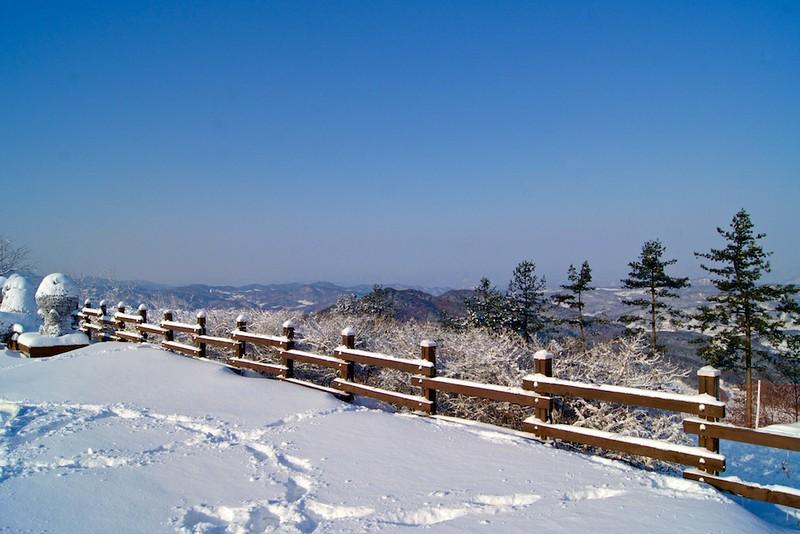 Konjiam Resort
The one thing unique about this resort is that it doesn't get crowded. The daily cap of a specific number of visitors making it into the resort makes it a perfect choice if you are looking to enjoy skiing in peace and without the hassle of long queues. It is ideal for those looking for a quick ski trip because of its proximity to Seoul. 
The resort has its downside. First, being close to Seoul, the slopes are not that long compared to the rest of the resorts in Korea. Also, the resort relies on artificial snow, which doesn't give a natural feel to the whole resort and the skiing experience.
Overall, skiing in Korea is a wonderful experience that should be on your next travel itinerary of South Korea. There are various other South Korea ski resorts that should not be missed, so choose the one that fits in perfectly with your plans and the type of experience you want. 
Check out other interesting articles from KoreaTravelPost: