South Korea is quickly becoming the go-to place for wanderlust souls. Its unique culture, warm and welcoming people, interesting tourist sites, and gorgeous natural setting makes it a popular destination for travel. One can enjoy Korea solo, with family, but the best comes with their significant others. There are so many places that you can enjoy with your bae and have a very memorable time together! South Korea is perfect honeymoon destination for newly-married couples as you get so many options to explore each other's interests, get to know each other better, and enjoy some serene, intimate moments.
Romantic Destinations for A Honeymoon in South Korea
We are here with a whole list of things you can enjoy together on your honeymoon with your partner at a romantic destination in South Korea!
Some for the Beach Babies
Beach destinations are lovely places for a honeymoon. You can just relax in the sun and watch the foaming waves with your beloved. The daring hearts can have loads of fun trying out water adventure sports. Here are some of the best beaches to visit in South Korea.
Hamdeok Beach, Jeju Island
The blue, shallow waters of Hamdeok is perfect if you love a refreshing swim. If the beaches of Hawaii have your heart, the pristine Hamdeok will have it too!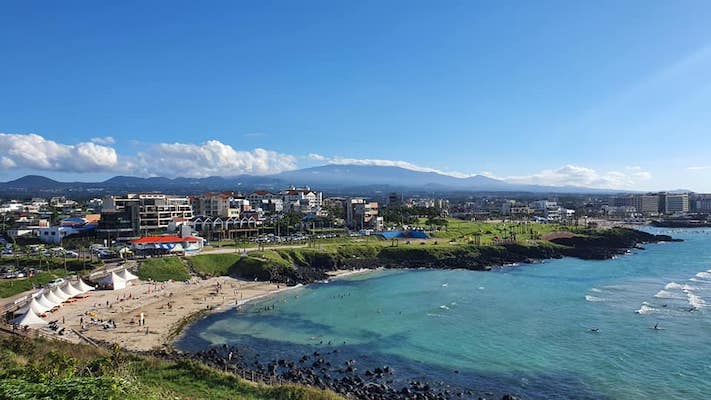 You can bask in the sun all day and explore the local cafes for some freshly brewed coffee and desserts. A ride on a Kayak or Banana boats will quench your adventurous spirit.
Hajodae Beach, Yangyang
Famous as the Surfyy Beach, Hajodae is another beautiful beach to visit on your honeymoon in South Korea. If you want to get away from the usual crowd at Jeju island, this place is for you! Located in a calm township, this beach will be perfect to relax and enjoy your partner's company. There are some pretty cafes around, that you can check out with your loved one.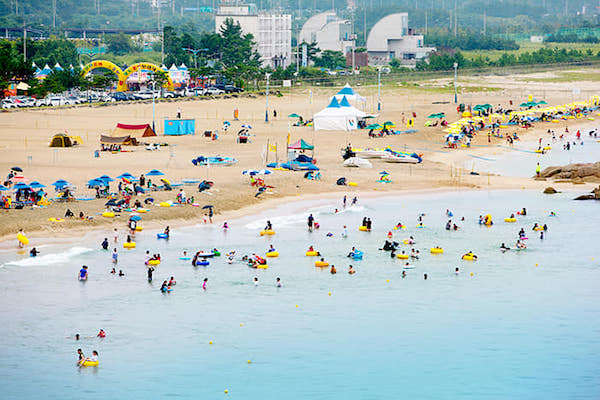 Surfyy, true to its name, also comes with amenities for surfing. There are surfing lessons held multiple times a day that you can avail of. For the ones who love the comfortable life, you can help yourself to the front bar, sit under the shade on the hammocks and bean bags (all of them free!), and enjoy your drink. A dip in the clear water would be great too!
Get Away from the Busy City life With Islands on your mind
Korean cities are uniquely beautiful, but they come with the added pollution and humdrum. All you need for a good honeymoon are some warm, peaceful moments with your partner. That is why these islands are your place to be!
Nami Island
Firstly, it has many romantic locations for your perfect plans with your better half. You can enjoy some long walks by the riverside or the beautiful tree lanes and woods, and they can be brilliant canvases for pretty honeymoon pictures. We recommend you to visit during spring for the awe-inspiring cherry blossoms, or in fall to witness the striking change in foliage.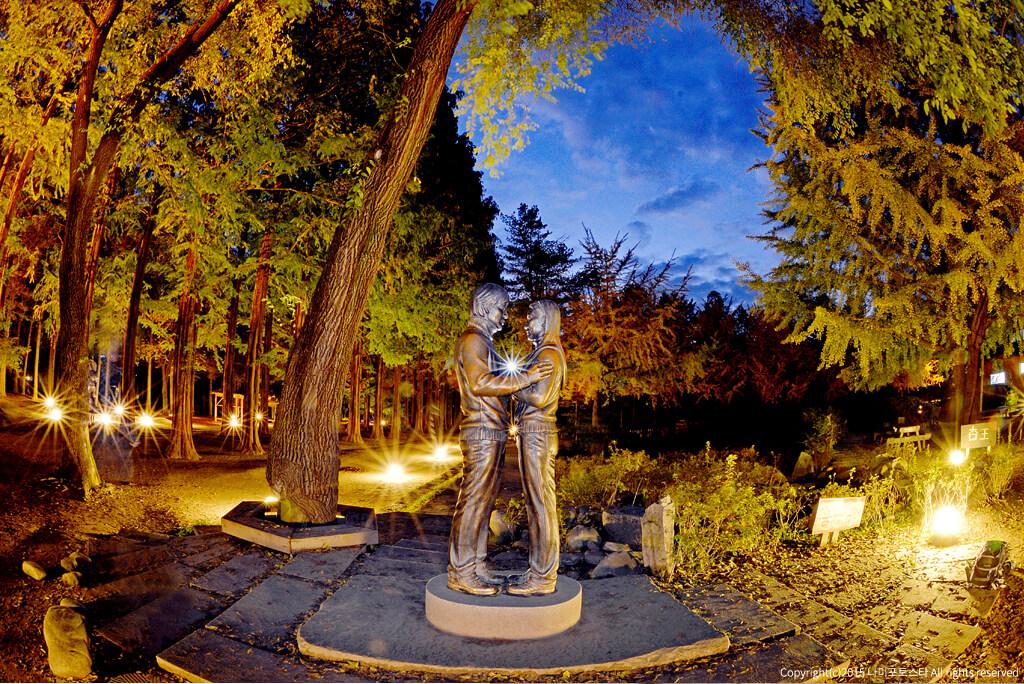 The famous K-drama "Winter Sonata" was shot in Nami Island. Therefore, if you and your partner are ardent enthusiasts, you can visit the shooting locations, especially the Gongsaengwon Garden, and click aww-dorable pictures together! Believe us, this place will certainly be your South Korea honeymoon dreams come true.
Jeju Island
Jeju is one of the best honeymoon destination in South Korea. It has a charm of its own, with the most wonderful natural beauty you can witness. The beaches of Jeju are famous in their own right. We have already suggested Hamdeok, you can also visit Jungmun and Hyeopjae for a wonderful experience!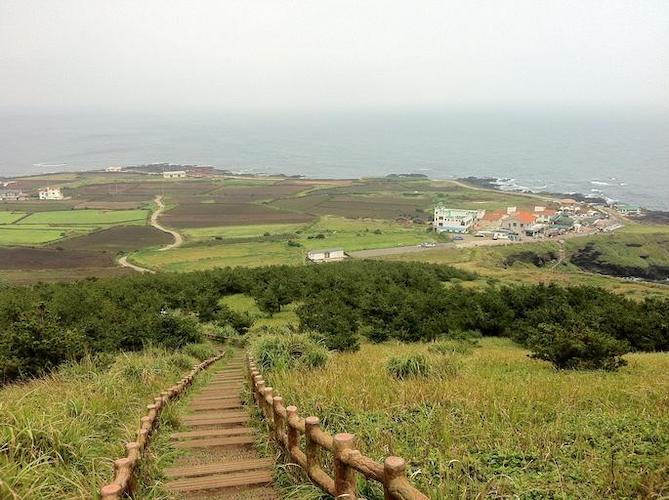 Jeju's waterfalls are some splendid natural masterpieces you can see. The most impressive ones are in the southern part of Jeju. Look out for the grand and mighty Jeongbang and Cheonjieon waterfalls, they will surely fill you and your love with awe. You can also trek to Sunrise point to enjoy the beautiful view together and explore the Jeju Olle Park Trail as well. Trekking together is both adventurous and romantic, and you can surely test out your team spirit. After all, when you are planning on a lifetime together, you might as well test some life skills out.
Explore the "Seoul" of South Korea with Your Partner
Seoul, the capital of South Korea, should also be on your list, and for good reason. Brimming with life and energy, the metropolis truly preserves the soul of Korea. It is amazing if you love to shop! And there are some pretty cute cafes for you to enjoy each other's company over a cup of coffee and delectable desserts.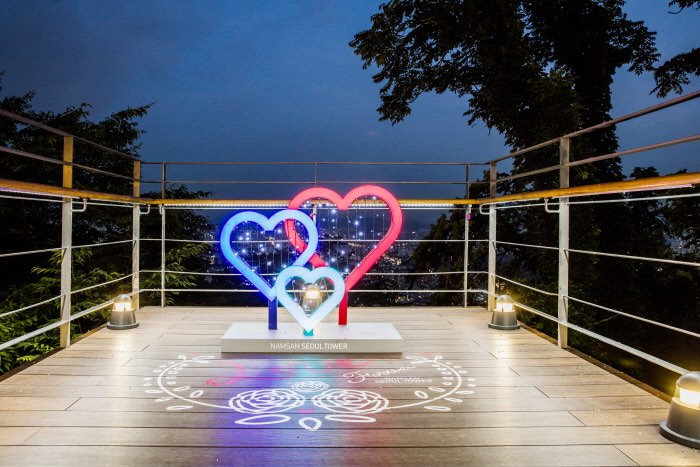 For the history and culture aficionados, Seoul will be a remarkable place to visit, with its age-old palaces and museums. Are you a museum date person too? Then you will get a plethora of options in Seoul, like the National Museum of Korea, The National Folk Museum of South Korea, and many more. Don't miss the Five Grand Palaces in Seoul, as they are a goldmine of Korean art, culture, and history.
A honeymoon in South Korea will be a truly memorable experience for both you and your partner. There is a never-ending list of all the fun things you can do in South Korea, but we have listed a few for you to check out. Happy Honeymoon!
Read more interesting articles from KoreaTravelPost:
Love it? Pin it!