Explore the stunning natural beauty of South Korea with its UNESCO natural heritage sites. From towering mountains to unique volcanic landscapes, these sites offer a glimpse into the country's diverse natural wonders.
South Korea is known for its stunning natural landscapes, recognized and preserved by UNESCO as World Natural Heritage Sites. These sites offer a chance to experience the country's beauty and diversity while learning about the importance of conservation efforts. This guide will discuss some of the best ways to visit these sites and make the most of your experience.
Jeju Lava Tube and Volcanic Island 
Jeju Island, which came into being due to volcanic activity over 1.8 million years ago, presents a significant research asset for studying the geological characteristics and topography of volcanic landforms. Notably, its lava tubes are some of the most stunning in the world, characterized by dark walls and varying shades of carbonation on the ceilings and floor. The island boasts several natural formations, including Hallasan National Park, Seongsan Ilchulbong Tuff Cone, and the Geomunoreum Volcanic Cone lava tube system. These formations, together, have been acknowledged by UNESCO as a World Natural Heritage Site.
Hallasan Mountain
Hallasan Mountain in Korea is renowned for being the tallest mountain, with an elevation of 1,950 meters. Over time, volcanic activity has contributed to the mountain's gentle slopes, and as a result, around 40 parasitic volcanoes have formed in the surrounding area. The mountain also houses diverse flora and fauna, including the largest collection of Korean fir trees (Abies Koreana) worldwide.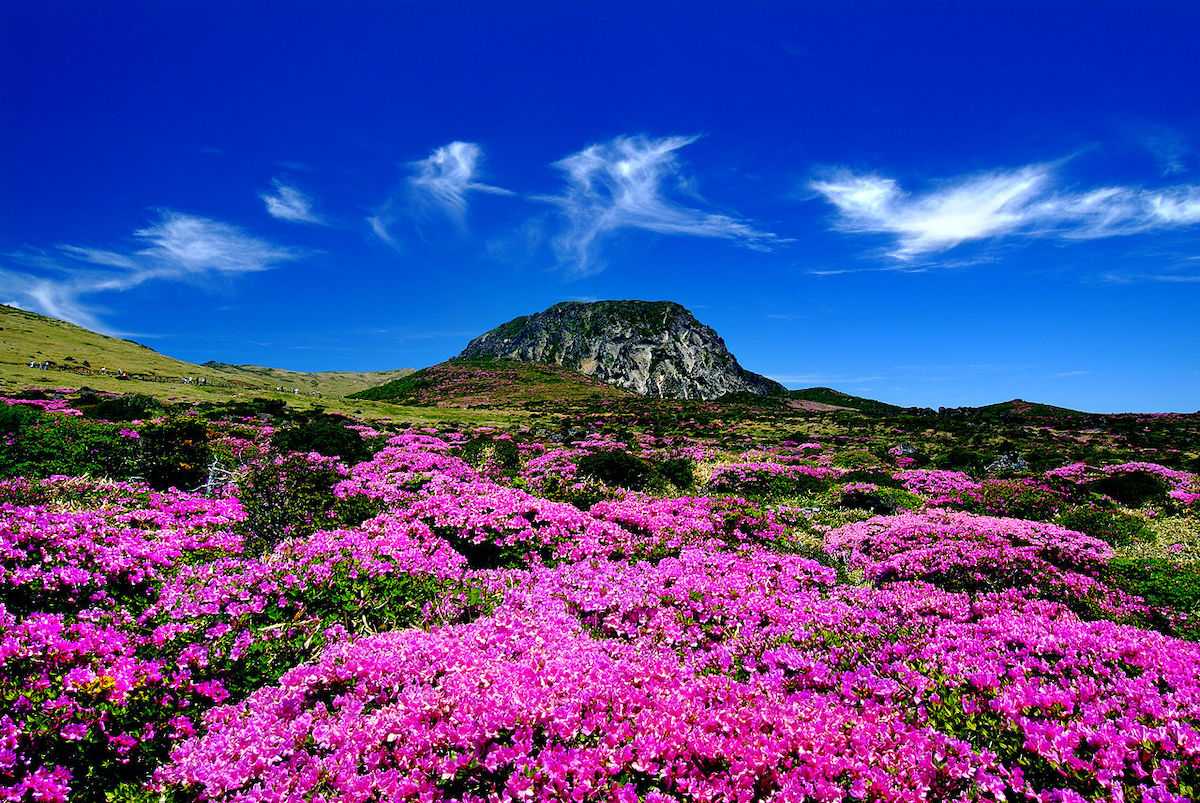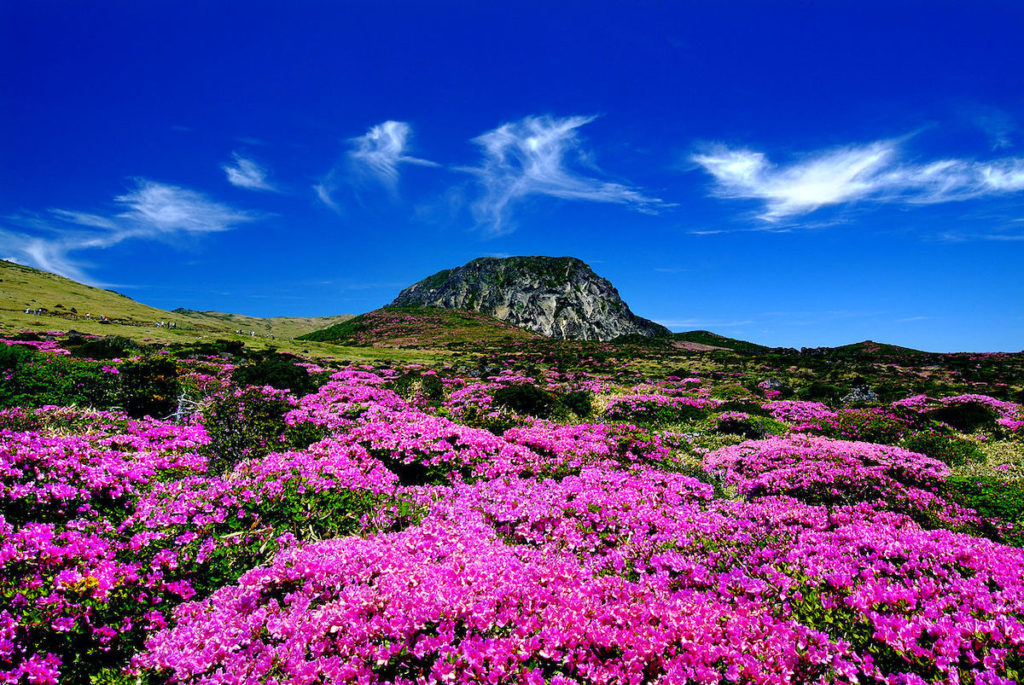 Geomunoreum Volcanic Cone
The Geomunoreum Volcanic Cone area boasts approximately 20 lava tubes originating from massive amounts of basalt lava ejected by the Hallasan volcano between 100,000 and 300,000 years ago. Among the well-known lava tubes in the region are Gimnyeonggul Lava Tube, Dangcheomuldonggul Lava Tube, Manjanggul Lava Tube, Bengdwigul Lava Tube, and Yongcheondonggul Lava Tube.
Seongsan Ilchulbong
Seongsan Ilchulbong is a unique geological formation created by hydrovolcanic eruptions more than 5,000 years ago. Originally an island separate from the mainland, it has since become naturally connected and is now one of Jeju's most awe-inspiring landscapes. Many liken it to an ancient castle due to its striking appearance. The name "Ilchulbong" translates to "sunrise peak," as those who climb it early in the morning are rewarded with a stunning sunrise view.
Korean tidal flats, known as getbol (gaetbeol), provide a habitat for over 2,000 different living organisms, including 27 species of migratory birds. These tidal flats are an essential resting point for migratory birds traveling from South Asia and Oceania. The Seocheon, Gochang, Shinan, and Boseong-Suncheon tidal flats span across five different city jurisdictions and have been identified as areas of significant biodiversity, leading to their designation as Wetlands Protection Areas. Recently, these tidal flats were recognized as World Natural Heritage sites in 2021.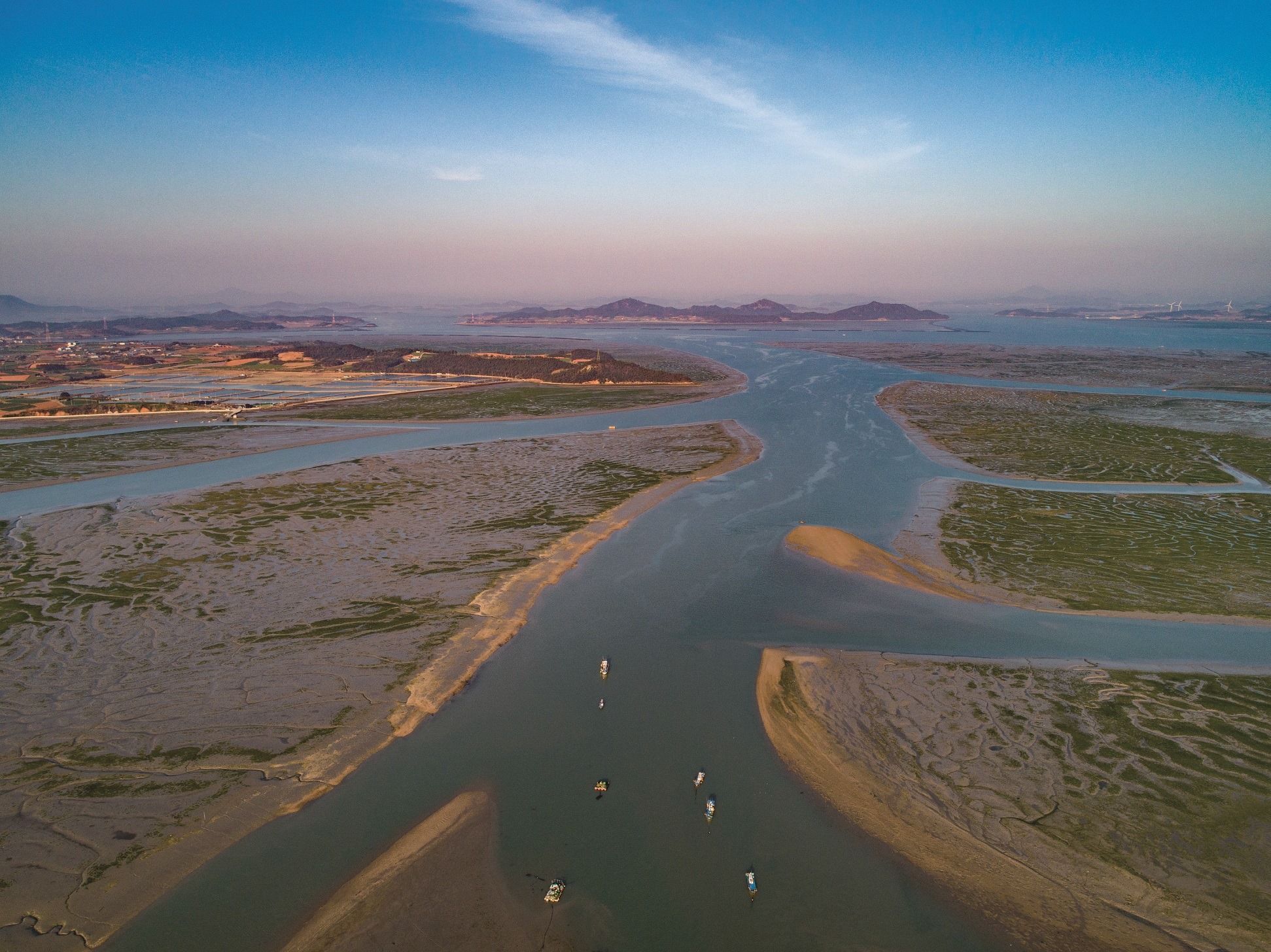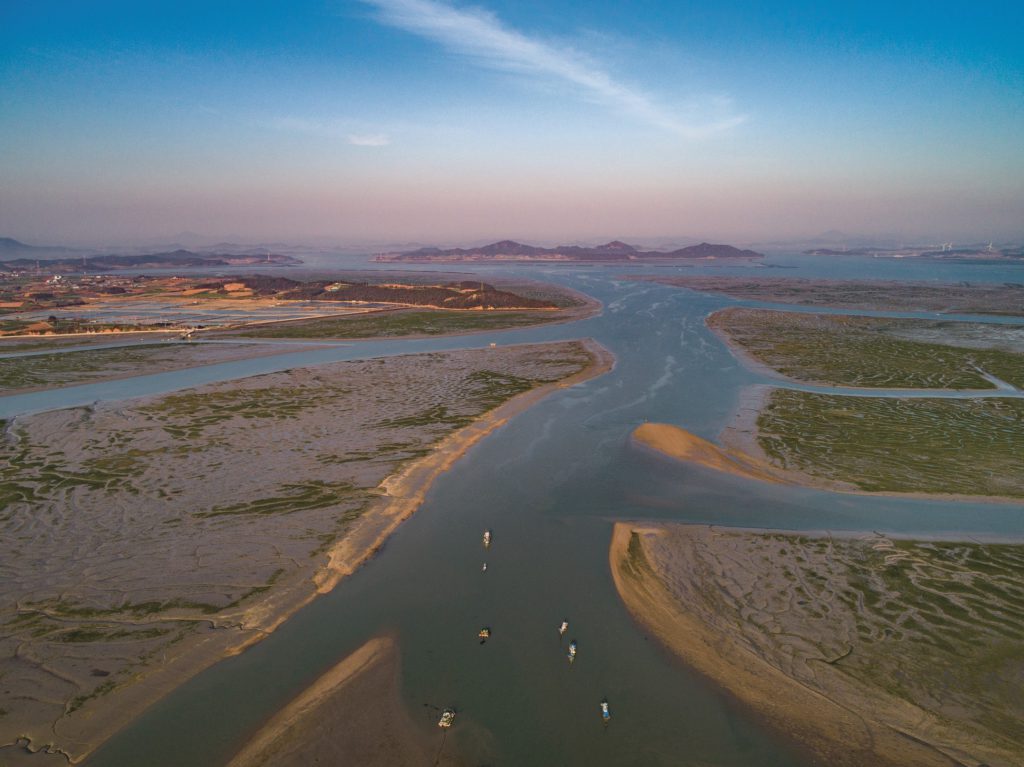 Seocheon Tidal Flat
Seocheon Tidal Flat is a haven for those interested in observing rare bird species, such as the spoon-billed sandpiper, which are currently listed as endangered on the IUCN Red List. The tidal flat is also home to 23 varieties of seabirds and a diverse array of over 300,000 living organisms. Visitors can enjoy observing these unique wildlife species while also experiencing the beauty of the tidal flat ecosystem.
Shinan Tidal Flat
Shinan Tidal Flat, one of the world's top five largest tidal flats, covers 15% of Korea's tidal flats. The formation of the tidal flat is attributed to the regular rise and fall of tides among adjacent islands. What sets Shinan Tidal Flat apart from other tidal flats globally is the exceptional depth of the mudflats, with multiple layers of sand. The Shinan Getbol Center, which is the most extensive educational center on tidal flats in Korea, offers comprehensive knowledge about diverse marine life inhabiting the tidal flats of Korea.
Gochang Tidal Flat
The uniqueness of Gochang Tidal Flat lies in its ever-changing composition throughout the year, ranging from mud to sand to a mixture of both. Visitors can also explore nearby attractions such as the Mandol Tidal Flats Experience Center and Hajeon Getbol Village.
Suncheon Bay is a stunning wetland area located in the southwestern part of South Korea. It's a must-visit for nature lovers, with its diverse range of flora and fauna, including migratory birds and rare species of plants. The bay is also home to a number of traditional Korean houses and temples, making it a great spot for cultural exploration as well.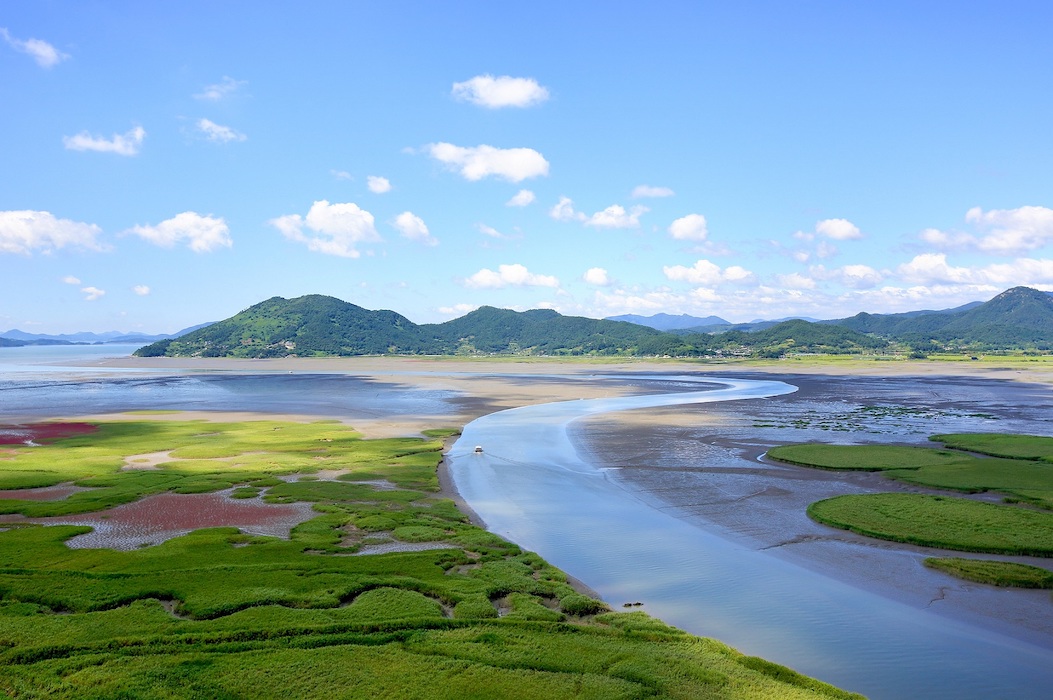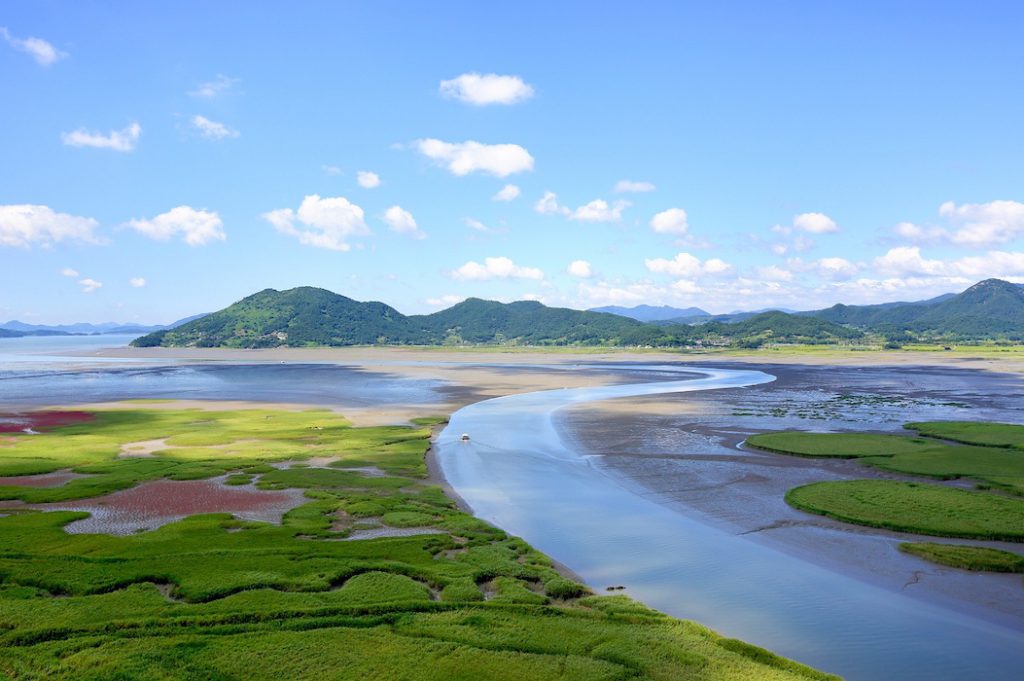 To explore Suncheon Bay, visitors can take a boat tour or rent bicycles to ride along the scenic trails. There are also numerous observation points throughout the bay, allowing for stunning views of the wetlands and the surrounding mountains.
Jirisan National Park
Jirisan National Park, located in the southern part of the country, is the largest national park in South Korea and another UNESCO World Natural Heritage Site. It's a hiker's paradise, with numerous trails winding through the park's mountains and valleys. The park is also home to a number of temples and cultural sites, providing a unique opportunity to experience both nature and culture. To make the most of your visit to Jirisan National Park, it's important to plan ahead and choose a trail that suits your fitness level and interests. It's also a good idea to bring plenty of water and snacks, as the park has limited facilities.
Seoraksan National Park, located in the northeastern part of the country, is known for its stunning autumn foliage and dramatic rock formations. It's a popular destination for both hikers and sightseers, with numerous trails and observation points offering stunning views of the park's natural beauty. To explore Seoraksan National Park, visitors can take a cable car up to Gwongeumseong Fortress for panoramic views of the park or hike up to the summit of Daecheongbong, the highest peak in the Taebaek Mountains. There are also a number of temples and cultural sites within the park, providing a unique opportunity to experience both nature and culture.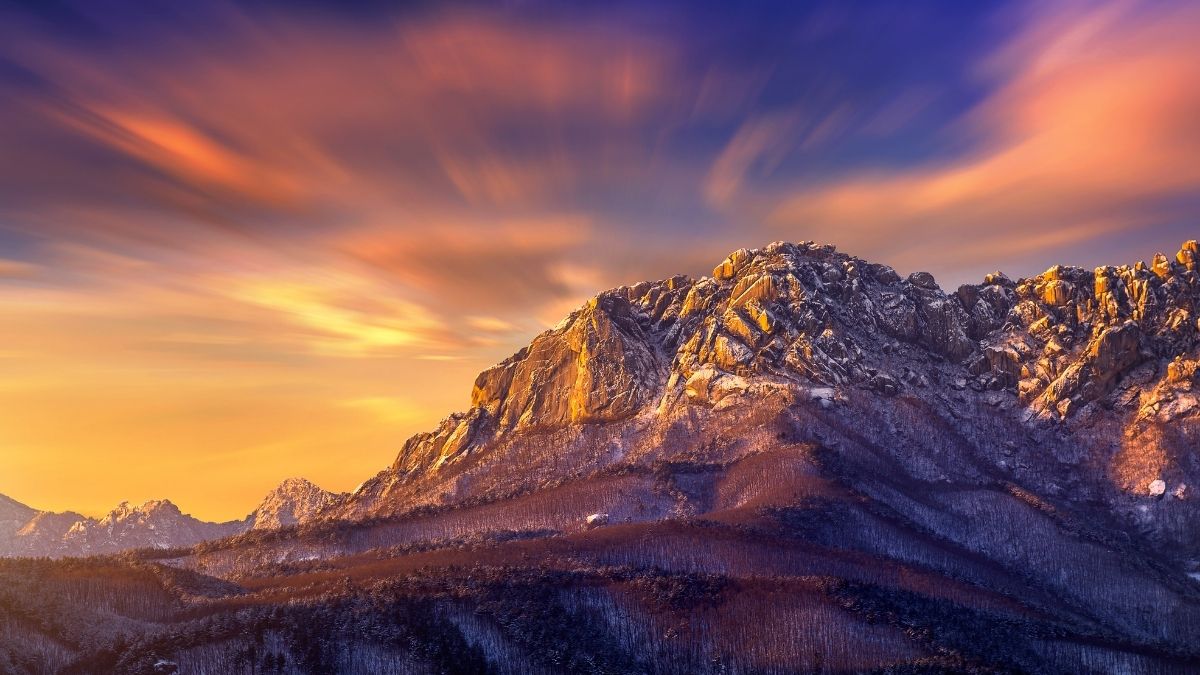 Final Thoughts
UNESCO World Natural Heritage Sites in Korea offer a unique opportunity to experience the country's stunning natural beauty and learn about the importance of conservation efforts. By planning ahead and choosing activities that suit your interests, you can make the most of your visit to these sites and create lasting memories.
Related Posts
2,343 total views, 1 views today