If you plan a hike to Seoraksan, read this hiking guide to know about some of the best spots and sights of Seoraksan Mountain.
Seoraksan National Park, also known as Seoraksan or Mount Seorak, has spectacular landscapes and beautiful paths all year round, making it one of Korea's greatest hiking destinations.
Seoraksan is located in Gangwondo Province in eastern Korea and can be reached by automobile in 3 hours, making it convenient for a day trip or weekend break from Seoul.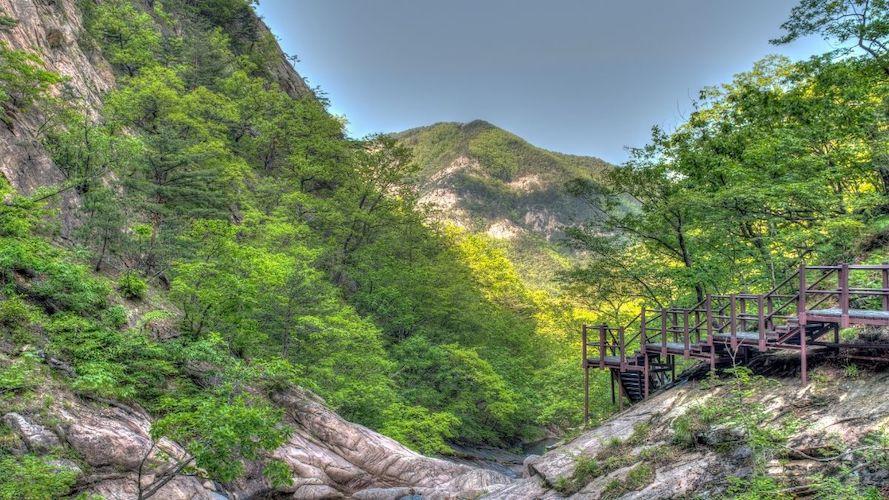 When you want to go back to nature and enjoy a stroll or a short walk, Seoraksan National Park is a must-see!
If you're traveling alone and don't want to bother figuring out bus schedules (or trying to express what you want to the bus station customer service – it's a challenge!), take a day tour from Seoul.
Some trips include a return ticket, park and temple admission, and an English-speaking guide to ensure you don't get lost. Because meals are not provided, please bring snacks.
Even if you don't have a car, getting to Seoraksan from Seoul is simple.
Also, check out: Guide to Autumn in Korea: Enjoy the Beauty of Seoraksan National Park
Best Hiking Spots and Sights on Mount Seoraksan
So, read our hiking guide for the top hiking spots and sights on Seoraksan Mountain without further ado.
Biryong Falls Course
The trek to Biryong Falls is one of the easiest and least demanding Seoraksan hiking trails. It takes about 50 minutes and is 2.4 kilometers long. Biryong means "flying dragon" because legend has it that a dragon obstructed the waterfall's entry, causing a drought. He didn't fly away until a maiden was sacrificed.
Yongso Falls
The brilliant blue Yongso Falls and Yongso Pond are the most impressive features. Yongso Falls, like the Biryong Falls Course, are not far from the Information Centre (Yaksuteo, Southern Seoraksan) and are easily accessible. The walk follows the Domachigyegok Valley, where you can also cross the Sampalgyo Bridge. The water is extremely cold all throughout the year.
Gwongeumseong
Suppose you don't want to hike at all; head to the Seorak Sogongwon Cable Car and take it up Gwongeumseong. At the summit, there is a viewing platform, a souvenir shop, and a café. For the best views, walk a little further up to a better vantage point.
Follow the trails for half an hour up to Bonghwadae, where you may stare out over the magnificent Gwongeumseong region and over to Ulsanbawi Rock. On a clear day, Sokcho can be seen in the distance. You can also visit a modest and extremely colorful alpine temple.
Ulsanbawi Rock
Sinheungsa Temple is within a ten-minute walk from the Seoraksan Visitor Centre. The temple was established in the 7th century by the nomadic Jajangyulsa, who traversed all of Korea's highlands. The temple's highlights include a massive bronze Buddha statue, numerous smaller statues, and a stone pagoda. You can also participate in temple stays or retreats if you so desire. The entry fee is $3,500.
Continue along the temple wall until you reach Naewonam Hermitage. From there, you make your way to the well-known Ulsan Rock. It's actually six sharp peaks, not just one. They are quite difficult to climb but appear stunning from a distance. Along the way, you might come across Heundeulbawi, a peculiar boulder that you can push but never tumble.
Yangpok Course
This one has some of the most beautiful sites starting from Mt Seoraksan National Park's main visitor center. Iljumun Gate and Biseondae, from whence eternal spirits, depart, can be seen along the 6km (4-hour) stretch.
You can take either of the two Seoraksan hiking trails up to the mountain from Biseondae (they have different difficulty levels). Choose the path that follows the river to Yangpok Shelter and Yangpokpo Falls. Oryeon Falls is also visible from the route.
Geumganggul Cave
This Seoraksan hiking trail begins similarly to the Yangpok Course. Continue up the path until you reach Biseondae, then turn left towards Geumganggul Cave. The cave itself was once a site of prayer, as evidenced by the sitting Buddha statue within.
You must go up steep steps and cross a few bridges to reach the Geumganggul Cave. After all, it's 600 meters above sea level. The full hike (3.6km) takes about two hours.
Osaek Course
This course is ideal if you have a car and can travel to Osaek Ranger Station in South Seoraksan. The 5.3km walk (a little more than 3 hours) is relatively easy. Despite being steeper than many other courses, it is the quickest path to Daecheongbong Peak. If you are a photographer, this walk may disappoint you because the only significant feature along the way is the Seorak Pokpo Falls.
Overnight Hikes at Seoraksan
Here are a few pathways recommended by Korea Tourism for overnight walks and hikes near Mount Seoraksan.
Daecheongbong Peak (Baekdam)
The Seoraksan mountain trek visits Baekdamsa Temple, Bongjeongam, and Daecheongbong Peak before arriving at Heeungak Shelter for the night. The entire trail is 23.9km long and takes roughly 13 hours to complete if you don't stop frequently. (This means that photographers will take much longer.) Hike to Biseondae and return to Sogongwon from there (the Outer Seorak tourist information center).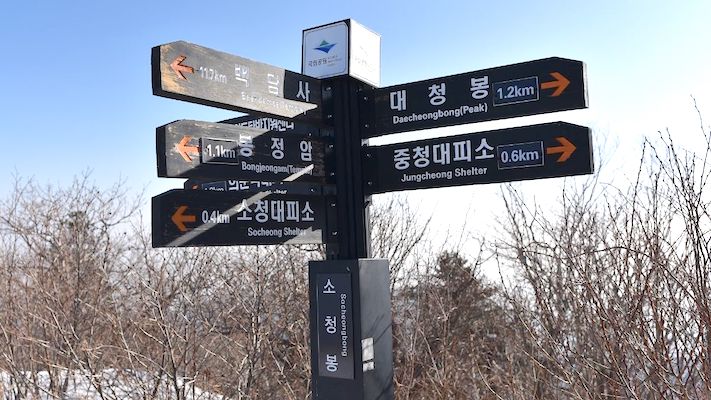 Daecheongbong Peak (Hangyeryeong)
As previously said, there are several ways to approach Daecheongbong Peak. This Seoraksan hiking tour lasts half a day (12 hours, 19.3 kilometers) and begins at Hangyeryeong Hiking Support Center. From there, you continue straight up to Daecheongbong Peak, where you will spend the night at Heeungak Shelter, then back to Biseondae and the Sogongwon Information Centre from here.
Daecheongbong Peak (Seorakdong)
From the significant tourist information center (Sogongwon), climb the trek to Biseondae and stay in Heeungak Shelter. On the second day, you can hike all the way to the summit and then relax at Seorak Falls before finishing the path at Osaek. There are nearby hot springs where you can soothe your aching muscles. The entire trail is 16 kilometers long and takes about 11 hours to complete.
Gongnyong Ridge
You take the path towards Madeungnyeong Intersection from Biseondae. This is essentially the same path as the one described above, except it is a little longer. As it is now 19.1 km long, the total climb takes about 15 hours.
This comprehensive hiking guide to Seoraksan can make your experience more enjoyable and overall fun. You can even choose your favorite trail or spot from this hiking guide, as you might not have time to explore the Seoraksan in its entirety.
17,271 total views, 1 views today