Woraksan National Park in Yeongbong is especially famous for its incredible landscape and dramatically steep peak. It is conveniently situated between Daegu and Seoul and also has close proximity to Chungju. Due to its remoteness, there is no direct rail route, and the only ways to get there are via bus or vehicle. But worry not; we will be covering A-to-Z in this guide to how you can take the best memories out of this incredible Woraksan National Park hiking trail in Korea that you will cherish forever. 
Things to Do in Woraksan National Park
Woraksan National Park offers three major hiking trails – Mansubong, Bukbawisan, and Yeongbong. 
There is also a must-visit tourist spot in Woraksan, which is the alligator peak. 
If you love hiking, you will also get several offbeat hiking options to indulge in an unforgettable adventure in Woraksan. 
Furthermore, Woraksan is known for its food specialties (which you don't wanna miss!), along with a few tourist spots in Suanbo that are worth visiting.
How to Reach Woraksan National Park?
By bus route:
Buses 245 and 246 are the two official buses you can take to reach Woraksan National Park from Chungju. Hence, if you want to visit Woraksan, it's best to stay at Chungju than other places to get a direct bus. Other private bus options are also available but are usually more expensive. Bus 246 goes to Songgye valley (good for a snack break as it is filled with restaurants), while bus 245 goes to Mireukri, which is one of the starting points for the Mansubong hiking trail.
By road:
You can also take a cab or rent a cab to drive on your own from any place you are staying in.
The Best Hiking Trails in Woraksan
Yeongbong Peak Trail
You can start this hike from two places – either from Deoduk or from Bokeodam Temple. The Yeongbong peak is the top tourist attraction and is definitely the one must-visit spot of Woraksan National Park. You will need approximately 3 hours and 41 minutes to finish this trail. But this is a common route taken by local and foreign tourists, so you will have company all along.
This is a very popular 8.4-km (round-trip) trail starting from the Bokeodam Temple and is popularly considered to be a challenging route. You have to cover two peaks before reaching the main one at an elevation of 1097 meters. But if you choose the Bokeodam Temple route, you can see the lake all along, which is an amazing sight.
If you are starting from Deoduk, you will find several small and big restaurants and grocery stores where you can buy some last-minute shopping for the hike or pack lunch.
Mansubong Peak Trail
Mansubong Peak Trail is more of a walk than any challenging hiking trail. It has a 1.8-km "green trail" at first that is great if you are accompanied by family, small kids, or elderly members. The entire trail is covered with informational signs as well as proper rest areas. This is followed by a hill from where the actual hike starts and is not quite suitable for the elderly or kids as it is equally challenging as the Yeongbong Trail. The only place with a worth-it view is the Mansubong summit. It is breezy as it is covered with trees and peaks throughout, while other areas are quite sun-exposed. 
Bukbawisan Peak Trail
The round and back' route of this trail is 6km. While it is quite steep and challenging, the trail is extremely beautiful and well-constructed, offering scenic views of large rock faces and peaks. The recommended route is to start and end at Deokju. This trail is well maintained, with public restrooms at the start and end point and restaurants at Deokju. If you're lucky, you could also spot the endangered Korean species of antelope called the goral antelope. If not, you can spot many other beautiful birds and animals that inhabit this national park.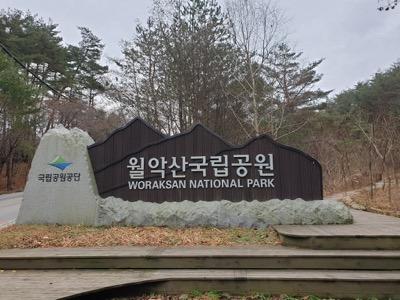 Where to Stay and Eat?
It is highly recommended that you take a night stop at Suanbo as this small town has got more than a few things to offer. Suanbo is 9km away from Woraksan National Park and is the best place nearby to enjoy amazing beer by the river and end the day with Suanbo's original cuisines, which are hard to find elsewhere in Korea. The riverside in Suanbo is a great place for a night walk which looks fascinating both at night and daytime. You should also visit the bug museum there, which is good for a short day hike enjoying cute statues of various bugs all along the way. Lastly, to top it off with an amazing dinner, you should not miss Suanbo's staples which are not found in Chungju, as the quail dumplings served with a scrumptious Quail soup and their snail stew, among other dishes.
Plan your trip with the help of this hiking guide to Woraksan National Park so that you can have the best experience out there.
Be safe and happy hiking!
Related Posts
2,992 total views, 3 views today