Explore the beautiful city of Seogwipo and immerse yourself in its rich culture and stunning scenery. From scenic waterfalls to historic landmarks, this guide will take you through the top 10 must-see attractions and things to do in Seogwipo.
As much as Seogwipo is famous for its rocky volcanic coastline of the famous Jeju Island, it also has a lot of other things to offer for party animals and adventurers alike. From gorgeous waterfalls to fun museums and coastlines, a Seogwipo trip is a must-do on Jeju Island. Here is a list of 10 things you should do in Seogwipo.
Seogwipo city of Jeju Island is home to the Instagram-famous world of Hello Kitty called Hello Kitty Island. This is the first cat museum in Korea, and this adorable Japanese feline now attracts both kids and adults. Over 60% of the visitors to this location are families. On Hello Kitty Island, you can enjoy various fun activities, like visiting the interactive hall designed with a Hello Kitty theme and unwrapping some rare facts about the Hello Kitty family. If you are going with kids, they will love the playground and the Hello Kitty pink room.
A Round-trip Walking Tour of Saeyeongyo Bridge and Saeseom Island
Saeyeongyo Bridge at Seogwipo Port is the longest pedestrian bridge in Jeju. The design takes inspiration from the traditional Jeju flat-bottomed wooden boat, Teu. This uniquely shaped structure connects Seogwipo Port with Saeseom Island, specifically the uninhabited islet. The walking path is about 1.2 km long the island has leisure facilities for tourists. It's a gorgeous sight in the morning, and the bridge lights up in the night until 10 pm, making it a twinkling destination framed by the dark seas.
Teddy Bear Safari
Love teddy bears? You'll love this park even more! This is one of Jeju's unique theme parks based on wildlife, flowers, marine animals, and birds – but all featured as stuffed toys! But that's not all! Teseum is the first stuffed animal theme park featuring real life-sized animals in their teddy avatars – a park with a bear motif where visitors can interact and snap pictures with a 4-meter tall teddy bear! You can also see artists from Hollywood and Korean movies that have been transformed into teddy bears and gods from Greek mythology. 
Jeongbang Waterfall
The impressive Jeongbang Waterfall, which is 23 meters tall, cascades over the edge of the sea cliffs. You can climb to the top for a fantastic panoramic view of the river spilling over the edge. Standing just in front of the torrent offers a breathtaking view from the water's surface, but you should prepare to get lightly splashed. According to the local legend, the waterfall was originally the home of a sacred dragon, and the water can treat all illnesses. Around the rocky coast, local fishermen sell sea urchins and fresh seafood from baskets.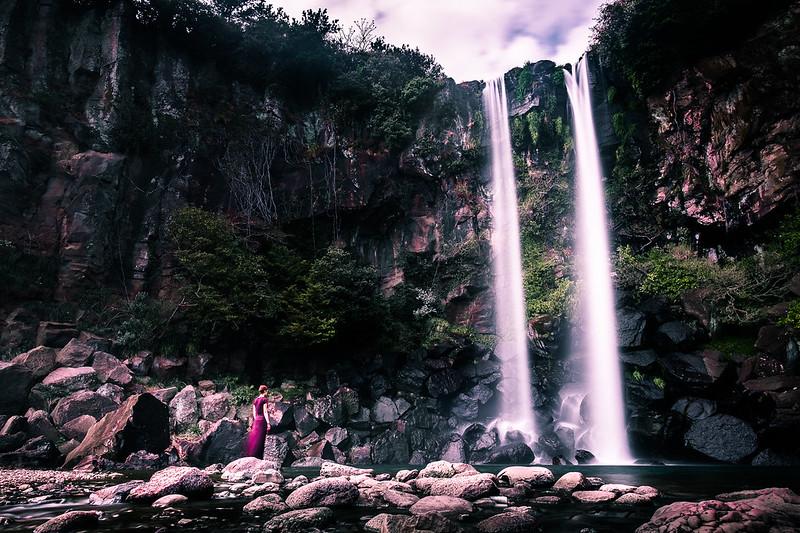 A typical Korean marketplace, many regional specialties from Jeju are sold at the Seogwipo Maeil Olle Market. With daily harvests of mackerel, octopus, hairtail fish, abalones, and other live shellfish, it is particularly well-known for its fresh seafood. Additionally, locals visit this location to purchase kimchi, dried seaweed goods, fried rice cakes, Korean doughnuts, and Jeju tangerines. The market houses more than 200 shops and hawkers selling various things. Chopsticks, serving bowls, clothing, face masks made of volcanic clay, and souvenirs are all available – for your take-home-back shopping.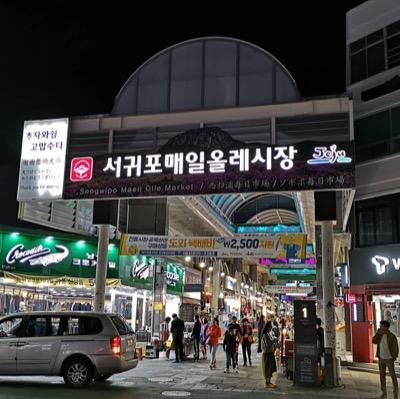 Hike on Mt.Hallasan's Eoseungsaengak Trail
This hike is a definite recommendation for more than one noteworthy spot. Although considered to be quite a challenging 1.3km hike, Mt. Hallasan is a UNESCO site on Jeju Island's Seogwipo. You can alternatively take the 182 bus from Seogwipo to Seongpanak and then travel towards Hallasan National Park. A farm road will lead you to the Jusangjeolli cliff through a forest of pine trees. Visit the Yakcheonsa temple, named after the area's natural spring with healing properties. A stroll along the Beopwhan Badang shore will offer a magnificent view of the three islets that make up a biosphere reserve region.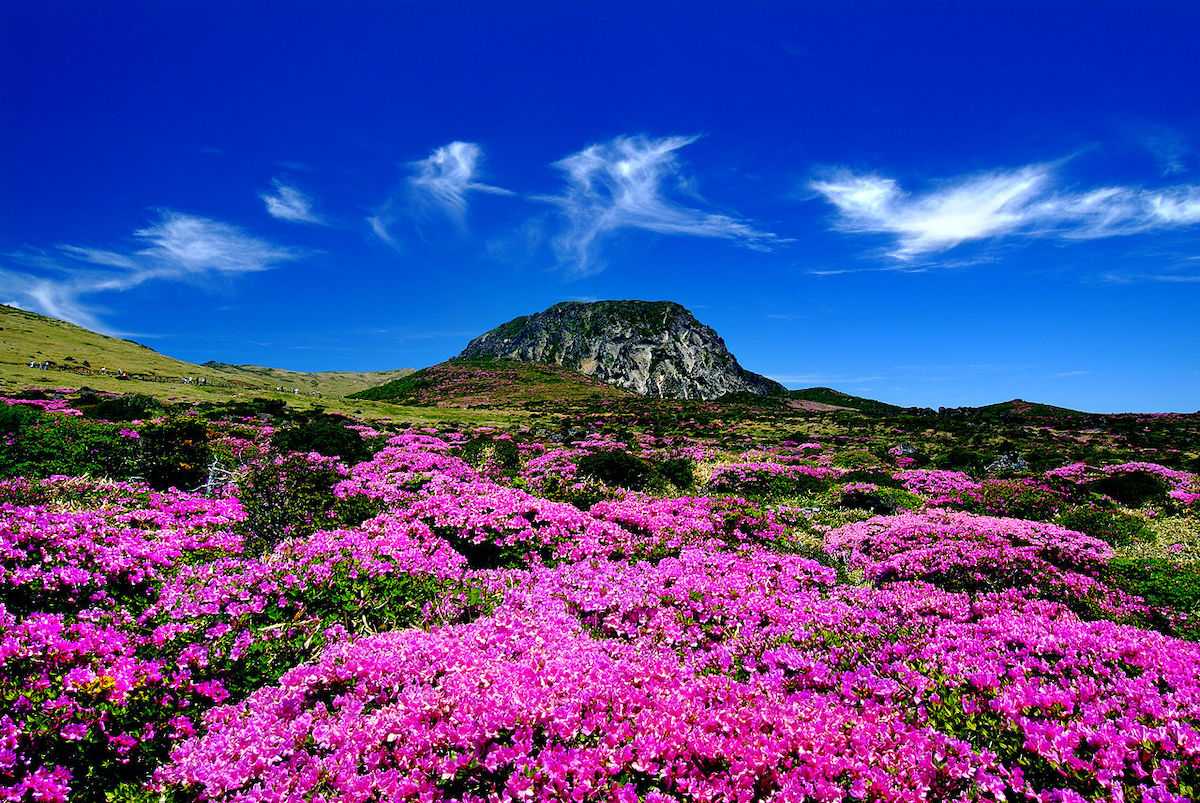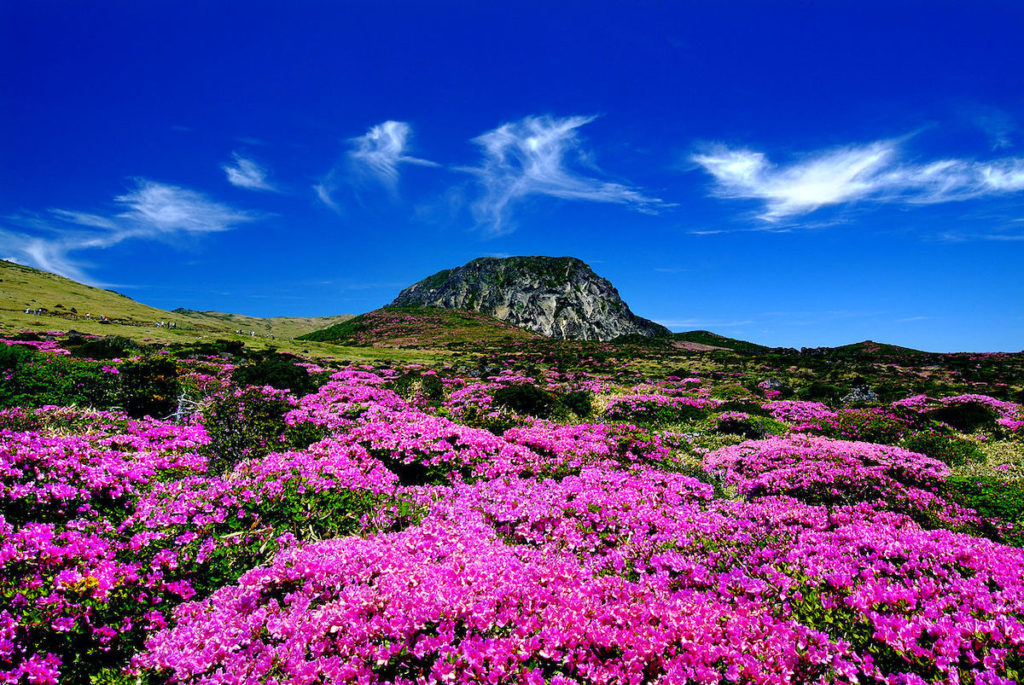 Seongeup Folk Village and Museum proudly showcase its rich cultural heritage over 5 centuries from 1410 to 1914. Featuring a traditional Korean village built upon lava rock and thatch construction, Seongeup Folk Village and Museum will transport you back in time. The folk village has cultural artifacts that have been passed down through the generations, including residential buildings, Confucian shrines and schools, historic government buildings, enormous ox-driven millstones, the fortress remains, and stone monuments. At the center of the town, hundreds-year-old zelkova and nettle trees stand, upholding the ancient culture of the centuries passed.
Visit Manjanggul Cave, a UNESCO Site
The Manjanggul Lava Tube, one of the seven tubes that make up the Geomunoreum Lava Tube System, is a popular World Natural Heritage Site in Seogwipo. The site allows you to enter a tunnel system hundreds of feet below the surface to discover how lava carved out a sizable natural cavern. It is an especially unique sight and a one-of-a-kind learning experience if you are visiting with kids. The site is maintained nicely with adequate signboards directing visitors to all the necessary lava elements along the way. Wearing proper shoes (and not heels) is recommended as it is a naturally-formed cave with a wet, uneven surface.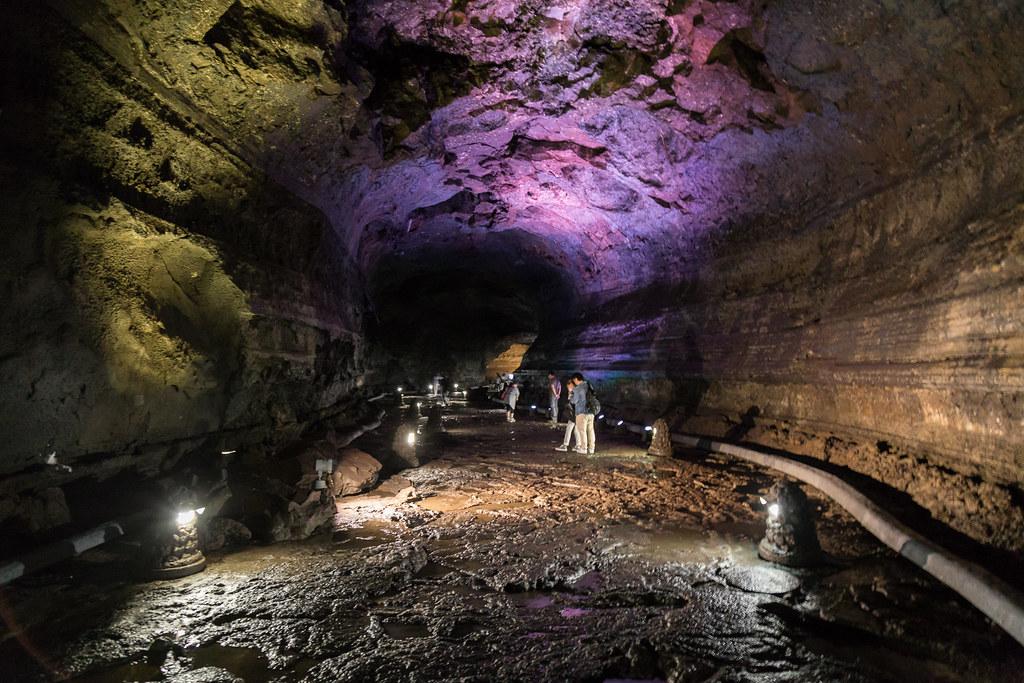 Yeomiji Botanical Garden
The beautiful Yeomiji Botanical Garden is home to a unique collection of foreign flora. The 12,000-square-meter greenhouse garden lets you explore a rich jungle, admire natural cacti in their desert habitat, and observe tropical fruit trees. The garden imitates several distinct architectural styles, including French, Italian, and Korean. Around the lily pond, water plants grow, and a special "bog garden" houses marshy vegetation. The Yeomiji Botanical Garden also has many colorful sculptures of animals and dinosaurs that children would find entertaining. 
Aquaplanet
Seogwipo is home to the 25,600 square meter Aqua Planet Aquarium. The aquarium pool is counted among one of the top ten volumes in the world. A total of 48,000 animals are on display at the museum, including whale sharks, dolphins, big sharks, and damselfish. Visitors can watch animals in 3D on the museum's first level, where lush trees and jungles create a gorgeous "oceanic tropical rainforest" simulation. The second level exhibits replicas of "Jeju and the Sea of the Five Oceans," which includes the Arctic, Atlantic, Pacific, Indian, and Antarctic Sea.
Although we have covered only the top 10 things to do in Seogwipo, it has more than 17 beautiful adventures to explore. Hence, Seogwipo is a place you should not miss on your Jeju Island trip.
Related Posts
8,610 total views, 2 views today