Jeju Island is popularly known to be the Hawaii of Korea, and for a good reason. It is an incredibly popular tourist spot for not only international travelers but also locals. But if you are bored of the common touristy things to do on Jeju Island, this blog is a must-read for you as we bring an out-of-the-world special experience you can have on Jeju Island – that is exploring 'Ilchul Island and all things you should know.' So, let's get started.
Where is Ilchul Land?
Jeju Island is a unique region that was formed by volcanic activity that formed over the course of history, beginning around 1.8 million years ago. As a result, it is considered to have a high cultural significance and is listed as a World Heritage Site. Ilchul Land is a 1.7km long area on Jeju Island, allowing you to explore Jeju's historical and traditional roots. There are both indoor and outdoor attractions here, including sculpture streets, gardens, and greenhouses.
A theme park called Ilchu Land was constructed to help eastern Jeju's tourism sector grow. A green theme park built around Micheongul offers visitors the chance to see places like Grass Square, Waterside Park, Subtropical Botanical Garden, and many more. Ilchul Land provides a unique experience to finish your Jeju Island trip on a good note.
What is Ilchul Land popular for?
Micheongul is Ilchul Land's main attraction. The cave is filled with an eerie ambiance created by the sound of the water falling and flowing. Additionally, artificial art adds vivid lights to a lovely cave, enhancing its beauty.
Ilchul Land is a renowned botanical garden with 600,000 plants of 550 different kinds, including camellia trees indigenous to Jeju Island. It is an ideal location for gatherings, outdoor photo exhibits, intimate performances, and practical activities. 
The garden offers a variety of artisan activities, including pottery making, natural dyeing, and t-shirt manufacturing, utilizing natural materials from Jeju Island, and its facilities can hold up to 500 people. 
Ilchul Land is also conveniently connected to Micheongul Cave and other points of interest, letting visitors take excursions, participate in team-building exercises, and attend themed events to learn more about Jeju's traditional and natural features.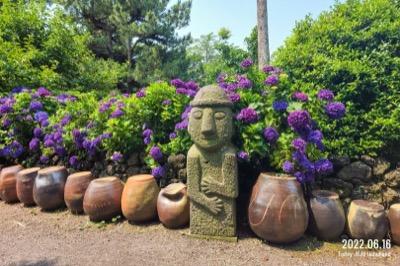 How to reach Ilchul Island?
Here is a quick brief of how to reach Ilchulland from different areas:
1) From Jeju International Airport:
You can reach Ilchul Land from the Jeju International Airport by car. It takes only 1 hour, and you can take a Taxi that costs around 38,000 Korean won.
You can also take a bus that takes approximately 1 hour and 40 minutes from the Airport to reach the island. You have to take bus No. 111 from Jeju airport and Transfer to the bus station at Bonggae-dong to bus No. 221. Finally, you should deboard at Miwa-mi-mot
2) from ICC Jeju:
You have two options to reach Ilchul land from ICC Jeju: by car and by bus. 
You can book a cab or taxi from ICC Jeju that takes 1 hour 20 minutes and would cost approximately 45,000 Korean won. 
Buses are also available from ICC Jeju to Ilchul land; the journey takes approximately 2.5 hours. You have to take bus # 600 from ICC. Then, change the bus at Daeryun-dong community center to 295 and get off at the entrance of Ilchul Land. 
3) lastly, there is also a free parking lot where you can park your car if you rent one. 
Restaurants to Try around Ilchul Land
If you are visiting Ilchul Land on your trip to Korea, you can try out some of the amazing Korean dishes that most tourists swear by at one of these restaurants that are located nearby. All of these places are tourist-friendly, affordable, and serve quality food. Here are some of the best places to tame your hunger pangs: 
Cafe aeok
Hanrabong ice cream
Wave
Sikeul Tamhada
Seongeup Chilsip Ri Tavern
Nageune Restaurant
Yetnal Patjuk
Seongmun Sikdang
Willala
Gold Seong Restaurant
Milieu
Ilchul Land provides an amazing pit stop if you have a spare day on Jeju Island to really explore the island's history and natural lava caves. It's really easy to travel as it is well connected by bus and cab. The place is really fun, especially if you are visiting with kids. Make sure to check out the restaurants for some yummy Korean dishes as you explore the island. 
Related Posts
2,556 total views, 5 views today