Whenever you hear the word Gangnam, what comes to your mind? The answer is probably the hit PSY's song titled Gangnam Style, which made everyone groove worldwide. But do you know, in reality, Gangnam is the name of a spectacular location located in Seoul.
GANGNAM word translates to SOUTH OF HAN RIVER and is widely renowned as a famous tourist destination. There are a variety of things to do for every type of traveler while in Gangnam.
It is abode to some magnificent modern attractions, namely COEX Mall, Lotte World Tower, Skyscrapers, etc. Today, we will take you on a virtual trip and share with you the list of things to do in Gangnam. Want to enjoy the thrill? Yes!! Then keep reading on.
Best Things To Do In Gangnam
Dance Dance and Dance in Gangnam Style
Let's begin the journey to explore this magnificent destination by dancing. Since the launch of the Gangnam Style song, the Korean Pop industry has got wholly revolutionized. The music has given this place much-needed attention. Till now, Gangnam Style song has made around 3 billion people around the world dance to its tunes.
It received appreciation worldwide, and to pay tribute to this masterpiece, Gangnam Station Exit 5 exists in Gangnam location. Here every wanderlust and local come to groove on the stage and record themselves while Gangnam Style playing in the background. Keep the station on top of your list if you have already made your mind to hit this extravagant destination.
Hit The Club
The nightlife in Gangnam is pretty vibrant, and you will experience the thrill. Here in Gangnam, you will find yourself clubbing till you drop. The clubs are spacious and always full of party-goers.
If you know how to speak Korean, then that will work as a cherry on the cake. With fantastic taste in music, scrumptious food, and sizzling drinks, you can make new friends here, hailing from different locations of the world. Have an awesome time here, and the huge gathering happens every Friday and Saturday. Don't forget to be a part of it!
Walk Down The Street
By walking the Gangnam streets, you will get to learn enough about its culture. This fascinating district represents an ideal combination of both modern and ancient architecture. Walking down its streets will give you a glimpse of its K-pop culture.
By walking, you can take a close look at its well-known landmarks, mark off the popular locations on your list and feel the vibe of the city. Don't forget to wear comfortable shoes before embarking on a walking trip.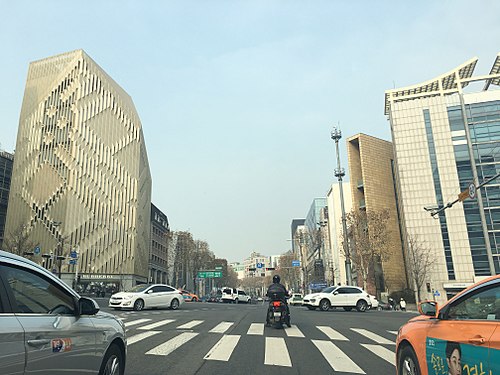 If you are a fashion aficionado, then a visit to Cheongdam Fashion Street is all you need. This street captivates most fashion lovers due to the variety of stuff it has under one roof. Name the brand, and they have it. The popular brands can be found here with a tint of Korean culture.
Along with this, there are several hair and beauty salons that offer Korean makeover services to travelers. You can enjoy something to drink in any one of the many cafes and excellent restaurants that are dispersed around.
Shop at Famous Spots
Gangnam is home to several well-known brands and Korean stores. Here KAKAO FRIENDS store is widely famous. The Korean characters and souvenirs that you will find here are must buy to keep memories of the trip afresh.
The major place for shopping is situated between the famous Sinnonhyeon Station and Gangnam Station. Gangnam is one of the wealthiest Seoul districts, and this is the reason why every brand can be found here. Along with Cheongdam, Apgujeong is also a worth visiting place for shopping. There was even a show that used to air on TV named Cheongdam Alice. It was based on a poor girl whose only aim was to get into the lavish streets of Gangnam and buy all the things she wants.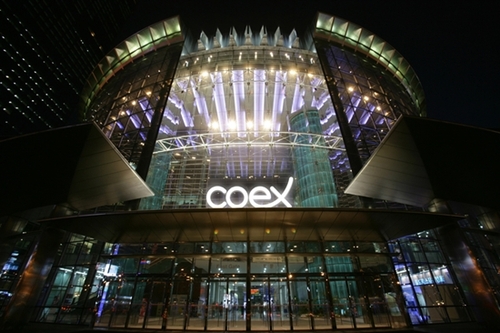 Similarly, another place is Starfield COEX Mall. Whether you want to shop or just wander around, a visit to COEX is much needed. This entire mall is best known worldwide for being the biggest underground mall and featuring a wall composed of books on the other side of the escalators.
The COEX Mall has a food court with various cuisine options, a kimchi museum, concert hall, etc. You can spend quality time here and pave your way to a variety of stores and leave with a smile.
Enjoy Korean Food in Gangnam
How can you forget about Korean food when in Gangnam? Leaving without tasting scrumptious food would be an injustice to the entire trip. Korean BBQ is one of the best things to try and then remember it for a lifetime. Here are a range of restaurants where you can try a variety of dishes according to your taste. The highly recommended spots are namely Gombawui and Yang GOOD.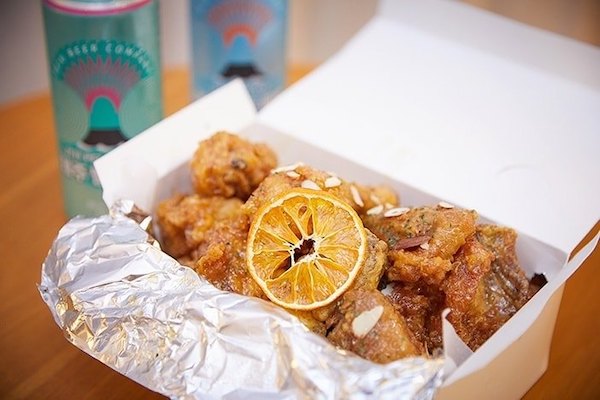 After filling your hungry stomach, you can resort to enjoying the nightlife. The city comes alive at night, and the warm air in summers caresses you. Don't forget to halt at Kyochon Chicken which is popularly known as Korea's KFC. In actual terms, KFC here translates to Korean Fried Chicken, and it is the favorite food of Koreans.
In South Korea, there is a huge rage about this outlet, and the one in Gangnam is the most popular out of all. All the customers leave this place with a bright smile and satiated stomach.
Places to Visit in Gangnam
The list hasn't ended yet. Along with things to do, there are several places in Gangnam that you can visit and give a treat to yourself. Here it is
Pay a visit to Bongeunsa Temple (Buddhist Shrine)
Stop by at Samsung D'light, which is an exhibition showcasing the latest tech and inventions by Samsung.
Visit SM, JYP, or CUBE for full-on entertainment
Stroll at historical Samneung Park
Praise the beautiful and massive Seoul Olympic Park
Visit the Garosu-gil area for excellent ambiance and delicious food.
Conclusion
We believe you must have enjoyed the virtual trip to Gangnam with things to do. From the list alone, you can see how much you can enjoy here and live to the fullest. This place has everything to feed the hunger of wanderlusts coming here.
The city of Gangnam is looking forward to welcoming you, and don't forget to follow our list to know exactly what to do when you are there.
Love it? Pin it!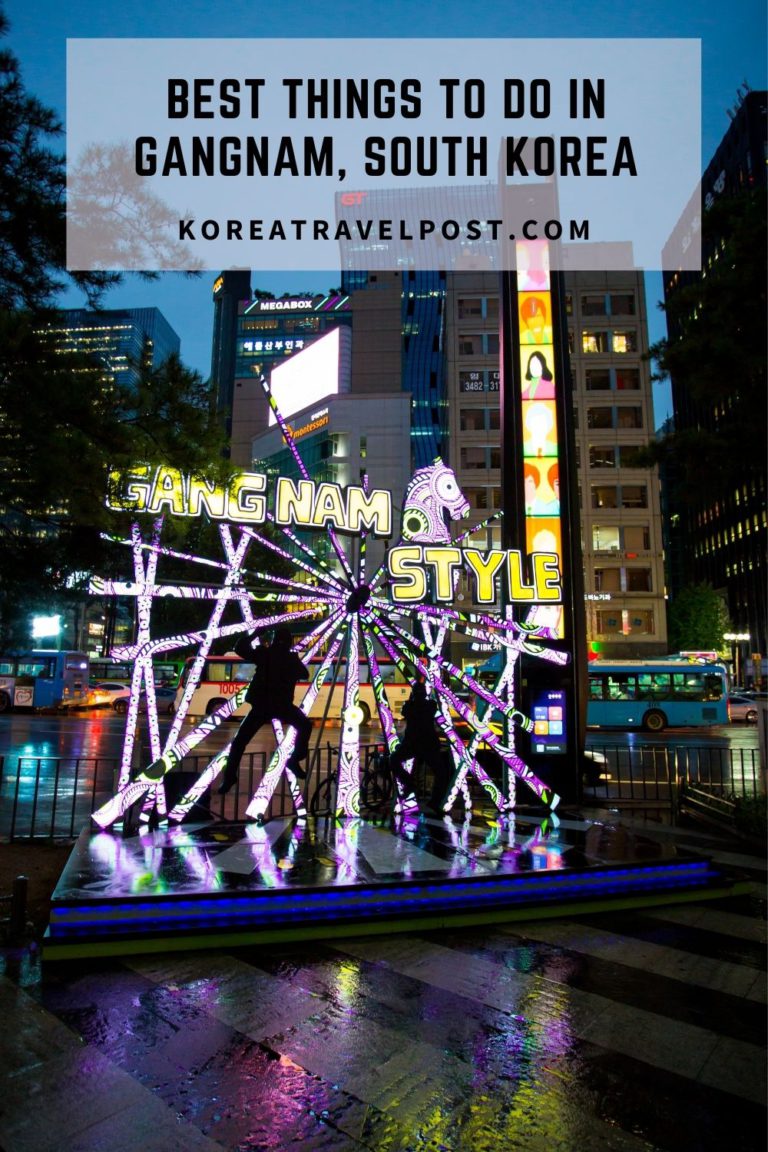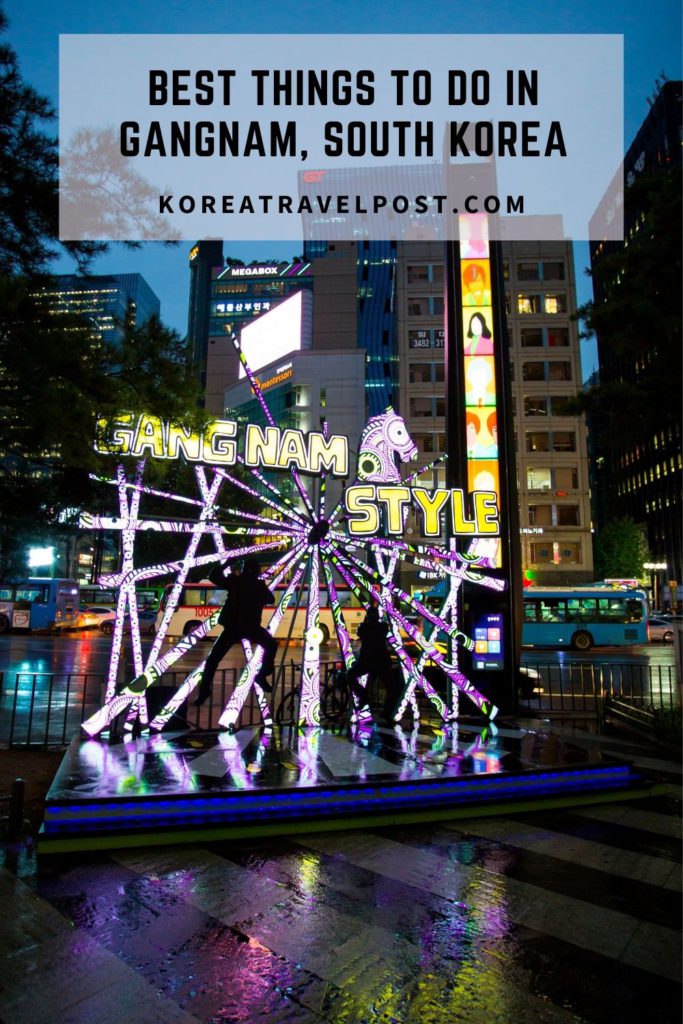 4,640 total views, 7 views today