Plucking your own tastiest South Korean strawberries while enjoying various events activities is one of the most attractive tourism experiences in South Korea. While there are various incredible selections for your strawberry-picking experience in South Korea, nothing is more exciting and memorable than the Nonsan Strawberry Festival, returning soon in 2023.
Nonsan Strawberry Festival Returns in 2023
South Korean strawberries are famous for their bright color, large size, as well as juiciest and most delicious taste among other types of strawberries. As one of their primary fruit crops, South Korea likes to celebrate harvesting strawberries in Spring with various events and festival.
As the largest strawberry-producing region in South Korea, Nonsan is back with its Nonsan Strawberry Festival in 2023.
Celebrating its 25th anniversary, Nonsan Strawberry Festival returns in 2023 with a much more exciting strawberry-picking experience for visitors. With the theme of 'Sweet Temptation Towards the World Strawberry Expo', you can attend the festival in person for the very first time in 4 years after the COVID-19 pandemic
The event will be held on March 8 – 12 at multiple areas of Nonsan Citizen Park in Nonsan, South Chungcheong Province.
During this event, you will get the full experience not only of strawberry picking and tasting but also various recreational activities and performance available throughout the festival.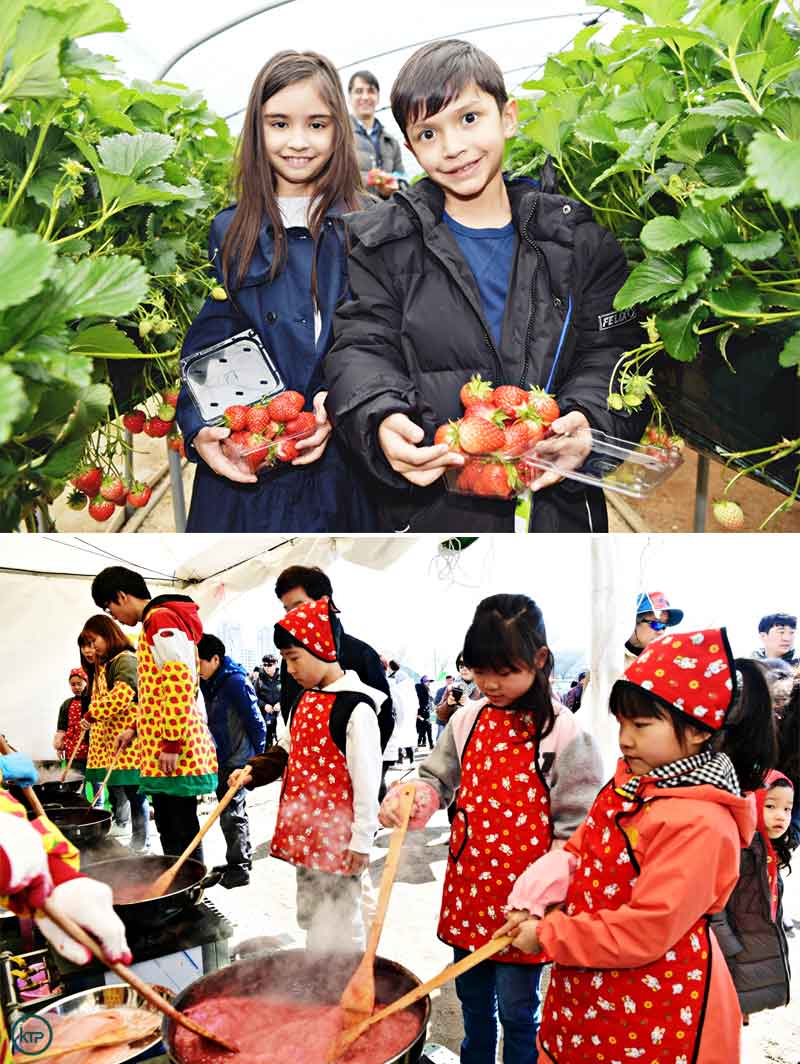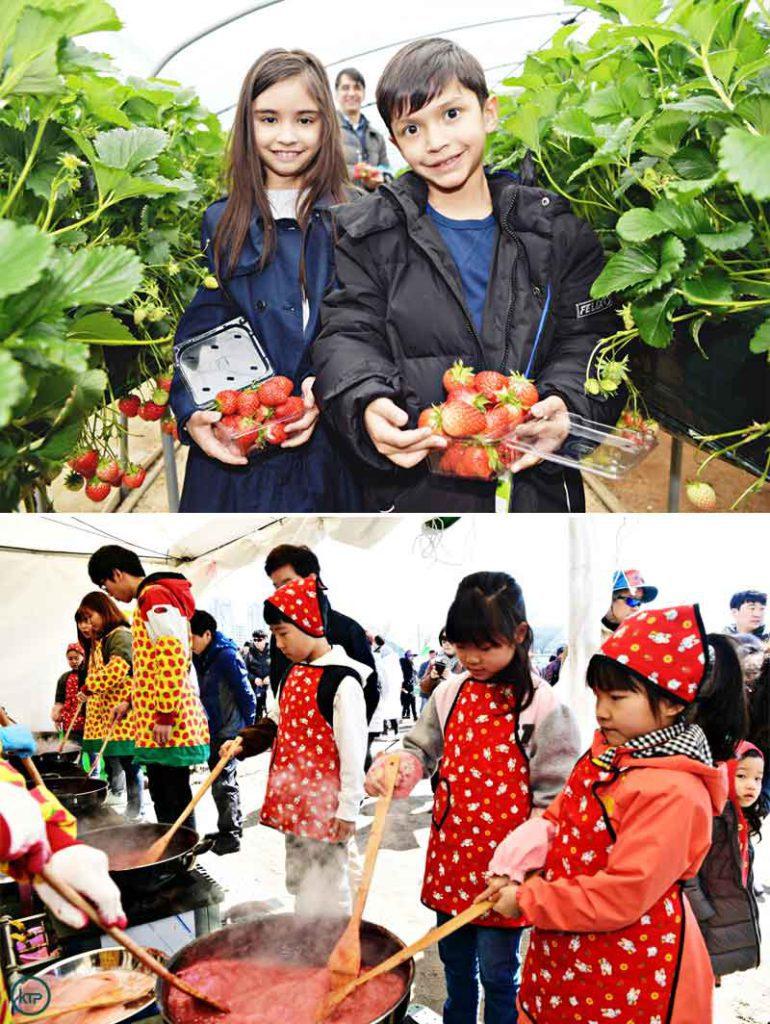 Enjoy the Full Experience of Strawberry-Themed Entertainment in South Korea
Furthermore, Nonsan Strawberry Festival does not simply offer mediocre strawberry-picking and strawberry-tasting experiences. Instead, you will be able to enjoy the most unforgettable strawberry-themed trips and activities in South Korea throughout the event.
In addition to picking and tasting as many strawberries as you like, the festival also offers numerous memorable activities. You will be able to watch exciting games and performances, including Strawberry Hunt Game, Strawberry Dessert Contest, Children's Musical, and On-site Metaverse Games. So, make sure you join the festival starting from the first day.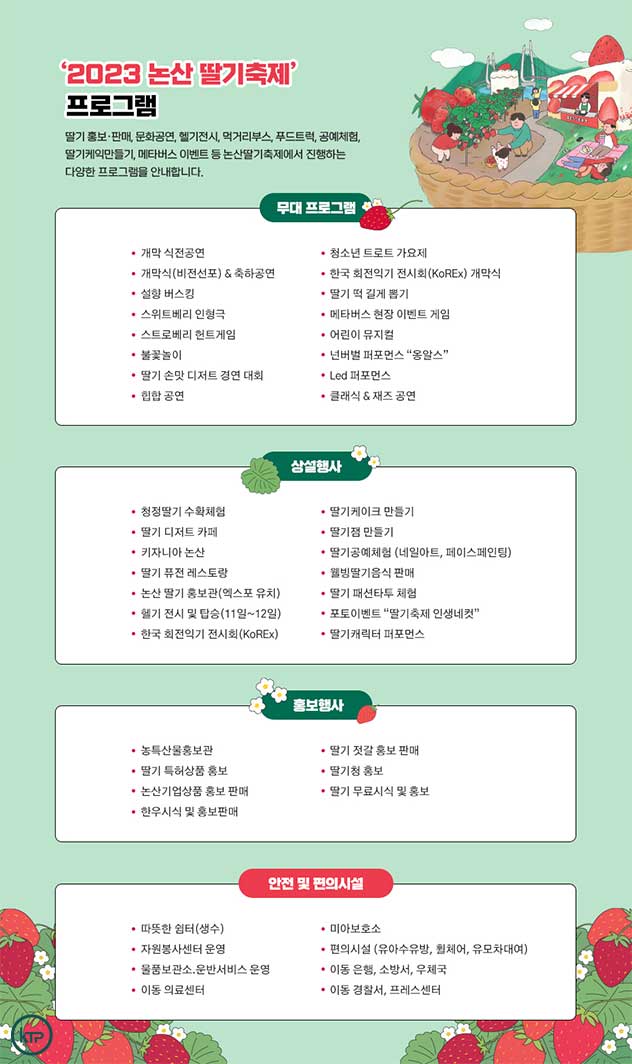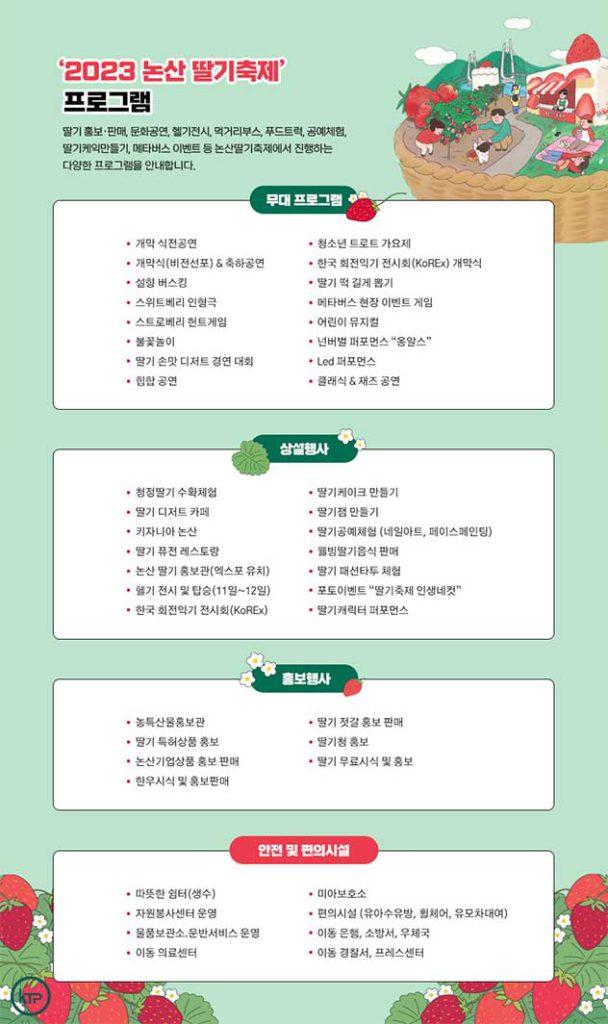 Also, you can get the full experience of strawberry-themed activities, such as harvesting strawberries, making your own strawberry cakes, and having your own strawberry fashion tattoo experience.
On top of everything, if you pass the application, you will also be able to join an exciting helicopter ride experience at Nonsan Strawberry Festival 2023 in South Korea. Enjoy riding the helicopter from South Korea's Army Aviation School, a partner collaboration for this fascinating 'Helicopter Tour to Topjeong Lake' and 'Helicopter Exhibition' programs during the festival.
Visit Nonsan Citizen Park (논산시민공원) from March 8 to 12, 2023, to get the most unforgettable South Korea strawberry festival experience.
More about South Korea Travels:
4,485 total views, 1 views today