Christmas is a time of the year when people love to celebrate with their loved ones. Christmas markets are popping up all around Seoul for those who want to experience a more festive atmosphere! This blog post will take you on a journey to 6 trending places in Seoul that are all decked up for Christmas and will make your winter wonderland dreams come true.
Christmas is just around the corner and watching the media facade is becoming a tradition!🥰
The 3 minutes show runs from 17:30-22:30 until January 31, 2023!😉
* Video was filmed at 3X speed😁
📍 Shinsegae Department Store – Main Branch: https://t.co/L5BBFzqnlo
📸 @jeje_photo_pic pic.twitter.com/SEpaZs3BN3

— VisitKorea (@KoreanTravel) December 13, 2022
One of the most popular places to visit during Christmas is Cheonggyecheon Stream. It's one of the best places in Seoul to experience all things Christmas! The stream is beautifully lit with festive lights, and there are plenty of activities throughout the week, such as caroling, food stalls, and a Christmas market.
This is usually a more conventional location with Korean-style lanterns, and it's a trendy spot for both tourists and locals. They're put along the river and packed on Christmas Day. There are often traditional lanterns on one side and the other, themed lanterns. It's adorable, and if you're visiting Seoul, it's worth seeing.
Festive Tree at COEX Mall
The festive tree is beautiful and located in the center of all things Christmas. It's one of the best places to visit in Seoul during the holidays! The tree is decorated with lights that twinkle like stars, creating a truly magical atmosphere.
The Christmas market at COEX Mall is one of Seoul's biggest and most popular. It's the perfect place to do some last-minute Christmas shopping! There's a wide variety of stalls selling everything from food to souvenirs, so you're sure to find something that takes your fancy.
Lotte World and Lotte Department Store Main Branch
Another excellent option for those who want to get into the Christmas spirit in Seoul is Lotte World. The amusement park is exquisitely illuminated and decorated for the holidays, with various exciting activities available throughout the month. Be sure to check out their spectacular ice rink while you're there.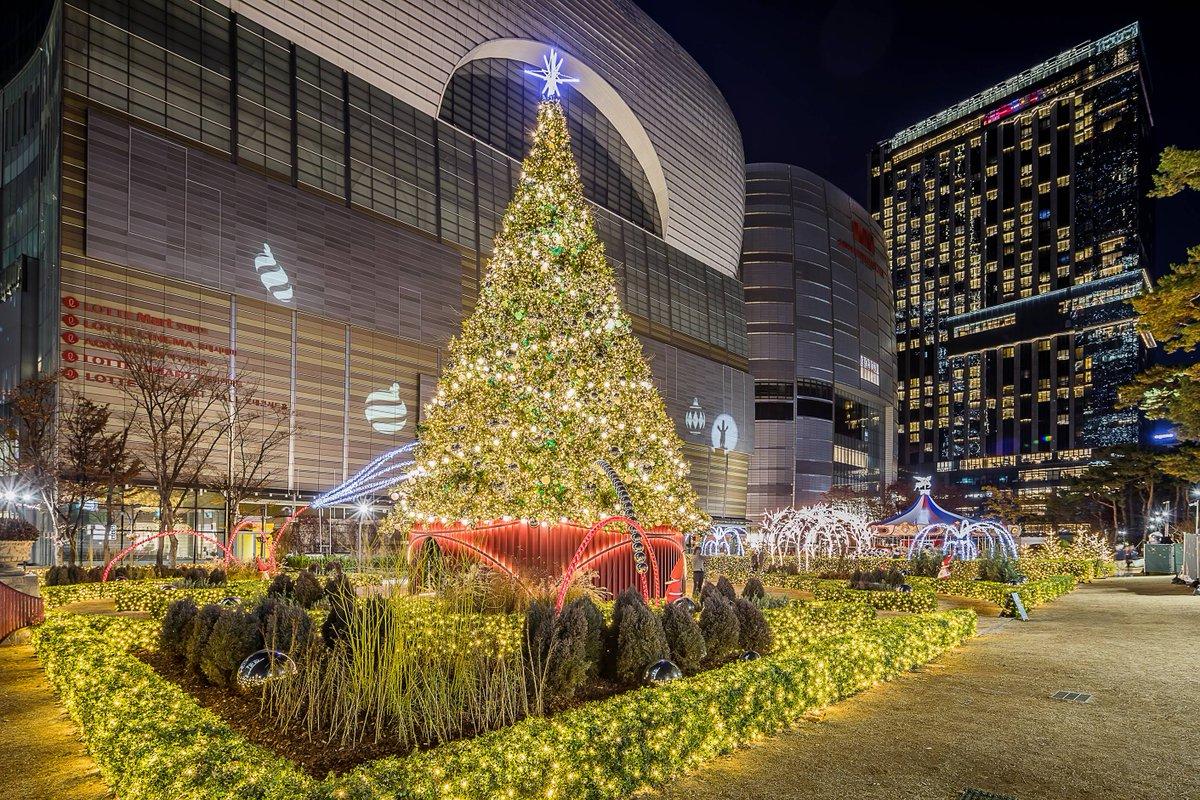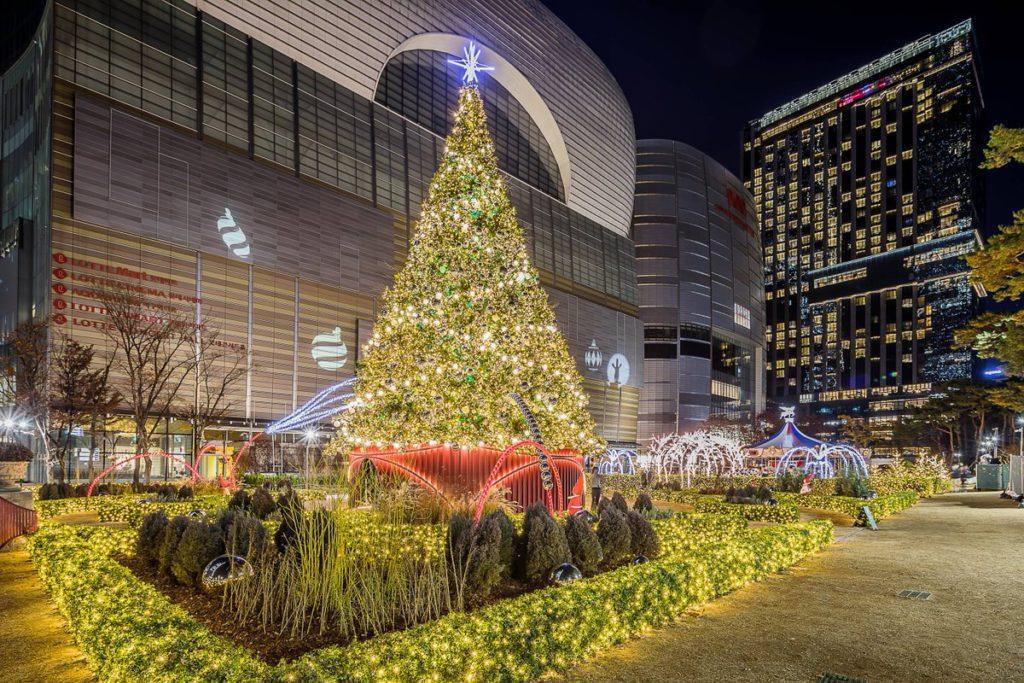 At 6 pm, Lotte World's Magic Castle will turn on sparkling holiday decorations every evening. At 8:30 pm, you can watch the 3D digital show Magic Castle Lights Up.
Don't forget to attend the joyful shows that include live jazz music, children's Christmas Dreams, Cinderella's Christmas Party, and the traditional Christmas Party Parade.
Can you feel the Christmas in the air?!🥰
Still a month away, but the decorations are starting to go up at the main branch!😄
📍 Lotte Department Store Main Branch: https://t.co/c40fYo0SzJ pic.twitter.com/3kAd1p2zRv

— VisitKorea (@KoreanTravel) November 23, 2022
Seoul City Hall Square
The Seoul City Hall Square is illuminated with these beautiful lights, slightly different from other years every year. This is a one-of-a-kind experience that will leave you pining for more. The area's historic illumination is recreated every year with a towering cone-shaped Christmas tree that lights up the night. Many Seoul couples choose to have an intimate evening out here.
The square also hosts events throughout December to enjoy your Christmas in style. It's one not to miss out on if you're visiting Korea during wintertime!
Another famous amusement park in South Korea is Everland, which has a lavish holiday celebration during the Christmas season. The entire park is decorated with a festive Christmas atmosphere. Make an effort to write your wish on the Tower Tree!
While located outside of Seoul, many people visit to experience the festive spirit at the vast amusement park. Check out the Christmas Parade, as well as other rides and amusements. The Christmas Market is a festive gathering of fresh food, fantastic shopping, and unique entertainment.
Last but certainly not least, the Myeongdong Cathedral is a gorgeous Christian church that's adorned with lights and festive decorations. The cathedral is an amazing place to visit during Christmas because it has such a different atmosphere than most other places in Korea! It will make you feel like you're in another world of complete peace and serenity.
The best place to sense the Christmas holiday magic is a wonderfully illuminated Myeongdong Catholic Church in Seoul. The Midnight Mass at this location on December 24th is extremely popular among locals and tourists. Everyone gathers inside the church for traditional carols (and kimbap).
These are just some of the amazing places you can visit during your time in Seoul this Christmas season. Be sure to check them out and enjoy all the festivities! Merry Christmas!
9,218 total views, 5 views today