Seoullo 7017 (서울로 7017) is a unique and innovative space that offers stunning views of Seoul. Visitors can wander along the footpaths, enjoy the flowers and plants, or simply relax and enjoy the scenery. Seoullo 7017 is also great for learning about Seoul's history and culture. Several information boards along the footpaths provide information about the overpass's past and present.
If you're looking for a unique and memorable way to experience Seoul, be sure to visit Seoullo 7017. It's a great place to wander, relax, and learn about the city's history and culture.
Origins of '7017'
Seoullo 7017, formerly Seoul Station Overpass, was a symbol of Seoul during industrialization. It was closed to traffic in 2006 due to safety concerns but was transformed into a beautiful sky garden in 2017. The name "Seoullo 7017" comes from the year the overpass was first constructed (1970), and the year it was re-constructed (2017). The number 17 also refers to the number of pedestrian paths connected.
The Seoul Station overpass was constructed in 1970 to alleviate traffic congestion in the city. For decades, the highway connected the eastern and western halves of Seoul. However, in 2006, the overpass was closed due to safety concerns. In 2017, the overpass was transformed into Seoullo 7017, an elevated pedestrian park. The name "Seoullo 7017" is a nod to the overpass's origins: 70 for the year it was first constructed and 17 for its rebirth. The number 17 also refers to the number of pedestrian paths that make up Seoullo.
Gorgeous Views from the Sky Garden
The sky garden offers stunning views of Seoul, including the railway lines and roads below. There are 5 different concept roads: Mallidong Square, Rose Square, Toegye-ro Square, Magnolia Square and the Hanyangdoseong-gil. Visitors can walk from Seoul Station Square to Namsan Pedestrian Overpass to Namdaemun Market in 20 minutes.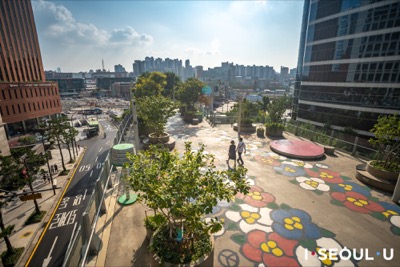 Malli-dong Plaza
From ground level, you would never realize that there is a deep hollowed-out area on Seoullo 7017 that is a design lover's dream. The area is filled with steps and reflective surfaces, making it a truly unique and eye-catching sight.
This architectural accent is just one of the many ways that Seoul is recycling and adapting old spaces. The city has taken a previous overpass and built a pedestrian walkway, and it has also revitalized the old Sewoon Market. These projects are changing the face of downtown Seoul, and they are a testament to the city's commitment to sustainability and creativity.
The hollowed-out area on Seoullo 7017 is the most artistic and photo-worthy part of the park for me. When you step down into the crevice, you can really appreciate the thought and care that went into its design. The reflective surfaces create a mesmerizing effect, and the steps provide a perfect place to sit and relax.
Seoullo 7017 Walking Paths
Some of the paths are up to 17 meters high, and there are approximately 24,000 seasonal flowers and plants in the sky garden. After sunset, the sky garden presents an impressive night scene when the 4-meter high pillar lamps light up the paths brilliantly. Look out for the innovative signage and interesting lights on the walkway too.
You can opt for one of the 3 Seoul City Walking Tours centered around Seoullo 7017 from the Korean tourism website:
Course 1: From Hanyang to Seoul
Course 2: Exploration of Modern & Contemporary Architecture at Seoullo
Course 3: Night Tour of Seoullo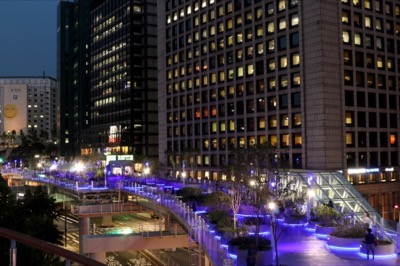 Refreshments and Fun @ Seoullo 7017
Seoullo 7017 also features a variety of information centers and eateries, so visitors can get tourist information, rest, and have a light meal or snacks. There are eight information centers and eateries in total, each with a different concept and offering.
Seoullo Travelers' Cafe
Seoullo Travelers' Cafe is a comprehensive tourist information center and cafe. It is located at Toegye-ro Traffic Island and offers information on Seoul and light meals and snacks. The cafe also has a variety of other conveniences for visitors, including smart lockers, fax, printer, copier machines, and computer lockers. In addition to tourist information, Seoullo Travelers' Cafe also offers a variety of refreshments, including Korean herbal tea, coffee, and Seoullo 7017's official premium beer. The cafe also has a small selection of snacks, such as pastries and sandwiches. The staff at Seoullo Travelers' Cafe are friendly and helpful. They are happy to answer any questions you have about Seoul and can help you plan your visit.
Seoullo Gift Shop
Seoullo Gift Shop is located near the start of Toegye-ro Road and sells a variety of souvenirs and gifts. The store offers a variety of items, including ceramic souvenir shot glasses, tote bags, magnets, and scented diffusers. The scented diffusers feature scents of plants that were planted on Seoullo. Korean crafts and trade associations created the merchandise at the Seoullo Shop. This ensures that the souvenirs are of high quality and that the profits from their sale go back into local economies and communities. By purchasing souvenirs from the Seoullo Shop, visitors can help to support local businesses and contribute to the local economy. This is just one of the ways that Seoullo 7017 is working to impact the city of Seoul positively.
7017 Seoul Bibimbap
7017 Seoul Bibimbap is a casual Hansik dinery that serves Korean food made from fresh and healthy ingredients. The menu features a variety of dishes, including the eponymous bibimbap, potato jeon, dotori-muk (acorn jelly salad), makgeolli (rice wine), and beer. Ten famous chefs worldwide worked with the Seoullo City Chef Association to create special bibimbap recipes just for 7017 Seoul Bibimbap. These recipes feature unique flavors and ingredients from different cultures. Diners can also order special seasonal bibimbap, which changes throughout the year.
The food at 7017 Seoul Bibimbap is made with fresh and healthy ingredients. The vegetables are locally sourced, and the meat is raised without antibiotics or hormones. The restaurant also uses sustainable practices, such as composting food waste. The restaurant has a relaxed atmosphere, and the staff is friendly and welcoming. The food is served in a traditional Korean style, on a hot stone bowl. If you're a fan of Korean food, then you'll definitely want to try 7017 Seoul Bibimbap. The food is delicious, the atmosphere is inviting, and the service is excellent.
Rose Bingsu
Rose Bingsu specializes in the popular Korean dessert bingsu. Bingsu is a shaved ice dessert made with milk, ice, and various toppings. Rose Bingsu's injeolmi and red bean bingsu is a wonderful blend of sweet and chewy flavors and textures. The injeolmi is a chewy rice cake made with glutinous rice, while the red bean is sweet and nutty. The bingsu is topped with a generous amount of shaved ice, milk, and a variety of toppings, such as red beans, injeolmi, fruit, and nuts. 
Rose Bingsu also offers other desserts, such as sweet potato pastries, red bean pastries, and light refreshments like coffee. The sweet potato pastries are made with sweet potato and azuki bean paste, while the red bean pastries are made with red bean paste. The pastries are both chewy and sweet. Rose Bingsu also offers coffee, tea, and other drinks.
Hydrangea Bread
Hydrangea Bread is a popular spot for both locals and foreign tourists. The shop sells Korean-style grilled sandwiches made with a variety of healthy ingredients. The sandwiches are grilled fresh on-site each day, and visitors can also purchase bread separately to take with them. The bread is made fresh each day and is available in various flavors, including whole wheat, sourdough, and rye. The bread is a great way to enjoy a healthy and delicious snack or meal.
Magnolia Cafe
Magnolia Cafe is a retro Korean dessert take-out cafe offering a variety of seasonal Korean treats. You must try their special Seoullo 7017 coffee, made with mixed grains or organic soft-serve ice cream. If you are craving something sweet, this is the best place to satisfy your desire!
Acorn Sweets
Acorn Sweets is a shop located on Seoullo 7017 that sells special Seoullo-themed snacks. The shop's most popular item is the 7017 Acorn Sweets, which are bite-sized buns shaped like acorns and filled with custard cream and nuts. The 7017 Acorn Sweets are the perfect portable snack. They are small, easy to eat, and very filling. The custard cream and nuts give the snacks a delicious flavor, and the acorn shape makes them a fun and unique treat.
Attractions around Seoullo 7017
Attractions around Seoullo 7017 include Namdaemun Market, Shinsegae Department Store, Lotte Outlets, and Lotte Mart.
Docking Seoul
Docking Seoul is a place where people can come to experience art, interact with each other, and explore a new universe. The space is a reminder of the importance of public spaces in cities, and it is a place where people can come together to create something new.
A parking ramp that has been unused for 20 years at Seoul Station in Jung-gu, Seoul, has been transformed into a new public art space called "Docking Seoul." The space is inspired by Seoul Station's role as a gateway for the city and the people who meet there. The entrance to Docking Seoul is located at the junction of the rooftop garden and parking lot on the fourth level of the Lotte Mart at Seoul Station and Seoullo 7017 (elevated walkway). Visitors descend into a spiral cement structure that depicts an enigmatic sense of space.
The art installations in Docking Seoul were created by various artists, along with interactive media and other displays by 72 residents and 20 Seoul Arts High School students. The space is free to visit and is open from 10 am to 10 pm.
Important Information about Seoullo 7017
Address: 405 Hangang-daero, Yongsan-gu, Seoul (서울특별시 용산구 한강대로 405 (동자동))
Directions: Walk out of Seoul Station, exit 2, and see the pedestrian walkway above. You can also find it at Hoehyeon Station, exit 5.
The park is open from 10 am to 10 pm, and admission is free. The park is wheelchair accessible, and there are several elevators and ramps throughout.
FAQs
How do you get to Seoullo 7017?
'Seoullo 7017 can be entered from various points, starting on Toegye-ro at Nomdaemun Market gate 5 (which is also Hoehyeon station, Exit 5). There is a dedicated information booth with maps at this entrance. The midpoint entrance is at Seoul Station, Exit 8. The overpass ends just after Cheongpa-ro. Other entrances include Mallidindong Square Entrance, Jungnim-dong Entrance, and Namdaemun Market Entrance.
How long is Seoullo 7017?
Seoullo 7017 is a 983-meter-long public park located in the heart of Seoul. It houses a magnificent variety of 50 plant families, showcased in 645 tree pots. All in all, there are about 24,000 plants over 9,661 square meters.
Wrapping up
Seoullo 7017 is a unique and innovative space that has transformed a former eyesore into a popular destination. It is a great place to relax, enjoy the outdoors, and learn about Seoul's history and culture. If you're visiting Seoul, be sure to add Seoullo 7017 to your list of must-visit places.
Related Posts
361 total views, 7 views today