A forest on Ttukseom that has been a hunting ground for the kings, military facility, horse racing fields, golf course, sports arena, and water treatment facility has gone through a number of transformations to become the present eco-friendly city park known as Seoul Forest (서울숲).
Opened to the public in 2005, the Seoul Forest consists of five parks and has four distinct areas: Culture & Art Park, Education Park, Eco-Forest, and Riverside Park. Spread over approximately 600 thousand square meters of land, next to the Hangang River. It is said that the Seoul Forest grows with people!
There are multiple attractions in the Seoul Forest, like Eco-Forest Park, Insect Garden, Butterfly Garden, Splash Fountain, Mirror Lake, and Lake Fountain. The forest offers multiple public spaces for a variety of cultural and leisure activities and has easy access from the center of the city by subway and buses.
Seoul Forest has free entry 24 hours round the year but has specific periods, days and timings for some attractions. Before visiting, be sure to check out the operating hours of these. It has parking facilities and restrooms.
How to reach Seoul Forest
It is easy to reach Seoul Forest by subway and city bus. From subway Bundang Line, Seoul Forest Station, Exit 2 and Subway Line 2, Ttukseom Station, Exit 8, it is 5 to 20 minutes by walk and multiple greens and blue bus routes are available to reach the Seoul Forest.
Things to Do in Seoul Forest
Eco Forest
The Eco Forest, also known as Deer Corral, is the animal park area of Seoul Forest, where wild animals live in harmony with nature. This natural habitat for wildlife is home to different species of deer, elk, chipmunks, mandarin ducks, mallards, spot-billed ducks and moorhens.
Below the overhead footbridge at Eco Forest, in spring, there are mesmerizing cherry blossom rows with flowers blooming brilliantly. This is a cherry blossom spot at the park. Visitors can enjoy feeding the deer at Deer Corral (Eco Forest) and can get the deer food from the vending machine that dispenses deer food.
Insect Garden
Insect Garden, also known as Experiential Learning Park or botanical garden, is the home to the natural ecosystem and is located inside a greenhouse with a variety of ferns and other vegetation surrounding the walking path. Visitors can meet insects and plants in this garden,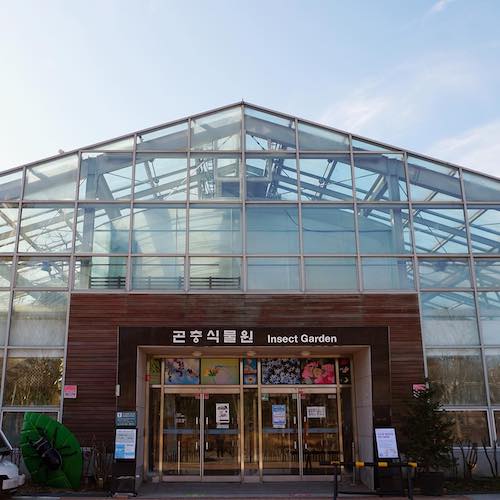 This educational area houses, in addition to the insect garden, a wildflower garden, a themed flower garden, and a space for events. A Butterfly Garden is also located on the 2nd floor of the Insect Garden.
Culture & Art Park
The Park, situated in the heart of Seoul Forest, has a visitor center, a waterside restaurant, a skating rink, an open theater, playgrounds, a water play area, an in-forest open space, and attractive flower beds.
Mirror Lake
Mirror Lake, with a walkway on one side and trees lining the other side and a small white fence, has water like smooth, transparent glass. It is located on the left side of Seoul Forest Plaza. The water reflects the scenic views of Eungbongsan Mountain, which is located opposite of Seoul Forest. It is a great place to take a stroll among trees in the beautiful scenery.
Lake Fountain
The Lake Fountain in the forest is the best place to enjoy the cool fountain, watch a fantastic fountain show and take a rest. The fish gathering around the bridge and crossing through the lake is pleasing to watch.
Marsh Plants Garden
Making use of the local reservoir's natural environment, the Wetlands Ecological Field contains a wetlands ecological management office, ecological playground, outdoor nature classroom, bird observatory, wetlands flower garden and botanical garden fed with local, clear waters.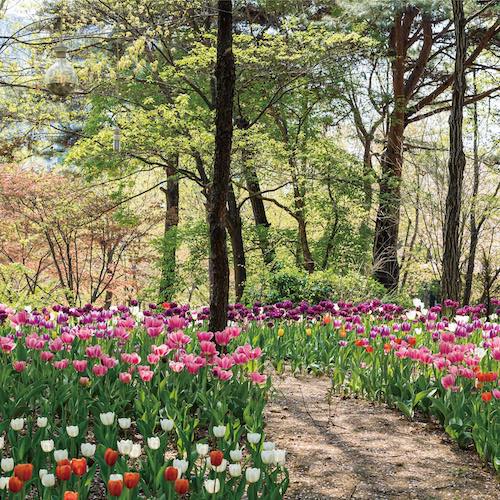 Trekking from Seoul Forest to Eungbongsan Mountain
Walking or running between Seoul Forest and Eungbongsan is extremely popular among trekkers for the adventurous during spring when nature is in full bloom across the whole mountainside. The route is to exit Seoul Forest (from entrance 9) and cross Yongbigyo Bridge to reach the wooden stairs up to Eungbongsan. 
Bicycle Tour at Seoul Forest
To see most of the interesting attractions at this big park, a bicycle tour is ideal. Bicycles are available for rent just outside the park's Entrance 5 to cruise around easily and to capture more things. One can even cycle to nearby Hangang Waterside Park to enjoy the scenic Han River and Eungbongsan Mountain.
11,237 total views, 9 views today