Busan is a city full of exciting sites and tour locations. Check out top 10 of the safe destinations for visitors to tour around the sprawling city safely as selected by the Busan Tourist Organization.
The world is prioritizing social distancing over socializing for a necessary reason, due to which a new style of traveling has emerged known as 'Untact Tourism.' To avoid further crisis and for the greater good, tourists and visitors are only traveling to destinations where they can isolate themselves from others and still enjoy the freedom of movement.
The measure of safety is determined by several factors such as quarantine management, hygiene, product development potential, and tourist attraction.
Andersen Fairy Tale Hill in Gijang-gun
First on the list is Andersen Fairy Tale Hill in Gijang-gun that resonates with the name given to it completely. It's a lovely hill with tall green trees and an artsy wooden fence trying to match Andersen's Fairy Tale aesthetics. The plan was to create a garden that will be designed in 18th-century Baroque style.
Following Andersen Fairy Tale Hill, we have Oryukdo Skywalk in Nam-gu. It is a group of scenic uninhabited islands in the Southern corner of Busan. Oryukdo Skywalk platform made of glass extends beyond a cliff, and you can view the beautiful tropical aqua-colored ocean. You can view the wave ocean as it meets the sky and few islands that protect the coast. Visit the site for free of cost, but a small parking fee is required if you come via a self-driven vehicle. You can also get there by Metro or Bus.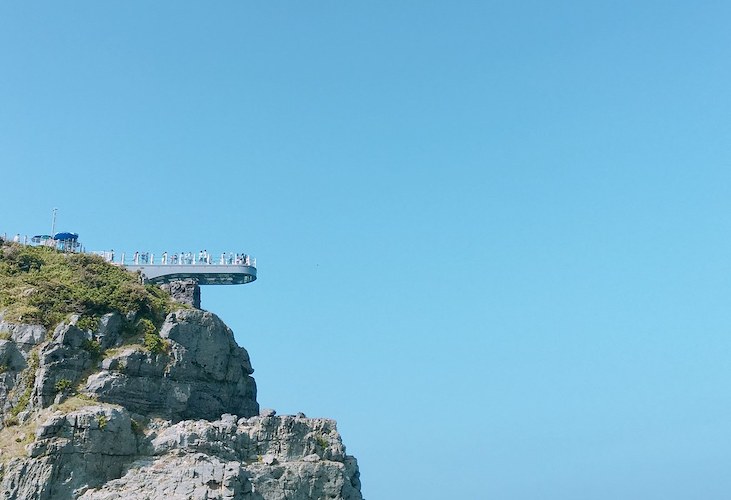 Dongnae-eupseong Fortress in Dongnae-gu
Your third option is this remarkable historical attraction. Dongnae-eupseong fortress is located in Dongnae-gu, in the metropolitan city of Busan in South Korea. During ancient times to protect the town from invaders and possible dangers, wall-fortresses were built in Korea. There is a lack of records on the fortress's construction timeline, leaving its roots to a mysterious end. However, it is believed that there were some borough-states after the Samhan period, and Chilsanguk, Jangsanguk, Geochilsanguk, and Dongnoguk are told to have been included among these. And therefore, it was concluded that walls were being built during that time.
The first mentioning of the Dongnae-eupseong appears in the historical records that were repaired in 1021, King Hyeonjong of Goryeo Dynasty's twelfth year. When the Japanese attacked Korea, their first target was Busanjinseong Fortress and Dongnaeeupseong Fortress. So, there is a lot to witness and to know from this scenery with safety measures.
Hocheon Village in Busanjin-gu
Next is Hocheon Village in Busanjin-gu. We're sure this village is not new to you if you are a regular K-drama viewer. Hocheon Village is where few scenes of "Fight for My Way" were shot. During old times, tigers used to frequent the mountain's slopes on its rough and irregular side. However, small households have replaced that. When viewed from afar, it looks like clusters with warm orange light illuminating the alleys. As shown in "Fight for my way K-drama," the night view of this place is the loveliest.
Eulsuk Island Dulle-gil in Saha-gu
Eulsukdo Island Dulle-gil in Saha-gu is not an island technically but more of a delta of river Nakdonggang. The island is located 7 km to the west of Busan City Hall, in the lower end of Nakdonggang River estuary. This land was once the largest seasonal bird migration site in Asia. Migratory birds like Bewick's swans, duck snipes, ducks, water birds, wild goose, etc. The Island exhibits perfect condition and environment for seasonal migratory birds with field reeds and water plants, ample availability of fish and shellfish upon which the birds feed themselves. The delta area is where fresh river water meets sea water and gives rise to plankton, fish, shellfish, and other aquatic treats for the birds.
In 1983, due to construction at the river's estuary, about half of the reed field on the island had submerged, reducing the amount of bird habitat. Then in July 1966, the Korean Government designated the island as Natural Monument #179. Even after the loss caused by the construction, Eulsukdo Island remains a paradise for hundreds and thousands of birds. Tourists come here from different parts of the world to the open space to witness the beauty of nature in one of the safe destinations of Busan.
Seongjigok Reservoir in Busanjin-gu
Mountain hikers treasure the Baegyangsan Mountain. Baegyangsan Mounatian encompasses Sasang-gu, Buk-gu, and Busangjin- gu. Trails in such mountains are well organized, not just for climbing but also for bike riding. Once you start hiking at Children's Grand Park, Busan, you then reach Seongjigok Reservoir. Seongjigok Reservoir is situated in the Busanjin-gu region of the mountain. Seongjigok Reservoir is a beautiful lake that appears to have been encircled by green mountains.
Dadaepo Beach in Saha-gu
You can visit the Dadaepo Beach and enjoy the intriguing wind pattern from dunes. Take a leisurely walk along the coastal trail around Morundae Peninsula. It's a place to enjoy some of the most beautiful sunsets in Busan in one of the safe destinations in the city.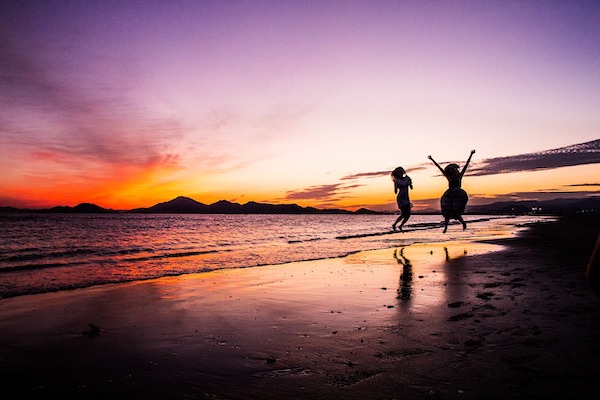 Gwangalli SUP ZONE in Suyeong-gu
Gwangalli Beach is one of the famous yet comparatively less crowded beaches in Busan, South Korea. Located west of Haeundae Beach at Gwangan 2-dong, Suyeong-gu, in the central part of Busan's Metropolitan City. The beach is 1.4-kilometer long and 25-110 meters wide. The local authority takes diligent care of the beach, and the beach often goes through a maintenance process. The authorities make sure the water is clean as pristine, garbage is kept away from the sand. This way, they attract tourists, especially during the pandemic situation when hygiene is the main priority. The theme streets have been pinned in artificial palm trees, benches, formative art objects, and green zone for pedestrians.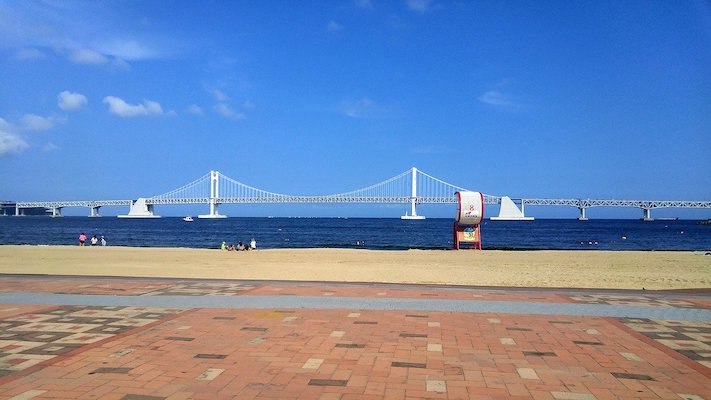 Songdo Yonggung Bridge in Seo-gu
The second last safe destinations from Busan on our list is Songdo Yonggung Bridge in Seo-gu. It is new to the family as the final restoration project at Songdo Beach. The 127.1 meters long and 2-meter-wide bridge now connects Amnam Park to Dongseom Island. Visitors have the liberty to walk, pause and enjoy the view in the middle of the wide bridge. The sedimentary rock formation around the cliff encircles around the observatory at Dongseom Island. The local norm surrounding the bridge is that it brings luck to each visitor, and lovely night views when the bridge lights up golden, is a bonus to all the present profits.
Songjeong Beach in Haeundae-gu
The last on the list is this very clean and sanitary beach right away from Haeundae Beach, following Dalmaji street, is where you will find Songjeong Beach. This beach is known to be ideal for spending time with friends and family. The location is absolutely Instagrammeable; white sand formed due to the mixture of debris from the river is suitable for a perfect picture post. There is a Jukdo at the entrance where you can relax. There you can enjoy motor boating and cruise trip during summer. Visitors and tourists spend their time fishing and cooking at the northeast end of the beach, as it is quite peaceful compared to most beaches.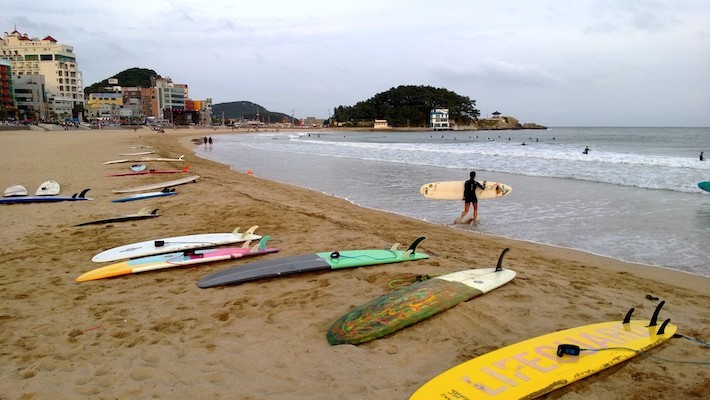 We have come to an era where reconnecting with nature is not just necessary but also compulsory. As the recent pandemic has taught us series of new normals, changing our itinerary to safe, organized, and astonishing open places will be the perfect way to enjoy your vacations.
8,381 total views, 1 views today