If you think Mukbang has taken the world on a grand Korean cuisine tour, you are not entirely correct. The influence on Korean food did not start with Mukbangs. There is something exotically appetizing about K-drama food dishes, which we are pretty sure might have caught your attention. The inviting food shots in between all that drama leaves us with few mouth-watering moments. Korean movies, dramas, and plays have always circled around food, family, relationships, and memory. Out of all these, food is the prominent one that stays in our memory. With Korean culture in the limelight, Korean snacks, drinks, and all possible food items are just so inviting and fulfilling to the eyes. Getting the bliss of enjoying such food items would be a dream come true!
Corn Dog
If you watch K-drama, you must be acquainted with these particular snacks. In the 2020 K-drama, Start-Up, the grandmother, Choi Won-deok (Kim Hae-sook) of the leading lady, Seo Dal-mi (aka Bae Suzy), runs the business of selling corn dogs. This popular Korean street food became a vital part of the K-drama. It is where she meets the second lead of this drama, Han Ji-Pyeong (Kim Seon-ho), which will later leads up to a series of interesting and twisted events.
Corn Dog is a deep-fried golden battered hotdog found on the Korean streets. It is a sweet and savory combination of the crispy layer batter and stretchy cheese pull mozzarella on a stick dusted with sugar sprinkles. Korean corn dogs are unlike ordinary American corn dog that is battered in cornmeal with hot dogs inside. Instead, Korean corn dogs are battered in yeasted dough or rice flour batter, sprinkled with sugar, and have mozzarella cheese, fish cake, or rice cake inside the batter.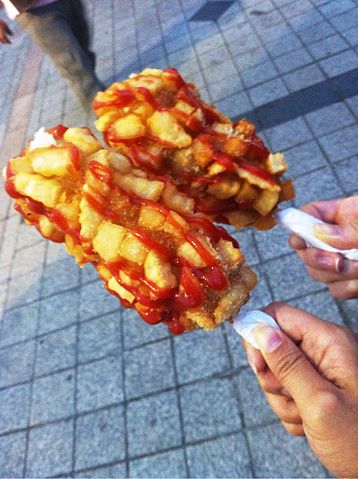 We are pretty sure that you must have craved for any possible noddle available to you if you have seen Korean ramen on the screen in your favorite K-drama or movies. It is not even difficult to list out Korean drama and moveis where you can see characters enjoying this Korean food, ramen noodles, as there are so many of them! 
Ramen is also known as Korean comfort food, and it's not just a trend. Ramen is easy to make, fulfilling, and one of the tastiest food you will ever have. Korean ramen is different from Japanese ramen.
Egg Drop Sandwich
Egg drop sandwiches may look like some fancy, critically, and strenuously made sandwich. However, it is one of the easiest snacks to made and also a favorite grab-and-go item for most of the characters in real life and K-dramas.
In 18 Again, a heart-warming K-drama, the young self of Hong Dae-young, gave his daughter Hing Shi-ah and her friends this snack as he knows it is his daughter's favorite. Beautifully fabricated, this Instagram-worthy sandwich comes with soft, fluffy scrambled eggs, ham, buttered toast, cheese, and drizzled with sweet mayo sauce for slight sweetness in the mix. This delicious, calorific, and perfectly proportioned sandwich is great for cheat day's breakfast and late evening snacks. It is becoming even more popular because of the "EGG DROP" outlet in Seoul.
Bungeoppang
Bungeoppang is a Korean name for Japanese teriyaki. You will find this fish-shaped pastry popularly in Korea during the winter season. If you know any Korean citizen, this snack must be their favorite to-go snack. It was traditionally cooked in a mold which is similar to the waffle iron we use today. Earlier it was only available with some sweetened red bean paste, but as the days pass by, choices have also increased, and variety has tagged along in the same dish. Sometimes you can find custard filling. If you are not accustomed to Korean-style sweets (i.e., red bean paste), you can go for chocolate, Nutella, peanut butter, almond butter, etc., as a filling option.
There's also an ice cream sandwich version of the same snack by a popular diary company of South Korea. They are cooked in a fish-shaped electric or induction cooktop for the perfect shape.
You must be knowing about this Korean food already if you are a local, but this snack has gained attention from the viewers globally thanks to the blockbuster tvN and Netflix drama series, Vincenzo. Hong Cha-young and Vincenzo Cassano, the lead duo in the series, were often found devouring this snack, which turned out to be having a special connection with Vincenzo's childhood. 
Chapaguri a.k.a Ram-Don
Parasite has made Chapaguri a very significant and desirable dish. This is one of the most controversial dishes in the Korean entertainment industry. The name Chapaguri has come from Chapagehtti and Neoguri. Both are different kinds of noodles from Korean manufacturer Nongshim. This dish reflects an underlying meaning of contrast between two socio-economic classes. It was not named Ram-don initially, but it was invented for the film by subtitle translator Darcy Paquet. He combined instant "Ramen" and "Udon" and called the Korean dish Jjapaguri – Ram-don.
The dish is a mix of Chapagetti, Chinese-inspired Jajang ramen noodles- representing the less privileged ones who can easily afford instant noodles without much superfluous want and Neoguri, which is Japanese-style Udon immersed in a spicy, Korean seafood broth. In the movie Parasite, they symbolize the two extreme ends of society as they fight the "class-war-in-a-bowl."
7,310 total views, 3 views today