Euljiro is the region around the route connecting Seoul City Hall to Dongdaemun History & Culture Park. An upcoming hip area amongst the local crowd, Euljiro is one place that you must check out in your trip to Seoul.
While Myeong-dong to the west and Dongdaemun to the east are well-known retail and sightseeing districts, the area between Euljiro 3-ga and Euljiro 5-ga has long been occupied by tile, lighting, metal, and printing firms. One of the most distinguishing features of this region is the presence of long-standing businesses that have been here for 30 to 40 years. 
Euljiro began to shift substantially in 2015. Since then, it has seen a boom in cafes, restaurants, and other businesses, attracting masses of young folks.
With its hipster bars and timeworn attractions, it transports you to the industrial '70s. In recent years, the region has become so popular with young people that it has earned the nickname "Hipjiro" (a combination of the words hip and Euljiro).
Let's look at some popular places in Euljiro:
Eulji Myun Oak
For the past 30 years, Eulji Myun Oak has been providing Naengmyeon or cold noodles. They employ a very well-preserved Pyeongyang dish – North Korean cuisine. This sort of cold noodles has long been a local favorite, but it's become even more popular in light of recent events. 
Enjoy the local classic: rich beef broth, chewy noodles, mouthwatering braised beef, and a tablespoon of sharp mustard and spicy vinegar to balance the flavors.
The interior of this café is designed with old cabinets inlaid with mother-of-pearl, vintage record players, and antiques, giving it a unique retro style, similar to its name Hanyakbang, which refers to an old-fashioned pharmacy dealing with medicinal herbs. 
Coffee Hanyakbang, in particular, is popular with both residents and visitors. This coffee shop specializes in pour-over coffee.
GwangJang Market
As one of Korea's largest traditional markets, GwangJang Market has been a part of Seoul's history for more than a century. Their food stalls and marketplaces have been feeding local Koreans for a century – there must be a reason why they keep returning for more.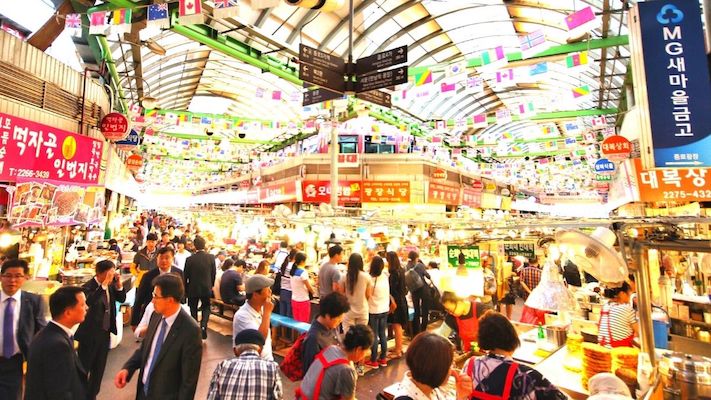 Of course, as one of the largest traditional markets, anything and everything is available. There are old arcades, thrift boutiques, and, of course, some delicious Korean street food booths. You must try some bindaetteok (Korean mung bean pancakes) and soondae (Korean blood sausage).
In 2019, the term "newtro," a combination of the words "new" and "retro," became somewhat of a craze in Seoul. This next location, Jan, a cafe and bar, embodies the essence of newtro. It's difficult to find due to its hidden nature and tiny signboard. Despite this, the cafe/bar has gained popularity among young locals through word-of-mouth. 
Jan can be found on the third story of an old building. Jan literally translates to "cup" in Korean, and visitors are asked to select their preferred vintage cup from the cabinet before purchasing a drink.
Nogari Alley
Nogari Alley, a backstreet full with happy people, is located near the number four exit of Euljiro 3-ga station, in a neighborhood of printing companies and paper mills. The unexpected sight of this alley packed with laughing and libations can surprise anyone who sees it for the first time. 
On favorable nights, tables and chairs are taken out onto the street, and by 07:00 PM, the entire alley gets so busy that it becomes difficult to find a seat. The street is lined with establishments that serve beer.
You can also see this alley in the Coldplay's Higher Power Music Video. Read more to check out other Higher Power Filming Locations in Seoul.
Sewoon Plaza
Sewoon Plaza was formerly a prominent electronics department store and is Korea's first mixed-use commercial complex. There are several businesses within the stucture including, Sewoon Electronics Department Store, Cheonggye Arcade, Daerim Arcade, Dasisewoon Plaza, and others. 
The structure is well-known for being the setting for the Korean dramas "Vincenzo (2021)" and "Guardian: The Lonely and Great God (2016)." Cafés, bookstores, and restaurants are very popular on social media at Cheonggye Arcade and Daerim Arcade. 
Visitors to Geumjiokyeop can find posters, booklets, and merchandise from popular vintage films. Horangyi is a recommended coffee cafe with a vintage ambiance.
Manseon hof
Manseon hof is located on possibly the hottest street in Euljiro, the Nogari Alley (mentioned above). It is full of individuals who have just gotten off work. This one-menu eatery sells crunchy dried Pollack, a must-try food when combined with a cold beer. It's also a popular hangout for many Korean celebs. 
This is one of the most Instagrammable spots in Euljiro, so it's easy to find at night. If you're hungry late at night, stop by this busy street for a late-night snack and a beverage to cap off your long day!
Beer Duckhu x The Ranch Brewing
This is a café with graffiti on the wall and a vending machine instead of a door. It is situated in a narrow alley of rustic yet stylish Euljiro. Beer Duckhu x The Ranch Brewing is the name of this one-of-a-kind spot. This fashionable local hangout serves Detroit-style rectangular pizzas and a large variety of locally made beers.
Patrons, mostly young locals, queue to sample a 3-star Michelin-starred chef's pizza and The Ranch Brewing's house-brewed beers in this Euljiro hotspot.
Cheonggyecheon River
This man-made creek runs through several of Seoul's important locations, including Dongdaemun, Gwangjang Market, City Hall, and Euljiro. The possibilities for activities near the creek are limitless. Here are just a few: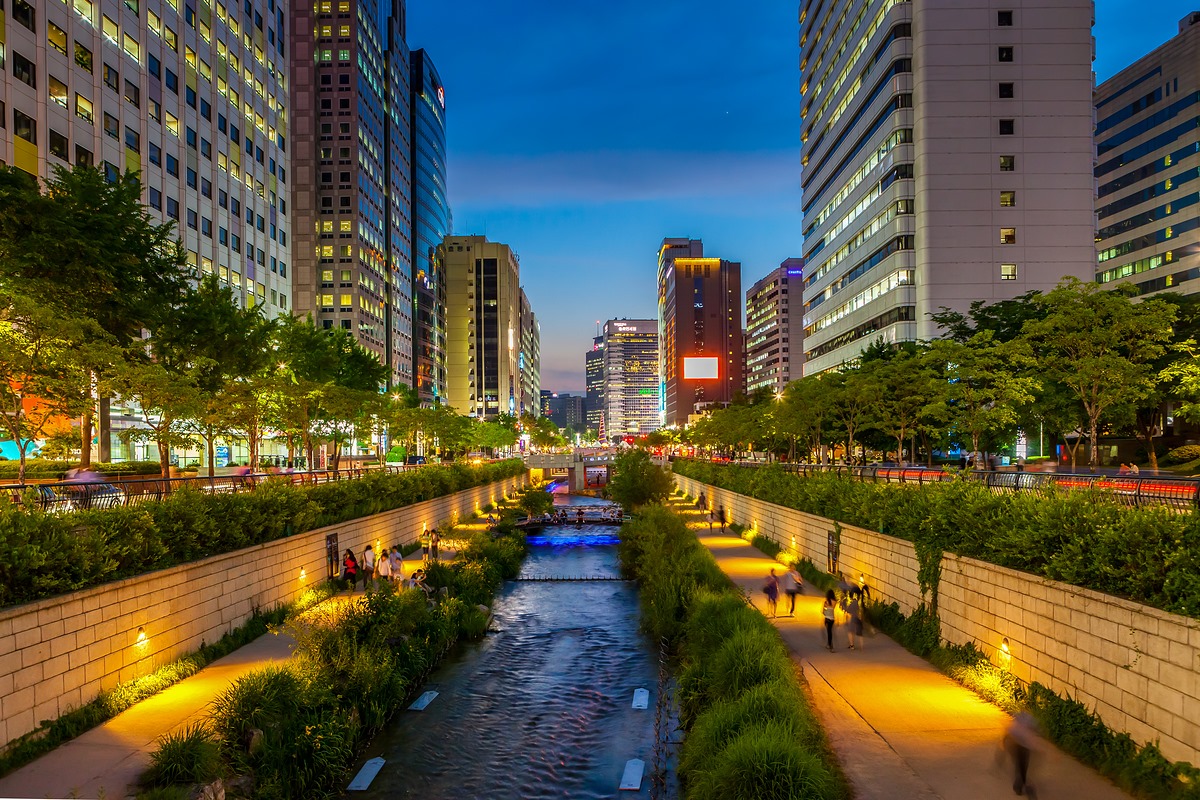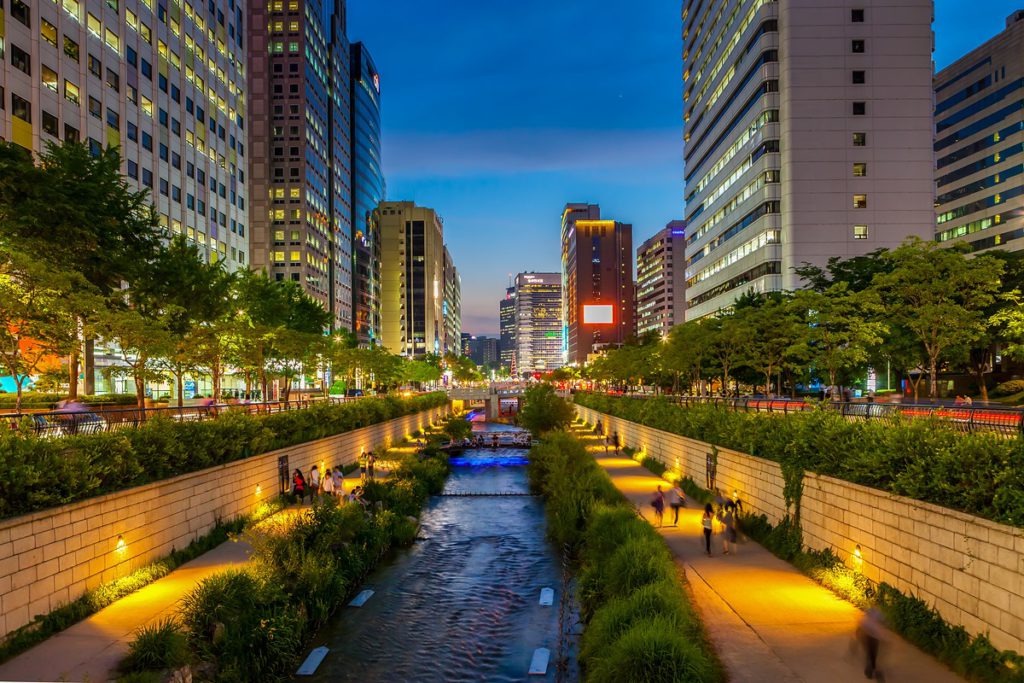 Seoul's major seasonal festivals and celebrations are also staged here. One of these is the Seoul Night Market, which is open from late spring until early autumn. Many people come to Cheonggyecheon for a quiet walk on weekdays, both day and night.
Youngpoong Books, one of Korea's largest stationery and book stores, is located near Exits 5 and 6 of Jonggake Station. When visiting Cheonggyecheon, many people come here to buy souvenirs.
Jonggak Station, located adjacent to Cheonggyecheon, has an underground street. Although it is not as extensive as other famous underground shopping alleys, it is pretty interesting because it is in the heart of Seoul.
8,951 total views, 1 views today