Explore the influence of K-Pop, K-Dramas, and Korean celebrities on plastic surgery trends in Korea. Discover how these cultural phenomena shape societal beauty norms.
In recent years, Korean music and dramas have gained significant global popularity. Endowed with striking talent and long-lasting allure, Korean celebrities have considerably shaped beauty norms, dramatically increasing plastic surgery among their fans. In this blog post, we will delve deeper and analyze how K-Pop and K-Dramas portray Korean celebrities, their formidable fan base, and the way that they have spurred a trend in plastic surgery in Korea.
The Rise of Korean Celebrities, K-Pop and K-Dramas
Korean celebrities, such as K-Pop groups BTS, Blackpink, and EXO, as well as popular K-Dramas like "Crash Landing on You" and "Itaewon Class," have gained a massive global following. They have captivated millions of fans on social media with their magnetic performances and attractive appearances, who closely monitor their activities. Fans often look up to Korean celebrities for their fashion choices and behavior. Both fans and the media closely scrutinize their physical appearance. To retain their youthful appearance, many Korean celebrities undergo plastic surgery.
JooE from the girl group MOMOLAND openly discussed her nose job during an episode of JTBC's Knowing Bros in 2018:
The Influence of Korean Celebrities on Plastic Surgery Trends
 Korean superstars, such as BTS, Blackpink and EXO, and the immensely popular K-Dramas, "Crash Landing on You" and "Itaewon Class," have gained a worldwide following. With millions of enthusiasts on social media admirers and captivated by their performance, charisma and appearance, these Korean stars have caught the attention of everyone. Everyone, from fans to the media, watches with interest as these stars maintain their youthful appearances, often resorting to surgery to keep up with the latest trends and behavior. Many people look to these celebrities for fashion inspiration and set them as an example of an ideal lifestyle.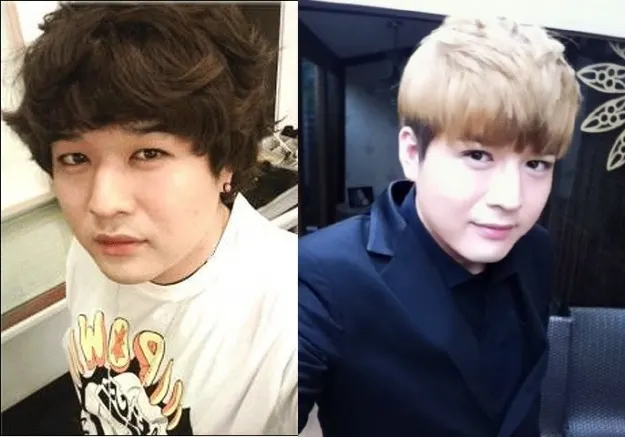 The increasing popularity of plastic surgery in Korea has been heavily spurred by the K-Pop industry's overwhelming emphasis on a perfect, flawless appearance. K-Pop group members are often bound by contracts that dictate they must keep their looks under strict regulation. Some agencies even go as far as to actively promote cosmetic operations to their artists. This trend reflects society's drive to reach a heightened sense of beauty, as K-Pop embodies desirability in South Korea. Here are some reasons why Korean celebrities have such an influence on plastic surgery trends:
Idealized Beauty Standards
The media and the internet often portray Korean celebrities as the ideal standard of beauty due to their symmetrical features, flawless skin, and slender figures. This can create societal pressure for fans to strive for a similar appearance. Fans might develop a strong desire to resemble their favorite celebrities, pushing them towards undergoing plastic surgery to achieve comparable outcomes. The interplay between complex, intricate thoughts and simpler, concise expressions can help illustrate this phenomenon more clearly.
Celebrity Endorsements and Inspirations
Korean celebrities are not only throwing their star-power at their fans in terms of looks, but they are also sharing their plastic surgery stories, which are gaining much traction to further propel the idea of offering self-improvement through the enhancement of personal appearance. Thus, these influencers suggest that the outcome of receiving a certain procedure at a certain clinic could be an accessible and attractive path to take for those looking to improve themselves.
Impact of Social Media and Online Communities
Social media has played a decisive role, as followers of K-Pop and K-Dramas have a platform where they can openly discuss their surgery experiences, offer support, and even discuss any possibilities of cosmetic enhancements. All of these factors cause a domino effect, where their fans seek the same outcome of the surgery they witnessed, and therefore it has impacted and shifted the trends in plastic surgery.
Pressure and Peer Influence
Korean celebrities have been credited with a tremendous influence on the growing trend of plastic surgery procedures. It is creating unreachable beauty standards, which can cause immense pressure amongst their fans. Not only that, but the need to conform to a pre-existing ideal of beauty often impels fans of celebrities to go as far as undergoing plastic surgery in order to fit into their social groups and be accepted by them. This external and internal pressure makes it easier to consider plastic surgery as a form of achieving one's beauty goals. It is a concept that, over time, has become the norm and is widely acceptable.
Surge in Medical Tourism
Korean celebrities, renowned for their beauty and appeal, have had an immense impact on plastic surgery trends all around the globe as well as in Korea. This has led to increasing numbers of medical tourists traveling to Korea to undergo cosmetic treatments due to the high regard for Korean plastic surgeons. The allure of Korean celebrities, combined with the exemplary reputation of Korean plastic surgeons, has made Korea a top destination for those looking to enhance their physical appearance through surgery.
The Responsibility of Celebrities and the Media
Society often turns to Korean celebrities to determine beauty standards, but it is essential to acknowledge that the responsibility of these influential figures is to also promote healthy body image and self-acceptance. Luckily, many celebrities actively counter unrealistic beauty ideals by embracing uniqueness and promoting self-love. Celebrities can considerably impact creating a more inclusive culture by rejoicing in diverse beauty and empowering fans to prioritize mental health and well-being over appearance. 
The ideal way to display many beauty standards is to demonstrate a broad range of body types, ethnicities, and appearances. This will challenge the notion that there is only one perfect beauty standard, making way for a more accepting attitude in the media.
Wrapping Up
South Korea is known for its rampant plastic surgery culture, which has been largely propelled by its popular celebrities. As people strive to emulate the looks of their favorite stars, there has been an exponential increase in cosmetic procedures among the population. While it is essential to highlight the importance of responsible plastic surgery, it is vital to promote the concept of diverse beauty standards by celebrities and the media. It is important to remind individuals that self-acceptance and uniqueness are inherently valuable, more so than conforming to an unattainable ideal. Ultimately, prioritizing one's beauty should be considered the ideal rather than conforming to a plastic surgery-obsessed culture.
Related Posts
1,009 total views, 7 views today