Ice fishing is one of the most popular winter activities in South Korea, and the Hwacheon Sancheoneo Ice Festival is a must on your things to do in Korea!
Festivals in South Korea
South Korea is a land of festivals that are not just for fun and entertainment. These festivals are a great way to experience the culture of Korea. Throughout the year, several festivals are ongoing in different parts of the country. Check out our post on the popular festivals of South Korea.
Hwacheon Sancheoneo Ice Festival (얼음나라 화천산천어축제)
As the Hwacheoncheon Stream in Hwacheon-gun, Gangwon-do freezes in winters, and it becomes the best place to enjoy winter in Korea! Locals and tourists come to the stream and enjoy ice fishing. They cut out a hole in the ice and fish for sancheoneo (Masou salmon), a type of trout only found in freshwaters of high quality. Along with all this, there are many other fun activities in snow and ice that have made Hwacheon Sancheoneo Ice Festival the ultimate winter festival destination!
CNN has even classified it as one of the "7 wonders of winter"!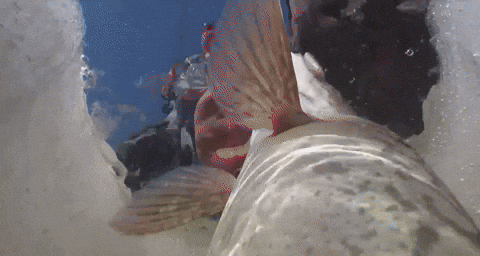 Hwacheon Sancheoneo Ice Festival started in 2003, and since then, it has been celebrated every year when the Hwacheoncheon Stream gets covered with a thick layer of ice.
Each year, the three-week-long ice fishing festival attracts about 1.5 million visitors, including locals and tourists. Being just 1.5 hours away from Seoul, it is the perfect option for a day trip in winter! And the best part, it is a family-friendly event that everyone can enjoy!
Sancheoneo Fishing
Hwacheon in Gangwon-do is well known for its clear water stream, Hwacheoncheon Stream, and the local trout, Sancheoneo. And, they are certainly the biggest draw at the ice fishing festival.
There are three ways people enjoy Sancheoneo fishing – ice fishing on the frozen stream, bare-hand fishing, and lure fishing in flowing water.
The festival's main event, the ice fishing, is only possible when the stream gets frozen to at least 2 meters thick. You can still see the bottom of the stream as the water is exceptionally clear.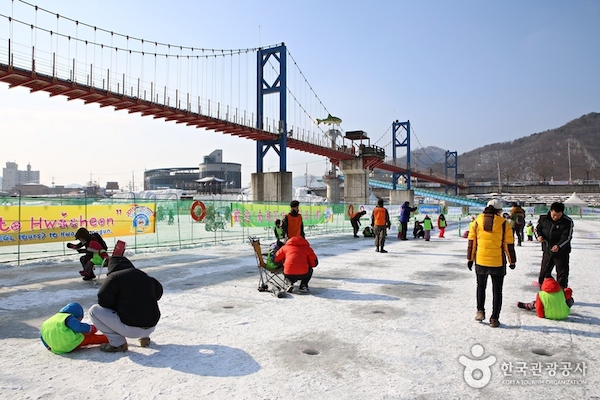 There is a special visitor zone also for international visitors that increase their chances of catching fish. In this zone, you can fish up to 3 sancheoneo per person, and you get the gear after registration.
Bare-hand fishing is one of the most fun activities you can get into at the festival. You just jump right in the pool with the fish, and you have to catch the trout with your hands! After registration, you get a pair of t-shirt and shorts to change into, and you can dive in!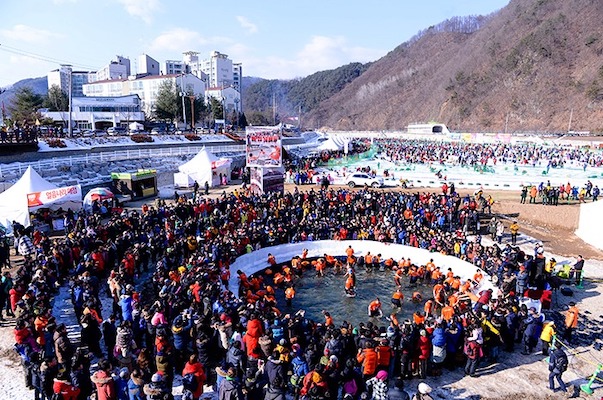 Fun Snow and Ice Activities
Ice and snow activities are just as much a part of the Hwacheon Sancheoneo Ice Festival as ice fishing. You can enjoy thrilling sled rides down the slopes. Sports enthusiasts will find several activities to enjoy, including bobsleigh, ice soccer, and more!
There's even a biplane set up if you are up for zooming over the frozen stream!
Other Exciting Events at the Hwacheon Sancheoneo Ice Festival
You can feel the excitement of the Hwacheon Sancheoneo Ice Festival all across the little town of Hwacheon.
You can find sancheoneo-shaped lanterns and displays of LED light at the Lantern Street Festival.
At the Hwacheoneo Cinema, you will come across large ice sculptures making it the world's largest indoor ice sculpture plaza.
Along with all this, visitors can enjoy traditional Korean folk games and click photos at the photo zone as a keepsake.
And after having all that fun, you can enjoy the fresh fish dishes in any of the several restaurants throughout the festival grounds and the city. They serve raw and fried fish, tteokbokki, fish cakes, and other savory fritters.
More Info about Hwacheon Sancheoneo Ice Festival
Period: Three weeks (generally end of January to mid-February) – It is canceled for the second straight year in 2022
Address: 137, Sancheoneo-gil, Hwacheon-gun, Gangwon-do
Location: Areas around Hwacheoncheon Stream & Hwacheon-gun
Website: https://www.narafestival.com/ice_eng/
Read more about other festivals in South Korea from KoreaTravelPost:
Love it? Pin it!