Celebrate Korean fashion and immerse yourself in the beauty of traditional Korean attire at the 2023 Hanbok Culture Week: "A Good Day to Wear Hanbok!"
The Korea Craft & Design Foundation presents the immersive and unforgettable 2023 Hanbok Culture Week under the theme "A Good Day to Wear Hanbok!". This Korean Hanbok festival showcases a mesmerizing blend of traditional and modern styles in various events.
Experience the Vibrant Tradition of Hanbok at the 2023 Hanbok Culture Week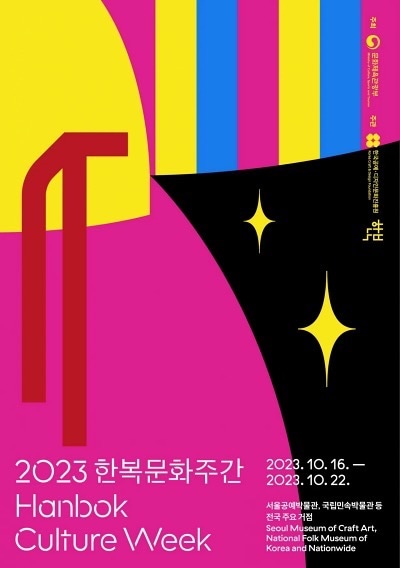 The Korea Craft & Design Foundation (KCDF) is a public organization affiliated with the Korean Ministry of Sports, Culture, and Tourism. This year, they are holding the sixth edition of the annual Hanbok Culture Week on October 16 – 22, 2023.
Held every third week of October, this annual event promotes the rich culture of traditional Korean attire for everyday wear. Moreover, this event features exhibitions, immersive experiences, fashion shows, discounts, and other engaging programs.
Read also: The Ultimate Guide to Hanbok: South Korea's Traditional Dress
Delve Into the Rich History of Hanbok and Unleash Creativity at the National Folk Museum of Korea (NFMK)
The National Folk Museum of Korea presents an exhibition of Hanbok, the iconic Korean traditional dress. It is the highlight of the Hanbok Culture Week festival. Starting on October 16, visitors can explore the museum and learn about Hanbok's evolution from the late 19th to the early 20th centuries.
They can experience the timeless elegance of this traditional Korean attire. Each showcased garment embodies Korean culture's essence. Visitors can also borrow and wear Hanbok for free at the museum, experiencing the richness of this traditional dress firsthand.
In addition to the hanbok exhibition, the museum offers engaging events, such as Hanbok wearing, quizzes, flower shoe crafting, Korean games, and more exciting experiences. Visitors of all ages can participate, learn, and enjoy these interactive activities.
Address: 37 Samcheong-ro, Jongno-gu, Seoul, South Korea
Read also: Ultimate Guide to Hanbok Rentals in Seoul
Discover Hanbok Culture through Dance, Art, and Crafts at the Seoul Museum of Craft Art (SeMoCa)
Besides the programs at the National Folk Museum of Korea, the Seoul Museum of Craft Art offers additional experiences during the Hanbok Culture Week festival.
At The Seoul Museum of Craft Art, a hanbok shop is available at special prices to delight fashion enthusiasts. Moreover, they offer exciting activities such as the Life4cuts in Hanbok. This activity allows people to dress up in Hanbok and take a four-image photo strip in photo booths. Additionally, you can create hanbok postcards and traditional mask key rings, adding a personal touch to these cultural treasures.
Address: 4 Yulgok-ro 3-gil, Jongno-gu, Seoul, South Korea
On October 20, the SeMoCA courtyard will host the 2023 Hanbok Culture Week ceremony. During this commemorative occasion, six individuals will be honored for their contributions to Hanbok culture and industry development. The Minister of Culture, Sports, and Tourism will present these commendations.
Exciting highlights of the event include a captivating Hanbok fashion show. The show is centered around the theme of "The Butterfly Dream." Additionally, there will be a mesmerizing performance by the renowned traditional Korean gugak singer, Song So Hee.
Activities and Delights Await at Iconic Locations Across the City
There are more iconic locations throughout Jongno-gu, Seoul, to visit during Hanbok Culture Week, like Cheongjin Park, Naminsa Madang Stage, and Jongmyo Square Park.At these venues, you can enjoy dance performances and mini-concerts.
In addition, visit the presidential garden, Nokjiwon, at the former presidential headquarters, Cheong Wa Dae. Experience a delightful cultural journey with various traditional hanboks on display and the opportunity to try them on. This experience celebrates the beautiful harmony between culture and nature.
Seize the Opportunity and Enjoy Exclusive Discounts
During the Hanbok Culture Week, customers wearing Hanbok will receive a special treat of exclusive discounts. This opportunity allows you to not only experience the beauty of Hanbok but also enjoy remarkable savings. Participating locations include hanbok studios, museums, cafes, and retailers. Don't miss out on this chance!
Hanbok culture events are also taking place in cities like North Gyeongsang Province and Busan Metropolitan City. These events feature Hanbok shops, traditional music performances, coming-of-age ceremonies, fashion shows, and exhibitions. Please visit the Korea Craft & Design Foundation (KCFD) official website for more information.
Related Posts
397 total views, 7 views today