Although Summers in South Korea can be fervid, it is always exciting to visit places that can cool you down. As the temperature is going to rise gradually, it will feel like there is no escape. However, to everybody's surprise, there are cool, magnificent places within close proximity of the main city center of Busan, where you will find summer relief. Busan has many mountains, which inevitably gives rise to many forest valleys and streams surrounding it. Jangsan Mountain Valley, Daecheoncheon Valley, and Beomeosa Temple Valley are some great valleys to run away from when the summer gets too balmy. Perfect spots for cooling down in Summer. 
Here are some valleys in Busan for vacation during sweltering heat of summer. Perfect for when you feel like breaking away from your monotonous schedule.
Jangsan Mountain Valley
Haeundae in Busan is popular for its impeccable valleys and mountains that are perfect for a cool down. The beauty elevates to another level with the ocean right next to it. The Jangsan mountain is quite near the station, only fifteen minutes of walk from the station, near Daecheon Park. The cool breeze travels all along the valleys, through the luscious forests, creating a soothing environment for the park visitors. Jangsang Mountain, also known as the "Tower of Nature," you can have an aerial view of Haeundae Marine City and Gwangandaegyo Bridge. The valley begins with a sports park at the entrance of the hiking course and reaches up to Seoktaeam Temple. The mountain offers a wide range of hiking trails.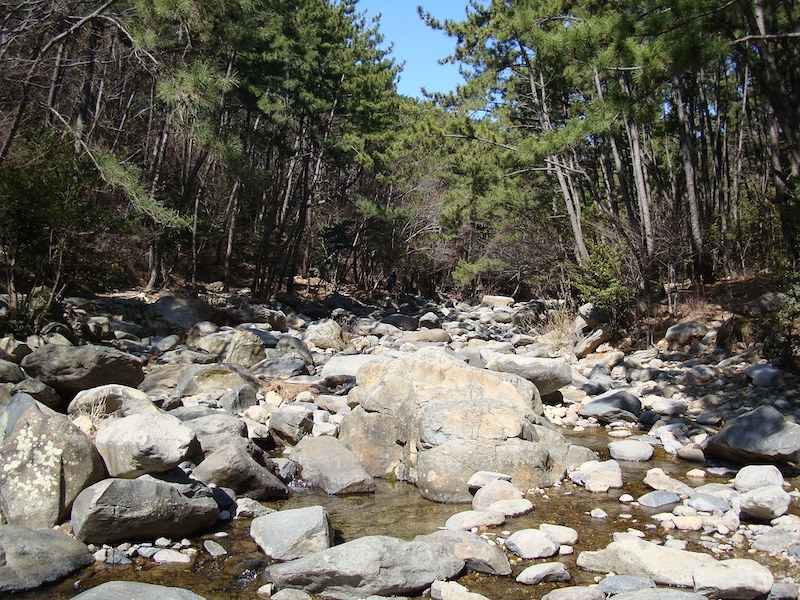 The roadmap to your travel journey should begin from Daecheon Park (most people start from there). It is preferred to hike slowly, taking in the freshness of nature offered by the forest park. Shortly, you will come across a temple called "Pokposa Temple" after a stroll inside Daeungjeon Hall begins the uphill part. You will then reach the Yangun Falls, with unpigmented white waterfalls and a misty blue pond beneath. After crossing the Sinseongyo Bridge, you will see the downtown of Haeundae in the distance. Neodul Zone is the perfect spot for pictures as the rocks are lying down right at the foot of the mountain. It is a great picnic spot for a family. As children play around in nature, adults will sit and chat on laid mats. 
Lastly, Jangsan Mountain is popular for its well-preserved forest and crystalline water. 
Beomeosa Temple Valley
Built by great master Uisang, the Beomeosa is a head temple of the Jogye Order of Korean Buddhism in Geumjeong, Busan, South Korea. The temple is situated at the edge of Geumjeongsan Mountain, located north of Busan. The Buddhist temple has fascinating stories and history. Built during the Silla Dynasty, the temple has played a pivotal role in the Korean Buddhist community.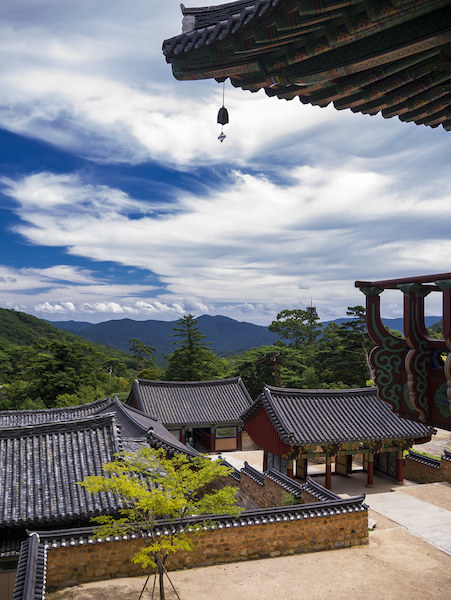 The striving verdure of the surroundings makes its perfect land for peace earning. When life gets too busy and stress takes over, a break to Beomeosa Temple can be awarding in its true sense. Beomeosa Temple is a perfect place for meditation; people come here to clear their minds. The temple located in the valley makes it a more suitable environment to attain Nirvana. Tourists come here to learn about Buddhist culture and tradition and also come here to enjoy the shaded waters neighboring the temple grounds each summer. Both Mt. Geumjeongsan and Beomeosa Temple are extraordinary sites. You get a two-in-one experience at one outing. 
The stream has a depth of about ankle-to-knee length, and you can dip your feet in the valley's cool and clear water to relieve your aches and pain.
Daecheoncheon Stream
Daecheonheon Stream is the perfect place to cool down during summer heat. The stream's mouth opens at Geumjeongsan Fortress Mountain. The stream wind blows through the rocky terrain towards Hwamyeong-dong. From the valleys in Busan, the cool water flows through Hwamyeong-dong and eventually pours down into the Nakdonggang River. Aegiso Pool, nestled among the pine forest-lined valleys of Busan, is formed by several convergent valley waters.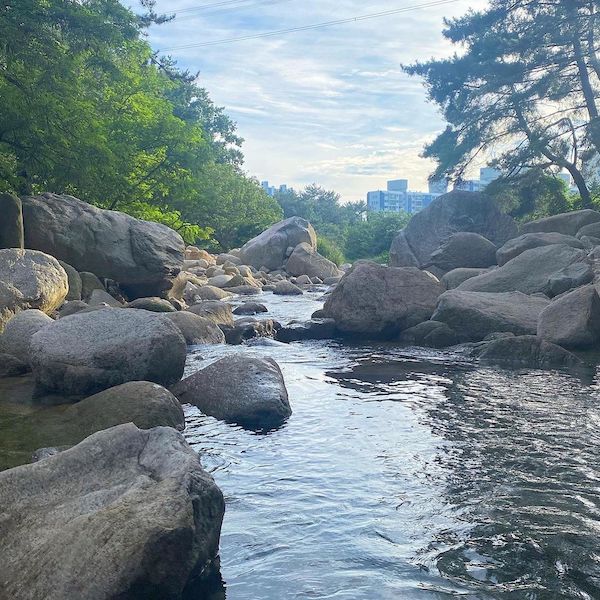 ELately, the stream overflows during monsoon; however, it is a cool and pleasant place to be during the summer season. ven during summer, it is quite deep and wide, and adults can swim in this water and enjoy a good time with family. Loon you will reach Hwamyeong Arboretum, where you will witness a botanical garden, tropical plants, and a zoo. 
Don't forget to check out these other South Korea travel posts:
8,126 total views, 7 views today