Summers in Korea can become extremely excruciating. With the temperature rise, there is barely any relief that we can seek, apart from a cup of mouth-watering frozen delights – Ice Cream. Moreover, during summer, anything cold and freezing can fulfill our mood and appetite, be it Ice cream, snowflakes, cold drinks, etc. But where to find all this in one place. Cafe Bora (카페 보라) can be your final destination in your hunt for Ice Cream in Korea town.
Where is Cafe Bora in Seoul?
This cafe is hidden in the Hanok corner, among the clusters of Bukchon. Cafe Bora is a small and quaint cafe specialized in purple sweetness. It is also known as the house of purple in Seoul. This café is located at Samcheong-dong, a hilly site which is in between an extremely famous neighborhoods namely, Insadong and Bukchon Hanok Village. Bukchon Hanok Village is famous for retaining the traditional and cultural aspects of its land. Samcheong-dong is itself a neighborhood that consists of many unique small art galleries, appealing shops, and exquisite restaurants.
There is another location of Cafe Bora in Korea – Gyeonggi-do.
What Makes Bora Cafe Special?
Cafe Bora is one of those renowned cafes where people came from outside just to have a taste of its Purple Sweet Potato Bingsoo. Some people also know it by the name of "Korean Bingsoo Cafe." Despite its small spatial occupancy, you will find a light flow of extremely satisfied people walking out of the tiny cafe, holding an unfamiliar purple item in their hand. Once you get to the alleys of Samcheong-dong, stroll down the pathway until you find a small white sign with a cute purple blob.
Spectacular Purple Desserts!
Bora Cafe, Seoul, has the Instagrammability factor in it, and that's how it has been able to make its name worldwide. People come overseas to see the unique desert all colored it beautiful purple shade. This café has broken the conventional stereotype of not accepting purple as a color to food. It has also crossed borders and opened an outlet at Bangkok's Siam Paragon Level 4.
This Bora Korean cafe inside the ally, of a small village, with its small dish bingsoo, has been able to attract tourists and attention from all around the world. Cafe Bora in Seoul serves their renowned Bingsoo in four flavors – Purple Sweet Potato, Matcha, and Red Bean & Milk.
Their iconic purple is made from special purple sweet potatoes produced in the seaside city of Boryeong. The Korean bingsoo café uses sweet potatoes as their main ingredient. So, it's a highly recommended café for those who like Sweet Potato. People either visit them for their Sweet Potato Ice-Cream or their Sweet Potato Snowflakes; both come in alluring shades of purple. However, they are not excluding other flavors from their menu, but purple is what they are popular for. They have other kinds of desserts, too, such as Red Bean Bingsu, Golden Sweet Potato Ice Cream, Golden Shaved Ice Cream, Diamond Tiramisu, Green Tea Bingsoo, Strawberry Bingsoo, etc. The Bora Korean Cafe also offers Softserve and Tiramisu. Recently they have launched the first mysterious peach shaved ice and carbonated water in the country though in limited edition.
Certainly Worth A Visit On Your Trip To Seoul
Korean Bingsoo Cafe should be included in your if you are planning to visit Seoul. This Koreatown café is located near Bukchon Hanok Village, where you can dress in traditional Korean costume and explore hanok and taste the delicacies that the house of purple Seoul is offering. All the more, their Purple Bingsoo deserves a try as almost everyone gets a little surprised by the realness of the scent/flavor of sweet potatoes. One thing to note is that Cafe Bora requires some searching, hidden within a normal alleyway with no conspicuous sign except a menu board and white sign with purple blob logo.
Love it? Pin it!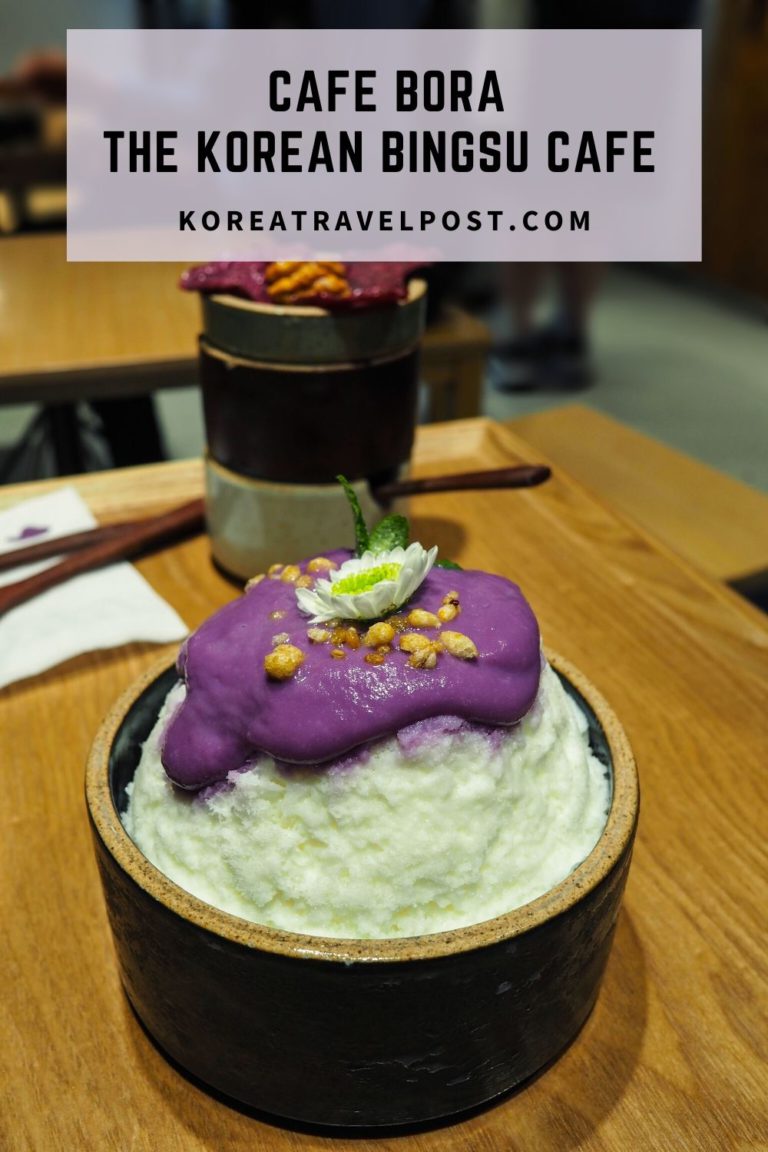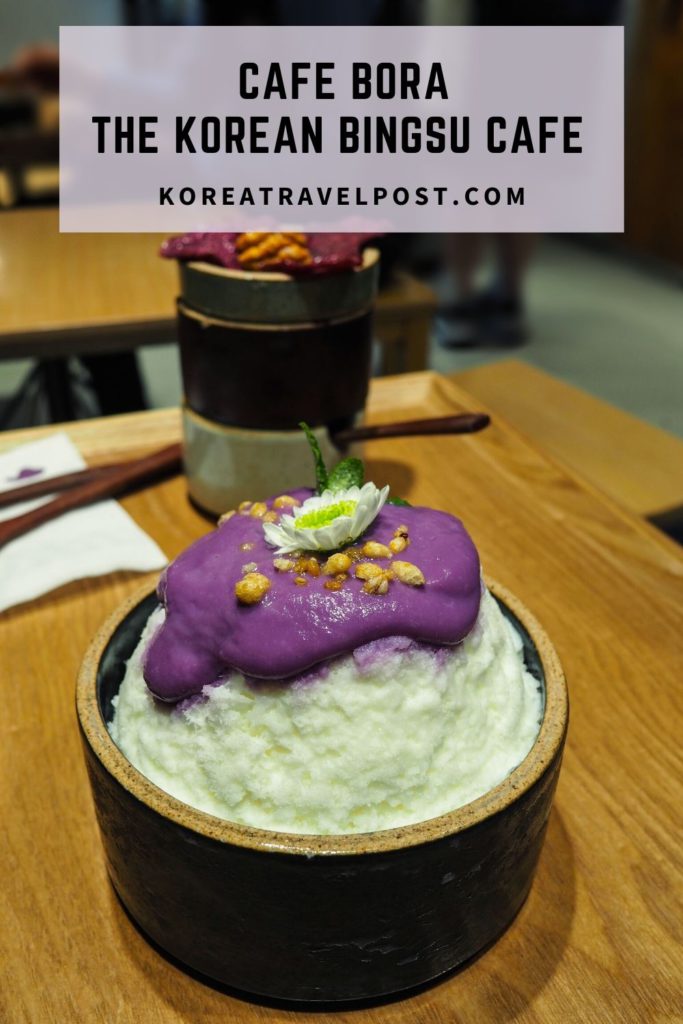 Don't forget to check out these other South Korea travel posts:
12,004 total views, 3 views today