One Piece Cafe or Cafe de One Piece (원피스 카페) will definitely be on your itinerary, especially if you are a One Piece Japanese anime fan. This café is in the neighborhood of Seoul called Hongdae. Hongdae in itself is an artistic hub due to the influence of Hongik University, which is a prestigious art college. Cafe de One Piece in Seoul is in that corner of Koreatown, known for its urban arts and indie music.  The locality is filled with local cultural shops, clubs, and entertainment. Among the creative crafts that have halted their voyage in this city, there is another pirated ship that has anchored in Korea. This One Piece theme cafe has come to the shore of Hongdae, which basically means it has established in Hongdae on 21st December 2016.

One Piece Cafe or Cafe de One Piece
Its exterior design makes it easily visible from a far distance. They have made a majestic ship model from anime at its gate, and once you turn the corner, you will witness it. At the front gate, you will see many One Piece characteristics like Sanji and Usopp waiting for you. Not alive but in cut-out form, people often click Instagram worth pictures with them. Once you enter, you will head into the merchandise shop, which is located at level one. At this entrance, you won't find the café but the shop.
The shop has very exciting, rare, and unique merchandise for your inner freebooter. All goods found there are One Piece themed and pirated related, every One Piece Cafe or store will produce different merchandise, especially for the respective country, so you need to keep an eye over them. From flag button badges to WhiteBread pirates' helmets to keep your heads safe during your rover, they also have sunscreen because remember, you are in Korea! Chocolate, stuff sharks, and cardboard ships, and endless goods all having some sign of being a One Piece product. One Piece Cafe in Seoul offers you more than what you could ask for. 
One Piece Cafe Aesthtics
The entire aesthetic of the cafe is like a voyage ship. The crafted wrecked walls of the café will give you an actual sailing experience. It must be appreciated that not a single substance in the café is deprived of the One Piece theme design. From huge walls, doors, and counters to small straws, all have a One Piece anime theme design.
From cold drink cups to food packages, all are designed to give you a reminisces of the series. The drink cups have written on them "Cafe de One Piece" with the character's face on the cup holder, and each character gets their own flavor. The One Piece Cafe menu, the plates all have pirate One Piece doodles and drawings. They also have stuck a little cute ship head face in the middle length of the straw. Even the stirrer has a flag on it to make it resemble a ship. Also, their display case has One Piece figurines.
The second floor of One Piece Cafe, Seoul, has an outdoor terrace designed to resemble the deck of Thousand Sunny. If you are a fan of the manga series, you'd probably want to sit out on the terrace, but it could be difficult as there are only a few seats available. A good side to that is, you can always spend some time taking photos and looking around before getting a seat.
One Piece Cafe Food and Drinks
Not just the theme but the food here is explicable, one moment you are inside Seoul's One Piece café and the next moment you realize that you have ordered a lot of food at the café and taking away for eats at home. If you visit Cafe de One Piece in Seoul, it is necessary that you should try the devil fruit cake, though it is a little pricy, it is the most renowned dish there. The outer layer is made from fondant, is super sweet, and overpowering the whole taste. The cake inside is super dry unless you apply a thin spreadable butter layer. However, a disclaimer before you perceive that all the food on the menu is expensive, it is not so! It is only the cake that is a bit unreasonable in terms of price. You can enjoy their waffles, macaroons, and other tasty delicacies.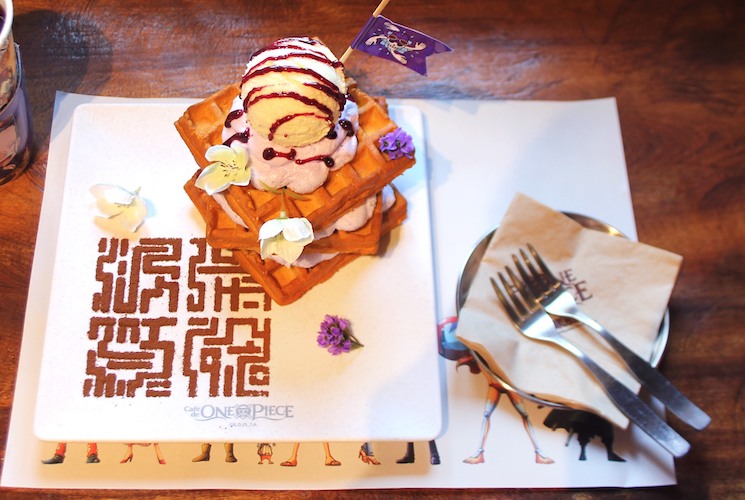 If you are a One Piece fan, then you definitely give it a visit. However, the food here is not well rated and is estimated overprice, but for an experience and merchandise shopping, it will be a pretty nice place to visit.
Don't forget to check out these other South Korea travel posts:
9,797 total views, 1 views today